Although he died prematurely in the early 1990s, Shiro Kuramata made an indelible mark on the world of design, leaving a legacy in work that is at once eloquent and ephemeral. What Kuramata imagined was not simply a life made up of spaces and objects constructed out of the same impalpable stuff as dreams, but a world of unexpected relationships, spaces designed not with material but with magical metaphors and ever-new ideas. With transparency and colour, he produced a displacement of meaning that scored into the relationship between human being and material (increasingly impalpable as his career progressed), tapping into the energies of a society undergoing profound change.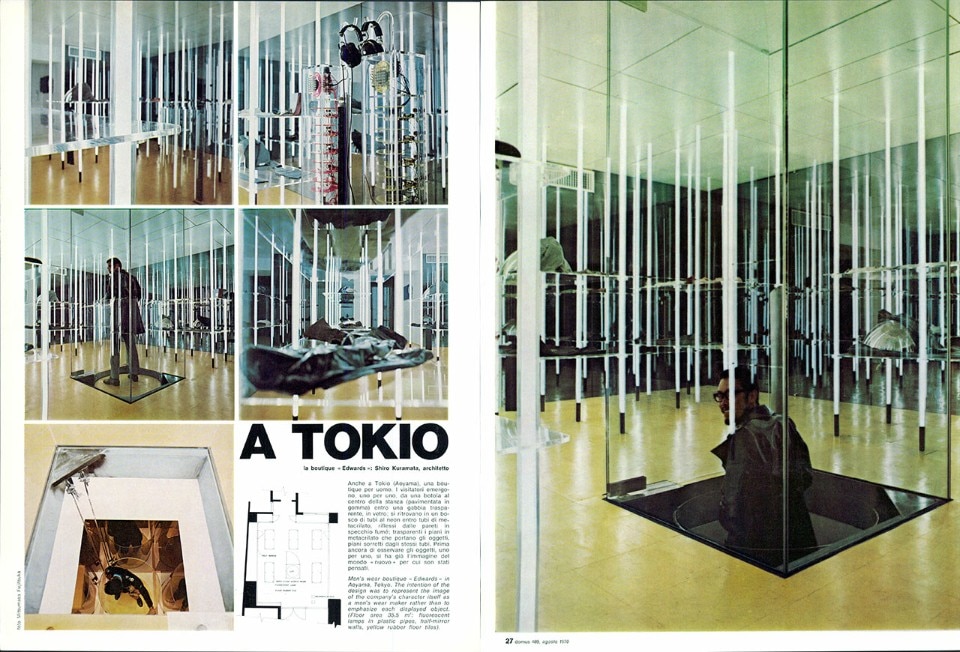 Gio Ponti himself, who observed the young Kuramata with curiosity when he came to Europe to present his work, wrote that even before looking at his objects individually, one had the impression of the new world they had been designed for [1] – a world resembling Japan as it emerged in the post-war era, a place transforming the country's ancient tradition into a physical and cultural landscape populated by thousands of urban tribes in an endless metropolis. This was a country where new nomads had become used to living in cities that had grown out of all proportion on layers of messages, utopias and fleeting illusions, just as his friend Ettore Sottsass [2] emphasised. Sottsass liked him so much that each time a new project came to completion, he asked Kuramata to explain it in the pages of Domus. In his view, "Shiro's vision" did not represent a style, but was a precise attempt to depict the fleeting and mysterious state of contemporary existence.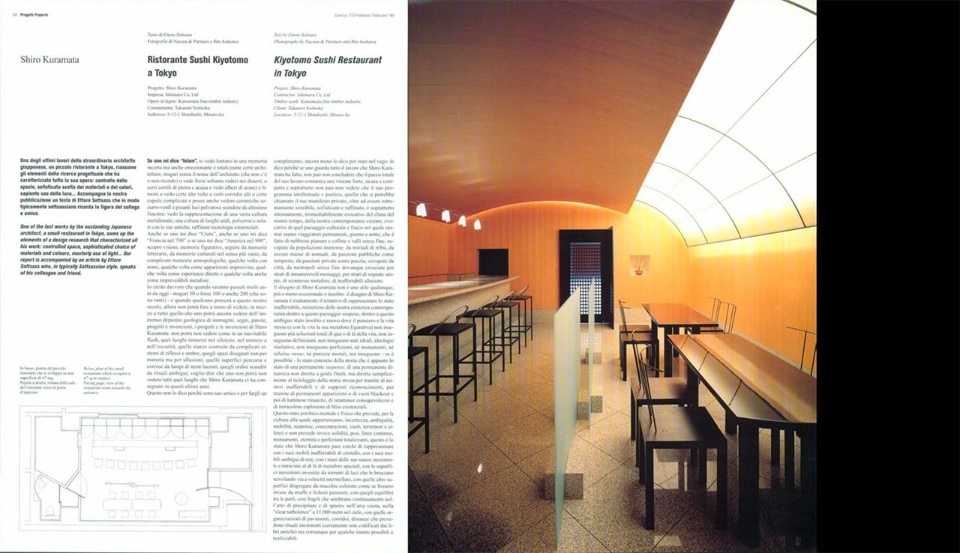 In 2003, Domus organised an exhibition curated by Francesca Picchi, with layout design by James Irvine, entitled "Kuramata's Tokyo". Held in Milan's Forcella space during that year's Salone del Mobile, it sought to trace Kuramata's vision through the contributions of designers who had known him: Issey Miyake, Tadao Ando and John Pawson. Made up of fragments, the exhibition tried to reconstruct what was left of his work through furnishings and Todd Eberle's photographs. His designs by their nature were always transitory because they were tied to a metropolis in a state of continual evolution, where each interior was replaced seamlessly by the one coming after it. But despite this incessant process, the traces that each work left revealed extraordinary qualities, increasingly evident with the passing of time. For instance, it was not possible even to count precisely the number of Issey Miyake shops because of the speed with which they were being reworked, but their visual power contributed to expressing in visual terms the experimental approach that the brand was taking towards fashion. Kuramata himself said that designing was itself a transitory act and in this sense, he saw design as very similar to Tokyo, "where there is nothing concrete or eternal".[3]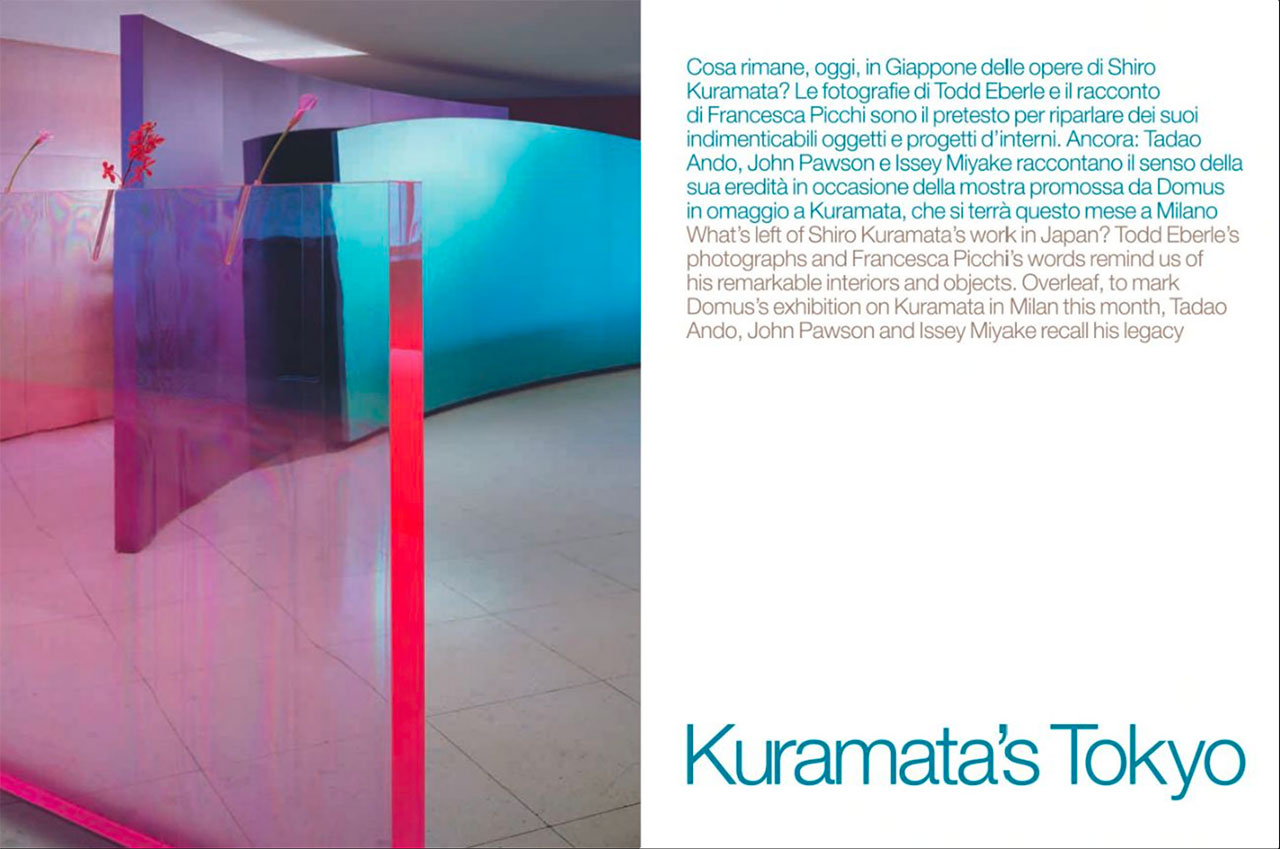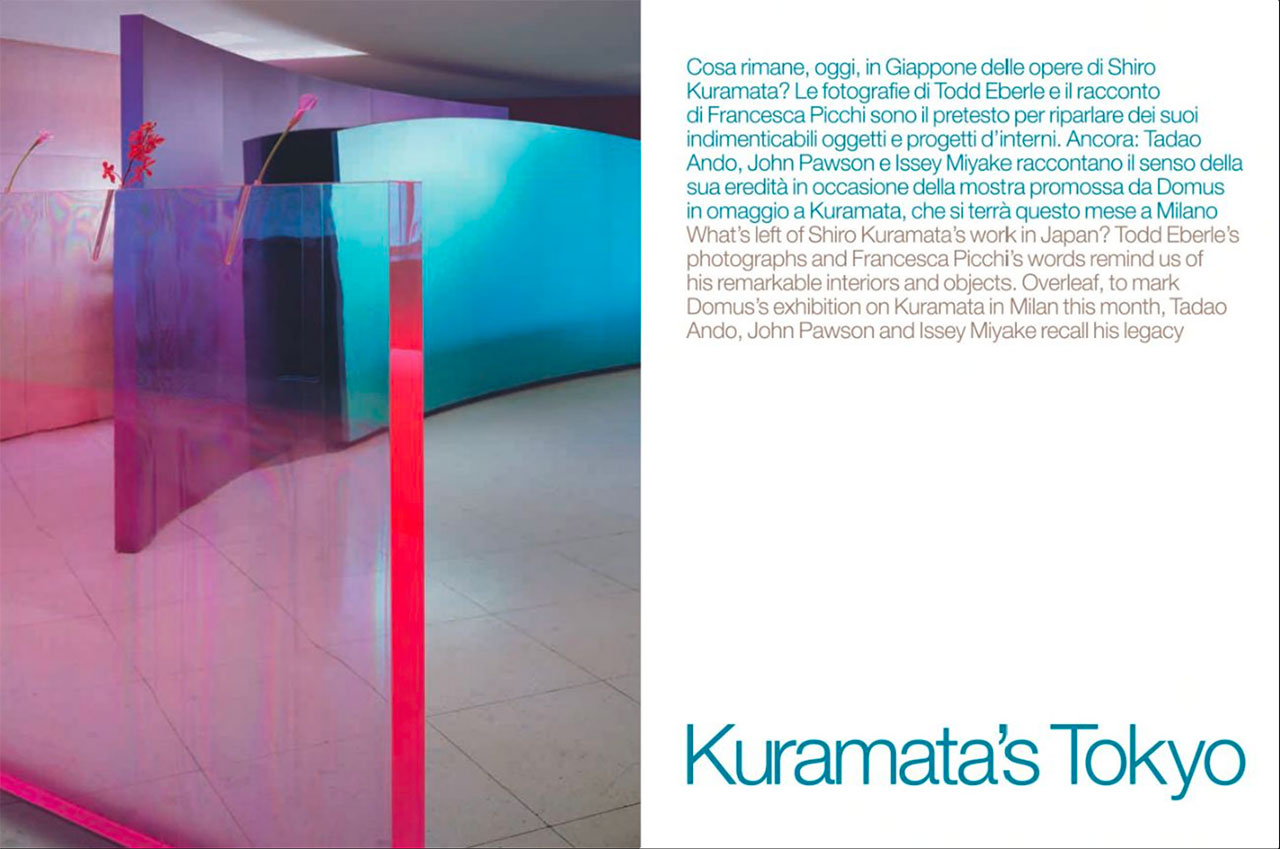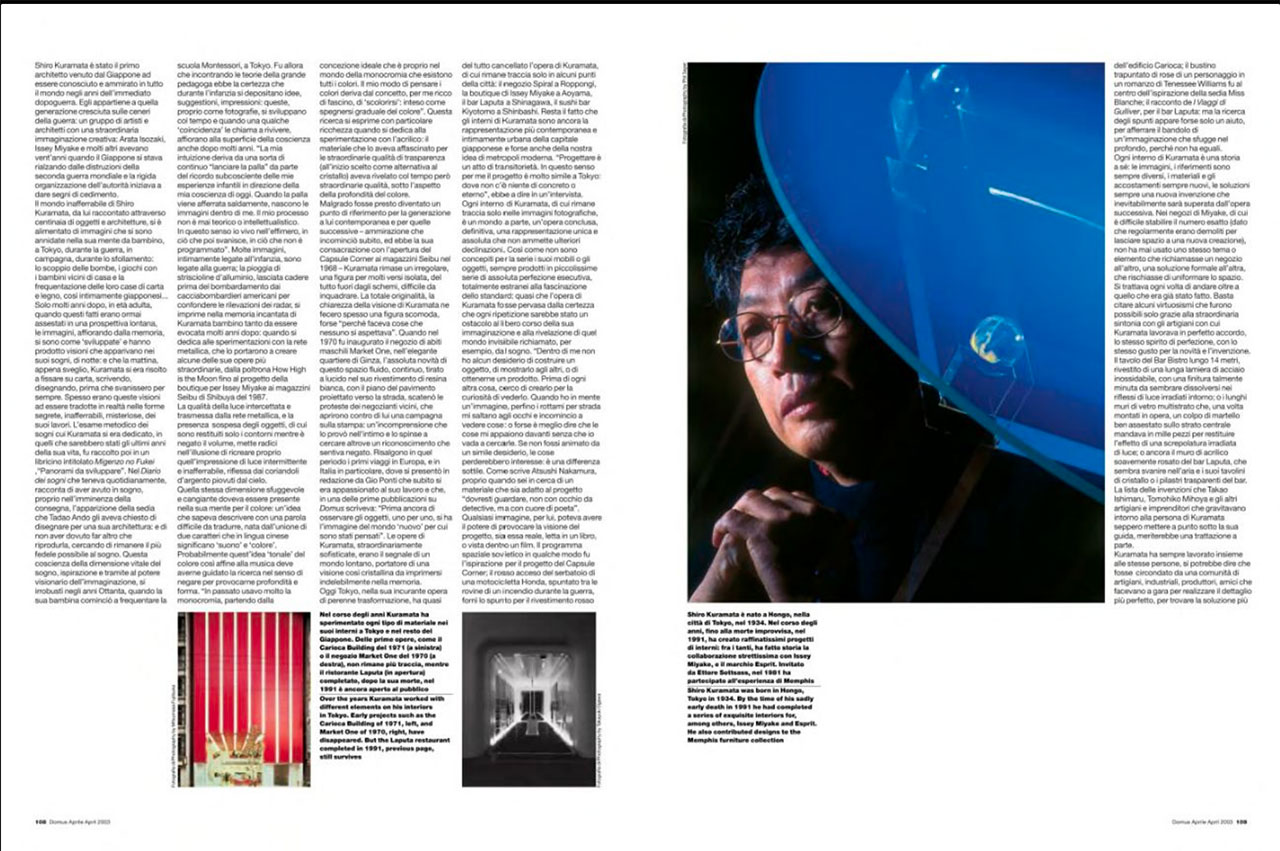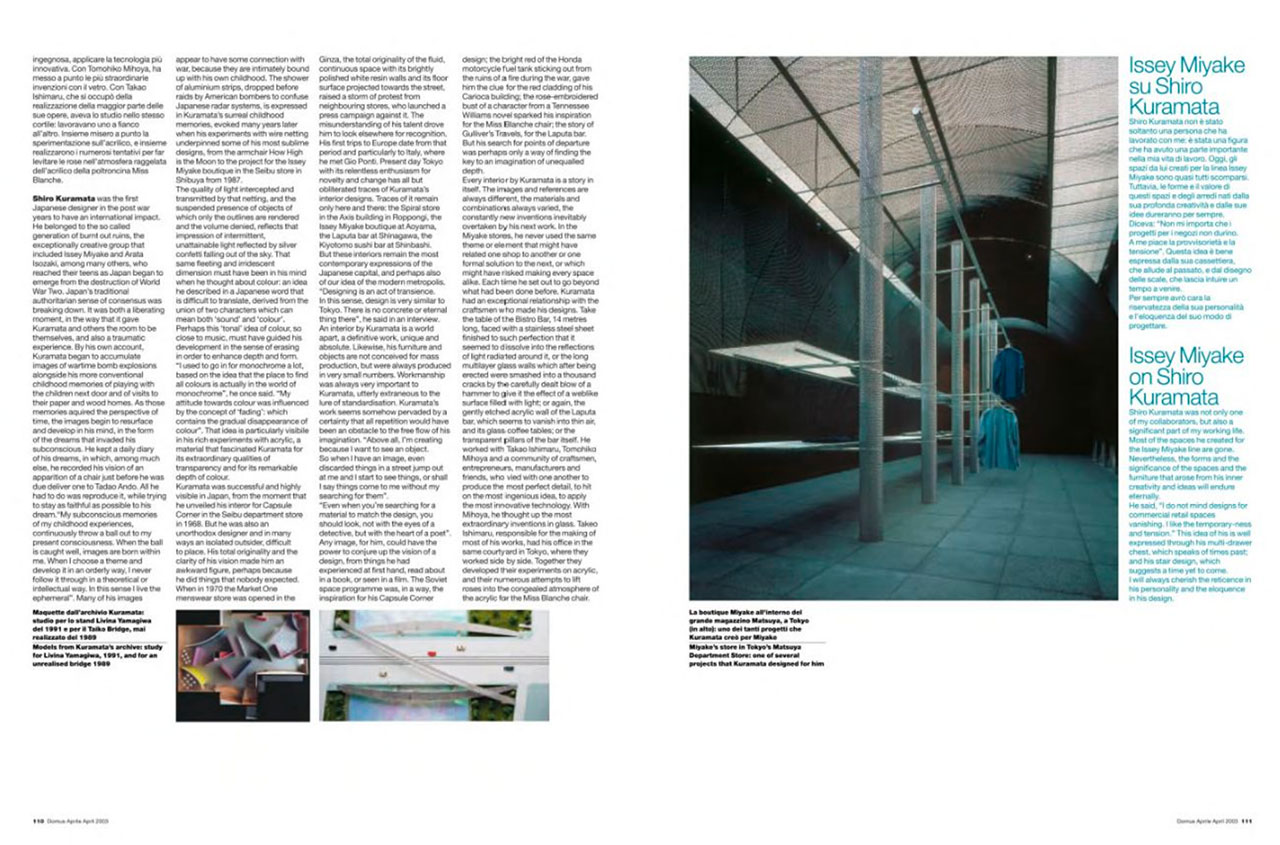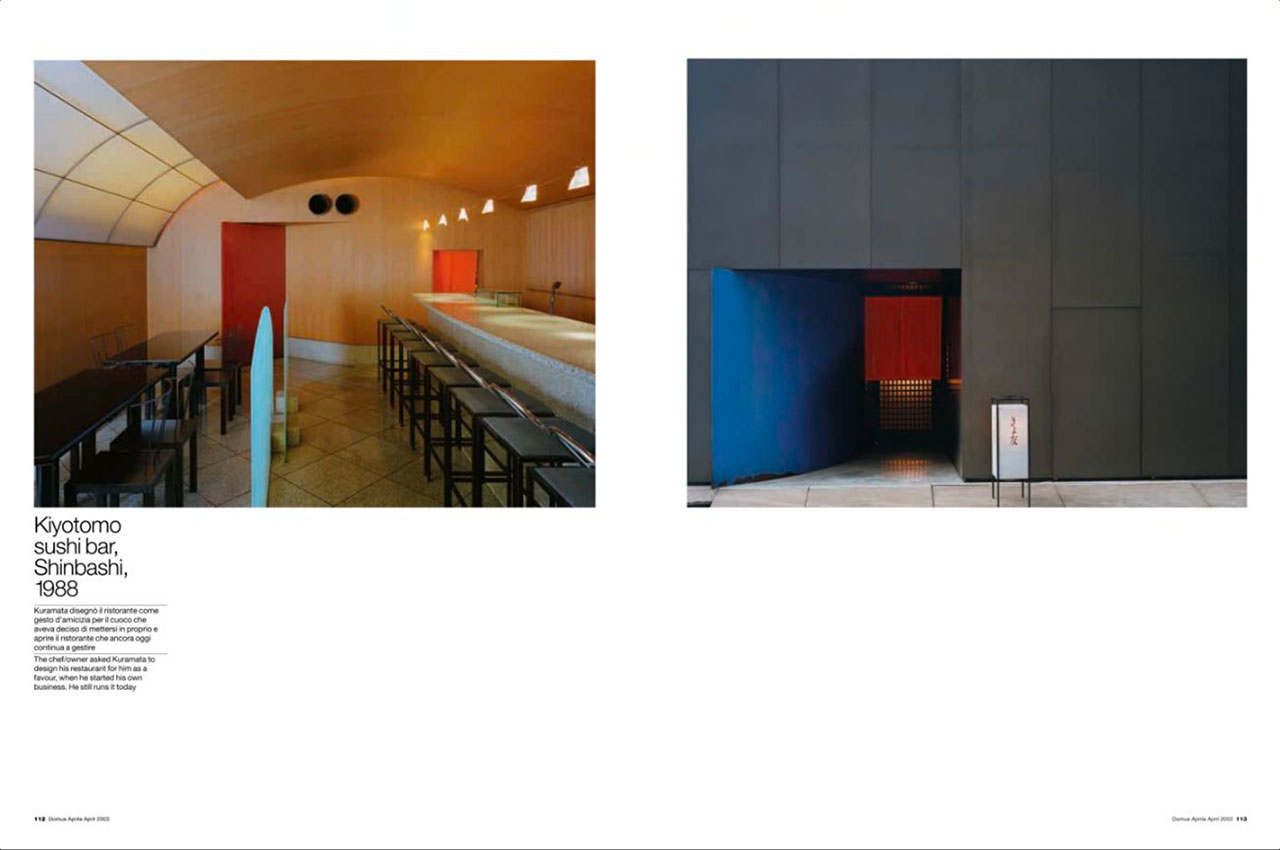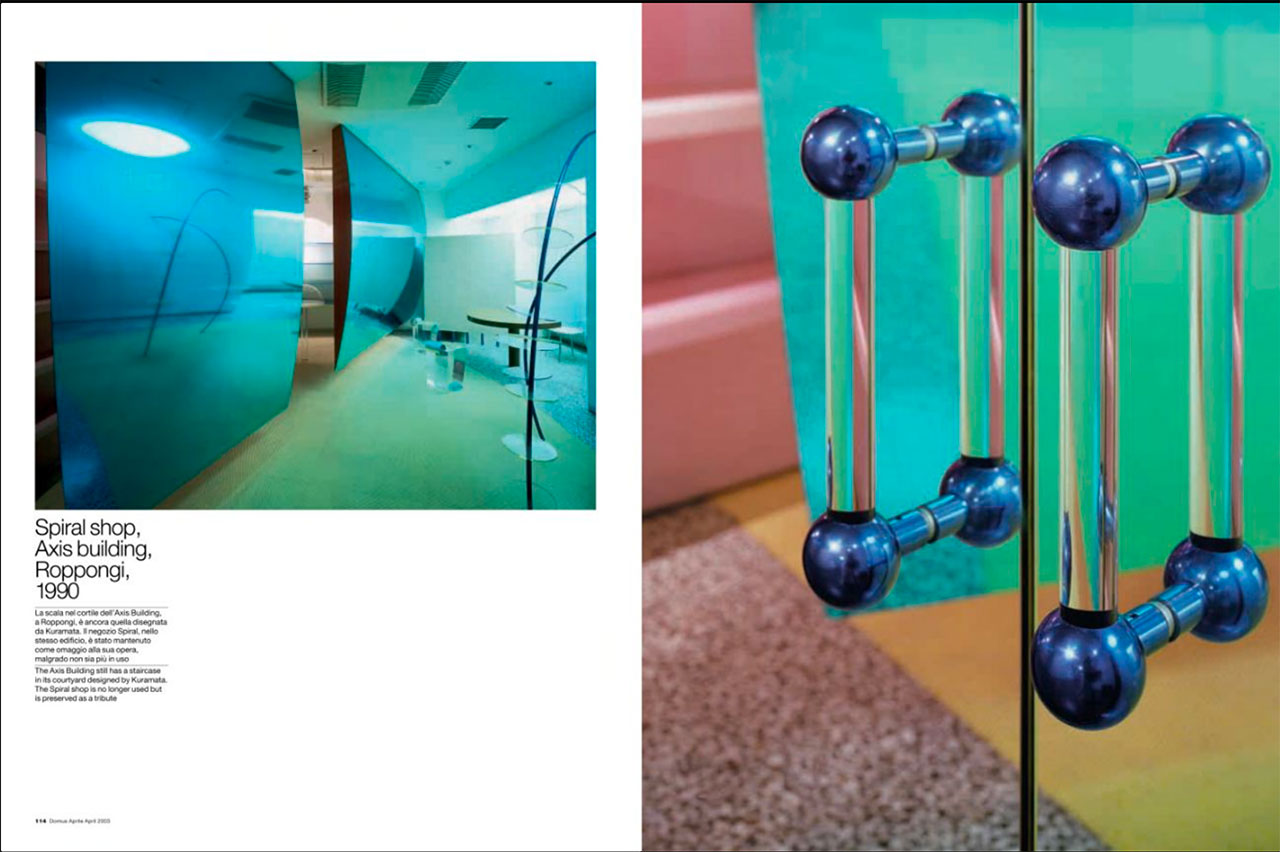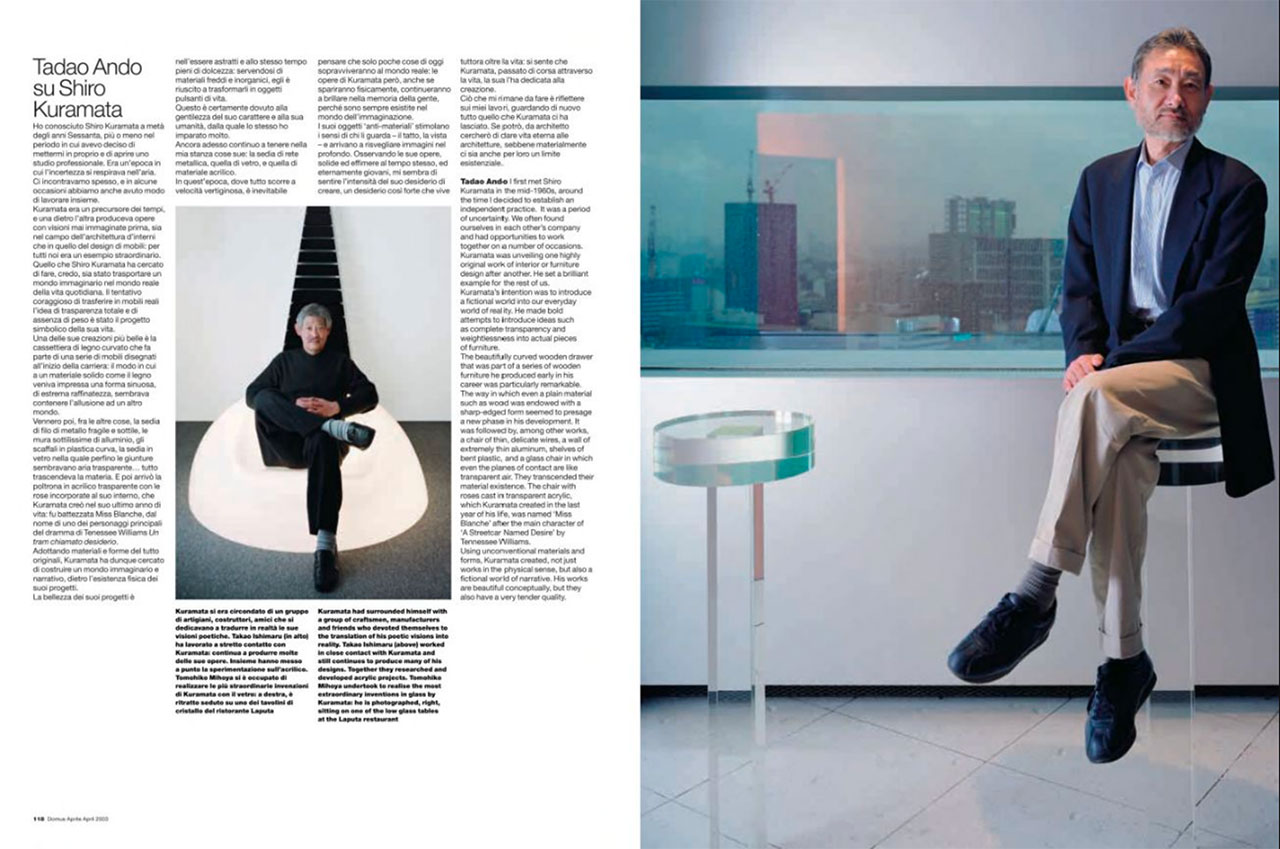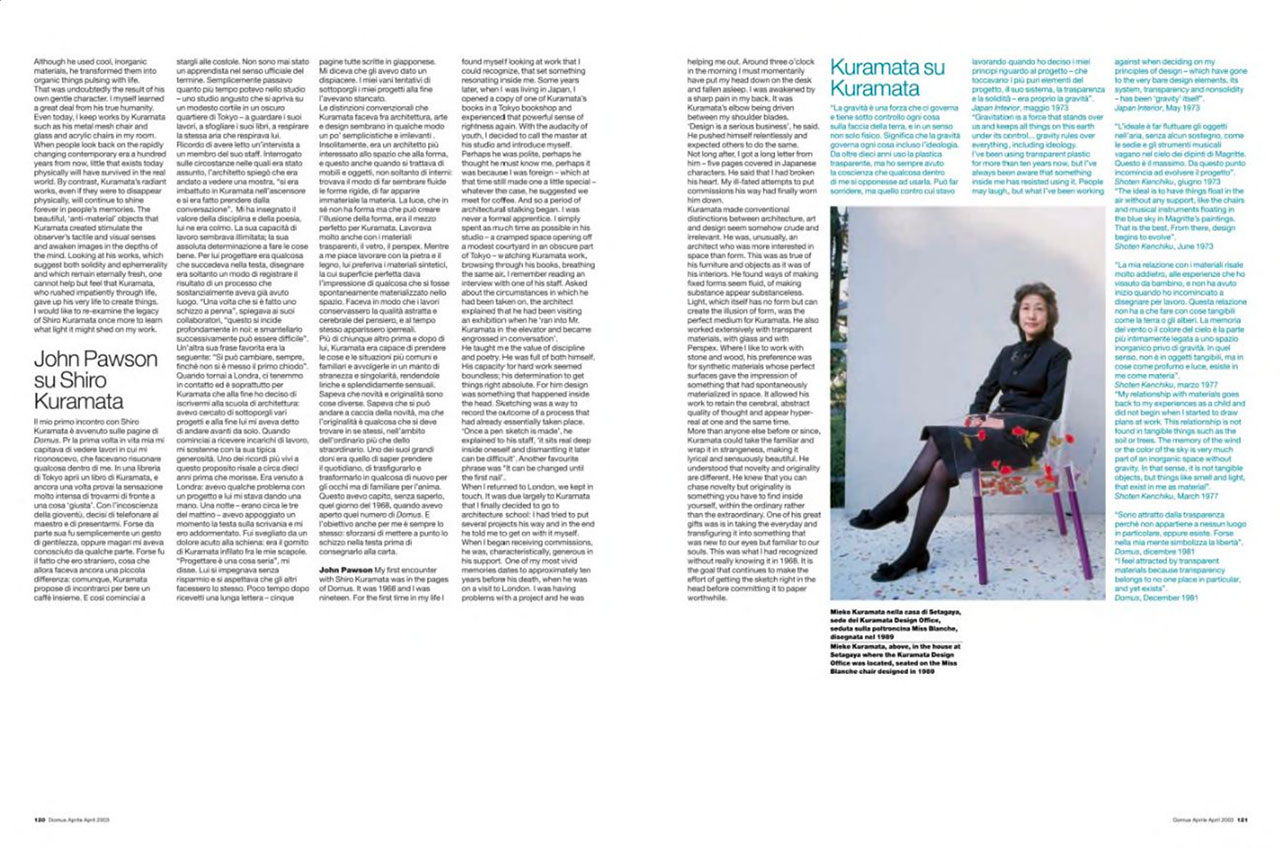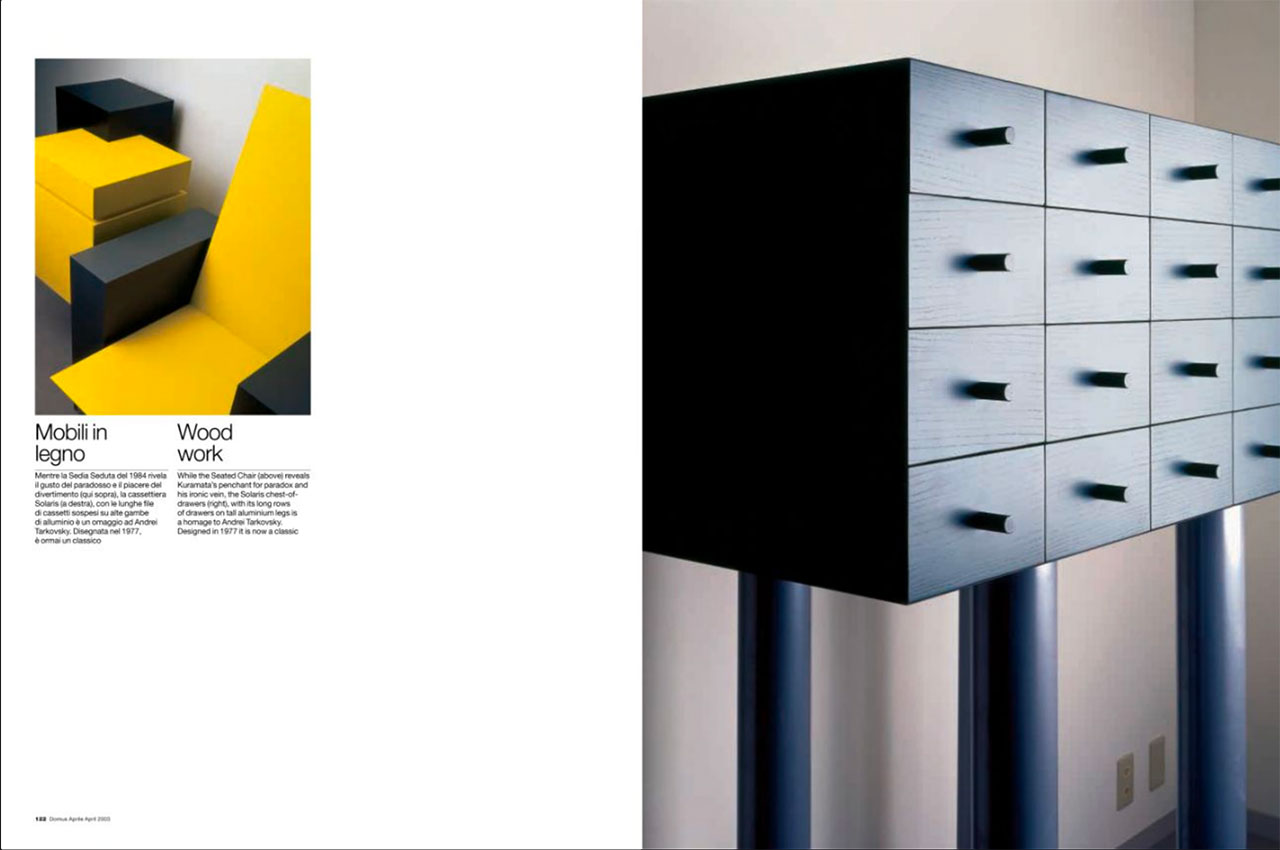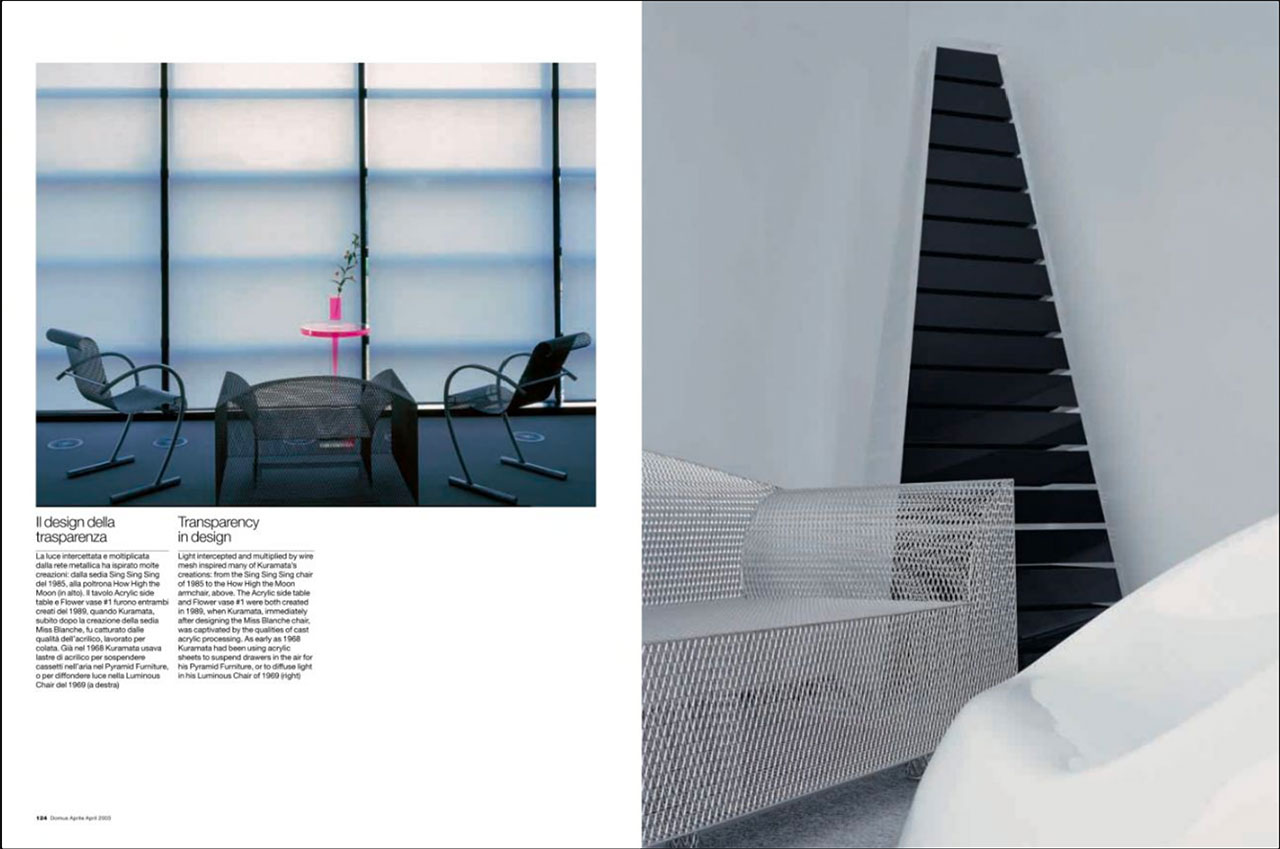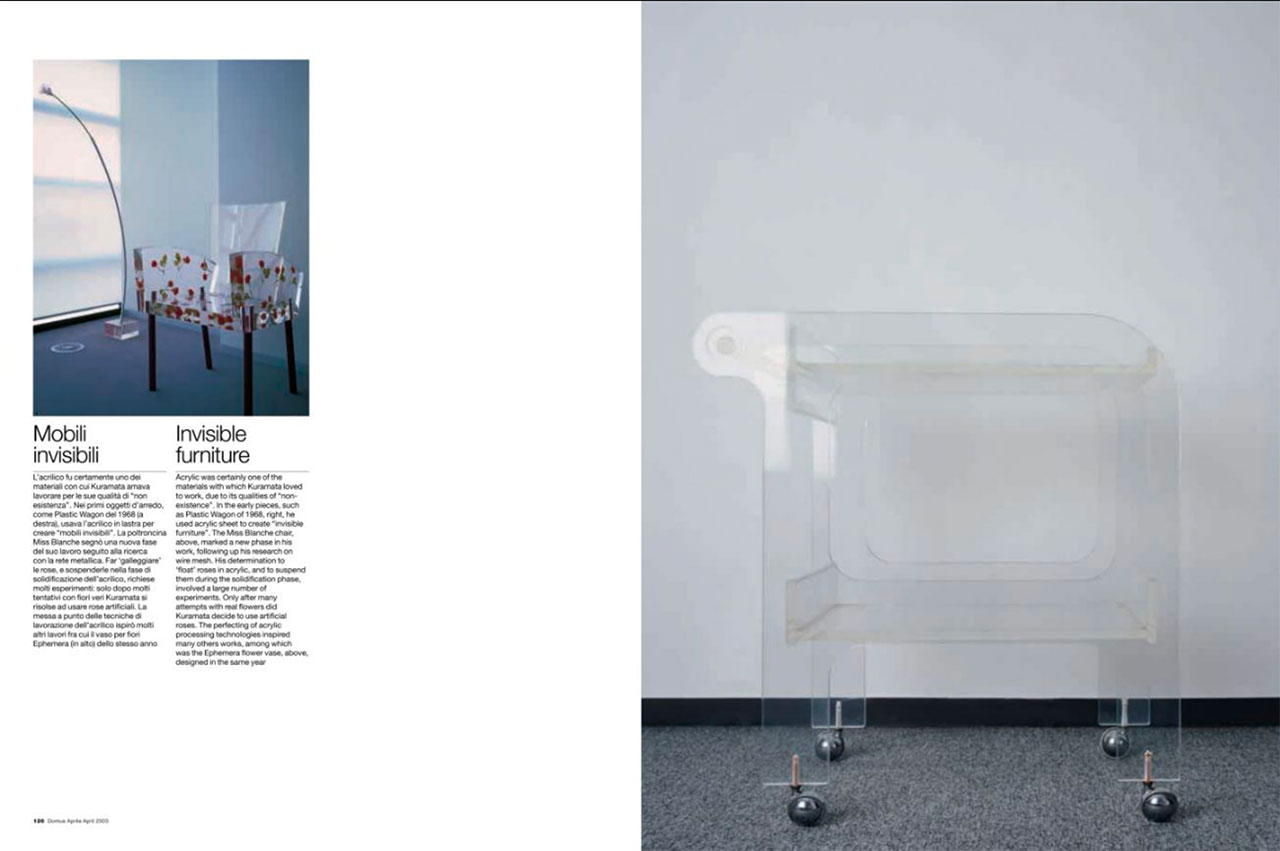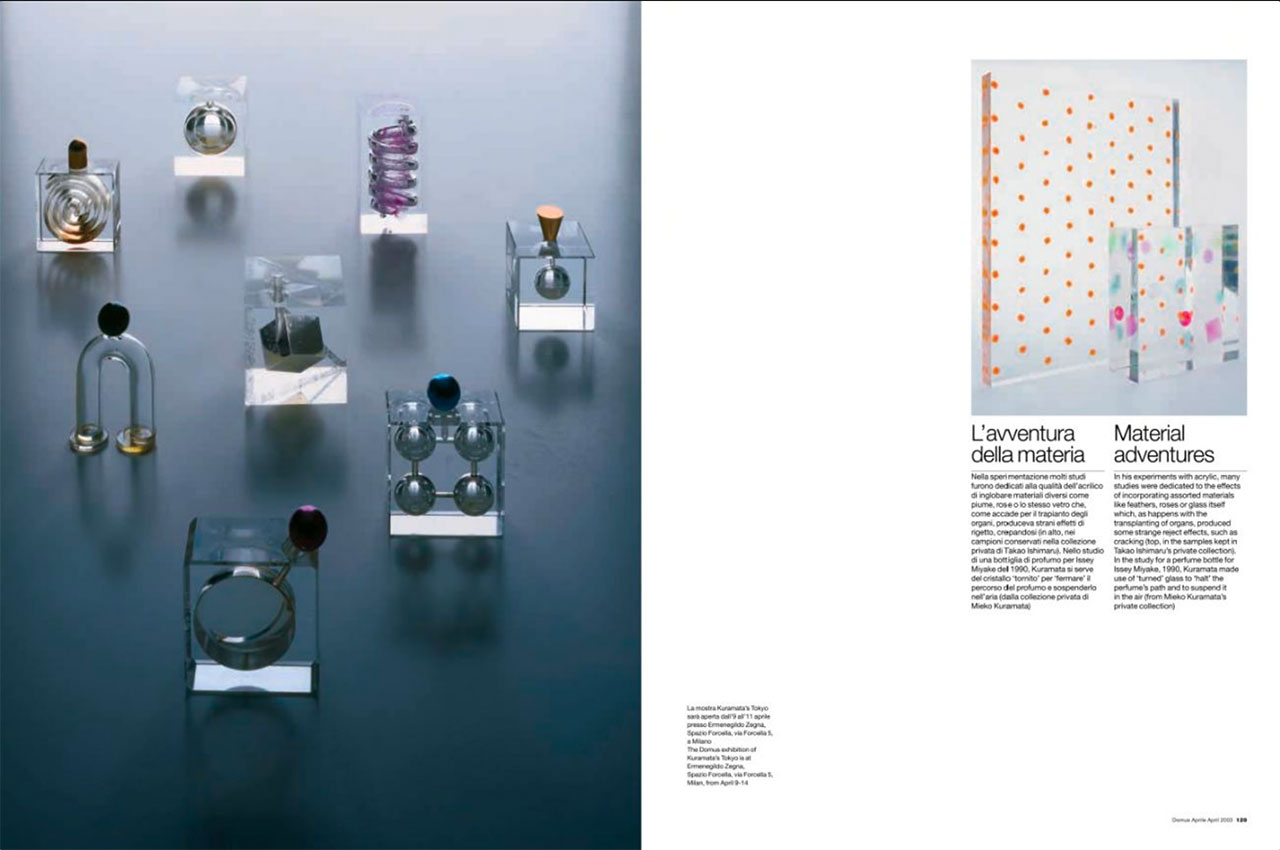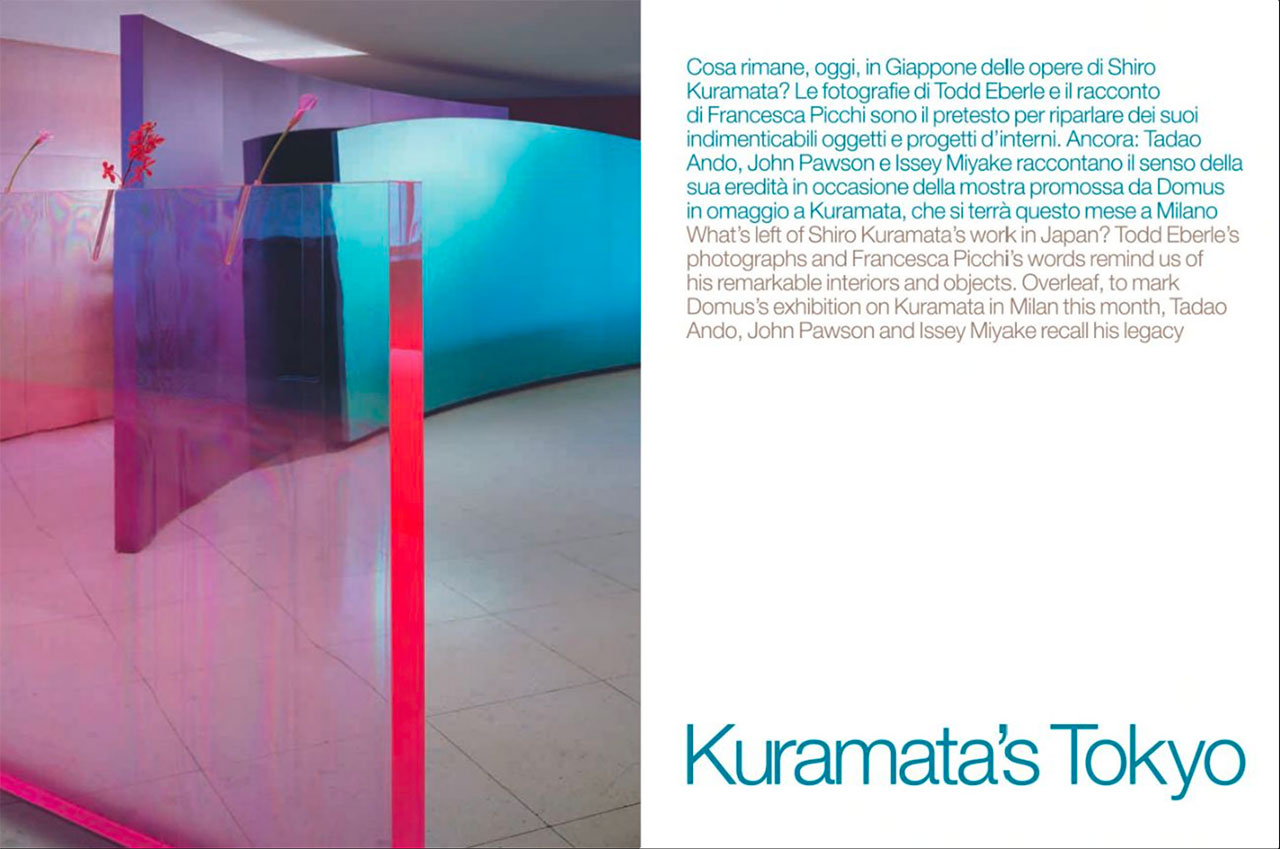 Img.1 Kuramata's Tokyo, Domus 858, April 2003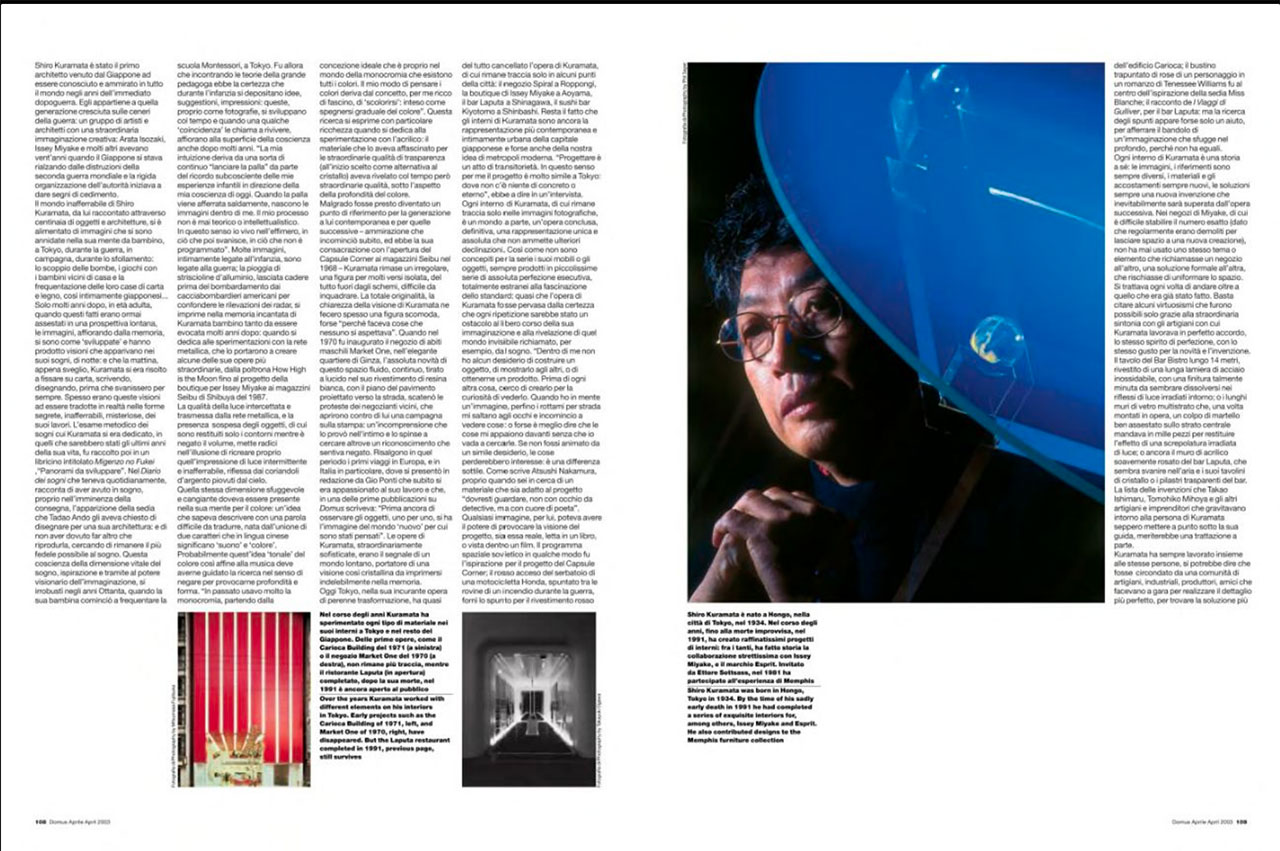 Img.2 Kuramata's Tokyo, Domus 858, April 2003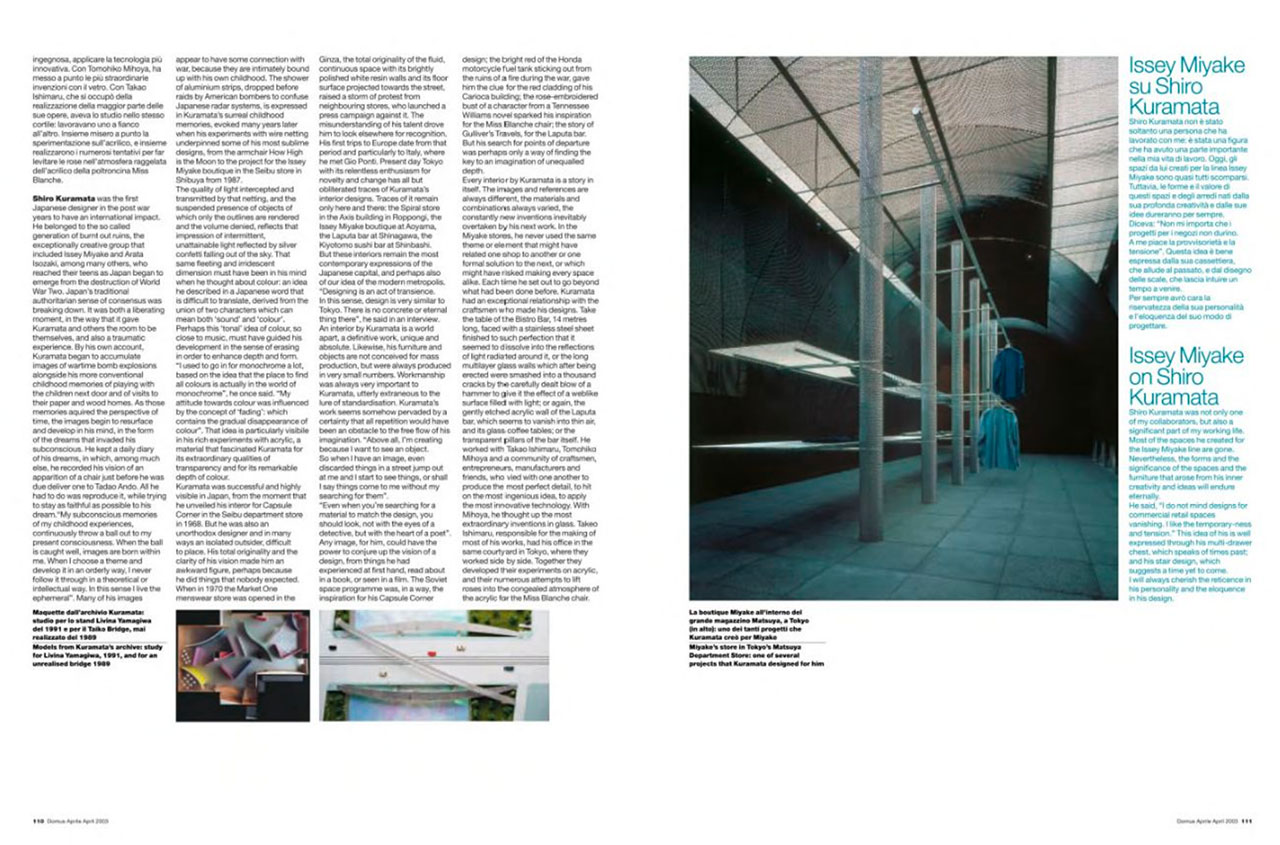 Img.3 Kuramata's Tokyo, Domus 858, April 2003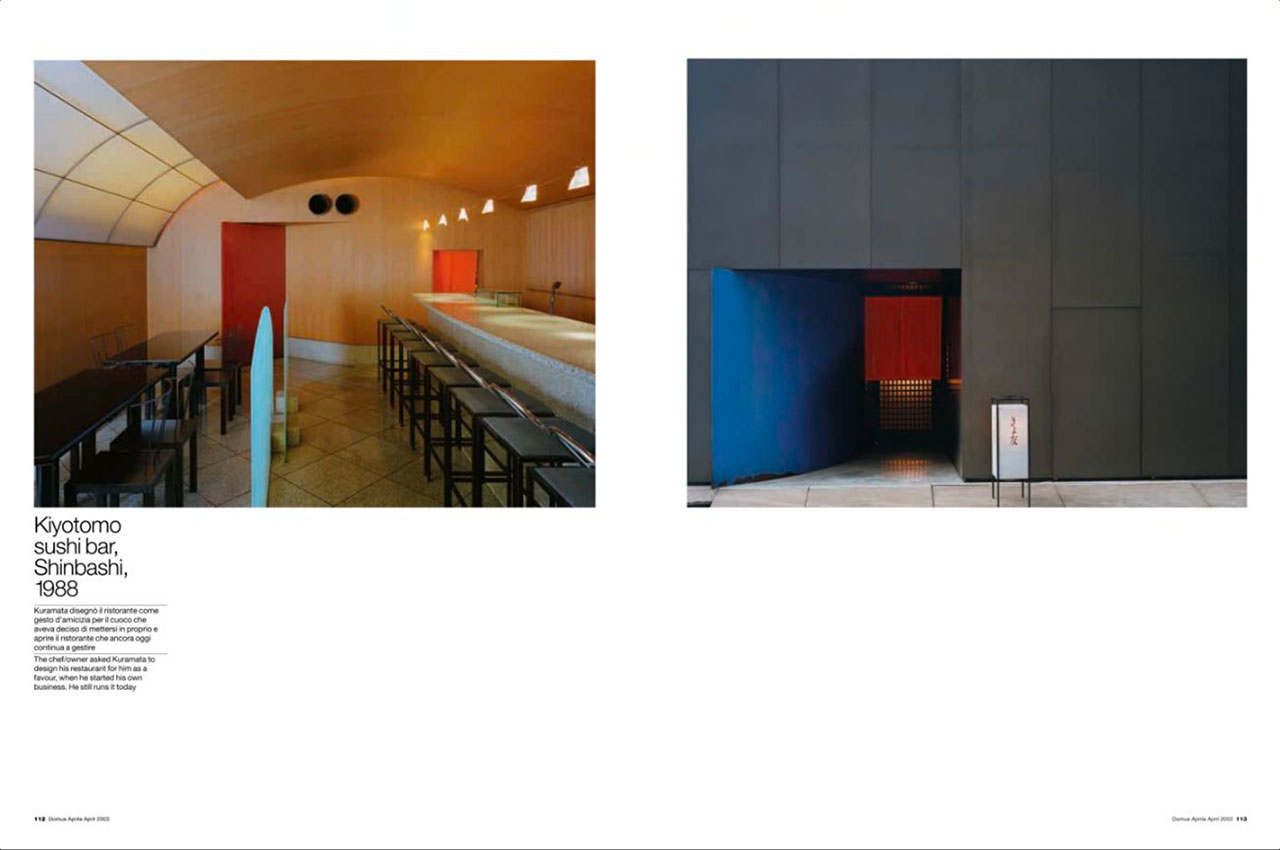 Img.4 Kuramata's Tokyo, Domus 858, April 2003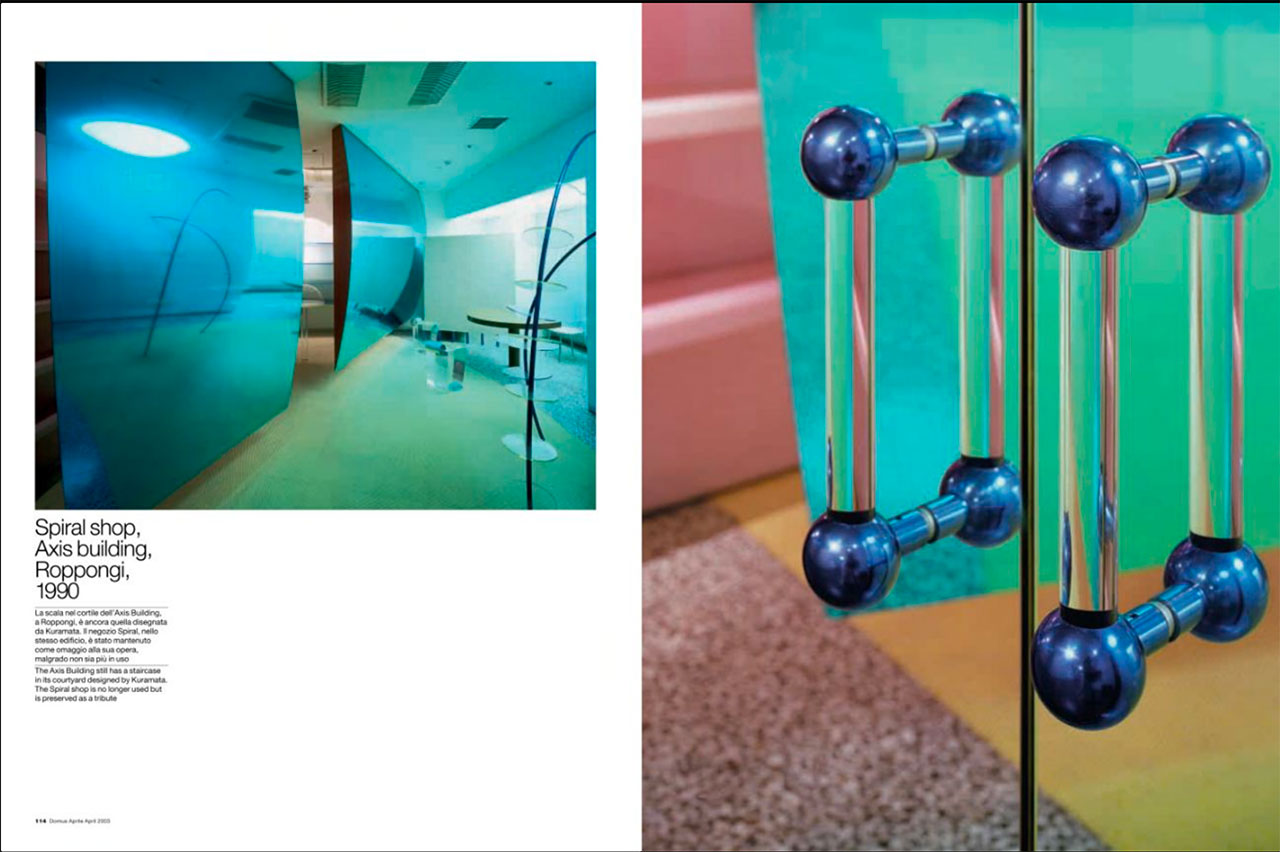 Img.5 Kuramata's Tokyo, Domus 858, April 2003
Img.6 Kuramata's Tokyo, Domus 858, April 2003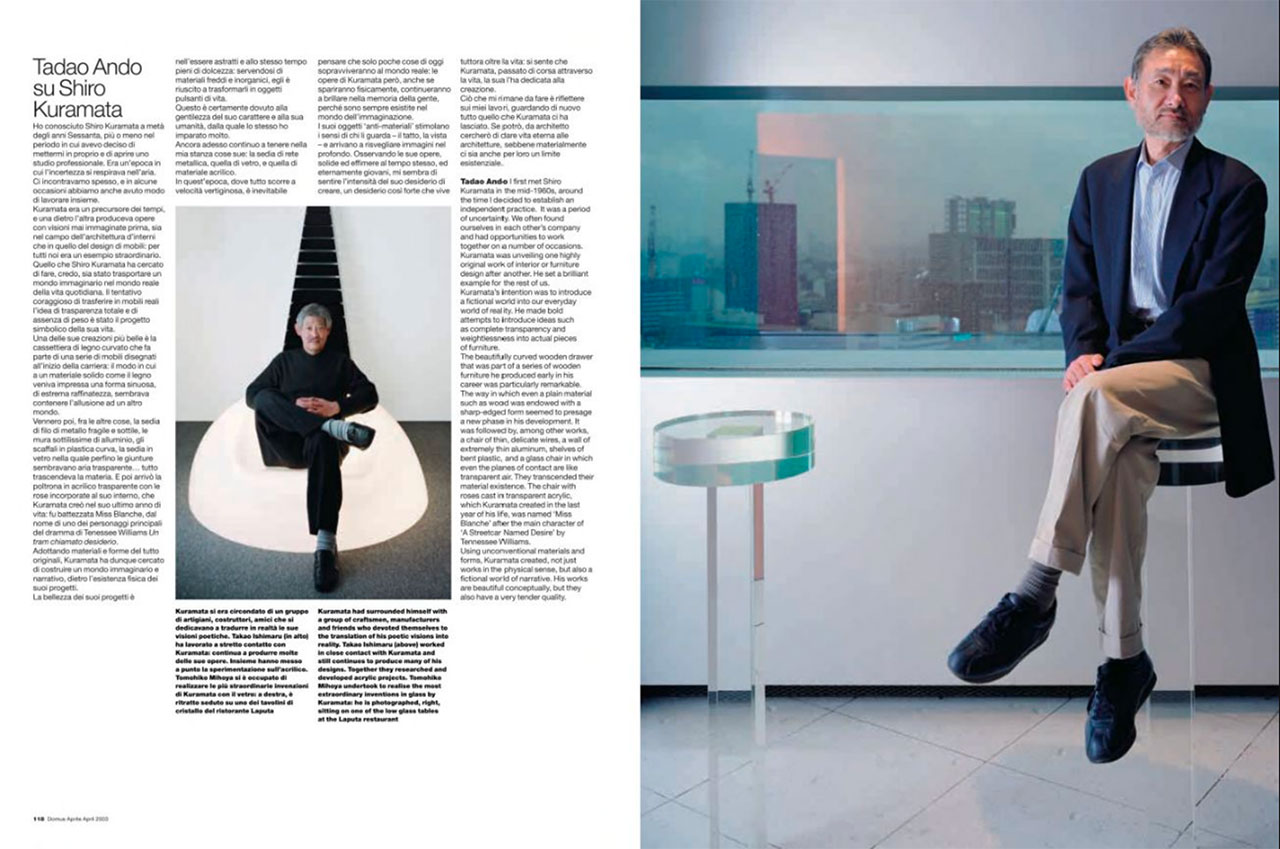 Img.7 Kuramata's Tokyo, Domus 858, April 2003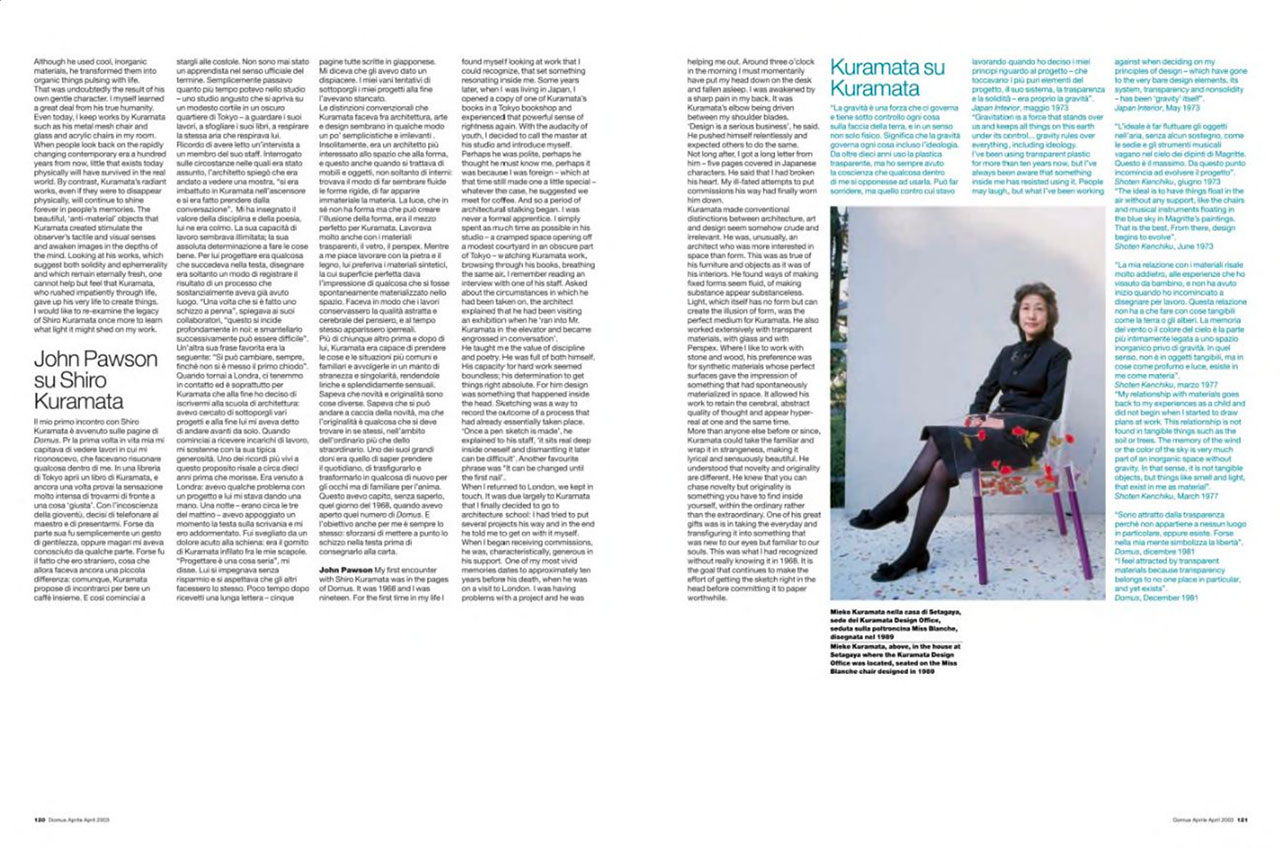 Img.8 Kuramata's Tokyo, Domus 858, April 2003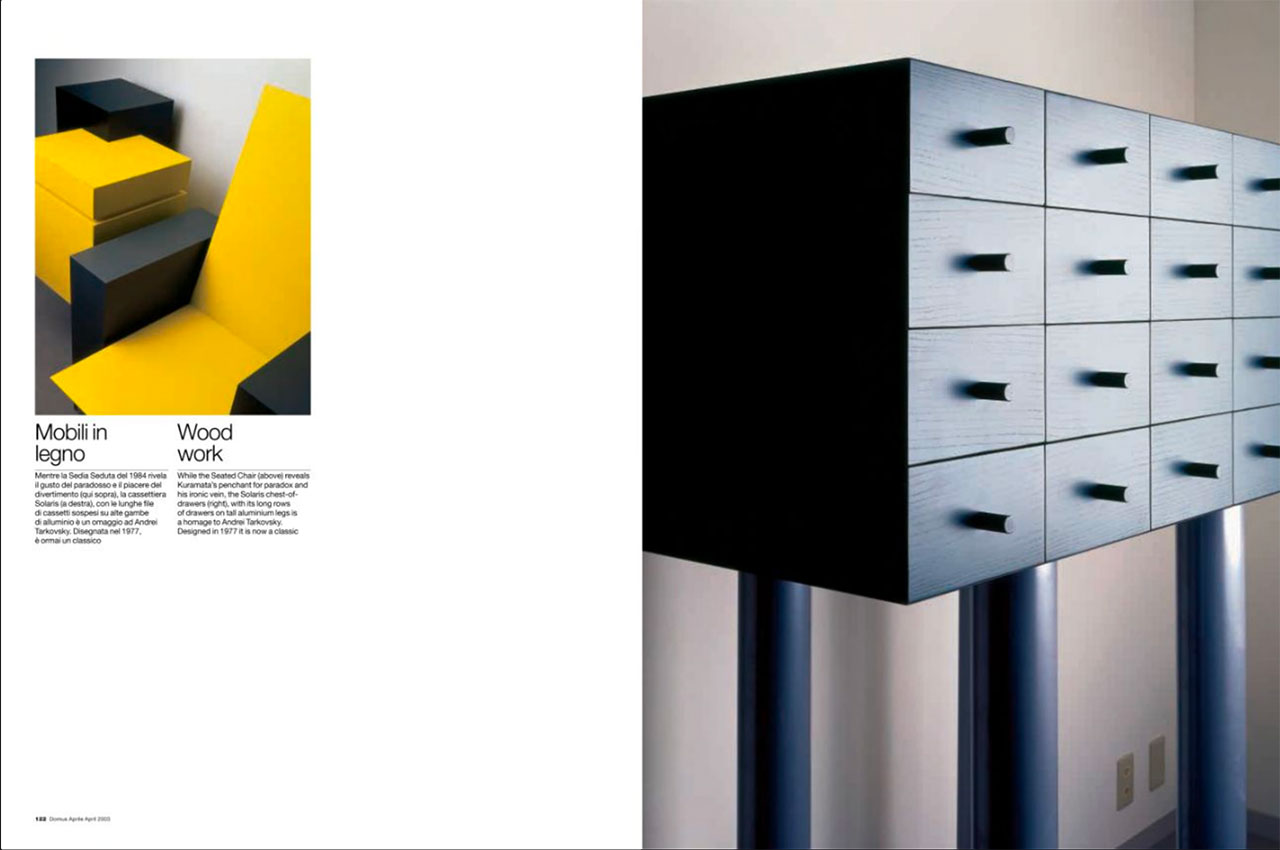 Img.9 Kuramata's Tokyo, Domus 858, April 2003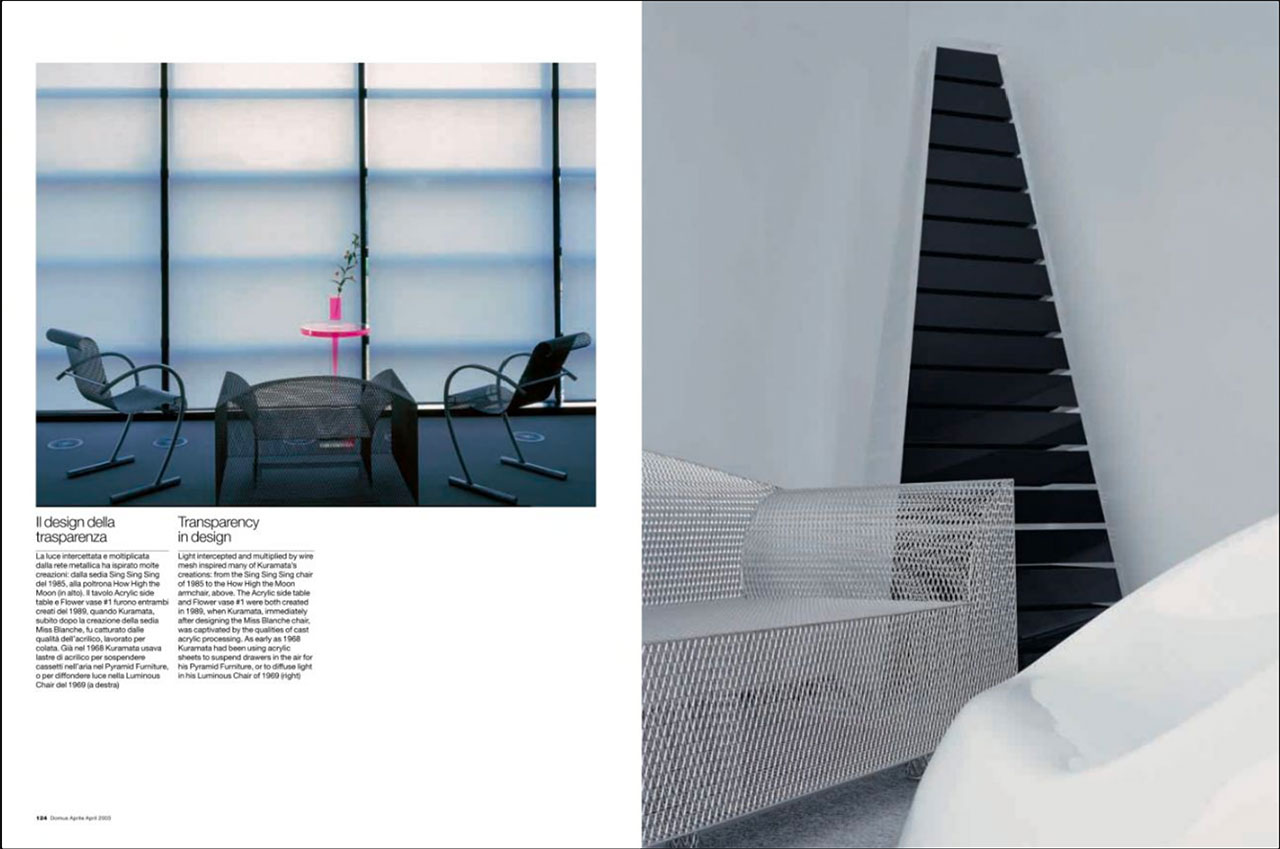 Img.10 Kuramata's Tokyo, Domus 858, April 2003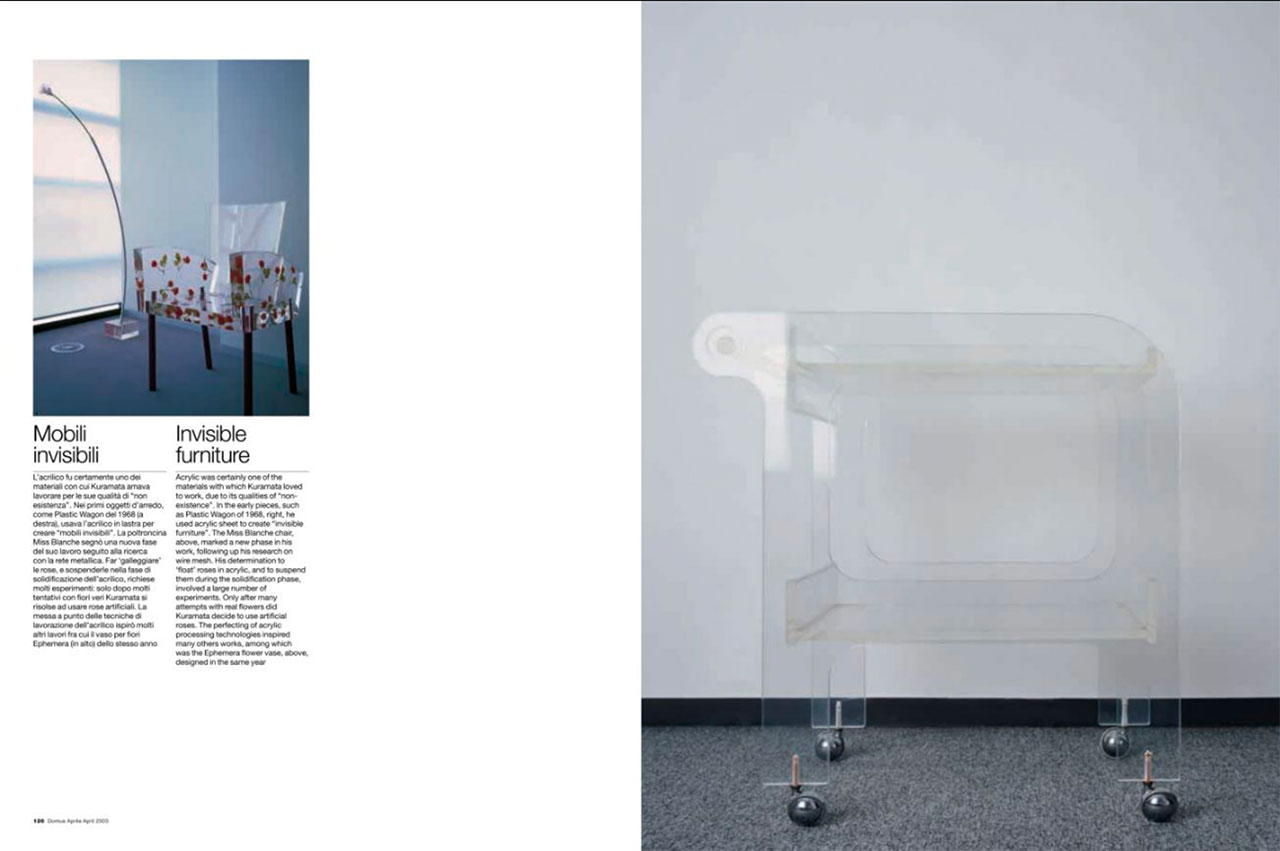 Img.11 Kuramata's Tokyo, Domus 858, April 2003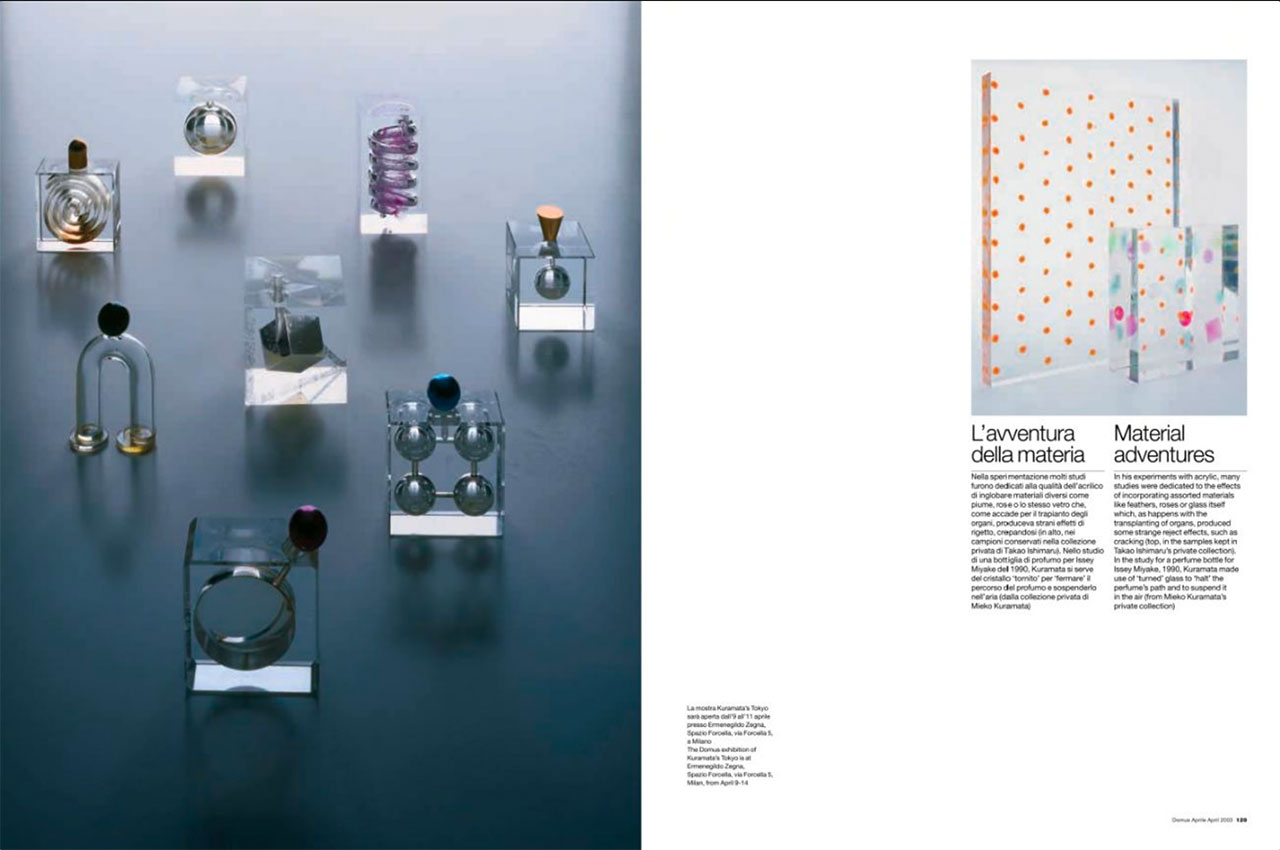 Img.12 Kuramata's Tokyo, Domus 858, April 2003
Contrary to what might be thought, his designs were predominantly interiors elaborated as a varied personal diary where material and form created a timeless dimension, a kind of limbo made up of poetic images and ephemeral relationships. The control of space, the sophisticated choice of colours, the sense of light, the visual force of materials such as metal mesh, glass and acrylic were not only the formal codes of a new language, but also expressed the ambiguity of our contemporary society through their illusory nature. The Edwards boutique in Tokyo, the Issey Miyake stores, the Laputa Restaurant in Shinagawa and the Spiral Shop in Tokyo were made up of clusters of small details, all perfect and almost never replicable, which came together to create an active, poetic tension stimulating the viewer and eventually reawakening images deep down [4], just as the Kuramata's compatriot Tadao Ando loved to recall.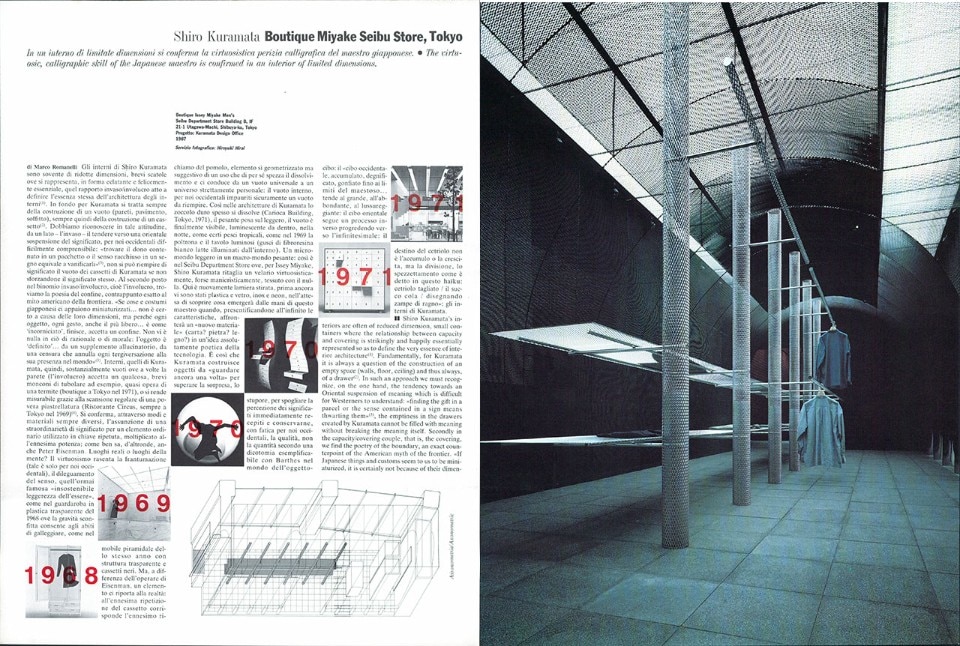 Shiro Kuramata seems to have anticipated our new digital world, imagining a future far from the grey steel that science fiction and society have always envisaged, restoring lightness and substance to a present with a total absence of gravity, above all ideological gravity. It was precisely because of this that Ettore Sottsass refused to see him simply as a "designer" or an "artist". For him, Kuramata was a celestial being who moved through the air like a translucent spirit, one able to gather together the subtle echoes of the huge, restless metropolis and transform the light of the sun into a silent light from the galactic winds.[5]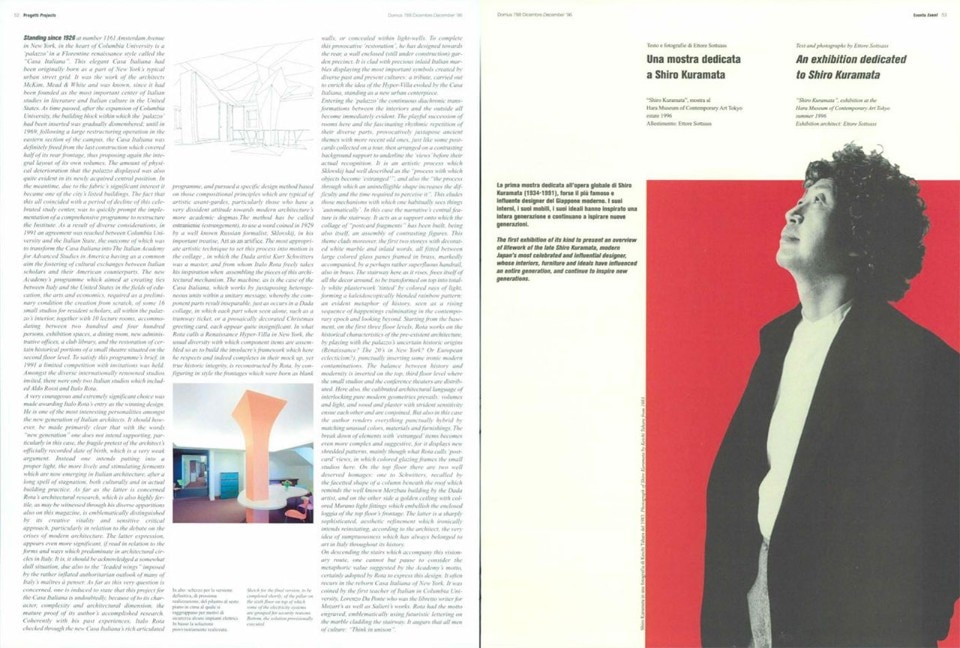 This is why Shiro Kuramata's legacy is not just in that little or nothing that is left of what he constructed, but in his capacity to imagine spaces where transparency and forms belonged to no particular place. Yet as he himself said, "But they exist!"
1. The Edwards boutique in Tokyo, Domus 489, December 1970. p. 27.
2. Kiyotomo Sushi Restaurant, Domus 779, February 1996.
3. Domus 858, April 2003.
4. Tadao Ando, Domus n. 858, April 2003.
5. Domus n. 788, December 1996, pp. 40-41.