Rotterdam-based Studio Wieki Somers is the subject of a new exhibition at Paris' Galerie kreo, presenting Mitate, a family of seven large-scale floor lamps. The lamp collection is named after the Japanese concept of mitate, which signifies the perception of an object in a non-habitual way, and the action of contemplating an object as if it were something else, in order to renew its meaning and experience. The collection was inspired by several trips to Japan in 2011 and 2012, in which Studio Wieki Somers conducted research on local craft knowledge, and collected materials and images.

"We wanted to create a contemporary equivalent of sixteenth-century Samurai flags translated into 'light poles' – a family of lamps," states Wieki Somers, pointing out how she was inspired by Samurai flags, whose designs identified clans and demonstrated their unique powers, as can be seen by the Mitate Jin fabric lamp.  Other inspirations for the Mitate collection include the fabric used by geishas to protect the light colour of their skin from the harshness of the sun, as can be seen in the Chuugi lamp; the Japanese stone gardens that reenact the intensity of the world for the pleasure of the eyes, as can be seen in the Gi cord lamp; and a traditional doll that seems to be juggling with her hats, as can be seen in the Rei lamp.
Named after the bushido samurai code of honour, the lamps illustrate each of its seven principles: Gi, the right decision; Yuu, bravery; Jin, compassion; Rei, the right action; Makoto, truth; Meiyo, honour; and Chuugi, devotion. Each lamp has its own identity, proposing a unique combination of technology and craft. The lamps are created from two diverse kinds of bases: a wooden base that resembles a tokonoma altar, and a polyester concrete base with sliced edges.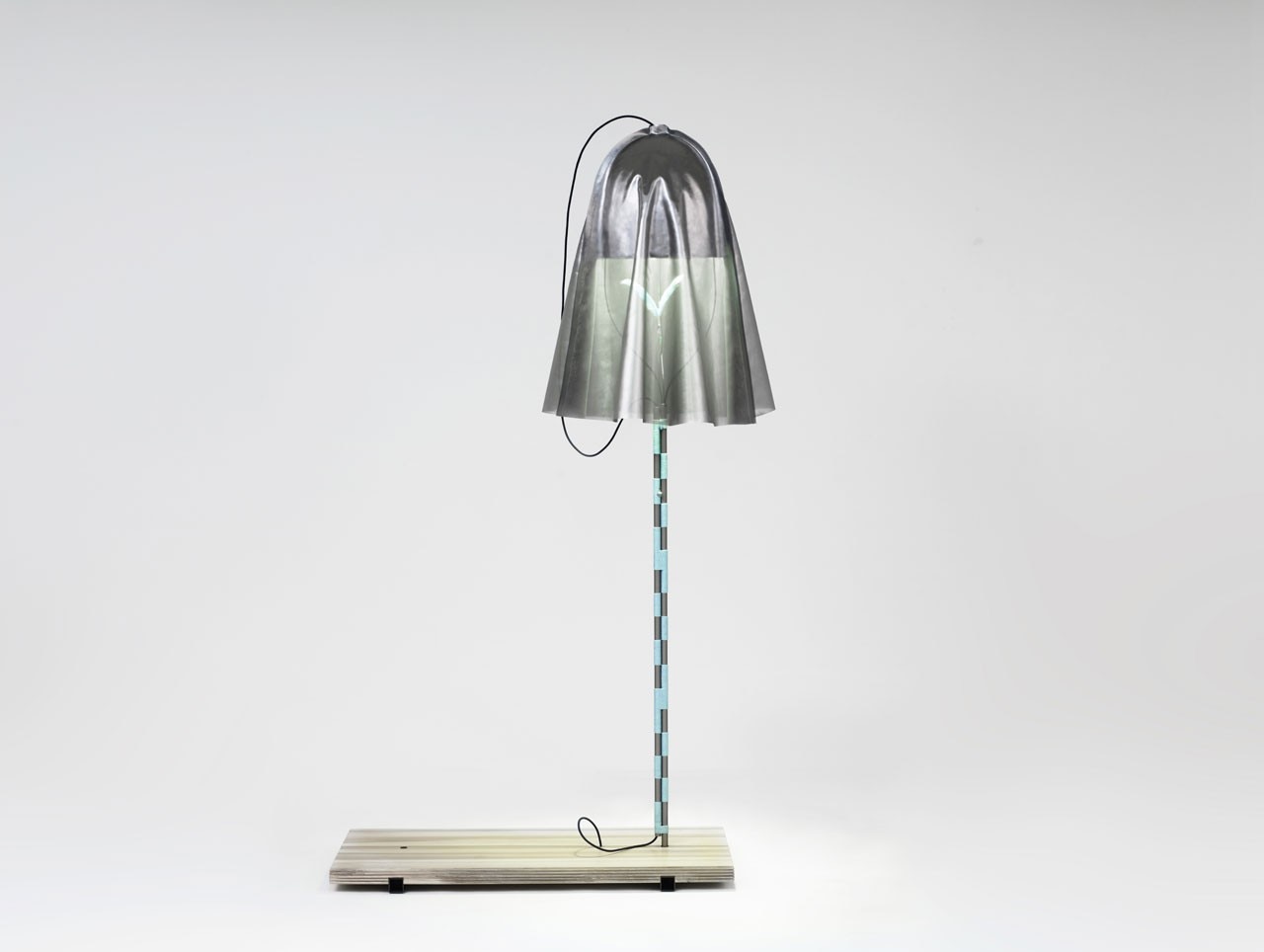 Gi, a chord lamp, features a circular perspex tube covered by a chord fringe sock which diffuses the light. LED light strips are mounted to an aluminium ring held within the perspex, while a steel structure transfers electricity to the ring. The shade is held by bound aluminum poles anchored into a polyester stone base that is cut off from the top.
Yuu, a mirror lamp, features a special laminate of wood veneer and fiberglass gilded in white gold, held in a cone shape with pressed eyelets. An LED holder is connected to the pole by magnets, and the shade is anchored with a polyester stone base that is cut through from different angles.
Jin, a fabric lamp, features a special metallic fabric draped over a fiberglass shell which holds custom LED components. Opaquely reflective when off and transparent when on, the shade plays a game of hide and seek with the feathered pull-switch. The poles are made of anodized aluminium tubes bound with cord, and the base is Tulip wood with brass supports.
Rei, a "shields lamp", features three ring-shaped "shields" made of Ayagami Kozo paper gilded with white gold, and three LED spotlights. The paper is laser cut and glued to the fiberglass rings, then bound to aluminium and steel structures which allow for easy adjustment and redirection. The shades are supported by anodized aluminium poles and a lacquered wooden base.
Makoto, a reflection lamp, features a curved circular anodized aluminium shape covered with reflection foil, which is commonly used for traffic signs. The foil is printed with a gradient that plays both with the ambient light and the light from LED sources held to the pole by magnets. The poles are made of brass tubes bound with cord, and the base is Tulip wood with brass supports.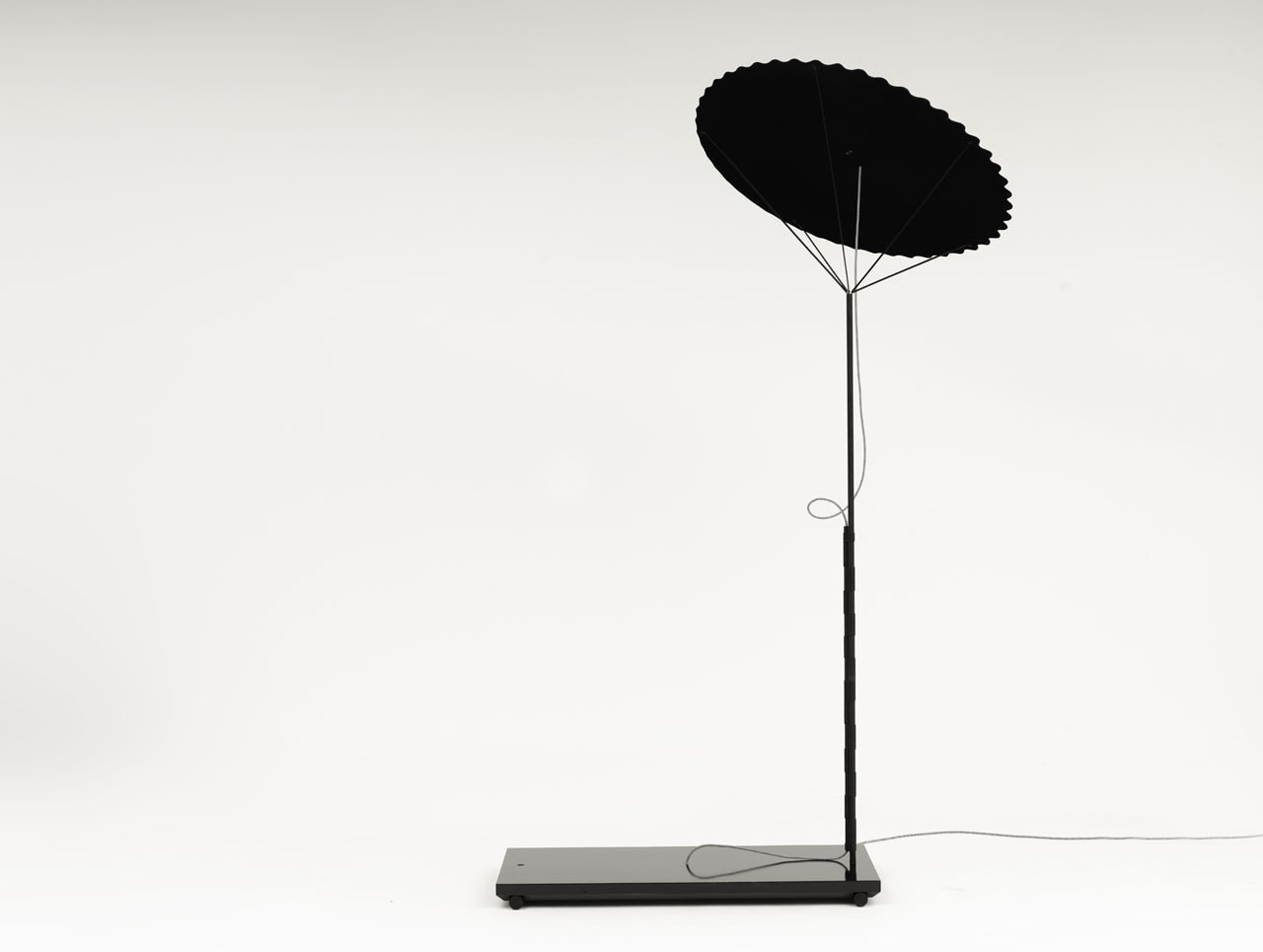 Meiyo, a mesh lamp, features light from a discreet LED source that is captured and held by a folded and oxidised square of copper mesh. The seams are bound with knots, attaching the mesh to copper rods held within a copper-coated aluminium pole. The foot is Tulip wood with copper components.
Chuugi, a "black hole" lamp, features a light-absorbing, velvety flocked shade made of carbon and glass fibre with integrated LED lighting. It is lightly held aloft with a structure of blackened metal spokes. The poles are made of anodized aluminium bound with cord, while the base is Tulip wood with a lacquer finish.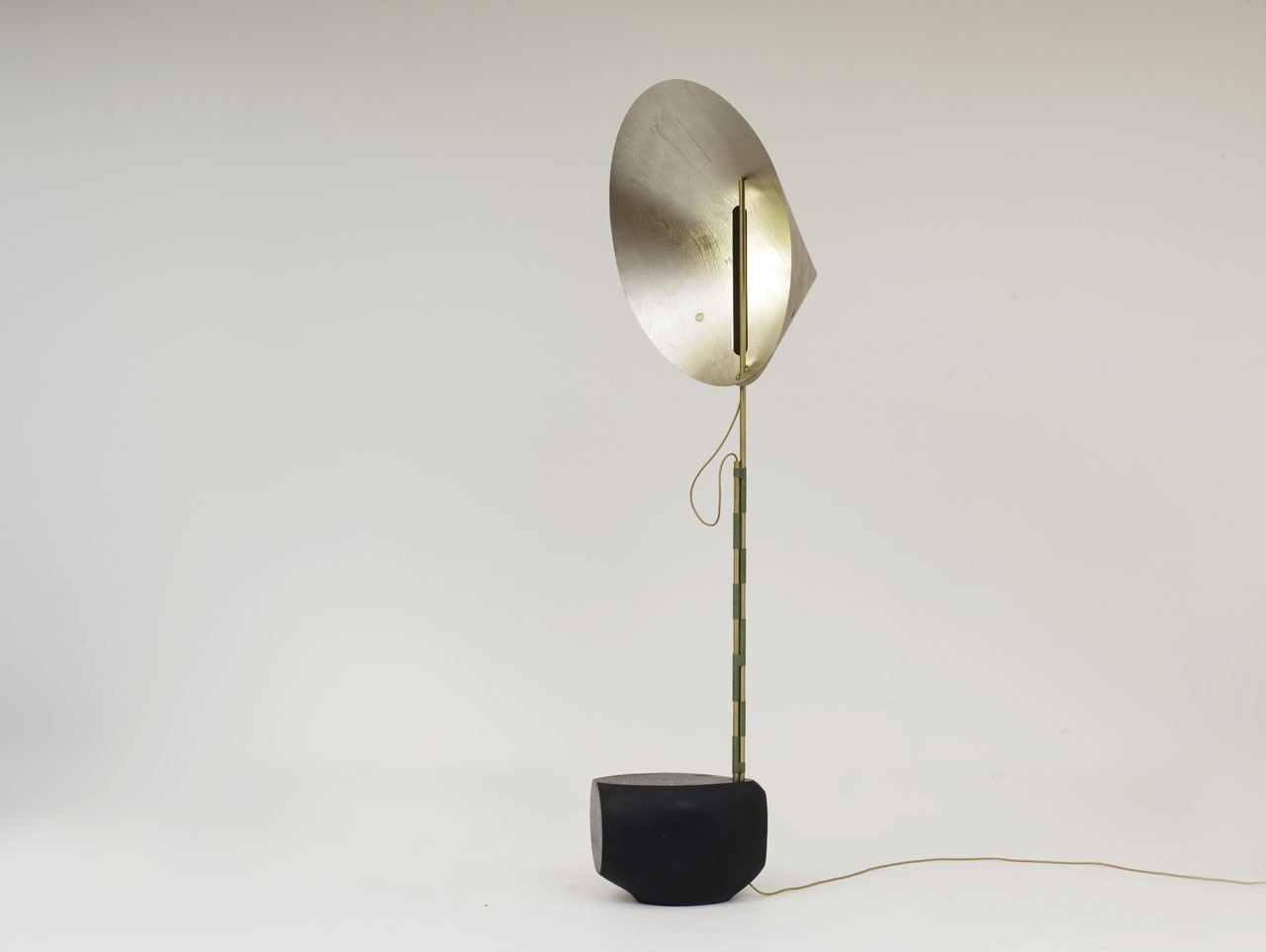 Through 21 September 2013
Mitate. Studio Wieki Somers
Galerie Kreo
Rue Dauphine 31, Paris