"The role of the artist is to anticipate the eternal movement of emotions, to express the secret relation between man and the universe."
—Jean Bodovici

Cloé Pitiot, curator of the new Eileen Gray exhibition, currently on view at Paris' Centre Georges Pompidou, states that Gray wasn't a designer, an architect or a painter. She was simply an artist, a total creator, who expressed her sensibility in the spirit of the Gesamtkunstwerk, the total work of art.

In the course of her 98-year life (1878-1976), the Irish-born Gray navigated between Art Deco and Modern architecture. She began her career studying painting at London's Slade School of Fine Art, to later discover the art of lacquer work, which she also practiced while in the UK. In 1902 Gray moved to Paris, where she would remain for most of her life. Here she would slowly move from two- to three-dimensions, designing, producing and selling furniture while working on interior design projects. In 1922 she opened her own gallery, the Galerie Jean Désert, on Rue du Faubourg Saint-Honoré. For this very modern woman, one of the first Europeans to drive a car, using a man's fictional name would render acceptable the idea of a gallery entirely run by a woman. A few years later, egged on by her friend Romanian architect and urban planner Jean Badovici — Pitiot insists on refuting the rumours of a love affair between the two — Gray went beyond mere decoration and learned architecture as an autodidact.
After falling into oblivion at the end of the 1930s, Gray was rediscovered in 1968, when architectural historian and critic Joseph Rykwert wrote a laudatory article on her work in the pages of Domus. [1] Yet today, Gray still remains an underappreciated and under researched figure of modernism. It is precisely why the Pompidou has decided to pay tribute to her by organising the first French retrospective. Previous monographic exhibitions have been organized by the RIBA in 1973 and by the Victoria and Albert Museum in 1979 (a show that later traveled to the Museum of Modern Art in 1980). Yet many new insights have since been made on Gray's work and life.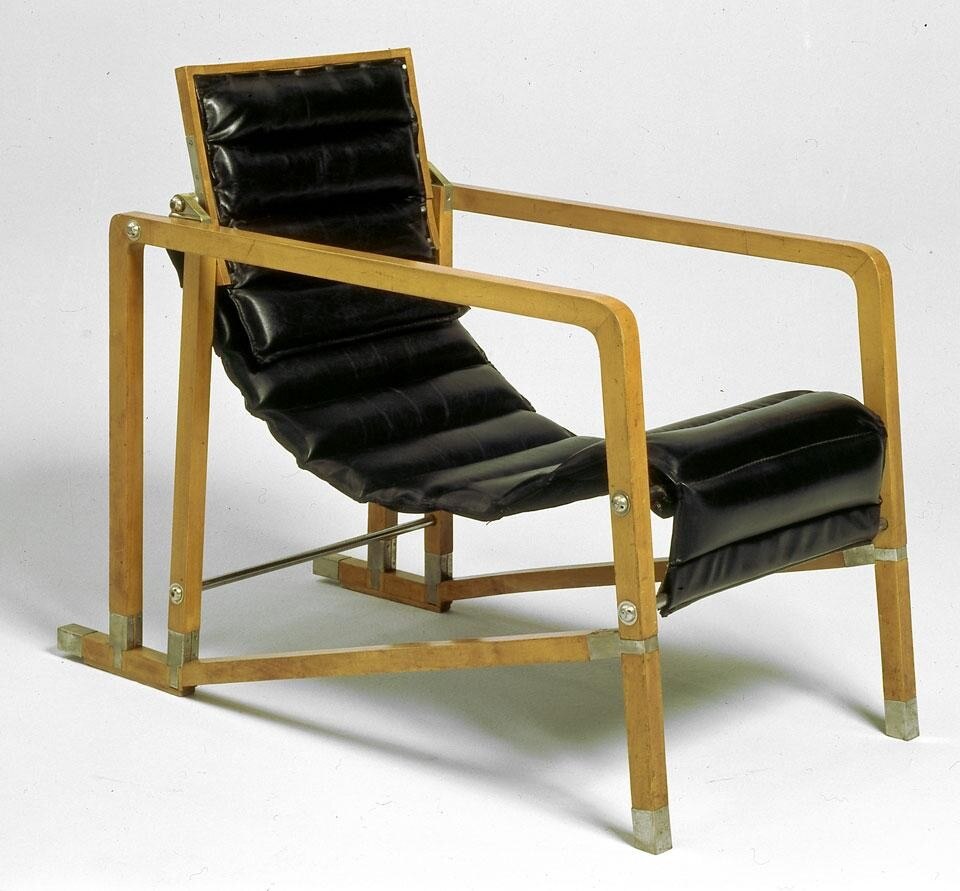 The current exhibition presents a straightforward and soft exhibition design, chronological in scope, for as Pitiot explains "most people do not know anything about Eileen Gray". The variety of material on display — furniture, rugs, architectural models and drawings (some of which have been acquired by the Centre Pompidou's architecture department), correspondence and other archival documents, many of which are from international private collections — forms a richly heterogeneous ensemble. Gray's furniture pieces, none of which were mass-produced, are displayed as rare objects. Some of them — such as the three very similar Transat chairs, two owned by private collectors and the third in the collection of the Centre Pompidou — have been assembled for the exhibition.
The show does not take any big risks in terms of spatial organization and modes of display, but the exhibition design is nonetheless compelling
The show does not take any big risks in terms of spatial organization and modes of display, but the exhibition design is nonetheless compelling: life-size interior photos reproduced as wallpaper allow for a sense of the furniture within interior spaces. Notable objects are also displayed, including the prototype and final work of the iconic 1920s Brick screens in flawless black lacquer — one of the most emblematic pieces of Gray's work. Original pieces, such as rug motif drawings found by the curator at a private collector's home, are also on view.
Amongst the architectural projects on display are the famous Villa E 1027 at Roquebrune — created by Gray and Badovici —; Gray's iconic house Tempe à Pailla, in the heights of Menton; and Villa Lou Pérou, Gray's last home. Many architectural projects — such as the 1936 Maison Ellipse, which may have been inspired by meeting Frederic Kiesler two years earlier — are not, strictly speaking, part of the show. However, one can get a sense of these other architectural projects by taking the time to look at the remarkable portfolio of Gray's later architectural projects, presented at the end of the show in the form of a diaporama.
Despite the large-size portrait of Gray — of the very few remaining portraits of the artist — by American photographer Berenice Abbott that opens the 1,000 square metres exhibition, this otherwise well documented installation unfortunately reveals little about Gray's personal life, and fails to provide information on the historical context within which she evolved, particularly in France. This flaw might be explained by the fact that Gray actually burned a large part of her personal archive, leaving a veil of mystery around her person.
Unlike Marcel Breuer: Design & Architecture at the Cité de l'Architecture et du Patrimoine, the Eileen Gray retrospective at the Pompidou features a selection of work brought together for the first time. As reminded by Pitiot, no relationship existed between Gray and Breuer. Yet in a similar manner, the two exhibitions — with different levels of success — aim to recreate a whole, shedding light on the entire production of a particular figure of modernism, rather than dividing their work between art, design and architecture. Eileen Gray concludes with a selection of Gray's painting, a part of her work that is very rarely shown. These paintings are an homage to the artist's inner sensibility and constant desire to adapt the environment to the human body. Léa-Catherine Szacka

Notes:
1. Rykwert, Joseph, "Un omaggio a Eileen Gray, pioniera del design" in Domus, Dec. 1968, p. 33-46.
Through 20 May 2013
Eileen Gray
Centre Georges Pompidou
19 Rue Beaubourg, Paris