A better world through creativity
It's 1 March 2012, I'm visiting the Cape Town Design Indaba, and this is one of their welcoming slogans. The full weekend fee for an ordinary visitor is 8000 Rand (approximately 1000 euros), which is much higher than the average income of a South African. But then again, what can you expect when Hans Ulrich Obrist, Piet Hein Eek, Bjarke Ingels and Massive Attack are topping the bill.

My first introduction is the Visitors Guide. It's richly illustrated with neat arty pictures, and has a typical overblown advertisement language. Are you interested in a helicopter flight to the Winelands? And, according to main sponsor MTN, "when two great ideas meet something amazing happens". It's the hype and the jive we all know from any commercial campaign. Cape Town is confidently set to become the World Design Capital in 2014. And the first impression of the Indaba [Zulu for encounter] is that of a bunch of happy beautiful creatives, who enjoy a glitzy spectacle and believe design can do a whole lot.

My ambition is to listen to the less familiar names. The first one that strikes my attention today is filmmaker Akshat Verma. Humorously mocking himself in his short bio — "he won a few awards on his journey thus far, but claims they should in no way be considered an endorsement of his writing ability, character or moral fibre" — this L.A. based Indian guy seems a good laugh.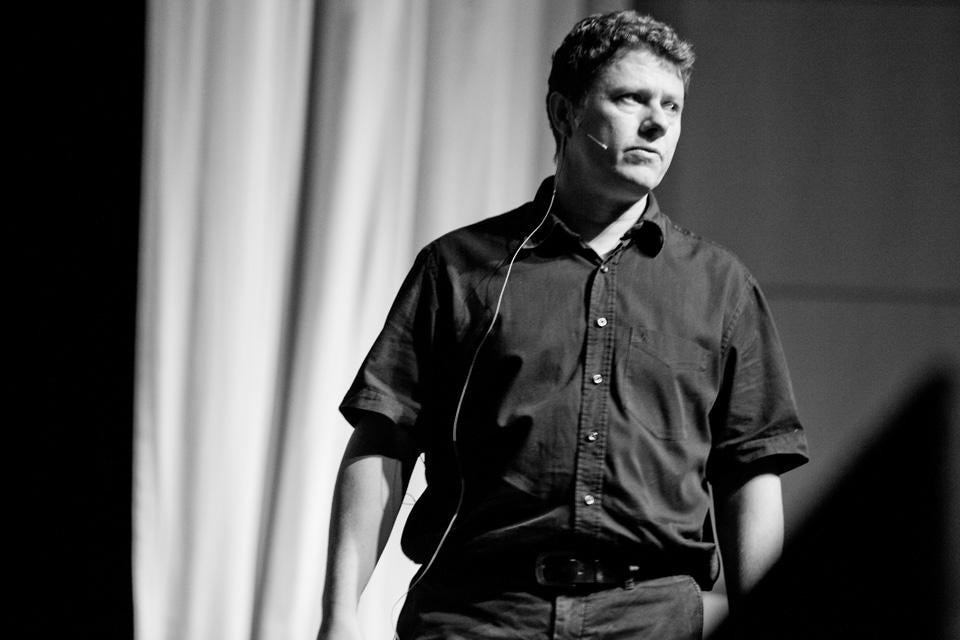 Live design, transform life
An excellent part of Akshat's contribution is a short story about the video store of two brothers in his hometown. Secretly, the brothers rented out porn movies from beneath the counter. One would walk in, say a code number and a brother's hand would randomly grab a VHS cassette from under the counter. Not being able to choose the porn he wanted, Akshat remarks that "nothing builds the character of a man as much as not getting the porn he wants". The Bollywood filmmaker's personal experiences teach him about the qualities of so-called delayed gratification for a film script. Indeed, he shows with a clip that although his romantic comedy Delhi Belly is loaded with sexual tension, the guy only gets to kiss the girl in the very final scene.
Another creative challenge which is intrinsically part of his work and resonates in the South African postcolonial setting, Askhat explains, is the question of authenticity. According to him, 100% originality is not the goal. Instead, he proposes to stand with one foot in the past and one in the future. Asking the audience their first associations with Bollywoord movies — these being costume changes and women dancing in the rain — Akshat goes on to explain how he used these stereotypes and preconceptions as a way of developing his movie scripts. Putting two seemingly very distant entities together, such as traditional Indian folk music and American rock music, or costume changes and modern pop culture. Part a former copy-writers whimsy, part a global citizens truth, Askhat Verma's provocative presentation is a clear voice at the Indaba, an event that, as my tongue and cheek introduction indicates, could use a little more irony concerning the solutionary power of design.
A sort of celebratory optimism seems at the heart of the Design Indaba. It's uncanny though, knowing that apartheid in South Africa was very much an urban design project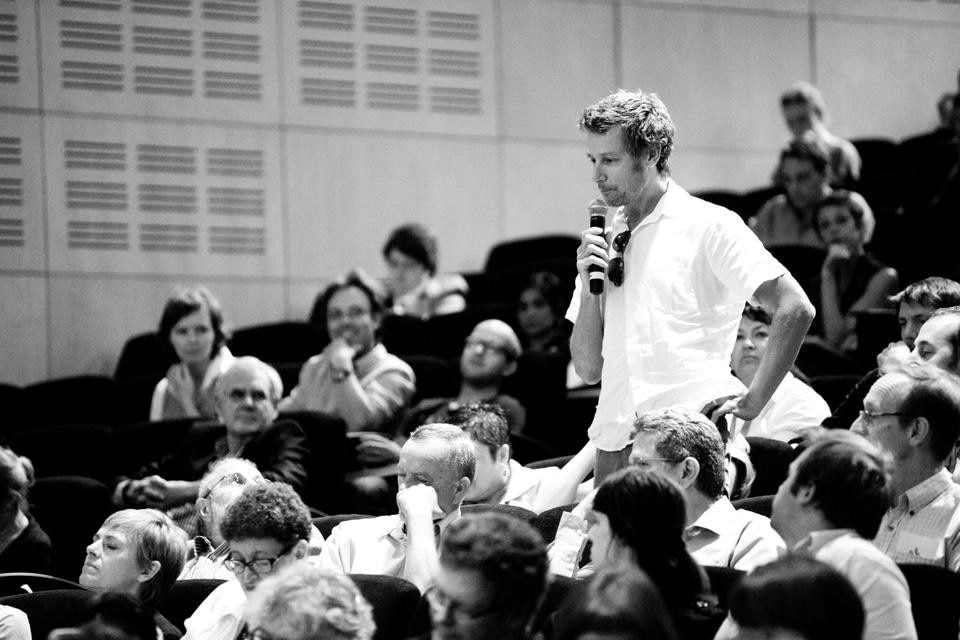 Separated by apartheid, reconnected by design
This sort of celebratory optimism seems at the heart of the Design Indaba. It's uncanny though, knowing that apartheid in South Africa was very much an urban design project. Yet, I guess the organizers would say the Indaba is an event of hope. Through the Design Indaba, Cape Town can position itself as an emerging global city, a city that is engaging with design focused on the future. It's fascinating to see how this event works as a zone of privilege.

During the early start of third morning I walk into a great number of school excursions. It's good custom in South Africa to bring in the previously disadvantaged with buses from townships of Cape Town such as Langa, Nyanga and Mitchells Plain, Gugulethu or Kayelitsha. The first design piece that these kids are confronted with is a map by odor artist Sissel Tolaas presenting a Smellscape of Cape Town 2012-2014. Unfortunately, Sissel didn't include the neighbourhoods of these kids in the townships.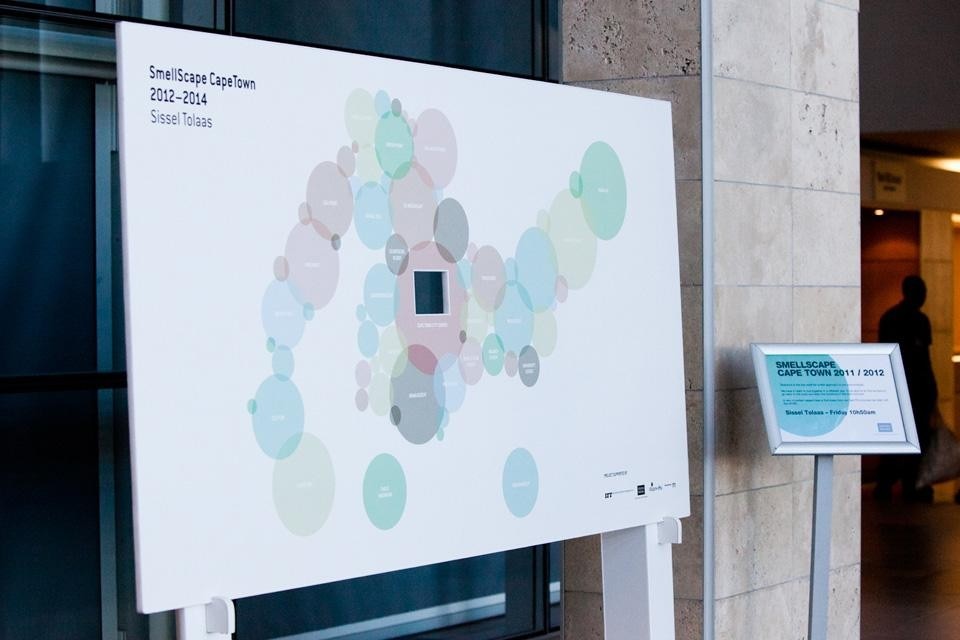 South African speaker Clive van Heerden, who is director of design-led innovation at Philips Design, is spot on when he states that in many design undertakings we don't ask the difficult questions. Why do we design what we design? Clive, who is in the business of creating lifestyle scenarios, spoke about his design provocations, which address societal issues, such as how do we generate power to how is health diagnosed. Interestingly, he concluded that essential life skills and crafts, as for example bee keeping, are disappearing. And he therefore was a strong supporter of the crafts program of the city in the townships.
Reconciling past with present
An interesting voice from the first day of the Design Indaba, which definitely does not comply with the idea of South African future based on the desire to escape from the country's traumatic past, is that of Cape Town-based architect Heinrich Wolff of Noero Wolff architects. His office designed social housing for the so-called Red Location project in Port Elizabeth, a city situated in the Eastern Cape province. In a self-conscious way, Heinrich attempted to engage with a typical apartheid township space and repair injustices from the past. Their proposal challenges the generally accepted norms for social housing. It was based on research on rental practices in townships, showing, as Heinrich phrases it, the reciprocal relationship between research and propositional work.

I appreciate Heinrich's conclusion that Cape Town is in a period of rapid social change, and this demands participation of designers, instead of just serving the interest of the wealthy or the powerful. A sensible contribution to the Indaba, an event whose branding suggests that it's possible to design your way out of apartheid. Christian Ernsten