Our approach in this set of surveys has been to consider objects as texts that draw us into stories, which are waiting to be interpreted whether consciously or otherwise. By producing a sort of literary criticism of these tales, we have sought to flag up the idea that design's value extends well beyond the mere function of everyday objects. However, in doing so, it has been important to remember that these texts-objects are not sim ply everyday things that produce sen sations and symbolism; they are also technical products, commodities, consumer goods and status symbols. In this collection of snapshots that can help to reveal the state of the art in the relationship between Italian industry and design, there is no claim to swan around like water diviners drawing conclusions, or even more presumptuously steering manufacturing. Rather, we have set out to offer new stimuli that may kindle curiosity and enthusiasm, which are the preconditions for research, innovation and hence the future.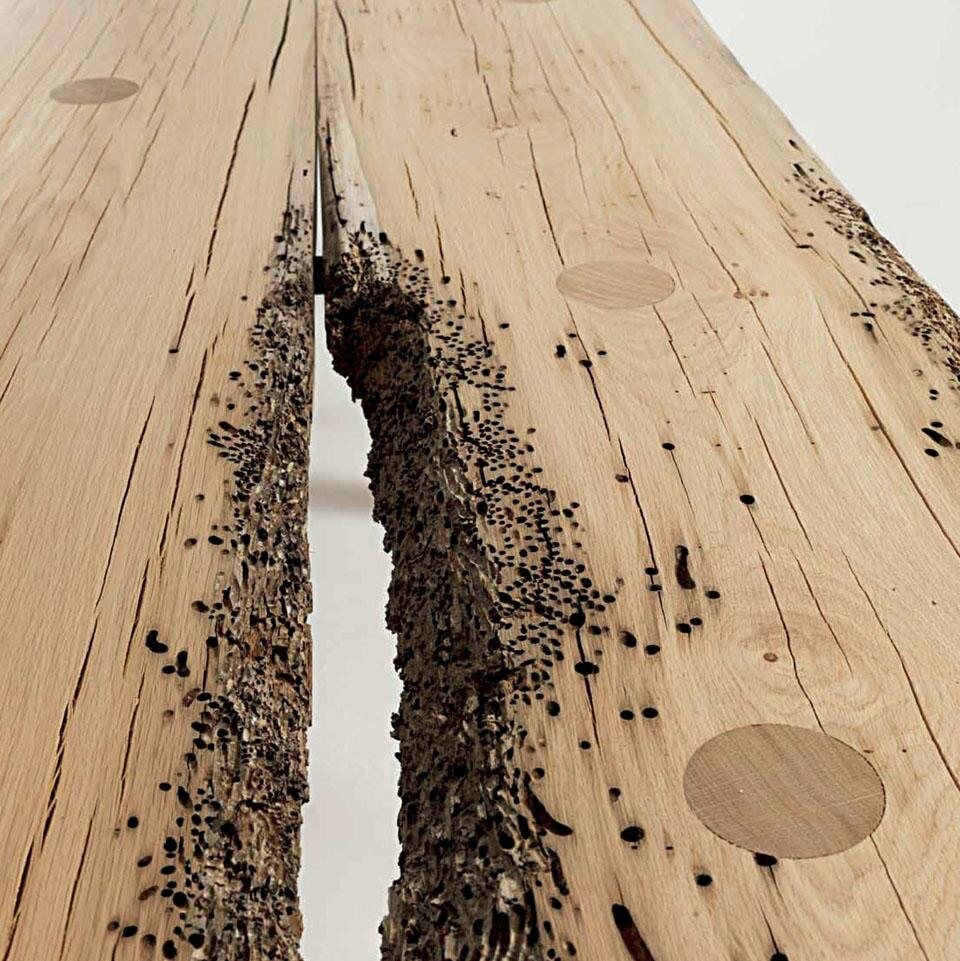 This brief outline to our series of re views introduces the final case history that we shall examine (at least for the time being): Riva 1920. Right from its foundation (in 1920, naturally) this long-established firm has been highly specialised in woodworking, based in an area of Italy that is renowned for its furniture production: Brianza, and in this case the city of Cantù. The combination of history, Brianza and wood reconnects with the origins of a crucial Italian design experience, providing an opportunity to reflect on the fact that history can and must be a major part of our future. Not by chance, today this company is striving to amass an exciting array of initiatives that are imbued with a "utopian quality" redolent of the Olivetti model.

Riva 1920 has brought these narrative elements back into focus, especially in the case of wood. By moving them away from the dumbing down of certain stereotype models, the company is working to restore dignity and greater expressive capacity to words that, symbolism aside, are principally values to be kept alive and rejuvenated. Today, Riva 1920 sees wood not just as an increasingly "fragile" material, with many species at risk of extinction in this consumer era. For the Brianza firm, wood is also of the prehistoric variety re trieved from New Zealand swamps or recycled after centuries of use, as in the case of Venetian briccole, the piles used in the canals of the lagoon. All this rhetoric of millenary trees or centuries-old wood with a Venetian aura may seem slightly over the top. But, apart from the fascinating background of these types of wood, we must also acknowledge that these projects feature original research into wood as a material and into potential new developments. To our mind, such research goes beyond the simple and understandable marketing ploy centred on a material's little-known peculiarities.

Doing something new with wood isn't easy, because it seems that just about everything has already been done. However, novel ways of using indoor-outdoor domestic spaces have implied fresh requirements and languages, and hence different expressions and different contemporary narrative stories. Furthermore, advanced production techniques for ageing, working and finishing wood have opened up a range of ways to use and transform the material. Consequently, for however wood is traditional, it is confronted with different issues and demands. In this condition, good design united with good business can come up with a significant interpretation.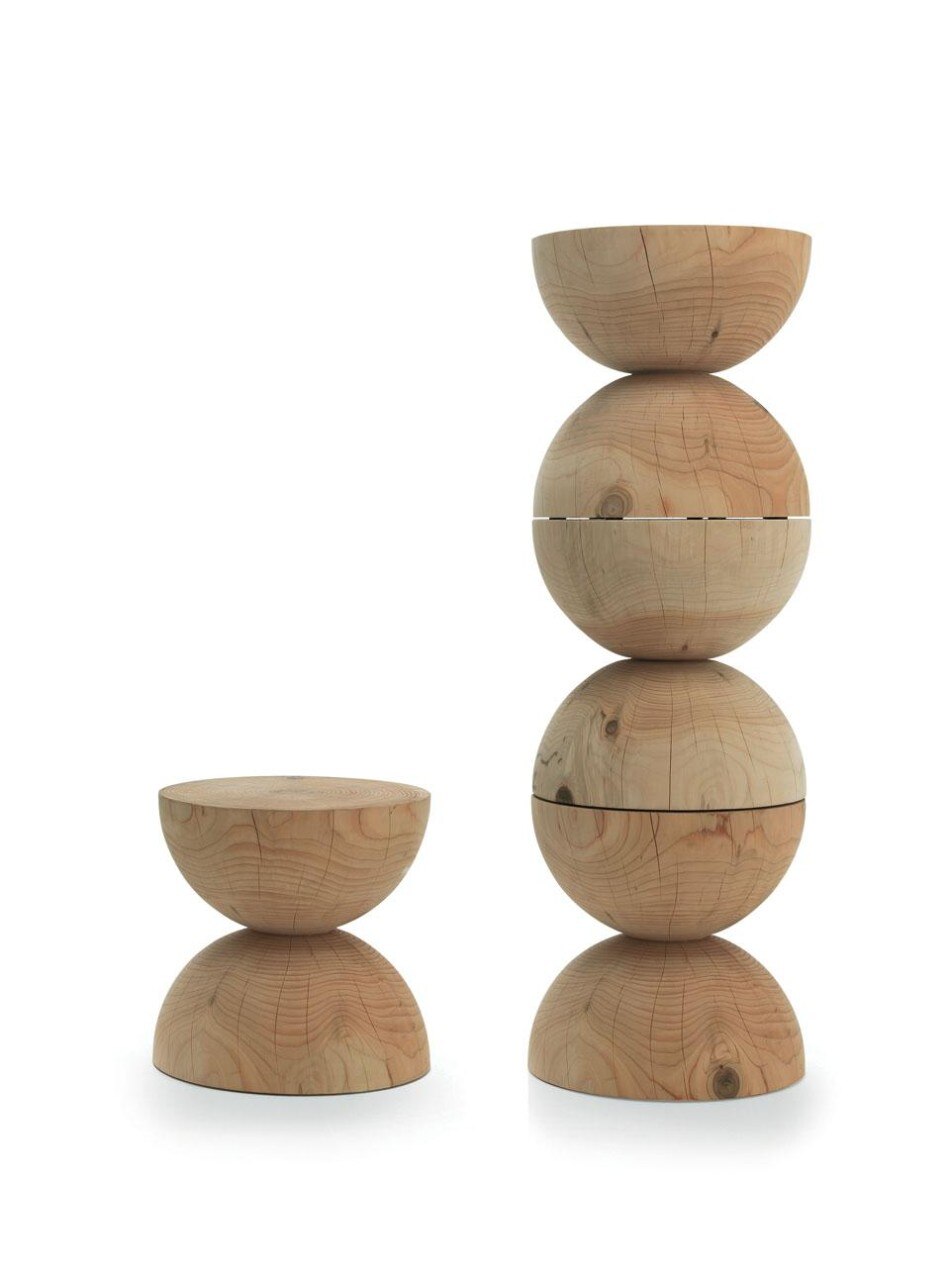 Of course, wood lends itself to certain trilithic and joint construction features, as well as to production methods that are able to bring its sculptural fibres to life. As is evident when analysing some of the texts-objects presented over the last three years by Riva 1920, these are recurring themes that underpin the most convincing models. The firm's recent production reveals two different poetic idioms: the "architectural" construction in which parts are assembled with orthogonal sections, and the more organic, "sculptural" constructions created by subtracting from the solid material (or "by means o f taking away", as Michelangelo put it). The first language appears in the Cartesian construction of the Bookshelf system with storage units (2009) designed by Matteo Piano's Studio Piano Design, and the trilithic structure of the Rewind table (2008) by M. & D. Riva's The Creative Group. The second poetic structure introduces different approaches, such as Michele De Lucchi with the Vegan table (2009), David Dolcini with the Sid stool (2009), Karim Rashid with the Kairo chair (2009), Matteo Thun with the Light table (2009), Mario Botta with the Clessidra stool (2009), Marc Sadler with the Fiord stool (2009) and Terry Dwan with the Fiji (2007) and Napa (2006) stools, plus the Tobi 3 coffee table (2007) and the Maui armchair (2007).

The Bookshelf system features an admirable neo-plastic compositional approach in the storage version, with the units detached. As a result, the display cabinets resemble furniture designed by Gerrit Rietveld, and particularly his famous Beukenhouten dressoirtje dated 1919. Regarding the classic trilithic or portal construction, we should remember that this ancestral compositional model is an unavoidable point of reference in the search for an essential and consistent line for a table or other elements with supports. Yet even here, the balance of the proportions is an important variable that should not be pushed beyond the limits that the eye is accustomed to recognising in the matter/form relationship.

Consideration of the tree species' organic forms introduces another facet of wood design. Produced by subtraction from the solid material, this aspect also lies at the origins of industrial moulding practices. It is worth bearing in mind that, in the furniture industry, the painstaking and distinctly craftsman-like practice of chiselling away at wood is done by numerical control machines with spindles. Consequently, even these special objects with their hugely solid presence are in actual fact produced by a more sophisticated technology than that of cutting wooden beams.

This theme of the material's mouldability can be interpreted in different ways. With Michele De Lucchi's Vegan table, the exercise in eroding matter ends up dissolving the mass of the legs into surreal fibrous struct ures, as if worn away and polished by time. These skeletal legs fit into the sides of a top that is also moulded, and almost worn at the edges. This design harks back to a world of Robinson Crusoe-like objects found in nature and simply adapted for use.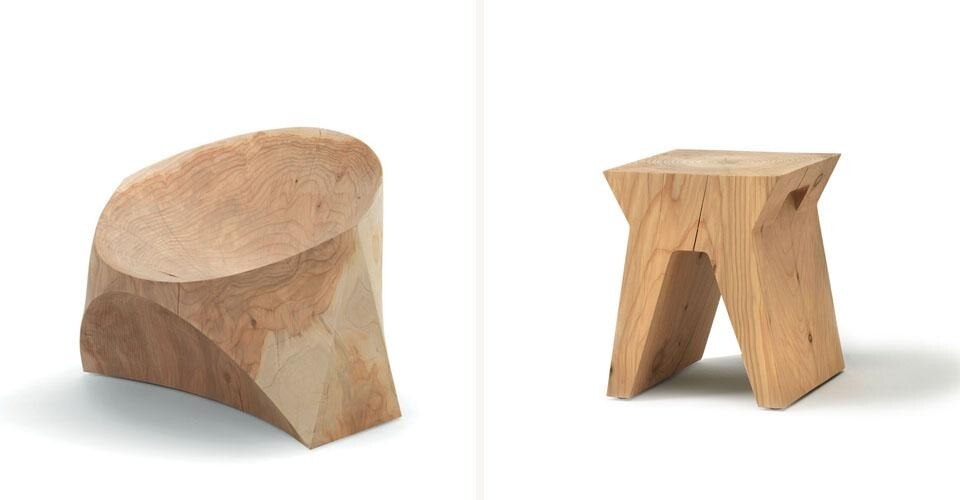 Matteo Thun's Light table proposes a kind of "liquid" wood that seems to melt away, with the matter of the two geometrical supports taking on a fluid development that alters the section. Where the supports meet the top, they are set at right angles on three sides but curved on the inward-facing parts. As the supports descend, the rounded section is gracefully tapered to become fully orthogonal where it rests on the ground. This perceived "lightness" is echoed in the changing thickness of the top, which is slimmer on the outer edges and more substantial in the central part. Again, despite the abstract-minimalist touch, one senses that the designer's aim was to simulate a form fashioned by the forces of nature.
The seats designed by David Dolcini, Karim Rashid, Mario Botta and Terry Dwan, meanwhile, have a sturdier appearance and display varying degrees of plasticity. Here, the objects' solidity and heaviness prompts us to see them as entities that transmit a special poetic reaction produced by what philosophical metaphysics describes as "immanency". In these cases, solid wood regains the natural traits of a living and ageold material, with the inevitable cracks produced by its subjugation to the processes and context.

Given these successful examples of the direction undertaken by Riva 1920, we can look forward to more interesting developments from this company, which continues to uphold wood as a source of inspiration for design through its coherent experimentation with method, type and form.