Among the visionary projects displayed in the Brutal DC exhibition at the Southern Utah Museum of Art, one can be seen , involving the Robert C. Weaver Federal Building, a brutalist complex built in 1968 by Marcel Breuer to originally "reflect the dignity, enterprise, vigor and stability of the American National Government" through "the finest contemporary American architectural thought".
The idea by Brook+Scarpa aims at providing an architectural response to the evolution of office work, which has seen remote modes persist beyond the period of social distancing, leaving many buildings largely underutilized. It is precisely under these conditions that the Weaver Building, like other federal buildings in Washington, currently exists, with its 65,000 square meters partially unused.
Brooks+Scarpa reimagines nearly half of the complex as a large mixed-use community inhabited by residents and workers. The sharing of common areas, including kitchens and bathrooms, not only helps contain costs but also allows the repurposed spaces to be allocated for new uses in the future. The proposal includes the demolition of the shorter sides and a reduction in thickness of the longer ones to enhance natural lighting and ventilation access.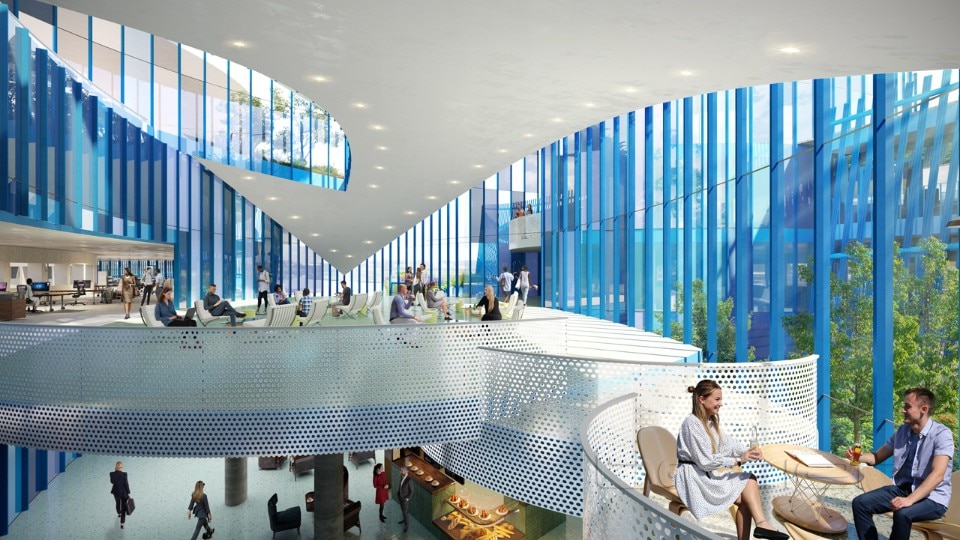 The play of light and shadow created by the original prefabricated facades – a trademark of Breuer's architecture – along with the inclined paired pillars, is preserved as the iconic feature of the building. The interior elevations, renewed in steel and glass, transform the central area into a large garden for multiple uses, alternating spaces with different heights and green surfaces. The new volumes and transparencies can thus turn this space into a lantern during nighttime. Although remaining an unrealized vision (for now), Brooks+Scarpa's proposal showcases a clear approach to the brutalist monument, where values of use prevail over the integrity of the historical artifact in favor of a more balanced definition of contemporary uses.