In Barcelona's Gracia district, Spanish Calderon Folch Studio has overseen the redevelopment of an existing residential building on three levels. Harmoniously integrated into the local architecture, the block houses five flats and aims to guarantee its inhabitants maximum thermal, acoustic and lighting comfort.
The facade, as well as the interior spaces, has been totally redesigned by the architects using a soft tone, while sage green was selected for the Alicante window frames and shutters. A chromatic purity that is also found in the interior: the stairwell is characterised by the delicacy of the lines and the formal cleanliness of the surfaces – the steps and the walls covered with bricks – which stand out in their milky white shade. A whiteness and brightness that become a distinctive feature of the project and also belong to the individual flats, characterised by large windows, wooden frames and handmade ceramic tiles laid on the floor.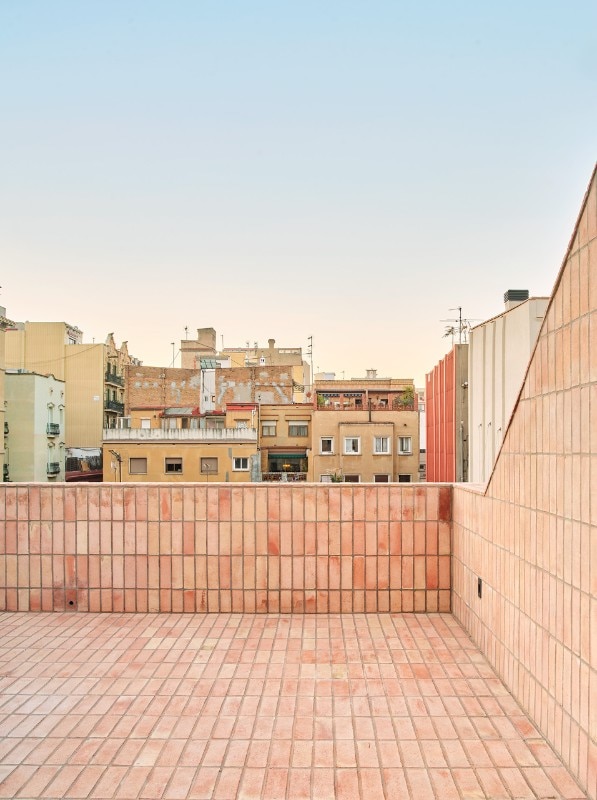 While on the one hand the project explores a new spatiality and proposes its own idea of urban contemporaneity, on the other hand traditional solutions are favoured: an example of this is the roof-terrace, which retains the typical terracotta bricks, distributed over the entire surface in harmony with the surrounding buildings.
The house, with very low energy requirements, has been designed using passive strategies and aiming at comfort and environmental sustainability.