Near Lake Como, A25architetti has renovated a family home from the 1950s, transforming it into a holiday dwelling: the House of Memories (Casa dei Ricordi), isolated or perhaps protected from urban frenzies, embodying a luxurious idea of retreat where to rediscover the beauty and the times of Italian villages.
The beating heart of the house is the living room, which leads to three bedrooms. This organization is inherited from the original layout, when the building was also used as an inn, and when the corridors were not yet part of the typological alphabet of the residence. The decision to confirm the layout, with the exception of providing the rooms with independent bathrooms, is one of the elements on which the sense of memory relies, as the name of this project also recalls.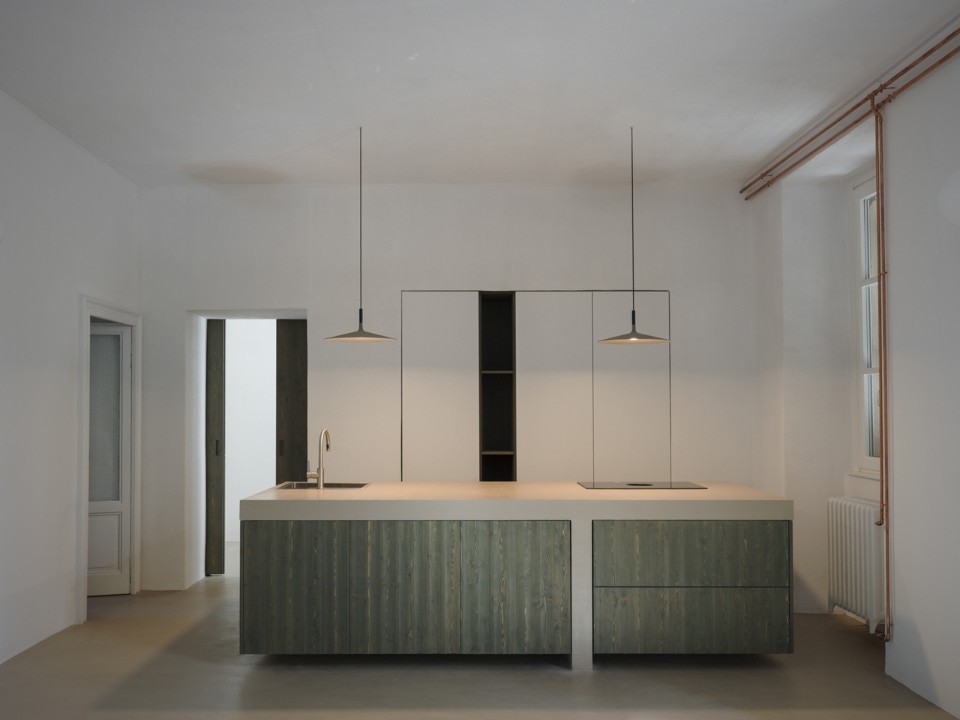 The main operations on the rooms are the sandstone-colored resin flooring – also characterizing the bathroom – the application of a rough plaster for the walls, and the creation of new exposed copper planting, which, based on a precise design, also takes on a decorative role. Then comes the new kitchen: recessed columns, encased in the equipped wall, and a large island that measures time and space of everyday living. The rest of the furnishings are pivoting around this centerpiece, adapting to the needs and uses that the house will have. The kitchen is in concrete and solid wood, in dialogue with the ancient sideboard a few steps away and – thanks to the green aniline dye treatment – with the forest landscape that surrounds the village.