A house on Portugal's Silver Coast, near the cliffs of Praia D'El Rey, makes the Atlantic Ocean its centrepiece. The backdrop for the architecture designed by ida arquitectos is the rocky archipelago of the Berlengas, the world's first protected area. 
The design of Casa Falésia D'El Rey was conceived following a twofold objective: the possibility of observing the grandeur of nature and the need to guarantee a protected and safe environment, an architecture that was welcoming and comfortable.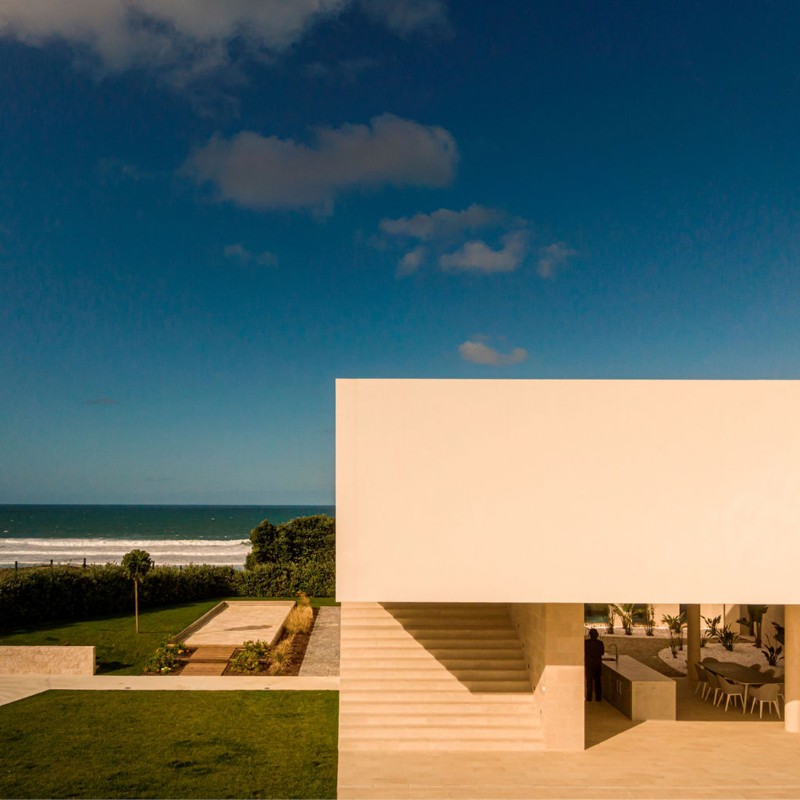 The house is characterised by the presence of two differently shaped volumes, one towering above the other: the block below, in the earthy and delicate colours of sand, serves as a plinth to support the one above, characterised by a distinctive L-shape facing the internal patio – an intimate 100 square metre square accessed through a shaded portico. 
The volumes present a series of solids and voids, passages that slice through the architecture and lighten it, while geometric shapes such as the square and the rectangle predominate throughout. A wide staircase leading to the terrace overlooking the ocean, to the west, emerges as a sculptural element, at the same time blending into the architecture.
The garden, to the south, houses the solarium and swimming pool. Inside, the lower floor houses the public and leisure functions along with guest rooms and the first floor contains the sleeping area and main spaces with ocean views. 
Lead architect :

Ivan de Sousa

Engineering :

Projecto Engenheiros Associados

Landscape architect :

Inês Antunes

Construction :

Lagoa Atlantica Construções, lda

Site area :

2,370 sqm