If one believes, along with Nietzsche, that due to the theory of eternal return certain events repeat themselves in the same way even after a distance of time and space, one should not be too surprised to find a building in Tokyo that looks as if it were directly projected from the set of a German Expressionist film or a painting by Ernst Ludwig Kirchner. For just as, in the first two decades of the 20th century, intellectuals recorded the dark forces of everyday life, foreshadowing and confirming the First World War, today pandemics and wars plunge Humanity back into a chasm of disquiet, within an increasingly homogenised global society that hides the meandering traces of collective anxiety under the 'carpet' of fake reassurance of dominant thinking.
This work, designed by KOJI AOKI + AAOA + a design, seems precisely to record the bewilderment of our time. And it is no coincidence that the building is located in the Azabu-Juba district, an urban suburb with a mysterious aura and a wealth of legends ranging from stories about the Seven Wonders of Azabu (ponds, swamps and strangely shaped trees) to those about the nearby Kurayamizaka ("dark slope"), so named for the trees so dense that they make the forest ominously impermeable even to daylight.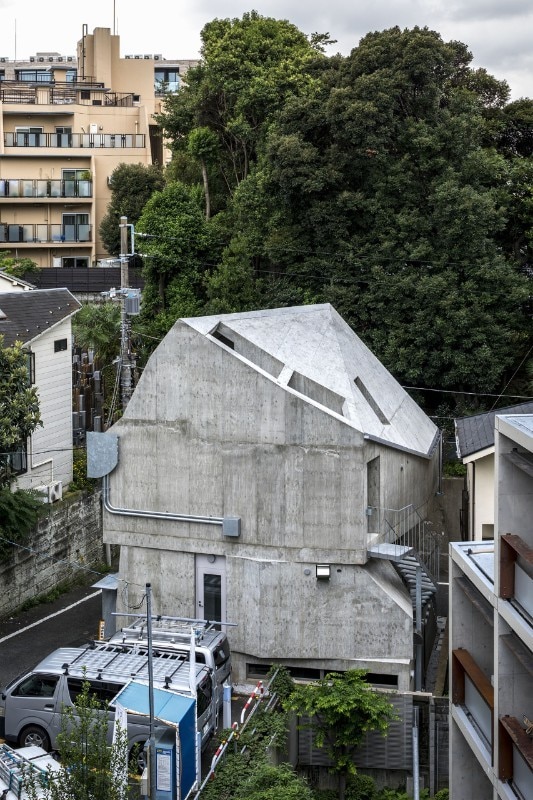 The four-storey building, located on a plot of land with a complex orography between steep slopes and retaining walls, was originally intended to house a restaurant: however, due to the pandemic, functional plans have changed and the complex has been designed with maximum flexibility to allow adaptation to future uses. The resulting architecture seems to emerge from a telluric landslide: sharp lines, angular geometries, dramatic contrasts of light and shadow punctuate the rough shell of an exposed concrete monolith with a distinctly brutalist character. 
A formal language seemingly devoid of logic, based on the deconstruction of architectural elements – from the concrete partitions that rise without connecting to the floors, to the shapelessly splintered walls – that prevents a linear and univocal interpretation of space and immerses the observer in the Freudian dimension of the "Perturbing" (Das Unheimliche), confronting him with ambiguity and uncertainty as constituent and inescapable elements of our age.
Project:

Restaurants in Azabu-juban

Architectural project:

KOJI AOKI + AAOAA + a design

Project leaders:

KOJI AOKI + AAOAA (Koji Aoki, Yuta Takahashi, Kaita Tsutsui)

Collaborating architects:

a design inc.

Engineering:

HSC

Building Contractors:

BEANS LTD.

Interior construction:

Taisei Rotec Corporation