This article was originally published on Domus 1069, June 2022.
Ling Hao, a Malaysian architect with a practice in Singapore, has redesigned a semi-detached house on Siglap Hill built in the early 2000s. Before this work, the house had already been altered three times and its current owners had already lived in it for eight years. Hao says that the building had "a Western interior design" unsuited to Singapore's equatorial climate, since it failed to allow adequate air circulation. This meant it was defined by thick partitions and small windows, thereby requiring air conditioning to make local temperatures bearable.
Since 2000, the year when he founded his studio in Singapore, Hao's experiments with housing in these latitudes have evolved through various projects in which the environmental theme has had socio-political overtones. Indeed, refurbishing 20th-century buildings by changing their relationship with the climate involves stripping them of the colonialist conception that produced them and rediscovering a sense of habitation specific to the place.
The long, narrow building of Every Window a Garden has a footprint of 6 by 22 metres, set in a lot with the same proportions. The first and second floors are occupied by a couple and the ground floor by the husband's father. Hao's main design gesture was to make a longitudinal cut through the concrete floors on the south side to open a 1.5-metre-wide distribution space overlooking the garden. The void that this created freed up the facade, making it possible to install a series of steel planters in the apertures.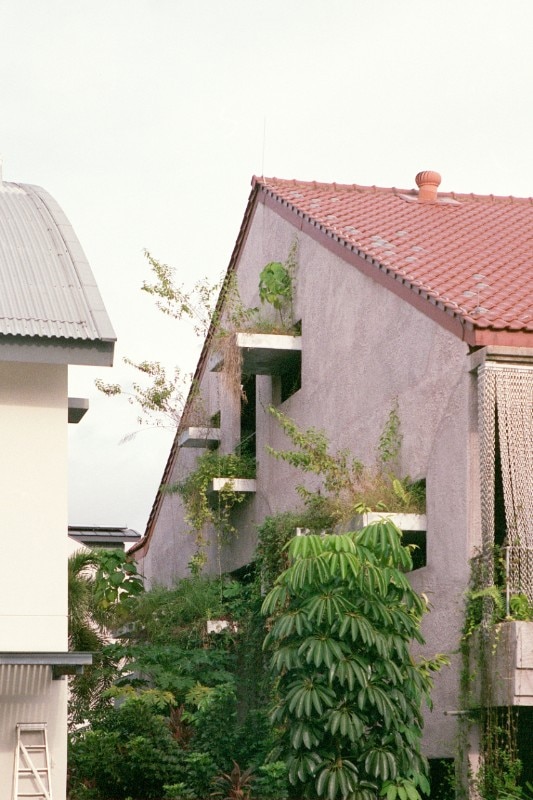 To separate the corridor from the interior, a series of sliding panels was suspended from the beams that were added to support the floors following the cut. The grid of exposed beams one finds in the various rooms follows the previous layout of the interior, reflecting the arrangement of the demolished partitions.
On the ground and first floors, a column of wardrobes runs along the blind wall separating the house from the property next door. On the first and second floors, perforated steel slabs have taken the place of the concrete, creating a visual permeability between floors and closer contact with the atmospheric elements. These include rainfall, whose presence in the interiors is part of the design. In particular, on the top floor – a single space dominated by a piano – a number of transparent acrylic roof tiles have replaced the original ones. Some of these are connected to small tubes that channel the water to the planters. "Rootedness," says Hao, "is not something given. On the contrary, it is found by adapting to places and their nature."