To talk about the project Sin Nombre Casa y Galeria, by Associates Architecture, it is necessary first of all to describe the context in which it was conceived. This residential architecture is in fact a direct reaction to its built environment.
The new building is located in San Miguel de Allende, about 270 km north-west of Mexico City, in the Serra Madre mountains. Characterised by pastel-coloured buildings with colonial facades, the historic core of the city is a UNESCO World Heritage Site. The city centre, consisting of 64 blocks, is laid out according to a regular grid, which in the suburbs dissolves into a disjointed, sometimes labyrinthine layout. In these neighbourhoods, the houses are informal, anonymous and develop in an introverted manner. And it is here that the residence designed by Associates Architecture is born.
The trapezoidal shape of the plot defines that of the building. The volume is in fact a simple extrusion of the existing layout. The design concept is to work with a monolithic block that houses and conceals a series of domestic microcosms.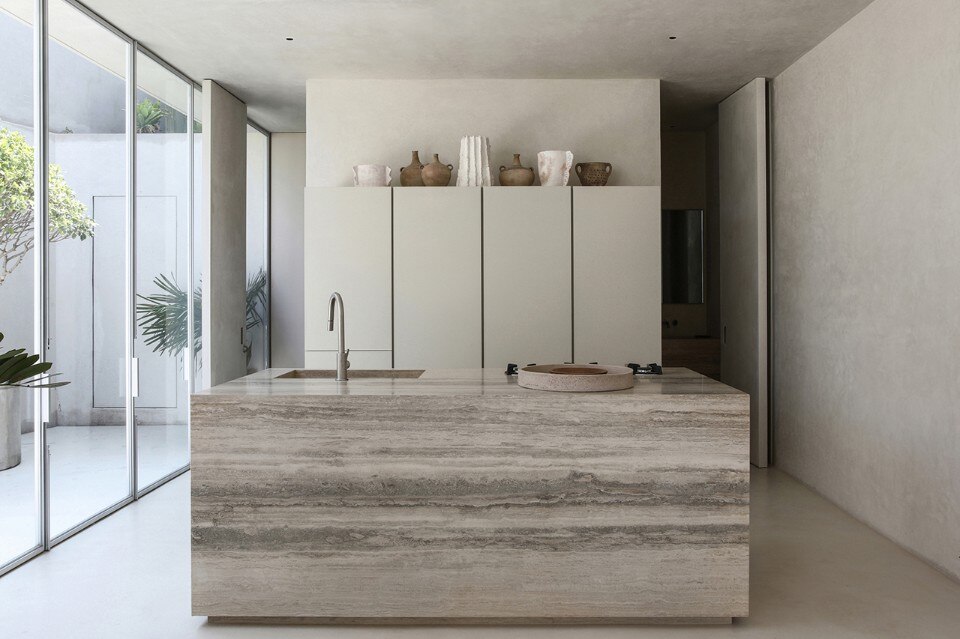 "Referencing the local residential typology, we opted for a scheme that works inwards, and proposed a series of void spaces in the plan in the form of patios," says Martina Salvaneschi, co-founder of Associates Architecture. "These voids, together with the spiral staircase, are what gives the project its character. They filter out the city all around, perceived through a muffled noise and reflected colors; they suggest a different perception of scale to the user, in contrast to the intimate rooms inside; they allow a high contrast of light and shadows."
Inside the shell, the living spaces open up completely onto the open spaces with large glass windows: the living area onto the garden and the bedrooms onto a small independent patio. The design is inspired by Mexican vernacular architecture, characterised by internal courtyards invisible to the outside, but in its vocabulary and simplicity it is clearly influenced by some masters of modern architecture, such as Luis Barragán and Mies van der Rohe.
Project:

Sin Nombre Casa y Galeria

Location:

San Miguel de Allende, Mexico

Architect:

Associates Architecture

Landscape:

Ohla studio

Structural engineering:

Roberto Navarrete

Area:

175 sqm

Completion:

2021