Estudio Roberto Lebrero's project focuses on the recovery of existing ruined structures and the reuse of materials. Fru House is located in the countryside of Frumales, a small village in one of the valleys of Segovia, Spain: a place where cultivated land and houses made of stone abound. 
The plot housing the private dwelling is the result of the aggregation of three parcels where there were ruined stone buildings. The project was conceived with the aim of emphasising the link with the territory, investigating local construction techniques and choosing the right structural system. The addition of concrete walls made it possible to raise the structure off the ground – the entrance is accessible by a staircase – and to introduce a self-bearing wooden roof. A feature that characterises the house inside and out, in a combination of pre-existing and contemporary.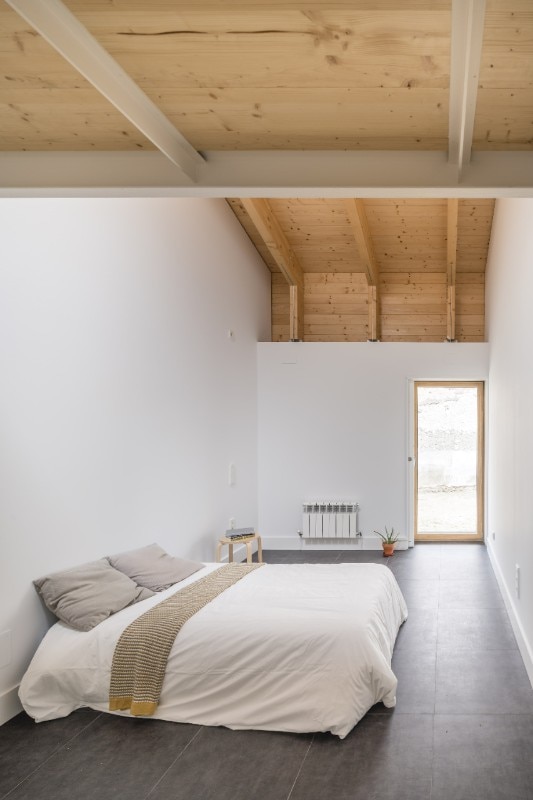 The multi-layered stone facade, on the other hand, tells the story of the place while providing excellent thermal insulation for inhabitants. The height of the roof and the openings in the walls serve to produce cross-ventilation and a chimney effect, useful for the movement of air in the space.
Fru House also has a patio in front, towards which the rooms face, a garden and numerous windows, and a bright and flexible interior with clean lines. 
Project:

Fru House

Location:

Frumales, Segovia, Spain

Program:

Private residence

Architects:

Estudio Roberto Lebrero

Structure:

Borja Gómez, Euteca (Juan de la Torre – Wood joints)

Egineering:

Mariam González Moya

Contractor:

Francisco Muñoz

Building Surveyor:

Ángel Montalvillo

Area:

214 sqm

Completion:

2021