The single-family villa designed by Dana Arquitectos studio is located in La Paz neighborhood in Zaragoza, Spain – a mainly residential area. Casa Mitmac stands on a 3-meter-deep square lot, showing itself as an L-shaped volume of different heights and configurations. A feature that allows for an English courtyard enclosed by walls: a private and bright south-facing patio, hidden and completed by a swimming pool.
The building has a total of four floors, one of which is located below ground level. The garage located on the ground floor connects the outside with the inside by inserting a passage open to the courtyard. The levels of the house are connected by a staircase with thin metal profiles.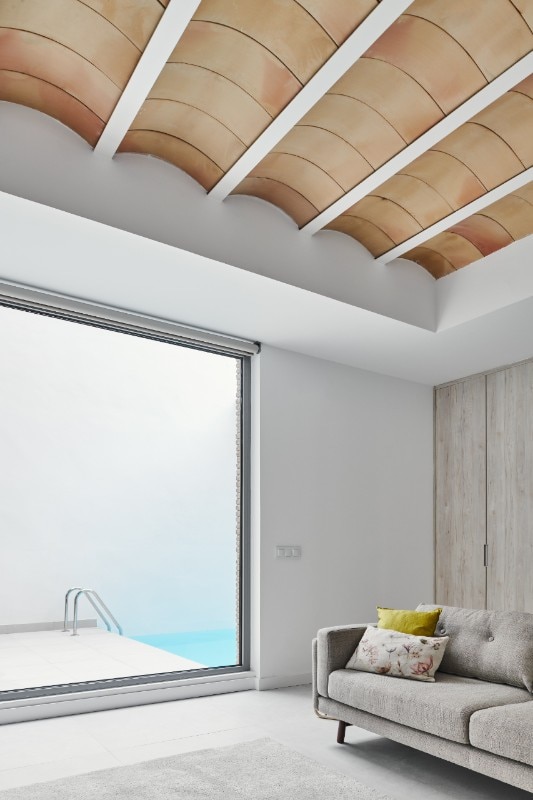 The first two floors host the sharing rooms – living room, kitchen, dining and outdoor porch – while the upper floors combine sleeping areas and a studio. Rooms and spaces of the house overlook the inner courtyard, connecting with this space through large windows. 
The perimeter of the building has white and neutral walls, while the facades of the internal patio take on a different character, using bricks that, distributed in vertical strips, add movement to the project by wrapping the windows, drawing full and empty spaces, marking the rhythm of the various levels. Bricks are also used in the kitchen and on the Catalan vaulted ceiling, while other rooms use wood and grey tones.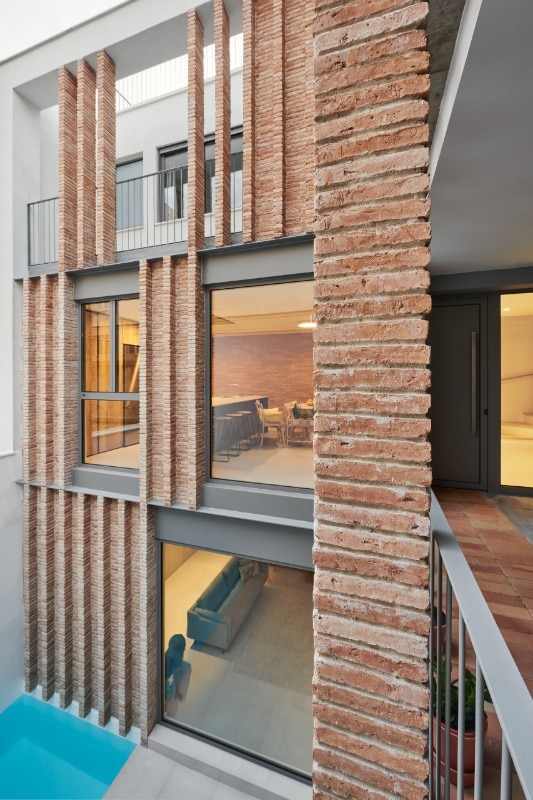 Project:

Casa Mitmac

Location:

Zaragoza, Aragón, Spain

Program:

Single-family villa

Architects:

Dana Arquitectos (Álvaro Bermudo, Ignacio Calvo and Ainhoa Iglesias)

Project team :

David Mateo (architect), Ángel Mata (structure)

Construction :

Valsania SL

Area :

270 sqm

Completion :

2019