In St. Petersburg, on the right bank of the Neva River, Italian architect Giacomo Quarenghi built a palace for Prince Alexander Andreyevich Bezborodko at the end of the 18th century in the middle of a large park. In 1911, during the country's industrialization, Rossiya Machine Works occupied much of the site as the site of a new factory, building production facilities, warehouses, and administrative buildings. Here – part of a decade-long plan to redevelop and re-purpose the area – Tchoban Moss Architekten has completed a new office building.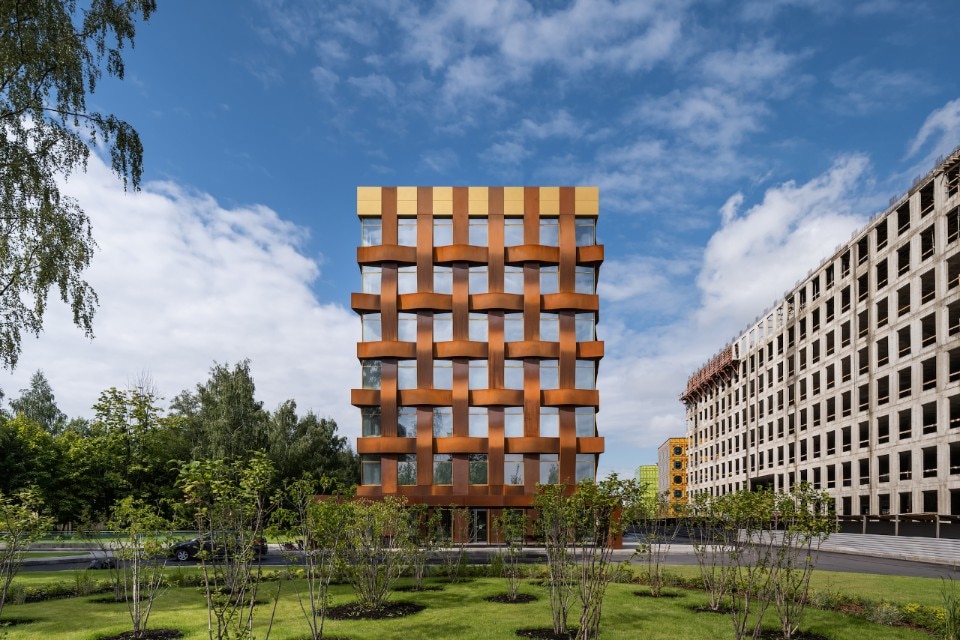 Ferrum 1, takes its name from the material that structures its façade, which at the same time serves as a reference to the history of the former industrial site. The seven-story building is the first building in Russia to be detailed by an exterior cladding made entirely of Corten steel. This corrosion-resistant and highly durable building material, with its characteristic rust-red patina and velvety texture, gives the architecture an expressive and prominent exterior surface.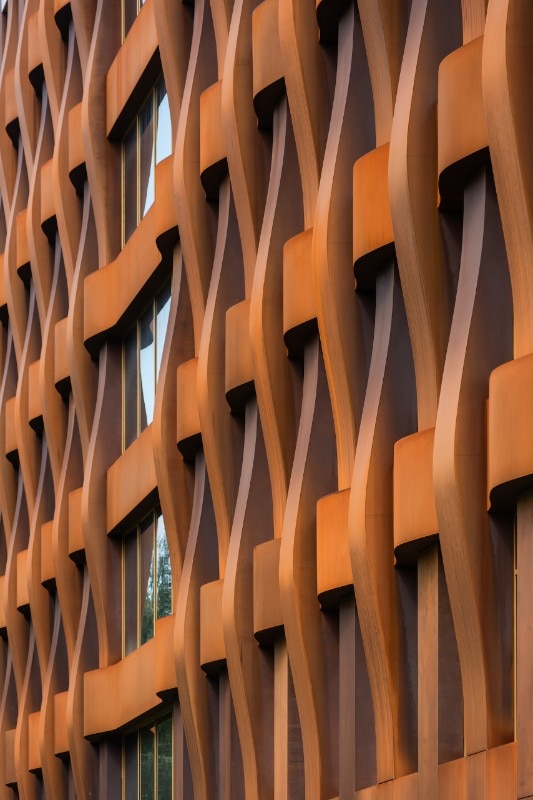 The sculptural façade is shaped by a geometric grid, like a coherent and organic texture, while the alternation of flat and projecting modules creates the illusion of a weave. The corner solution, on the other hand, was resolved by the architects by delicate structural glazing. To contrast the reddish color of Corten, golden aluminum details have been inserted: the external crowning of the roof, the elevator portals, the fixtures.
Project:

Ferrum 1

Architecture studio:

Tchoban Voss Architekten

Architect:

Sergei Tchoban

Project Manager:

Valeria Kashirina

Design team:

René Hoch, Natalia von Kruechten, Puk Paludan, Evgenia Sulaberidze

General contractor and Project management:

Teorema

Landscape:

Teorema

Structural engineering:

Nord Fassade

Client:

Teorema

Typology:

offices

Total surface:

7,965 smq

Location:

Saint Petersburg, Russia

Completion date:

August 2021