The writer Sara Lidman, one of the major Swedish authors of the Twentieth century, was convinced that everything – humans, plants, animals – was deeply connected and that a profound knowledge of nature was based more on feeling than on intellect: feeling that began where language ended. The new culture house in Skellefteå, a municipality of about 33,000 inhabitants in northern Sweden, south of the Arctic Circle, is dedicated to her. The Sara Kulturhus bears the signature of Swedish firm White Arkitekter, which completed it in September 2021 after winning an international competition in 2016.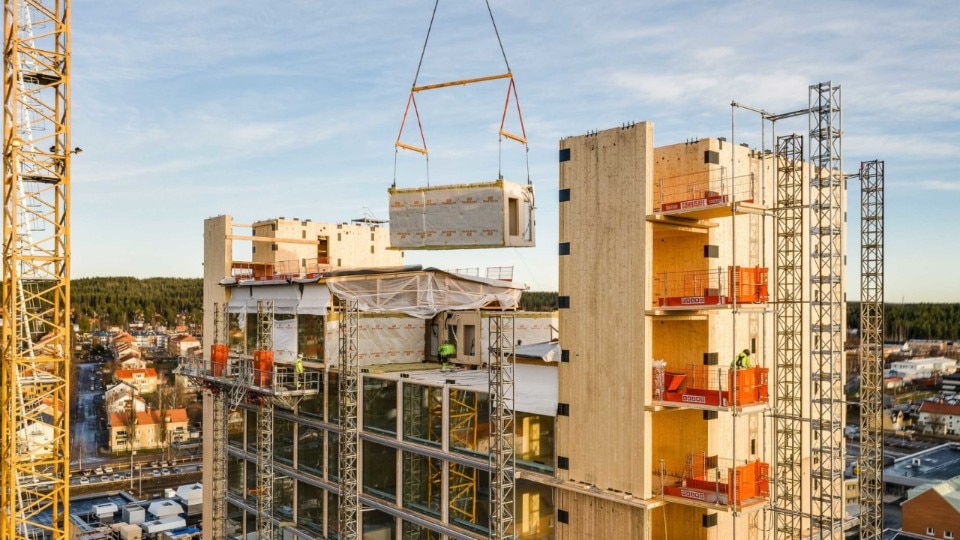 At 75 meters high, it is not only the second tallest building in the world built entirely in wood, but it was designed to be zero emissions thanks to a mixed system of solar panels, batteries and heat pumps connected to the city's electricity and water supply network that can also provide energy to the surrounding neighborhood through a control of energy flows managed with artificial intelligence by ABB. It was Lidman herself who wanted a place that would be a sustainable building throughout its life cycle, "a passive house for an active culture that uses local construction techniques and materials, built by local labor."

The wood with which it is entirely built (no concrete use at all) comes from controlled forests in the region and was processed in Bygdsiljum, about 60 km from Skellefteå, in the form of glued laminated timber and cross-laminated timber (also known as CLT or X-LAM). "First you had the race to the moon, then the race to the tallest building, and now the race to the world's most sustainable building - it's perhaps one of the few races moving in the right direction," declared Oskar Norelius, the architect who led the project together with Robert Schmitz. "The amount of carbon dioxide trapped in that wood is equivalent to about 13,500 Stockholm-New York flights."

In 30,000 square meters spread over 20 floors, the Sara Kulturhus houses six theater stages, the city library, two art galleries, a conference center, restaurants and a 205-room hotel with a spa and a full schedule of events. The goal, again according to the wishes of the Swedish writer who has been concerned with proletariat, workers' rights and inclusion all her life, was to open a living room for all citizens regardless of their social status or interest in culture. "Our culture house will not only be a place for the middle class to relax," she once said, "it must also be a place of resistance for those who want to define their own culture. For those who cannot afford the affections at market prices. A place for democracy." We'll soon find out if the new Sara Kulturhus has come to terms with an ambition that is more relevant today than ever before.
Project:

Sara Kulturhus

Program:

cultural center, mixed use

Where:

Skellefteå, Sweden

Client:

Skellefteå Municipality

Architects:

White Arkitekter

Team:

Oskar Norelius, Robert Schmitz (Lead Architects), Maria Orvesten, Björn Norén, Marianne Rutberg, Patrik Buchinger, Marte Noedtvedt Skjaeggestad, Jens Hansson, Andreas Ivarsson, Johan Björkholm, Sarah Dahman Meyersson, Anton Magnusson, Elin Rooth, Gustav Söderberg Röstlund, Fredrik Källström, Jesper Källgren, Gunnar Hidemark, Clara Fraenkel, Amanda Ersson, Erik Falkenström, Isabel Villar, Katharina Björli Wiklund, Robert Niziolek, Mats Selin

Contractor:

HENT AS

Structural engineering:

Dipl.-Ing.Florian Kosche, TK Botnia, WSP

M&E:

Incoord

Wood, CLT:

Martinsons Trä AB

Module manifacture:

Derome

Completion:

2021