In Northstowe, an expanding conurbation in rural Cambridgeshire that is poised to be the largest new town since Milton Keynes, Proctor and Matthews have built the new office building for Homes England, the public body that funds affordable housing in England.
The building, located in a landscape of naturalistic value among traces of Roman archaeology and war memories visible in the nearby former RAF Oakington airport, is the result of a wise balance between innovative construction technologies and references to the genius loci.
The work was built entirely according to the methods of off-site construction that, through the reduction of work in situ and the prevalent realization in the factory, allows a rationalization of production with a consequent reduction in costs and construction time: the entirely modular system allows a considerable flexibility and capacity of readapting to the future needs of users.
The two-storey building, U-shaped and articulated around a courtyard, houses office spaces, meeting and conference rooms, break areas and a multifunctional space on the ground floor for exhibitions, events and public consultations and is strongly inspired by local history and culture.
The distinguishing element of the building is the large canopy of craftsmanship characterized by panels of woven willow branches - traditionally used as fences - inserted in steel frames, which shades the glass atrium and protects the multifunctional spaces on the ground floor and the terrace on the first floor.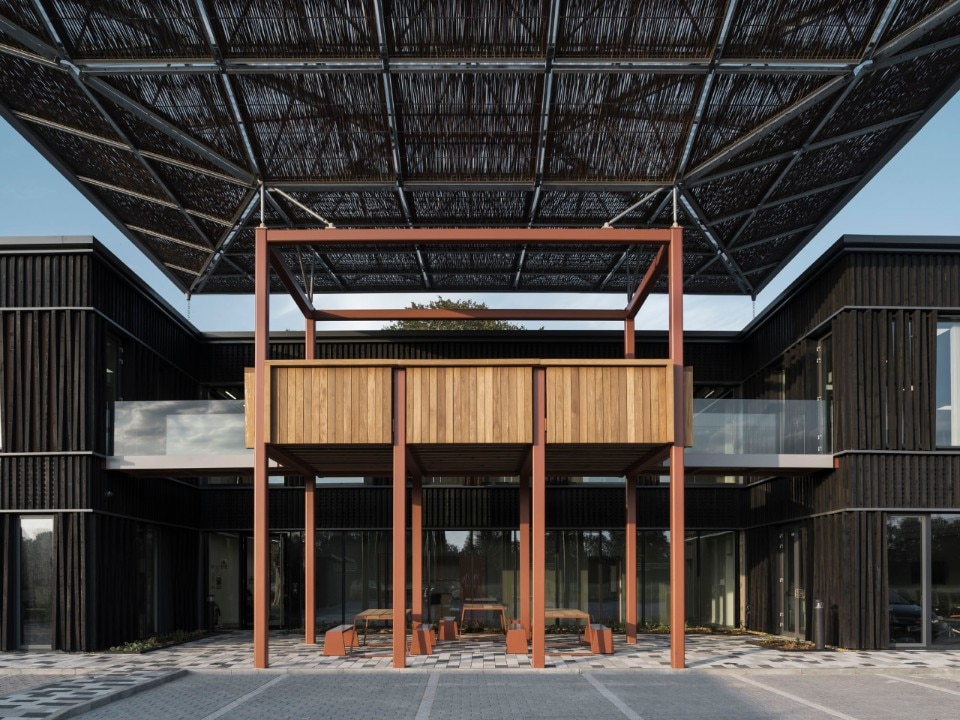 The terracotta-colored steel frame of the canopy evokes Roman pottery found in the area while the black wood plank exterior siding framing the vertically slit windows is reminiscent of historic Cambridgeshire barns.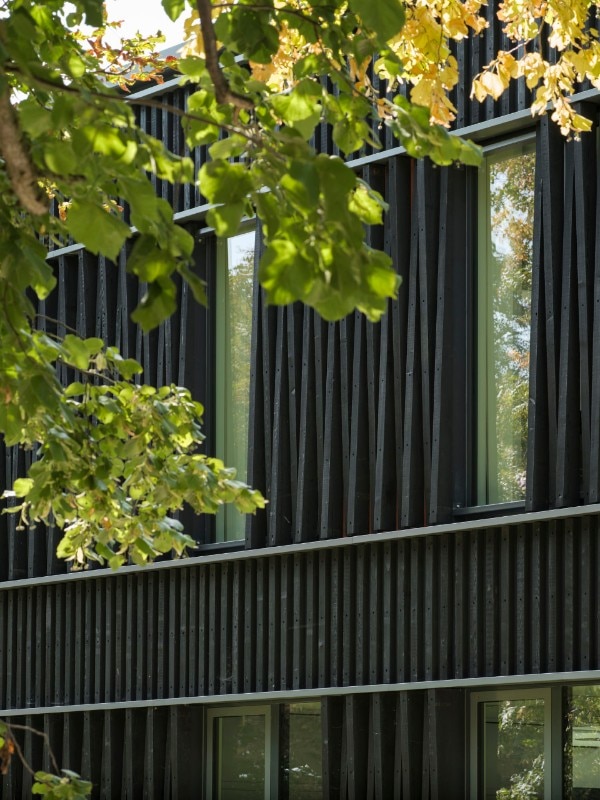 An intervention that shows how the industrialization of executive processes can brilliantly coexist with the memory of the past and the rediscovery of the ancient flavor of a place.
Project:

Northstowe House

Client/Developer :

Homes England

Principal contractor and offsite specialist:

The McAvoy Group

Quantity Surveyor/ Cost Consultant:

Mott Mcdonald

Project management:

Attol Blue

Landscape Architects:

Chris Blandford Associates

Planning Consultant:

Tibbalds

Canopy Contractor:

Novum

Mechanical & Electrical Engineers:

Aecom, Mott MacDonald

Structural & Civil Engineer:

Aecom, Mott MacDonald

Canopy Engineer:

Engineers HRW

Fire Engineer:

Trenton Fire