Green School Bali was founded and built in 2008 by a Canandian couple in collaboration with master craftsmen, architects, permaculturists and philosophers, with the idea of creating a school with a holistic approach able to convey an ecological education through learning in the middle of nature.
The school has now been expanded with a new structure dedicated to games and sports designed by Balinese studio IBUKU, which had already designed other buildings and pavilions on the campus, in collaboration with the design conceptor Jorg Stamm and the engineer Neil Thomas of Atelier One.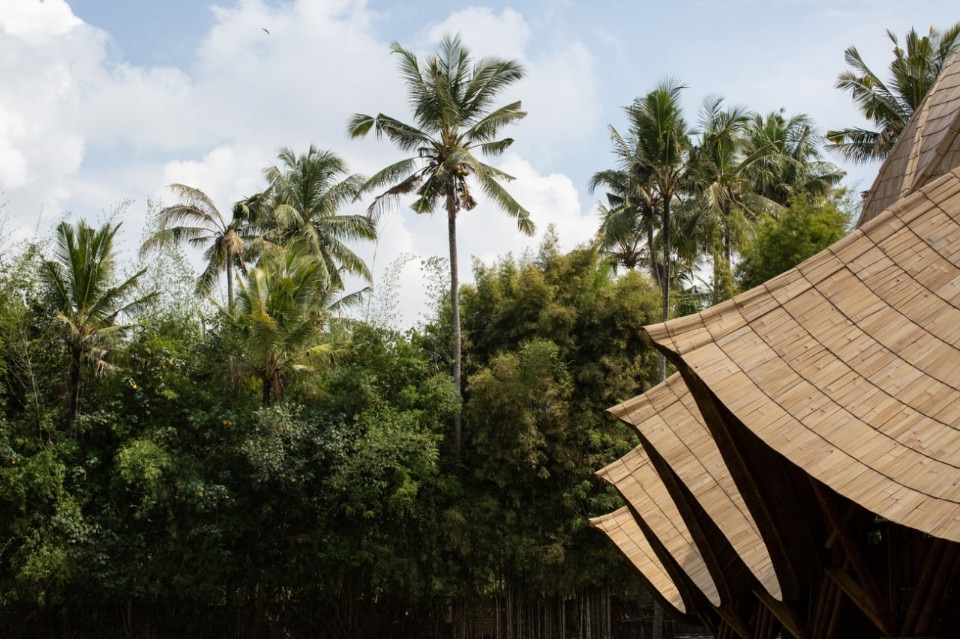 The architects' premise laid in the choice of a structure that could be as as light as possible providing large space: this naturally led to bamboo as the preferred construction material. Here local craftsmanship met modern construction techniques to create a daring architectural project: a mighty, zoomorphic-looking roof to shelter the children's sports activities.
Rolling in on itself and anchored to the ground with concrete feet and thin bamboo poles, this majestic roof gives the space below a lively sense of protection and freedom.
A series of 14-metre high parabolic bamboo arches intersect each other and are held in place by anticlastic tension grids. These grids curve in opposite directions, creating a moving drape that meanders 41 metres long.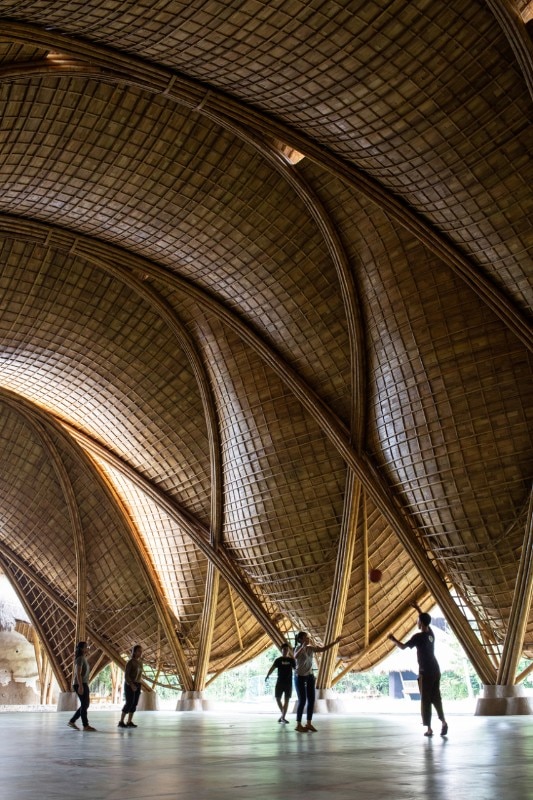 The study of the arch and the gridshells required a significant research work and the development of 1:1 scale details.
 "The Arc operates like the ribs of a mammal's chest, stabilized by tensile membranes analogous to tendons and muscles between ribs. Biologically, these highly tensile microscopic tendons transfer forces from bone to bone. In The Arc, bamboo splits transfer forces from arch to arch." says designer Jörg Stamm.

The result is a structure of great scenic impact capable of establishing a radical link with its context: the island that hosts it and the mission of the Green School.
Project:

The Arc at Green School Bali

Program:

Gym

Architects:

IBUKU

Project team:

Elora Hardy - Creative Director, Defit Wijaya - Head of Architecture, Rowland Sauls - Project Leader, Jules de Laage - On Site Architect / Construction Manager, Doni Prabowo - Structural Model Designer, James Wolf - On Site Consultant

Design conceptor:

Jörg Stamm

Structural Engineering:

Neil Thomas, Atelier One

Location:

Bali, Indonesia

Completion:

2021