This article was originally published on Ecoworld, the supplement of Domus 1058, June 2021.
The Burkina Institute of Technology designed by Kéré Architecture in Koudougou, Burkina Faso is the successful result of construction-technique experimentation with local clay, poured on site along with concrete and aggregates into large formworks. The IT University has been added to the Lycée Schorge to allow high school graduates to continue their education on the campus of the Stern Stewart Institute, which is the think-tank and social entrepreneur client of both this project and the Lycée. Kéré Architecture chose to use local clay by applying a new technique after having worked extensively with this material in the form of compressed earth blocks to build the Naaba Belem Goumma Secondary School in Gando (Boulgou Province, Burkina Faso) now nearing completion. Improvements to the construction process "were conducted with a group of local workers that is acquiring more and more confidence with these building methods, and playing a fundamental role in their development," says Jaime Herraiz from Kéré Architecture in Berlin. 
The process included making a series of mock-ups that allowed for the gradual optimisation of the material by testing different percentages for each component. This step made it possible to be more precise regarding the formal outcome and its resilience to the weather. Seeing that the structure is built on a flood-plain, the project included extensive landscaping work to channel rainwater into a large underground tank. The water is then used to irrigate the mango plantations on the campus. In Gando, Kéré gained experience in reproducing elements such as wall modules, but the Burkina Institute of Technology pushes the envelope. Here, the formwork module is in the shape of an entire classroom.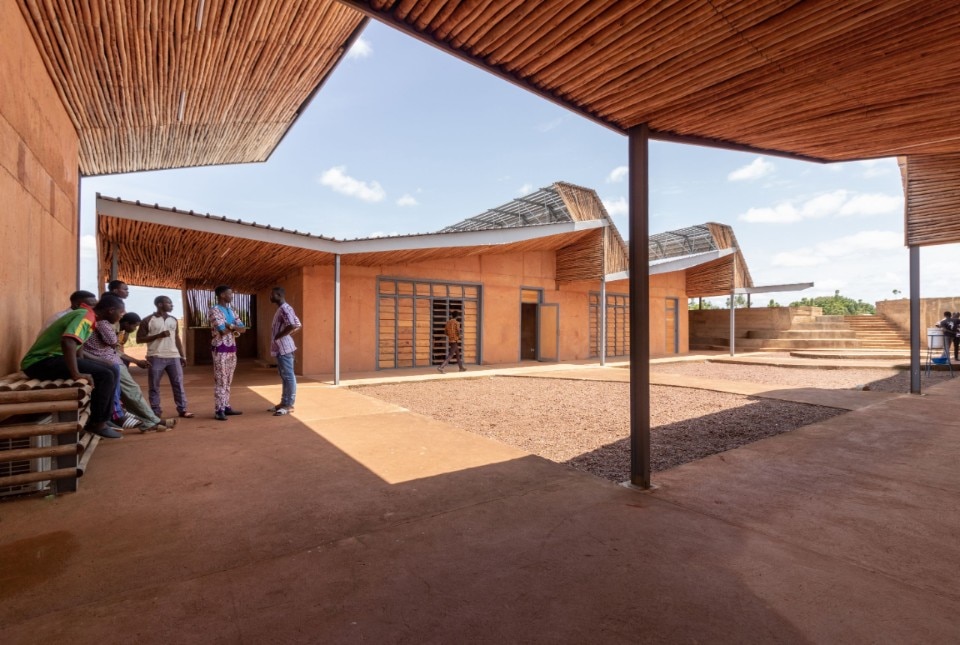 The system allows for the pouring of enough clay material to make a room. Then the formwork is disassembled, moved and rebuilt for the next classroom. Two positive consequences derive from building with a single formwork. One, it is less expensive. As Herraiz explains, formwork makes up a noteworthy share of a project's budget. Two, the replicability of the module makes it easy to add classrooms when needed, allowing the campus to expand incrementally. This is favoured by making the layout centred around a void where students can relax, with the modules staggered around it orthogonally and looking out onto this court. In addition to being an innovative use of a local resource, the massive clay walls contribute to cooling down the interior spaces and mitigating the heat produced by the electronic drives of computers and servers.
In section, the building generates a flow of air that comes in from the outside through the lamellae of eucalyptus wood shutters. Once inside, the air flow is expulsed by chimney-effect through openings between the roof and the walls at the back of each classroom. The roof is repeated for each module rhythmically. Corrugated metal forms the outer covering, while the roofs are lined underneath with eucalyptus wood, which is also used to screen the buildings on the outside, to match Lycée Schorge. The roofing is hung from concrete elements, a more traditional solution that resists the wind. The combination of modern design and low technology makes this school a noteworthy addition to the firm's portfolio, because it reinvents the building traditions that are suited for the local climatic and atmospheric conditions. In the words of Francis Kéré, "I am a builder. My task is to find local solutions to global challenges."
Project:

Burkina Institute of Technology (BIT)

Location:

Koudougou, Burkina Faso

Architects:

Kéré Architecture, Diébédo Francis Kéré

Client:

Stern Stewart Institut

Area:

2100sqm

Completion:

2021