It has been called the "unexpected playground for architecture's elite" [1]: the territory of Comporta, about an hour's drive from Lisbon, is an unspoilt area characterised by white beaches and red earth, pine forests and vernacular huts built by the Espírito Santo family, who owned the land until 2014.
Described as the equivalent of the Hamptons in Portugal, in recent years Comporta has become a destination – or refuge – for celebrities who want to take a break from the hustle and bustle of urban life and be inspired by its raw landscape.
The area has thus become a territory of experimentation for a number of international architects, such as Vincent van Duysen, Philippe Stark and Manuel Aires Mateus. The latter, the local archistar, has worked on several projects in the area, including the House in Melides I.
The village of Melides, about twenty kilometres south of Comporta, has been chosen as a new hot spot for architects, given the scarcity of available space in the nearby town (and the consequent increase in prices).
House in Melides I is an isolated building, the only construction on a property of about 40 hectares, which seems to grow out of the site itself. The main material of the project is bricks, which have been manufactured locally, acquiring the colours of the landscape.
The spatial organisation of the house follows a compositional strategy the Portuguese architect uses frequently, as in the projects for Casa Alvalade, the school in Vila Nova da Barquinha, or the Casa de Alentejo: once a regular perimeter – a square – has been defined, Aires Mateus sets up a succession of volumes and voids with an irregular grid. This generates ever-changing paths with spaces, both indoor and outdoor, in which the various domestic functions intertwine with a series of gardens, each offering unique experiences, atmospheres, colours, smells and uses.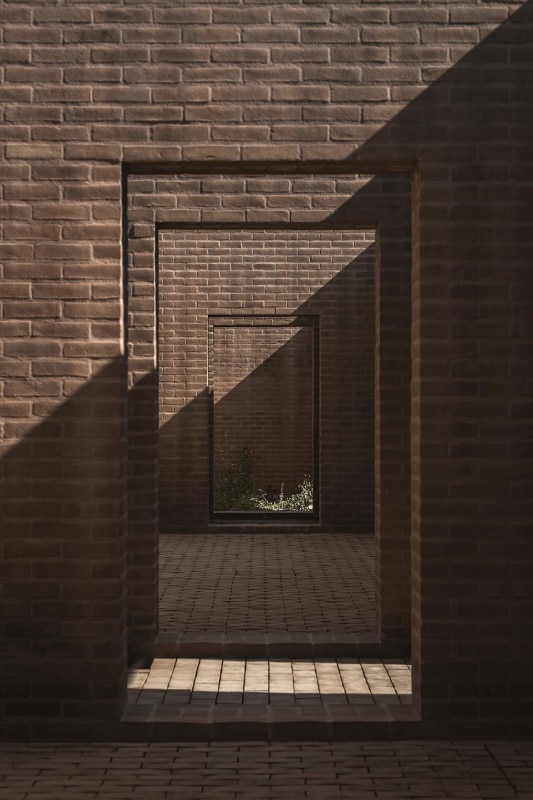 Defined by brick walls, the rectangular spaces vary in width and length, but have a constant height. The main rooms of the house orbit around the main courtyard in the centre of the plan. The bedrooms are in the outer parts of the large square, protected by a series of patios designed as a buffer between public and private spaces.
This structure offers ample possibilities for future transformations: it will be possible to increase the volume of the residence or demolish some parts without losing the formal rigour of the project.
Project:

House in Melides I

Location:

Grândola, Portugal

Architect:

Aires Mateus

Project architect:

Manuel Aires Mateus

Team:

João Esteves, Maria Rebelo Pinto, François Brunner, Marco Campolongo, Matteo Foresti, Mariana Mayer, Mizuho Anzai, Bernardo Sousa, Mariana Pires, Rui Cardoso, Maria Vale, Sergi Sauras, Constança Eiras, Inês Potes

Engineering:

Safre

Interior design:

Maria Rebelo Pinto

Contractor:

Manuel Mateus Frazão

Area:

590 sqm

Completion:

2019
[1]:

From Gisela Williams' article in Surface Mag: "How One Laid-Back Portuguese Beach Town Became an Unexpected Playground for Architecture's Elite"