With House in Los Angeles 1, the LADG architecture firm challenges not only the banality of suburban architecture in the metropolis, but also the lifestyle associated with this residential model. Perfect clients for this purpose are a couple of artists who have given the Los Angeles architects maximum freedom.
This is expressed in the design with the fluid arrangement of the design elements. LADG divides the various functions into four different volumes, characterized by the apparently random and disjointed positioning of walls and roofs. The architectural composition generates nine hybrid environments, which architects call "bays". Each of these is associated with a particular use: study, courtyard, event space, garden, porch, guest house and main residence.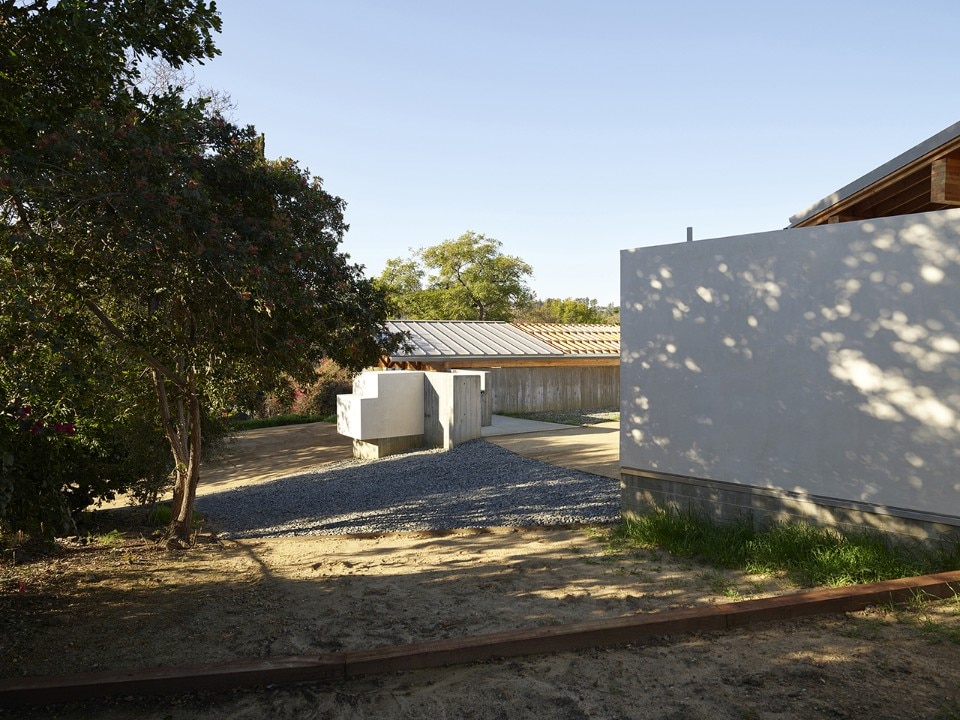 The project generates unexpected relationships between the various environments, not only between adjacent ones but also between those separated by the load-bearing walls. We also find a great fluidity between interior and exterior space, as is typical in the lifestyle of Los Angeles.
Even the materiality of the building reinterprets the spontaneous one of the houses around it. The lower part of the individual blocks is made of exposed concrete, corrugated sheet metal panels are used for the roof, while the walls are plastered white. A characteristic element of the project is the wooden structure, which represents a decorative as well as functional element.
"Our project defies and reorganizes some of the architectural tropes associated with LA suburbia," says Claus Benjamin Freyinger, co-founder and co-principal of The LADG. "It's not a single house with a unified program, meant to contain a sleeping family at night, who commute off to work and school lives in the morning. It's a collection of buildings that integrates work, living, and communal activities around the livelihoods of two artists."
Project:

House in Los Angeles 1

Program:

family house

Location:

Los Angeles, United States

Architect:

LADG - The Los Angeles Design Group

Team:

Claus Benjamin Freyinger, Andrew Holder, Trenman Yau, Anthony Chu, Kenji Hattori-Forth, Remi McClain, See Hong Quek, Jonathan Rieke, Morgan Starkey

Completion:

2020