The assignment, which was part of a series of the Mas Bianch i Jovè extension work, consisted of designing a new space that could function as a tasting and event room, restaurant and exhibition hall.
Raúl Sánchez created a new volume 21 meters for 6 which runs along the entire width of the nave of the large, partially underground wine production hall of the winery. The volume is suspended inside the large concrete warehouse and connected to the external landscape and the wine production room through a few studied openings cut out of the casing, and is entirely covered in aluminium sheets.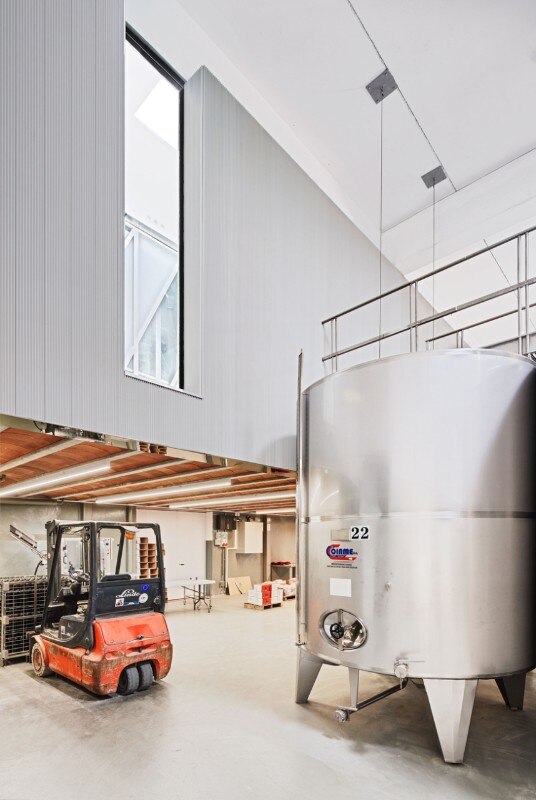 The required functional flexibility translates into the division of the transverse section of the volume into two areas that differ in spatiality, texture and materials. A tall, white, narrow strip, illuminated by the natural light of three skylights is conceived as an exhibition space. A larger and more compressed strip, surmounted by a false ceiling that houses the ventilation systems and entirely covered with black mdf panels, modulated by corten steel separation joints, is is conceived
as event and tasting space. The same flooring changing in tone creates a threshold in the plan, in correspondence with the difference in height of the ceiling. 
The kitchen, in a steel and glass envelope, is the only space that is closed inside the suspended volume.

Corten steel is reused for the construction of a platform suspended over the cellar. An assemblage of beams and plates, hung by steel cables from the reinforced concrete floor, becomes the privileged point of view from which to look at the cellar and the wall painting by the artist Gregorio Iglesias Mayo.
Project:

Espai Saó

Program:

Accoglienza

Location:

Mas Blanch i Jové Winery, La Pobla de Cérvoles (Lérida), Spain

Architects:

Raúl Sánchez architects

Design Team:

Raúl Sánchez, Miriam Corcuera, Valentina Barberio, Albert Montilla

Area:

120 sqm

Completion:

2019