Danish practice 3XN teamed up with local Swiss firm IttenBrechbühl for the design of Olympic House, an office that brings all 500 staff members of the Olympic organising body, the IOC, under one roof. Their design brief was to mirror the five principles of the Olympic Movement itself: flexibility, collaboration, movement, transparency and sustainability. 
The glazed facade becomes a metaphor for organisational transparency, full-height windows permitting views right into the office space, while angled surrounds that follow the undulations of the building's sides reflect the dynamism of an athlete in motion.  
The internal layout gives a sense of collaboration and flexibility, with exhibition spaces, a cafe, meeting rooms organised around a dramatic central oak staircase. The Unity Staircase, which links all five floors of offices, comprises five tilted discs based on the Olympic Rings emblem. The curvilinear theme is continued outdoors, where a decked terrace for staff is oriented towards the Château de Vidy. Ribbons of planting lift up from the gardens onto the facade and the roofs of single-storey spaces to integrate Olympic House with its setting.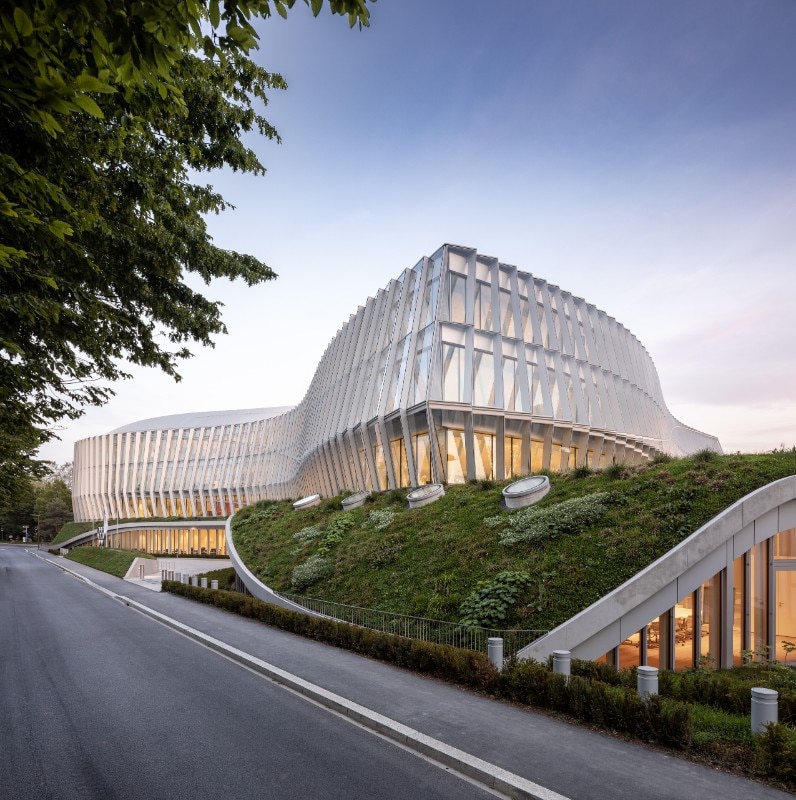 Sustainability, one of the key goals on the IOC's agenda, is evidenced throughout the construction process, with the completed building achieving LEED Platinum. Solar panels and heat pumps making use of the lake's water heat and cool the building sustainably, and coupled with the tripled glazed facade, are measures taken to reduce energy consumption by 35% compared to a conventional new build, while rainwater harvesting could see 60% less water usage. Typically overlooked, 95% materials from the demolition of former administrative buildings on the site were reused or recycled.

"It was the essence of the Olympic Movement and it's values that served as the basis of inspiration for the design," says 3XN co-founder, Kim Herforth Nielsen. "Our design prioritises transparency and flow to facilitate and encourage interaction, communication and knowledge sharing, and to create a highly efficient and sustainable workspace."
Project:

Olympic House

Architect :

3XN, IttenBrechbuhl

Landscape architects:

Husler & Associes

Interiors:

RBSGROUP

Lighting:

Jesper Kongshaug

Civil engineers:

INGENI SA

Sustainability engineers:

ThemaVerde

Completion:

2019