In the Chinese village of Shihuyu, an old building, a mere and typical rectangular block, has no specific architectural value, but it perfectly fits into its context. It is seamlessly nested in the little urban agglomeration thanks to its small scale and to its locally-sourced materials, and it orientates towards the Great Wall of China, the main monument standing out from the mountains that surround it.
A young couple, particularly attached to their birthplace, commissioned UPA – United Practice Architect to renovate/reconstruct the entire plot, abandoned and derelict for a long time, to transform it into a residence suitable for a contemporary way of life. The project preserves most of the masonry and wooden structures, and it provides the house with a sequence of glazed rooms opening to the outside.

The alcoves extending the three bedrooms towards the courtyard, the living area which increases the existing built volume and defines the new L-shaped plan, as well as the belvedere-lantern on top of it, are all conceived as tools to observe the landscape, framed between wooden and steel profiles.
New persimmon trees planted in the garden, carrying their colourful load of flashy spheres that blossom every year, achieve the interpenetration between architecture and nature.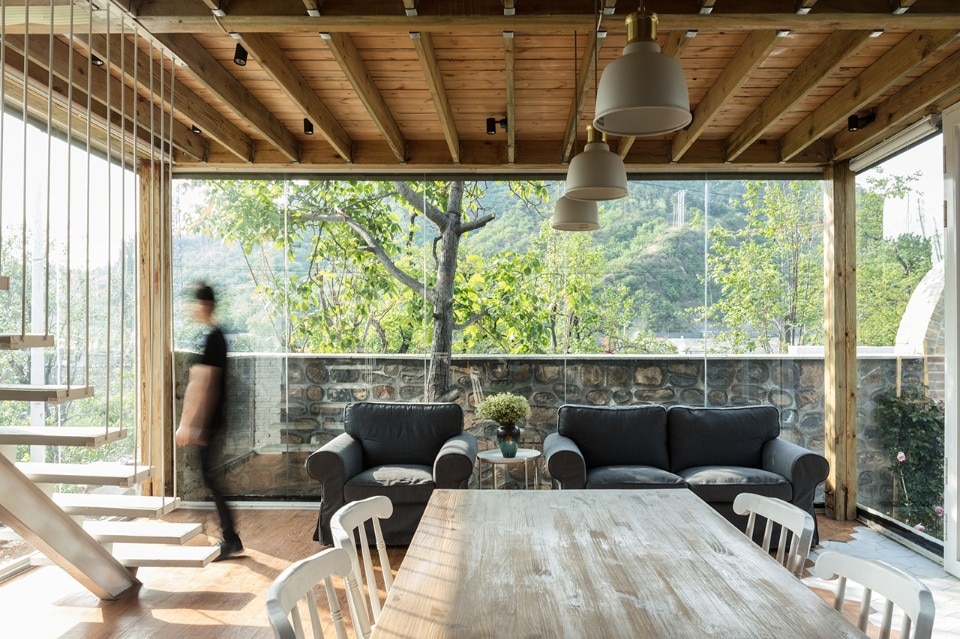 Project:

The Peach Garden

Program:

hotel

Location:

Shihuyu, Beijing, China

Architects:

United Practice Architects | UPA

Leader architect:

Zhou Cao

Design team:

Deng Kecao, Zhang Hang, Qin Siyuan

Structural design consultancy:

Yang Peng

Equipment engineer:

Wang Ruochen, Zhang Tao

Client:

The Peach Garden Hotel

Built area:

158 sqm

Completion:

2019