When and how did your professional association begin?
We met in Paris, working in the same architectural firm. Then, in 2003 we got a six-month scholarship to go to Tokyo and we left for Japan. This trip fascinated us and made us discover a wonderful urban universe, but above all it gave us a lot of energy and desire to do. Back in Paris, we started working together and in 2007 we founded our studio.
You chose 'Bruther' as your name: how come?
By simply contracting our last names: Bru and Theriot. We wanted to emphasize a 'collective' approach even before associating the name of the studio with our people. There's just a simple allusion... but what we like most is when they ask us how to pronounce "the".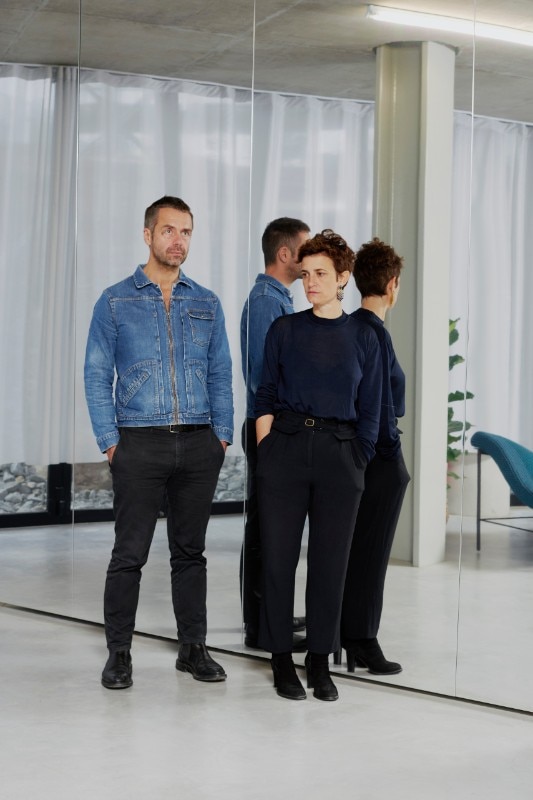 What is your idea of architecture? Does ethics or aesthetics win?
With our projects we try to improve the quality of people's lives, making them more rewarding and free. Our work is as much political, that is, socially engaged and responsible, as it is aesthetic, and therefore, sensitive to beauty. We always start from the understanding of what are the conceptual and constructive needs and then we open ourselves in ways, even unexpected, to new areas of experimentation.
Who has had the greatest influence on your idea of architecture?
From this point of view we are really 'sponges': we can draw inspiration from a painting by Andy Warhol or a song by David Bowie... But if we have to stay in our field, Aldo Van Eyck or Cedric Price or Lacaton-Vassal come to mind (the duo was recently awarded the Pritzker Prize, ed.).
The pandemic has certainly brought the attention of many designers to the need to build more responsibly and sustainably. What is your perspective on this issue?
Our works suggest a delicate balance between strategy and form, rigor and freedom, specificity and generality, immediacy and evolutionary instinct. The objective is to build open infrastructures, by already imagining their future development. In short, it's a matter of reading the richness of a specific context in order to plan highly flexible buildings, capable of stimulating ever wider uses and functions.
What do you think are the construction methods and materials that can make architecture more responsible? Would you like to give us examples?
We are interested in thinking about and discussing how to economize materials, rather than just offering a list of materials.  We ask, 'How can a material be 'efficient' and stimulate the design of a building that functions as a high 'performance' machine?' Here, for us, answering this question is a priority.
Let's talk about cities. In your projects you have always paid great attention to the suburbs, as the Swiss Architectural Award 2020 itself has recognized. Why do you think the "project" for the most marginal areas of the city can be strategic?
We love the suburbs because in our opinion they are 'a playground', an opportunity for transformation. And then because they evoke the word 'energy': we talk about that new and vital force that we found in our trip to Japan, at the beginning of our activity, but also in the places of our childhood... Well, here too, in the Parisian banlieues, in these difficult and often forgotten places, we have found a fertile ground to be 'architects' and 'citizens' together: here, architecture can redefine the imperatives of housing quality, as the heritage of all; here, architecture can direct new attentions and responsibilities.
Were you surprised by this victory? 
In all sincerity, yes, we didn't expect to win, especially after seeing the short list of candidates, very good designers of great quality.... We learned the news with great enthusiasm: it is an important step for our professional path as architects.
Il merito dello studio parigino è stato quello di riuscire a dare forma espressiva ai materiali, alla luce, alla trasparenza, in altre parole alla bellezza, in contesti di margine, spesso con budget ridotti - Mario Botta
Three projects on which the Jury focused its interest and decreed your success: the Saint-Blaise Cultural and Sports Center, Paris (2010-2014), the New Generation Research Center, Caen (2013-2015) and the Residence for University Researchers "Maison Julie-Victoire Daubié", Paris (2014-2018). What do they have in common? And which one has given you the most satisfaction and why?
These are our most recent works, but we see them as a single project....  The approach, in fact, is the same: starting from the structure as the primary condition that shapes the spatial typology and working on the cohabitation of differences. Once realized, these buildings 'equip' the city, that is they enrich it with new values, transforming it!
Public and private. How do you reconcile different goals when designing for the city?
Today we work for the public but also increasingly for private clients. We have to adapt to their economic model, without undermining our own integrity. It's up to us to demonstrate the relevance of our ideas.
In addition to your professional activities, you also teach. Do you think it is important to act on both directions and why?
Teaching is a fantastic lever to confront our thoughts with the younger generations. It's a meeting that can't be renounced if we don't want to lose touch with reality. 
Three key words to sum up the architecture of the future?
Optimism, activism and altruism. Always with the constant desire to open up new avenues of design thought and practice.
Opening image: Cultural and Sports Center, Bruther. Courtesy Bruther