"During World War I, Ponti had just arrived at the front as an officer. He was being interrogated by a lieutenant, because they didn't know where to station him. The question continued to be unresolved, so the lieutenant asked him, 'What's your name?' And Ponti replied, 'Gio Ponti', like bridges? 'Well great, then we'll assign you to build pontoon bridges over the River Piave'" recounts Ponti's grandson Paolo Rosselli, who co-edited with Salvatore Licitra the small guide called Gio Ponti and Milan published by Quodlibet. Rosselli is a photographer and architect, and the anecdote is one he heard almost 40 years ago.
"This story is very dear to me, because on the one hand it shows my grandfather's playful personality, and on the other it describes the way Italians operate. They often do things this way, without thinking. They just decide on the spot, on a whim."
The booklet's genesis is rooted in quite the opposite modus operandi. Published in July in Italian and English editions, the concept for it began three years ago. The result is scientific, academic and educational all at the same time, and attentively finished in every aspect. It is a vade-mecum with a map at the end for tourists, architects and aesthetes. Its construction is philologically precise, from the captions to the carefully selected photographs, which are positioned in a succession that makes for an impeccable framework. The pocket-sized volume examines the buildings designed by this Milanese architect in his native city. In his foreword, Stefano Boeri compares Ponti to Stanley Kubrick for their lack of stylistic continuity: "Every page a world; every street a work; every room a colour."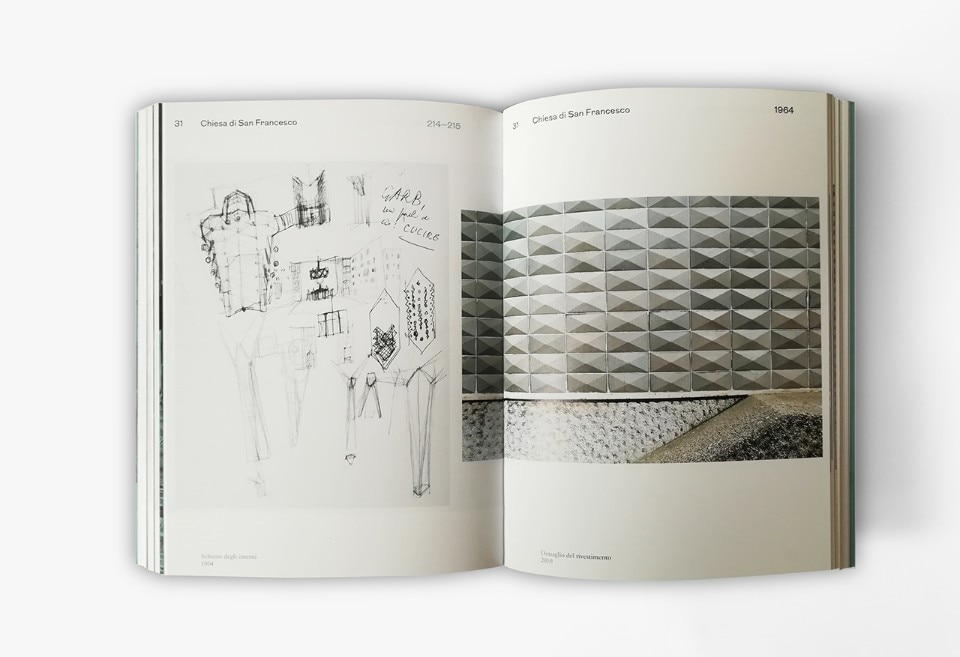 The manual represents a stroll through Milan, "like a research laboratory and testbed for heterogeneity," says Boeri. We start with the Ponti family house (1924-1926) on Via Randaccio, the first house he designed in Milan. It has a fan-shaped plan, a concave main facade topped by decorative obelisks, and is accessed by an oversize stair. After a recent restoration that rehabilitated its original colour, the house features the same interiors as Ponti designed. Then there is the rigour of the Case tipiche (1931-1933), ten apartment buildings with women"s names (Domus Julia, Domus Carola and so forth). There is the brickwork of Casa Rasini at Porta Venezia and the green marble of Palazzo Montecatini. There are Palazzo della Rai, Casa Marmont and Casa Laporte, which has a roof garden.
"We wanted to make a guide that was as precise as possible. We had much information, but some of it was erroneous. Ninety per cent of our knowledge of Ponti is factual, so there remains ten per cent that is difficult to verify. The texts by Lisa Licitra Ponti were written many years ago, but their beauty remains intact. We involved her in the project to render her homage. Before she retired, she worked independently and freely, even if she was Ponti's daughter. In general, we made much work of the revising and verification of the sources. As for the photographs and captions, our approach was thorough. We alternated pictures with drawings so as to show that the buildings are still there and visitable. Many photographs were retaken and made anew while discarding and picking the most suitable ones. It was not easy to use archive photos and combine them with others to establish a visual relation. Whenever there was a detail, I tried to insert a picture that would render it well," continues Rosselli.
Facades, elevations, and models sketched in the margin describe Palazzo San Babila, designed in 1939 but built after World War II. Ponti's idea was that the apartments have seven-metre ceilings. Of course there is also his icon, the Pirelli Tower (1956-60), 127.1 metres tall, 18.5 deep in the middle and 70.4 wide. It was criticised by European and American historians, but was the successful outcome of a structural invention he studied with Pier Luigi Nervi and Arturo Danusso. The framework gave stability to the high-rise in reinforced concrete, which otherwise might have been a problem for the ratio between small depth and big height. In 1957, one year after he started working on the Pirelli Tower, Ponti designed the Superleggera chair for Cassina.
"The Pirelli Tower, the villa in Caracas, Palazzo Montecatini and the villa in Teheran are among Ponti's masterpieces in my opinion," says Rosselli. The route continues with the Edison building and the Faculty of Architecture from the 1950s (Ponti began collaboration with Alberto Rosselli in 1952); Casa Melandri on Viale Lunigiana; Palazzo Assolombarda; the RAS building (now the Allianz headquarters) on Corso Italia designed with Piero Portaluppi in 1962; the San Francesco church on Via Paolo Giovio; the facades of Palazzo INA; and Palazzo Montedoria built in 1970.
The book ends with a biographical section that includes Ponti's identity card; photographs of family, friends and collaborators; and a picture of his circle at the Royal College of Art in London when he received an honorary degree in 1968.
"The final part of the book is an illustrated account of who Ponti was. Much of the material was found by sheer coincidence. My Uncle Giulio brought me boxes full of old photos that he had happened upon per chance. In some cases, we were unable to find out who the photographer was, like the picture on the cover," says Paolo Rosselli. "Sometimes, the role of an heir is to present the public with elementary pieces of information. In this case, it was everything that an architect thought of and built in his native city."