A Dutch design icon, the Afsluitdijk is a major dike and 'protector' of the Netherlands against the force of water. It is 32 km long, 90 meters wide and 7,25 meters high. Daan Roosegaarde was commissioned to design permanent and temporary installations. The whole project comprises three interventions: Gates of Light, Glowing Nature and the Windvogel. In a conversation with Domusweb, the artist and innovator talks about the project and his sources of inspiration.
The Dutch largest dike becomes a place to reflect on heritage, sustainability and landscape. Tell us more about your latest creations.
The dikes in The Netherlands are as holy as cows in India. Usually you cannot touch them or do anything. And this one is very special because it was built by hand in 1932. 32 km that protect us from the rising floods. It was a very big thing at that time and still is a very iconic part of our Dutch culture and tradition. But, due to the rising sea level, it needed a renovation. So we were asked to work on this beautiful landscape-line in the middle of the sea: not so many people go there, and not so many people know about it. It was commissioned by the Dutch Government. They asked us to make something to enhance the beauty of this place. That's how we started. We looked at the things that were already there, and enhanced them. We focused on clean air, clean water, clean energy and this led to the three projects you mentioned.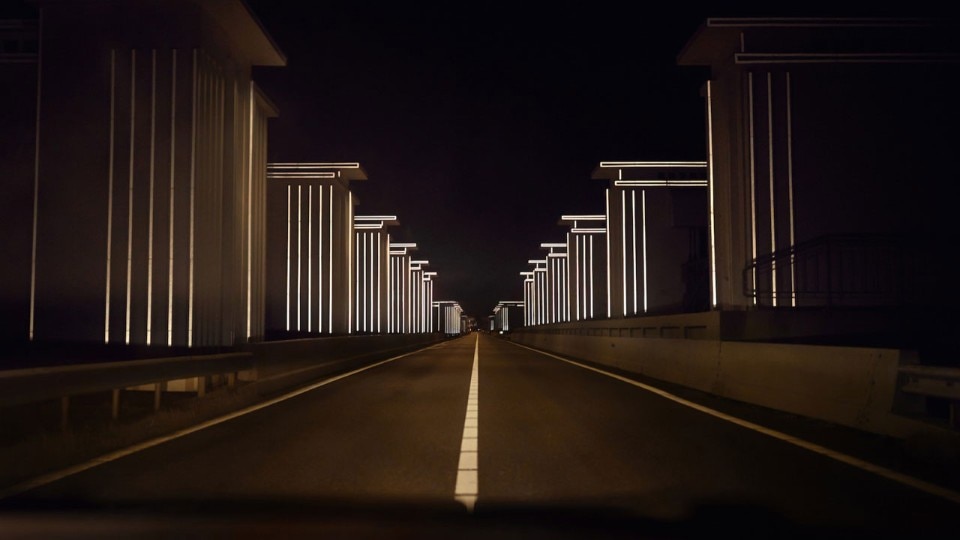 Gates of Light.
So, what we saw there were these 60 flood-gates that were actually designed by the grandfather of Rem Koolhaas in 1932: they open and close the floods, they're like barriers. They protect the Netherlands, basically. If they're open and everybody go home for a year, Netherlands are at risk. Very simple. So, they're very important for the country and their shape is beautiful, but they were really bad maintained, all the concrete was rotten. We restored them, and at the same time we figured that it was a sort of gateway ­— you're entering and exiting the dike. So we started to cover them with reflective micro prisms, which means that according to the headlights of the cars, the building would be illuminated. We couldn't use anything with cables or wires or sensors or microchips because that would die within one year, due to salt and rain and the storm season. We tried to create this sort of cinematic experience, and at the same time we made something which is energy neutral, maintenance free, and that relates more to nature than technology. We're really happy about the final effect. It seems like you're driving through a science fiction movie. It's bizarre.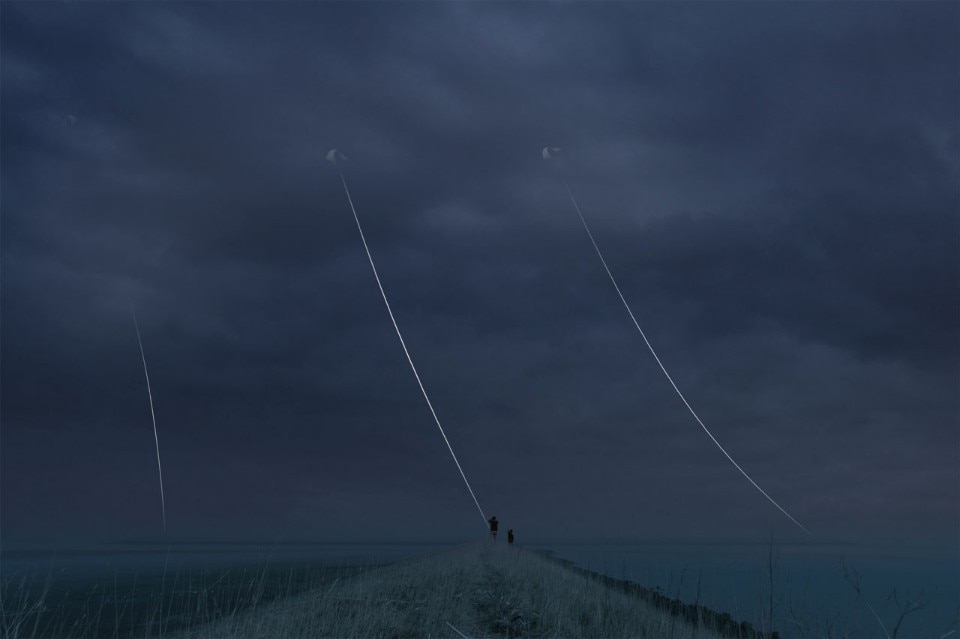 Windvogel.
In the archives, when I was doing my homework, so to speak (studying the history of the dike), there was a short movie about Wubbo Ockels, the Dutch astronaut who went to space, came back and started to really believe in sustainability and how to improve the world around us. He had the dream of energy-harvesting kites which would float high in the air, and would be attached to the ground by a cable. Since the kite is always moving, the cable is pushed and pulled and connected to a ground station creating power, electricity, energy, like a dynamo on your bicycle. He had the dream to bring that to the dike but he died in 2014, so he never got a chance to do it. When I saw this interview I thought that that's what we were going to do. We wanted to make his dream come true, so we talked with his widow, worked with the spin off of the Delft Technical University, put money, time, energy, and love in it. We made these lines of light, that dance beautifully in the air, and at the same time has potential to produce 100 Kilowatts of power. That's a lot of energy. The whole opening might have been possible by using the energy from the kites. It's mesmerizing, and it's very minimum.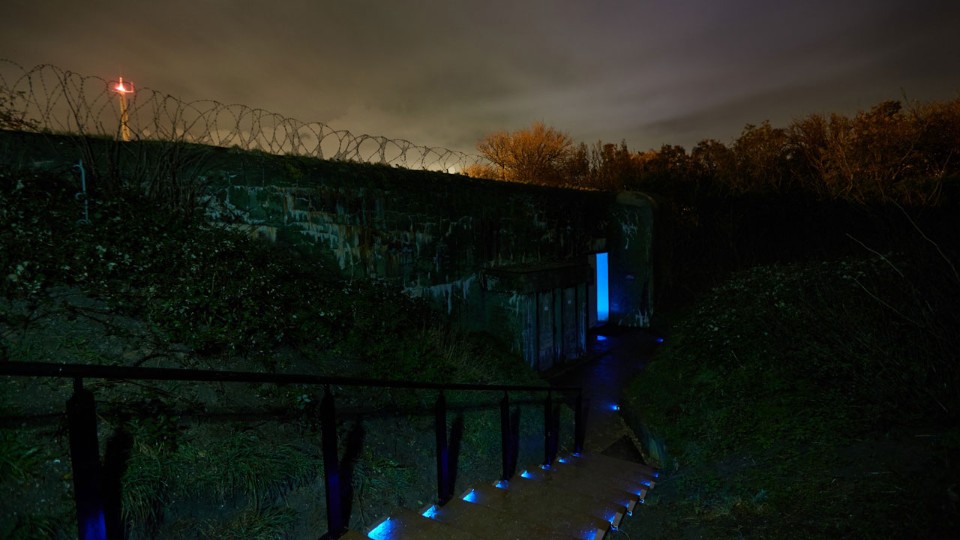 Glowing Nature.
The fight with the water is part of the Dutch DNA. For hundred, thousands of years, maybe. At the same time we can learn a lot from it, we can learn from nature. The exhibition takes place in these historical bunkers which had been built during Second World War, in the fight against the Germans, at that time. We fled them with a tiny layer of light-emitting algae. These are some of the oldest micro-organisms in the world. They've lived on Earth for 400 million years. They have a smart capacity when they wake up: when you move them, they light up. Nobody really knows why, some say to attract animals when they're attacked, others say it's a way of communication. Some say it's a side effect of nature, but nobody really knows why. We nurtured them, we worked for two years with the lab-people to create the largest light-emitting algae place in the world. So when you enter, the place is dark, and when you walk and touch them, they wake up. You have living lights. In our opinion this could be the future of street lights, of public light, which doesn't need batteries or so. Something which grows exponentially and can stay alive for weeks, maybe months… It's a very intimate experience. We treat them like queens, like divas, otherwise they won't do anything. They're not animals, they are one-cell organisms, just like grass.
So, what we saw there were these 60 flood-gates that were actually designed by the grandfather of Rem Koolhaas in 1932: they open and close the floods, they're like barriers. They protect the Netherlands, basically.
What was your source of inspiration?
I think it was this naked landscape, this straight line that doesn't exist anywhere else in the world. But at the same time is also a sign of courage, you know, who does this? You have to be a bit crazy about it. If you were to be really practical you would just move to Germany, so to speak. This beautiful approach of going against the tight mentality, this curious mentality is what I like so much about it.
Project:

Icoon Afsluitdijk

Design:

Studio Roosegaarde

Completion:

2017