The project by Adhoc Architects is located on "de la Roche" Street, in the neighbourhood of Le Plateau Mont-Royal, Montreal, a vibrant district with an exceptional urban vitality. The project had to be a soft densification to fit into the current urban landscape without distorting it. The Canadian studio has devised a new typology on the plot by constructing both the street and the alley. By doing so, a central space was created, instantly revealing a new potential. The free space given by this new inner courtyard creates a living and organic place which strengthens the bond between private and public spaces, reflecting a new of thinking.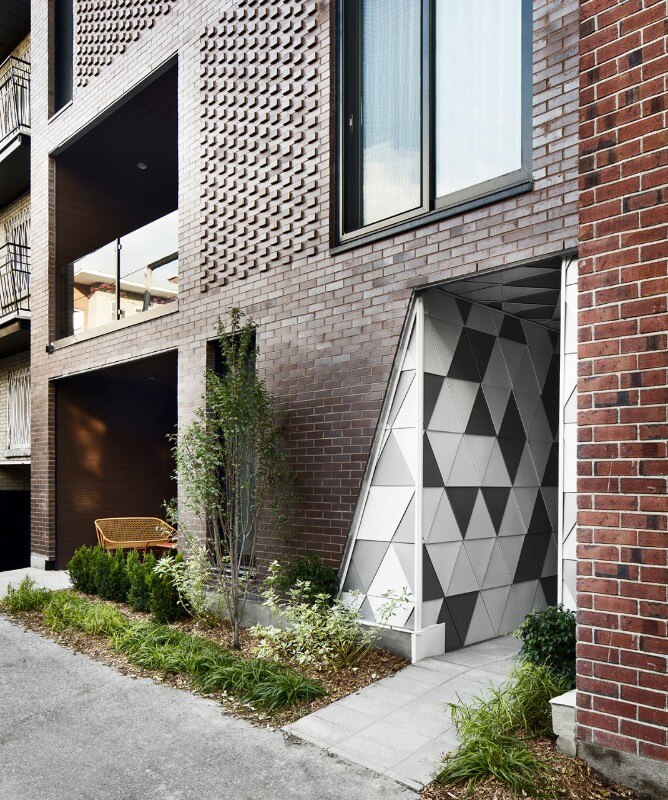 The exterior of the building is sober, characterized by a modest materiality. The headers in the brick layer and the openwork masonry in front of the windows and loggias reflect the mineral roughness and protective aspect of the geode. The inner courtyard reflects its crystalline and blazing materiality. Thanks to the central opening, the living spaces are bathed with natural light. This new spatial organization eliminates the notion of the passageway, generating fluidity and optimized housing spaces. The mezzanine on the facade allows the light to penetrate the courtyard while harmonizing the height of the building with its neighbour. The exterior spaces in the front take form of private loggias that preserve the intimacy of the residents while participating to the animation of the street.

The courtyard then became an urban oasis for the inhabitants. Finally, the exterior coating of this living space consists of shining triangular metallic tiles. Their white and shimmering colours arranged towards the lower floors blend with the sky and propose a changing and crystalline materiality. The inner courtyard allows abundant openings, guaranteeing maximum natural illumination as well as a cross ventilation of the dwellings. The use of energy-efficient materials and equipment is an essential part of the strategy put in place.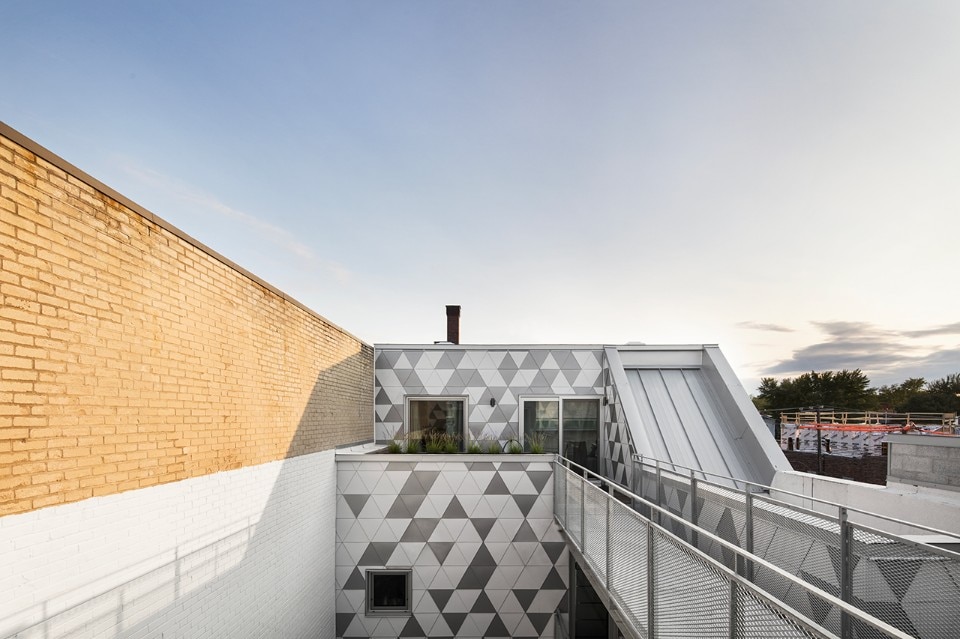 Project:

La Géode

Architect:

Adhoc Architectes

Design team:

Jean-François St-Onge, François Martineau (lead architects), Manon Paquet (architectural design)

Main contractor:

Knightsbridge

Landscape:

Turquoise design

Structural engineering:

L2C experts

Installations:

Desjardins experts conseil