Studio Seilern Architects refurbished a building located into a 1970's office block in London, to create the Ansdell Street office space. The intervention comprised the renovation of the interior spaces while retaining the existing structure and adding a new stair and lift core. While the existing facade was re-clad, an origami roof structure was added.
The main challenges of the existing building included the limited floor to ceiling heights, residential-type windows. The new facade incorporates more commercial large scale windows, which mitigate the lack of natural light and reintroduces the principles established by the late 19th Century buildings that once occupied the site. At ground level large warehouse window openings were introduced, giving the building a distinctive character more reflective of its use.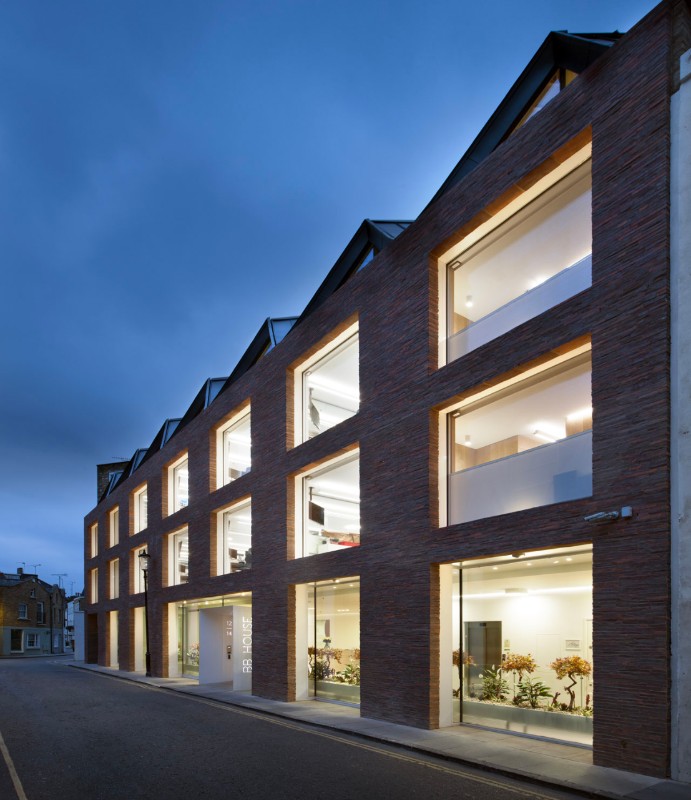 Using an origami geometry, the mansard roof pitches back from the street front to achieve the desired ceiling height, while avoiding an imposing bulk when seen from the street. Due to the pitched nature of the origami structure, the massing appears more sympathetic, and integrated in the overall local regulation constraints. The regularity of the structure adds to the rhythm of the facade, while not being overbearing. Inwardly facing triangular full-height glazed openings create a light and open environment from the interior of the building.

Ansdell Street, London, UK
Program: refurbishment, office building
Architects: Studio Seilern Architects
Structural engineering: Elliot Wood
Services engineering: Atelier TEN
Quantity surveyor: Jackson Coles
Lighting: Atelier TEN
Landscape: HDE
Client: BB Energy
Area: 1,360 sqm
Cost: £ 5M
Completion: 2016