The concept of "sharing and participation" was the starting point for planning the Weidli Stans Foundation's new day-care centre for adults suffering from multiple physical and mental impairments. Thanks to the extended space, the focus in working with the disabled can now be expanded to sensory experiences, creative design, playful activities, or music.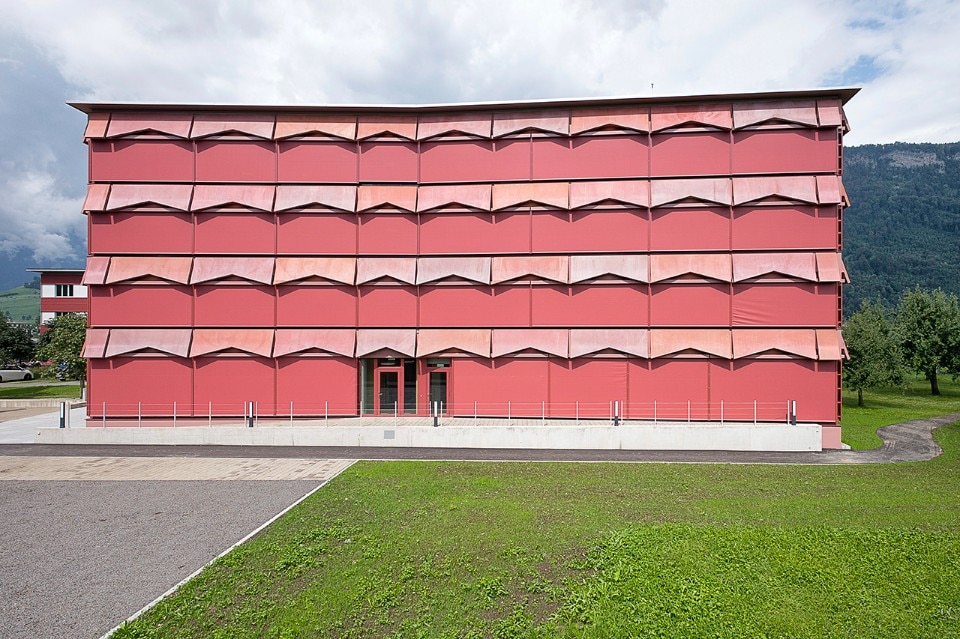 The available land parcel allowed for the construction of a multi-storey day-care facility. However, the disabled people in the day-care centre are impaired to such a degree as to make climbing stairs impossible for most of them. The commitment to barrier-free access to four floors led to the idea of ascending or descending connection routes. In order to make use of the space required for this purpose, it was conceived both as a meeting place and an activity room.
The interior is developed to a simple standard with cost-effective materials. All load-bearing parts are held in exposed concrete. All non-bearing divisions that only serve to create different spaces are covered in industrial plywood, underlining the house's workshop character. The differently coloured, earthy-red concrete elements on the facade are reminiscent of oversized roofing tiles and based on the neighbouring agricultural structures, but alienated therefrom in both dimension and materiality.
Shading is provided by externally mounted fabric awnings. Depending on the position of the sun, the depth effect, together with the notched concrete elements, results in a constantly changing appearance. The colour concept with individual colours for each floor helps guide severely impaired people. The paint is transparently applied, retaining the material characterization of wood and concrete. Four colours within each floor vary slightly from cool to warmer shades and create a monochrome colour resonance.


Weidli Stans Foundation, Stans, Switzerland
Program: Center for people with disabilities
Architect: architekten CM
Completion: 2016