The Lemon Tree House, is a single-family residence designed by Mexican studio Taller Estilo Arquitectura, developed on two floors in Mérida, Mexico. The building is divided into two clear sections: the first area, with the main access and the existing building and the second area with the bedrooms and central courtyard. 
The courtyard functions as a terrace with a pool and as a connection to the new building, acting as a distribuitor, and housing the stairway that allows access to the bedrooms. The restoration of the existing building creates a fusion between historic and new spaces in a natural way, while lighting and ventilation are key factors in creating comfortable atmospheres. The selection of materials – stone, wood, traditional pasta tile floors, metal and white cement – maximize passive conditioning systems, reducing energy costs.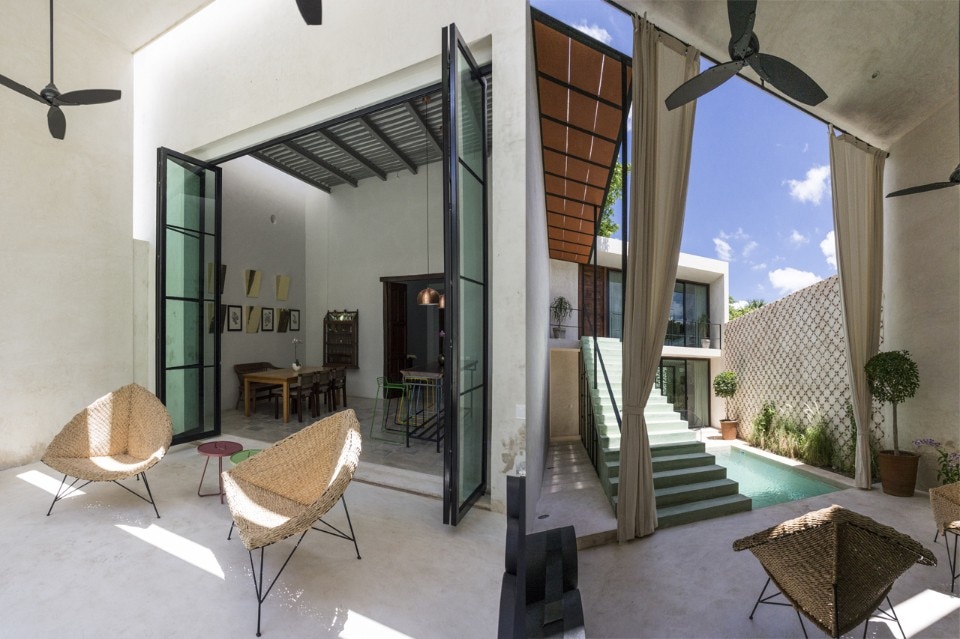 Traditional houses in the historic center of Mérida used cement floors in the form of mosaics with colorful and varied designs, creating mats and setting the pattern for the decoration of each room. Taller Estilo takes the material and the concept trasforming it into large areas of white cement and other surfaces with integrated green pigment, strongly defining the color palette that became one of the distinctive features of the house.

Limonero House, Mérida, Yucatán, Mexico
Program: single family house
Architects: Taller Estilo Arquitectura
Team: Víctor Alejandro Cruz Domínguez, Iván Atahualpa Hernández Salazar, Luís Armando Estrada Aguilar, Silvia Cuitún Coronado, Carlos Marrufo Tamayo, Alberto Góngora Brito
Area: 165 sqm
Completion: 2016