Technology company Barco needed a centralised infrastructure because the distance between the sites in Kortrijk and Kuurne was getting to be too much for the employees. This centralising structure has been located next to the existing corporate buildings in Kortrijk, close to the E17. The new campus's crowning jewel is 'The Circle', Barco's new headquarters. With a diameter of 75 metres and a height of 25 metres, this monumental building can be seen from far and wide.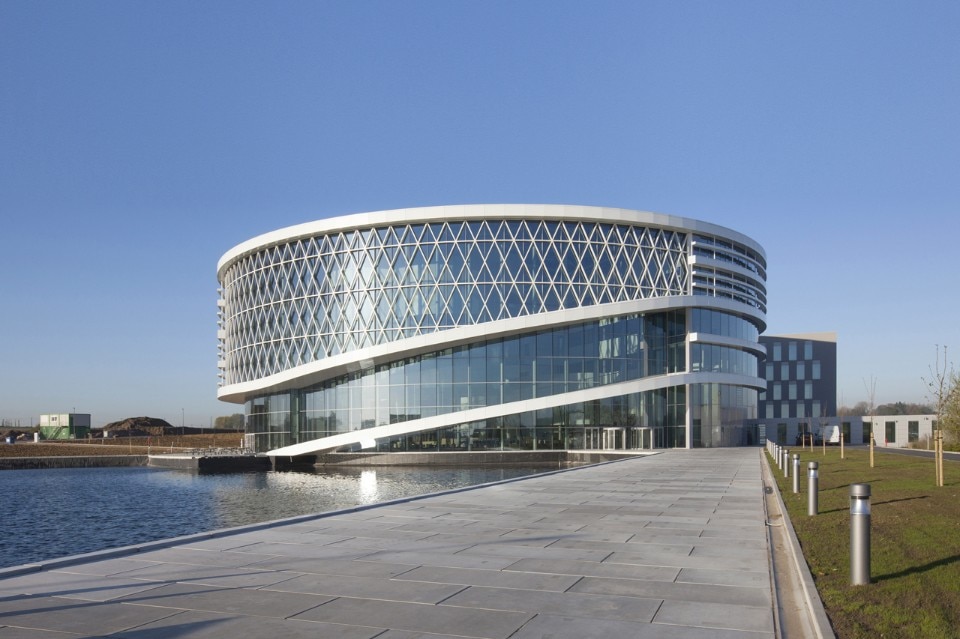 'The Circle' houses offices, research and development spaces, demonstration spaces, an auditorium and a company restaurant. The building's main purpose is to serve as a space for employees and visitors to interact. This was achieved through the centralised layout of the site, in which corridors link the building with The Lab (a research lab), The Pulse (an additional office building), and The Engine (an expansion of the existing production units).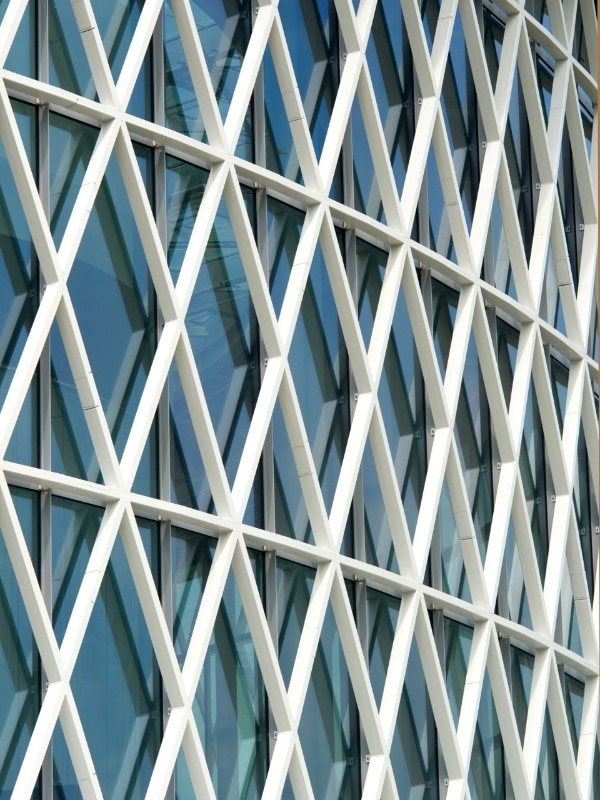 "The interior design also contributes to the social function," explains John Eyers, CEO at Jaspers‐Eyers. "The unique rounded shapes and the internal connections ensure that employees bump into each other more often and create an active ambiance. The oval‐ shaped 'meeting decks' stand out, appearing to float in the space. Passerelles to the fixed cores of the building balance the structure and ensure a constant level of activity."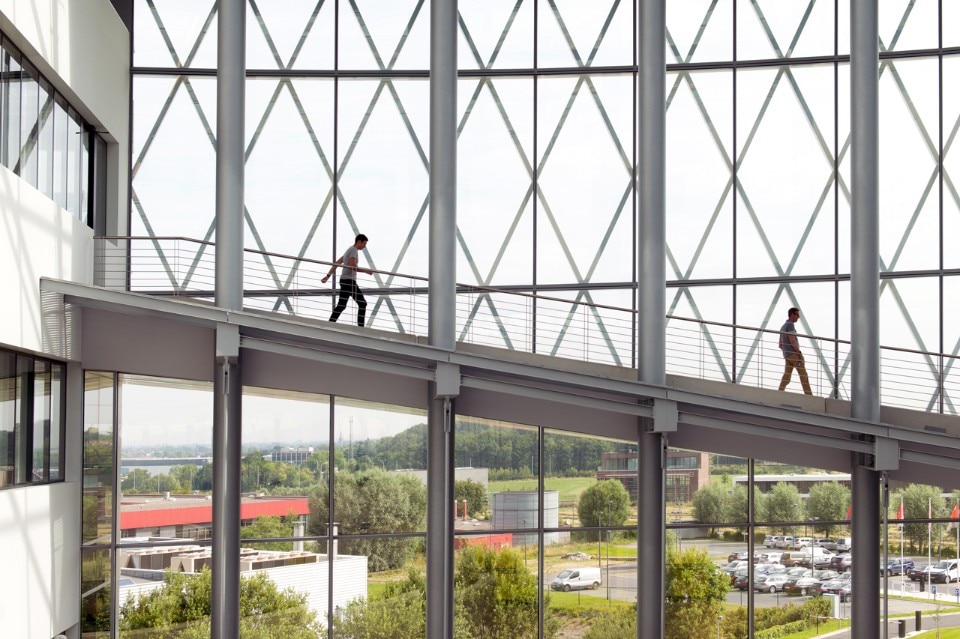 'The Circle' gets the maximum amount of daylight and transparency thanks to the completely glass façade. The clear glass contrasts beautifully with the inset ramp, that adds relief and depth to the building. Three horizontal rows of coffering run along the other sides to provide protection from the sun. In addition to this, the extensive cooling system provides pleasant temperatures within the glass circle. The outer parts of the inner volumes are finished with a taut banner, which creates a sleek, even surface with lovely curves.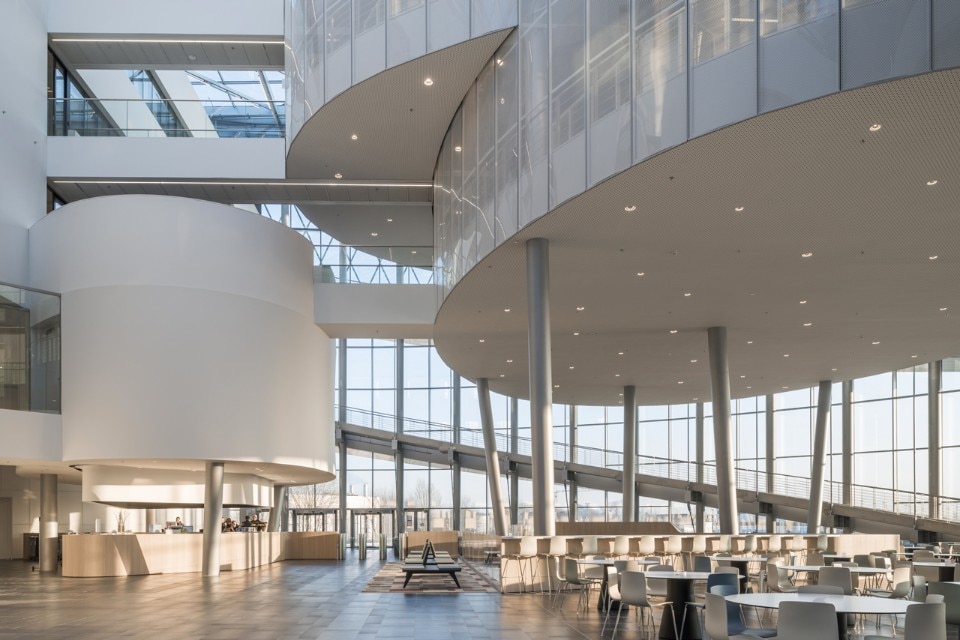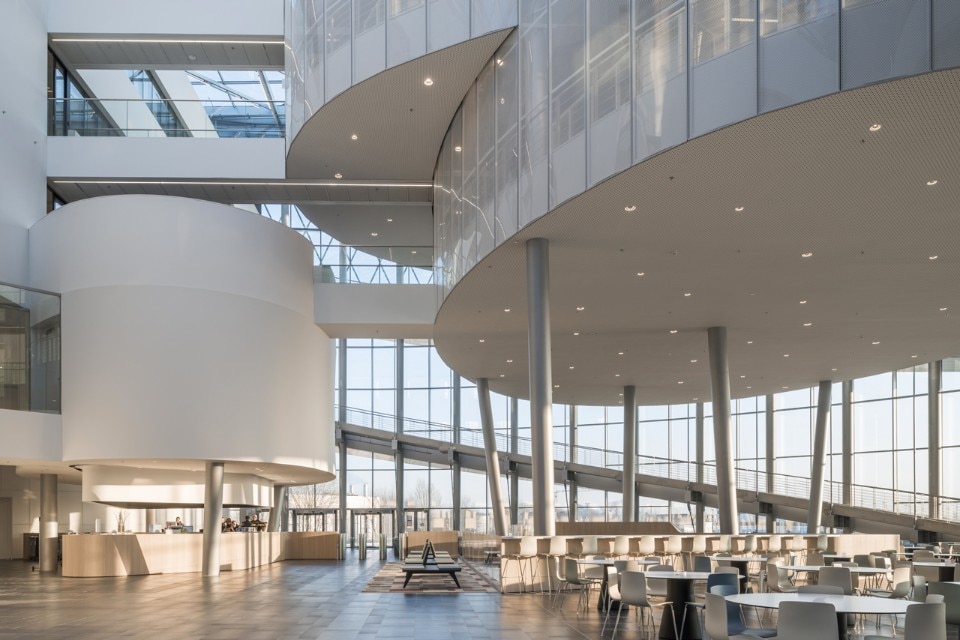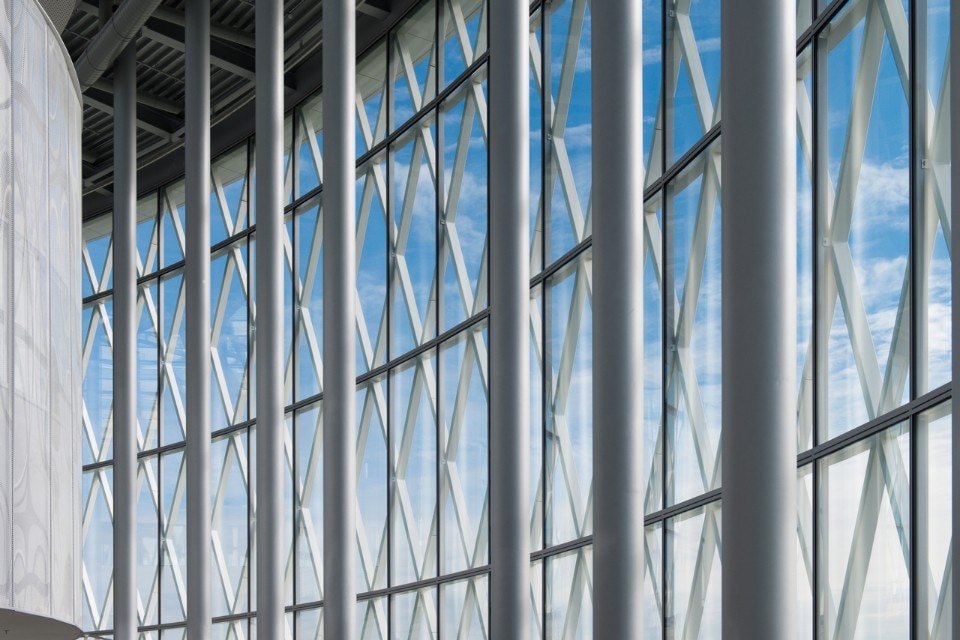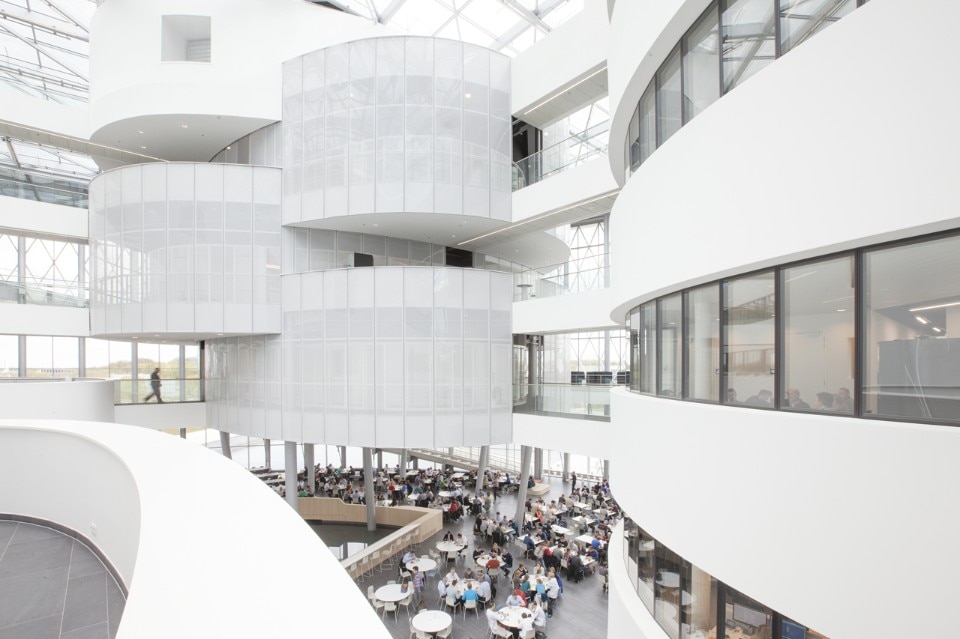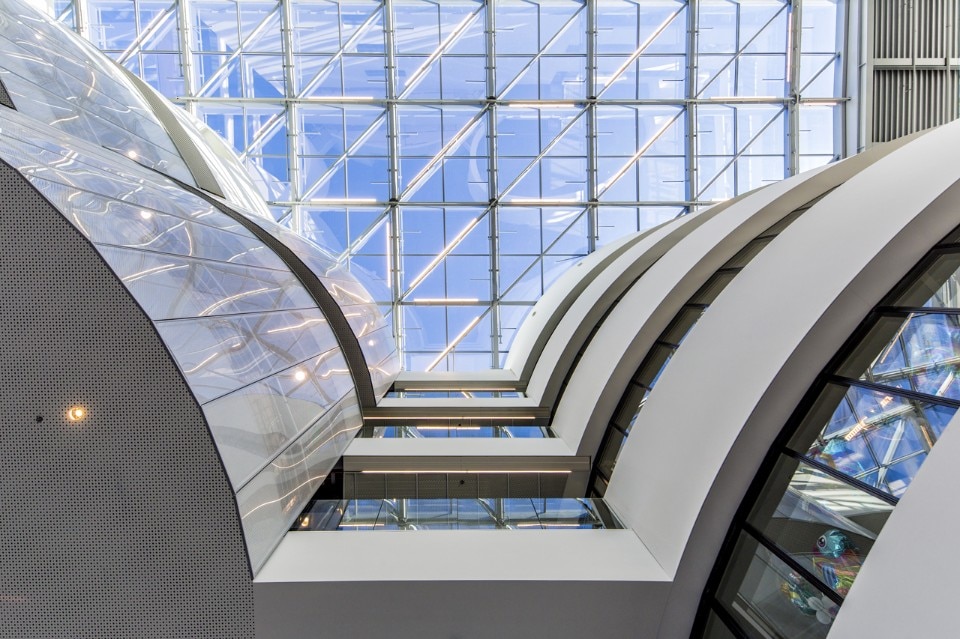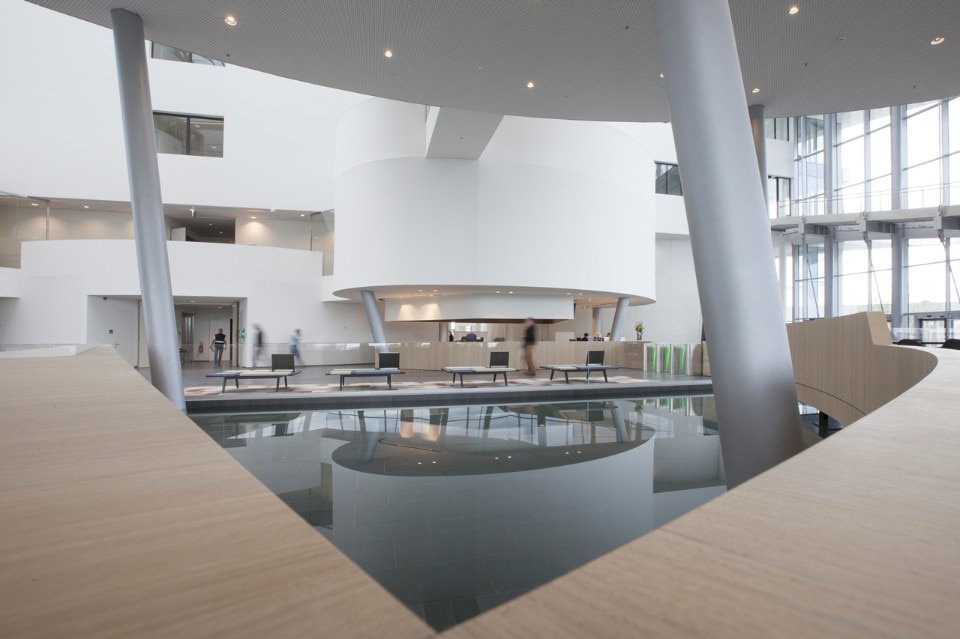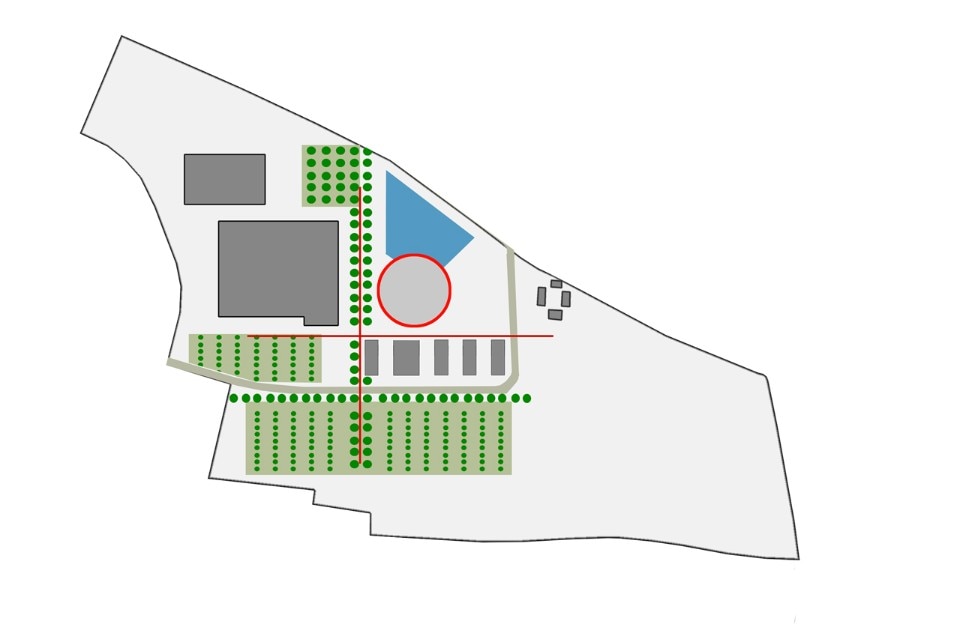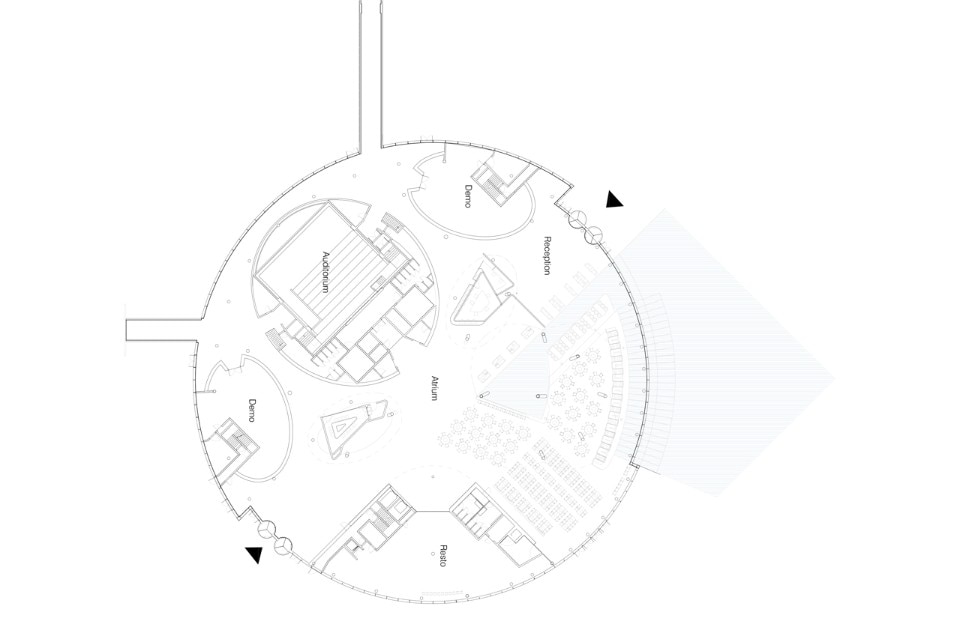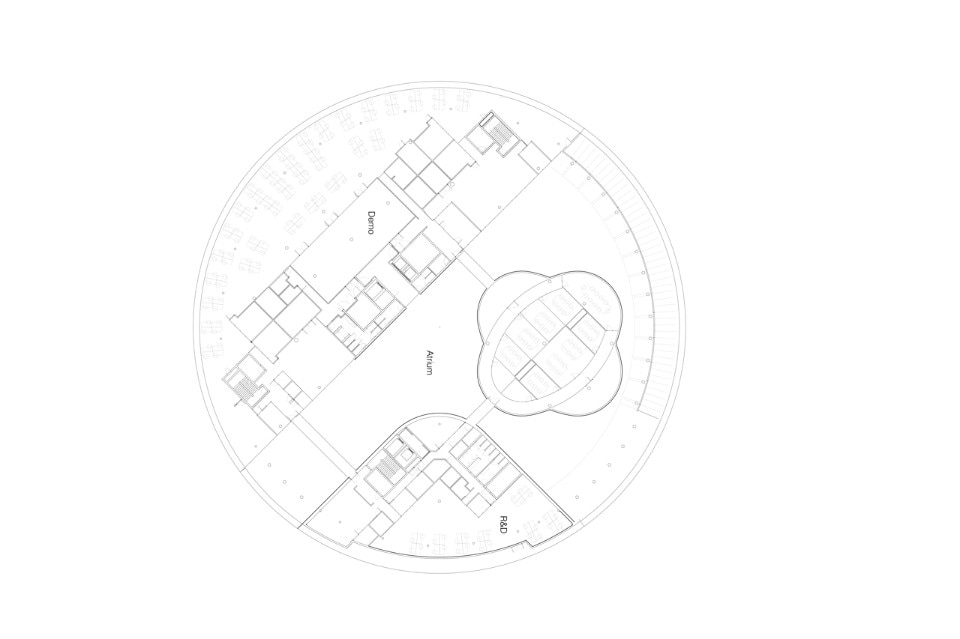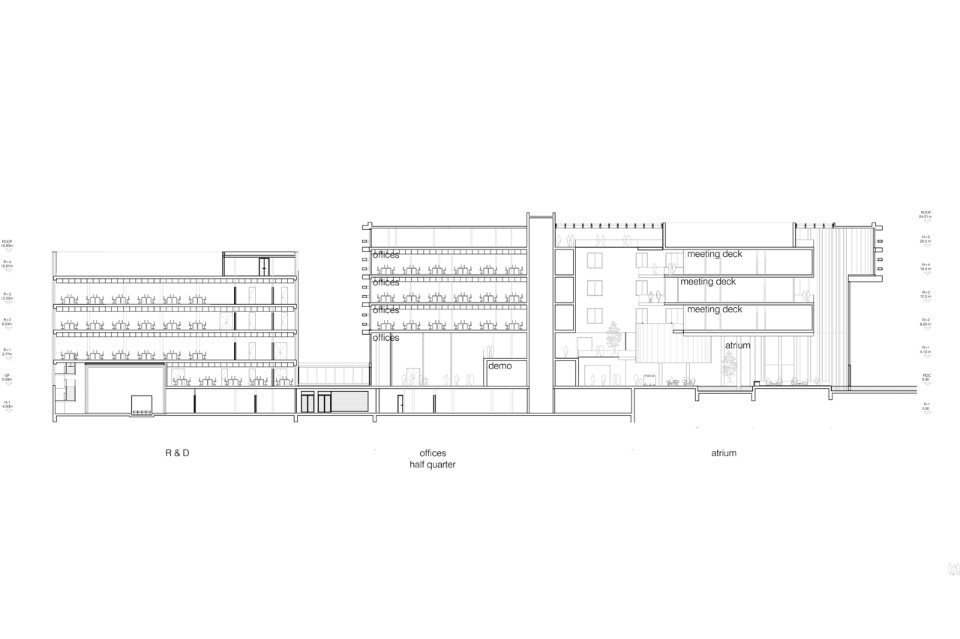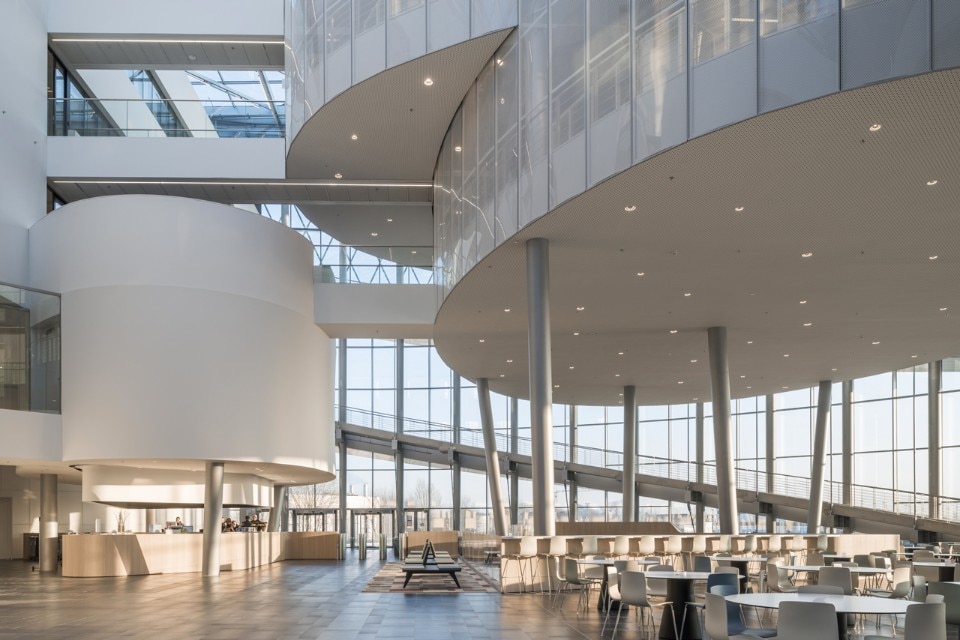 Jaspers-Eyers Architects, Barco's Headquarters and Reaserch Center, Kortrijk, 2016. Photo Klaas Verdru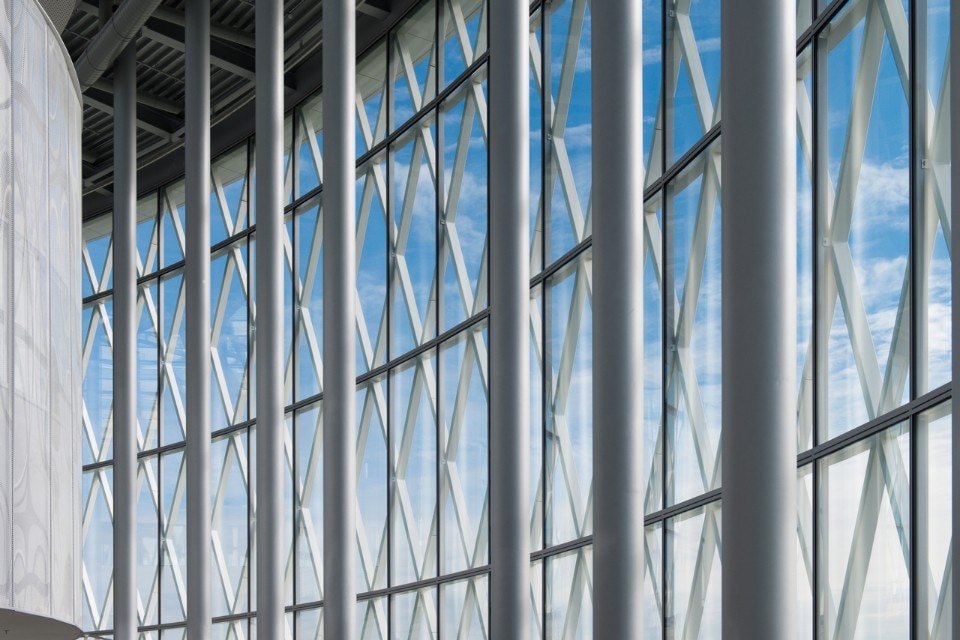 Jaspers-Eyers Architects, Barco's Headquarters and Reaserch Center, Kortrijk, 2016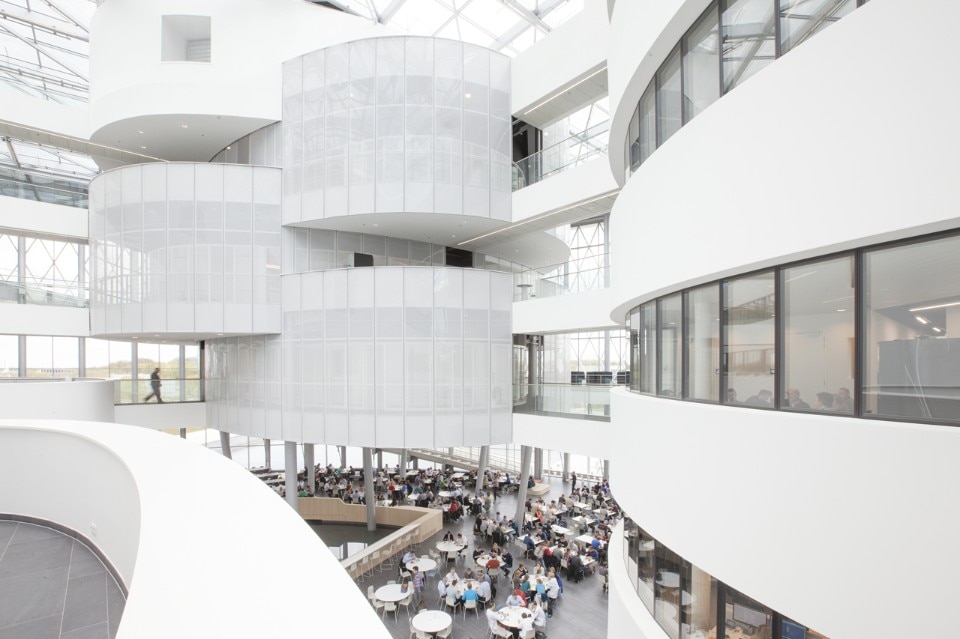 Jaspers-Eyers Architects, Barco's Headquarters and Reaserch Center, Kortrijk, 2016. Photo Philippe Van Gelooven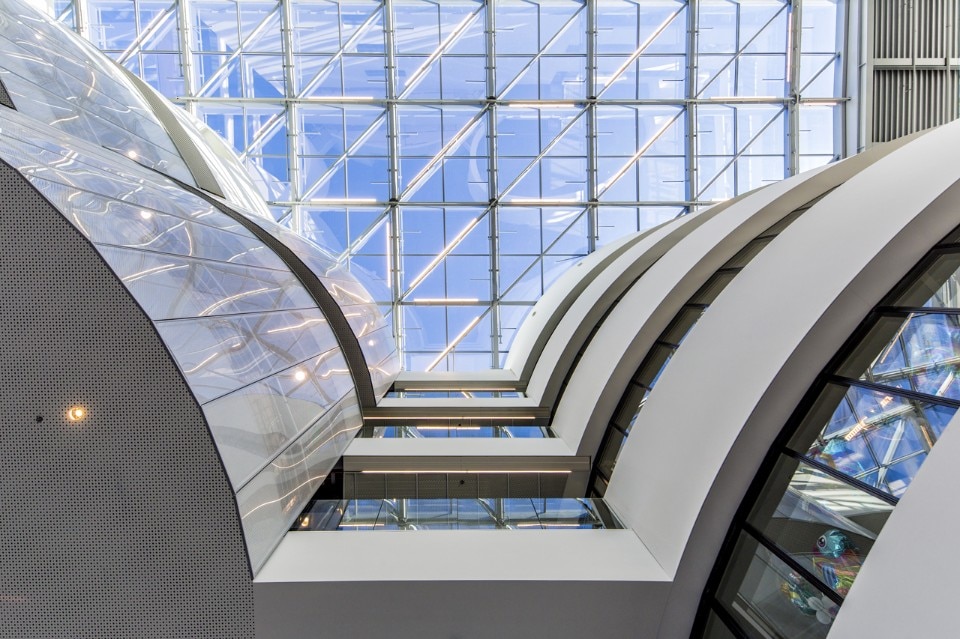 Jaspers-Eyers Architects, Barco's Headquarters and Reaserch Center, Kortrijk, 2016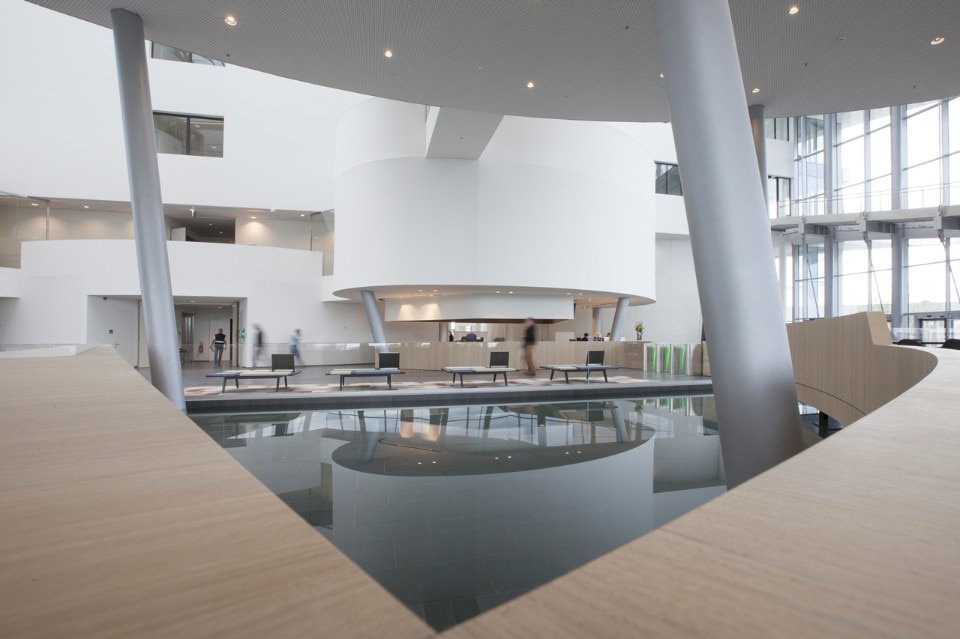 Jaspers-Eyers Architects, Barco's Headquarters and Reaserch Center, Kortrijk, 2016. Photo Philippe Van Gelooven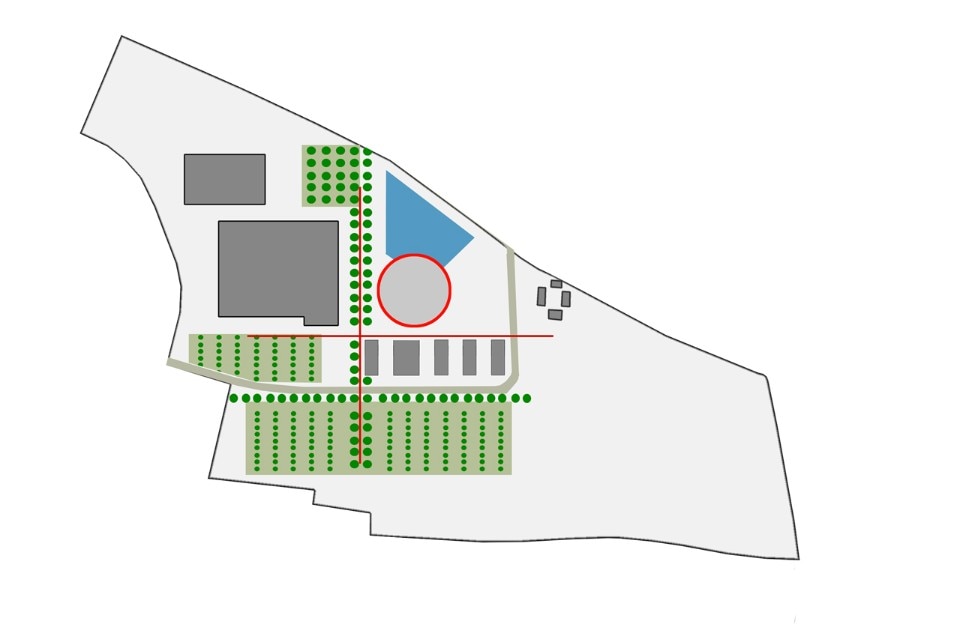 P:\POLYGON 2012\P747 J&E barco\plannen\P747_KPXX 2012.03.19 Layout1 (1)
Jaspers-Eyers Architects, Barco's Headquarters and Reaserch Center, diagram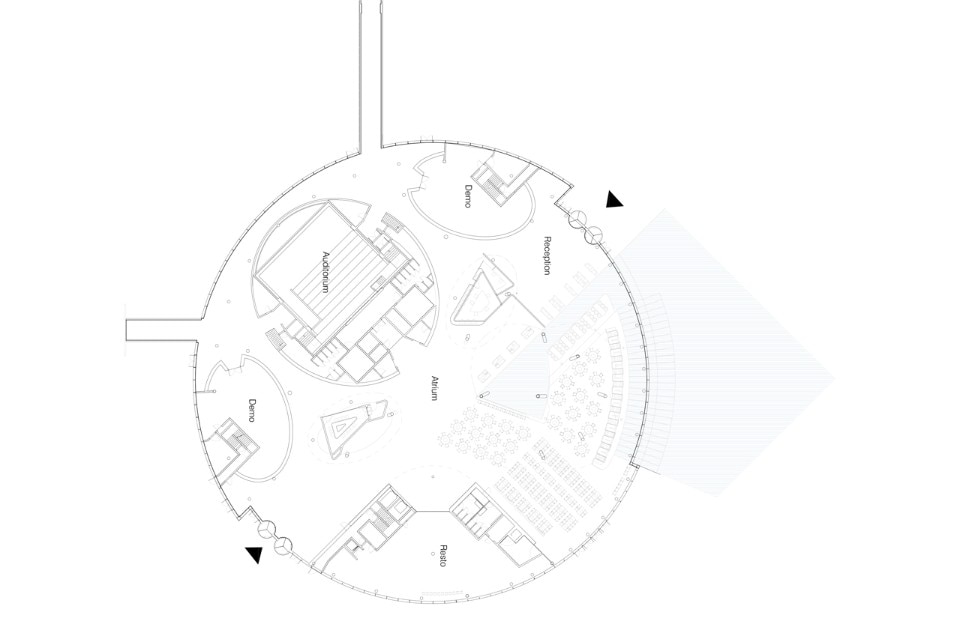 Z:\COMMUNICATIE\A 0000 - BARCO\11 _ ontwerp 1\TEK - tekeningen\2 - plannen\COMM_plannen_sdp HALF QUARTER (1)
Jaspers-Eyers Architects, Barco's Headquarters and Reaserch Center, plan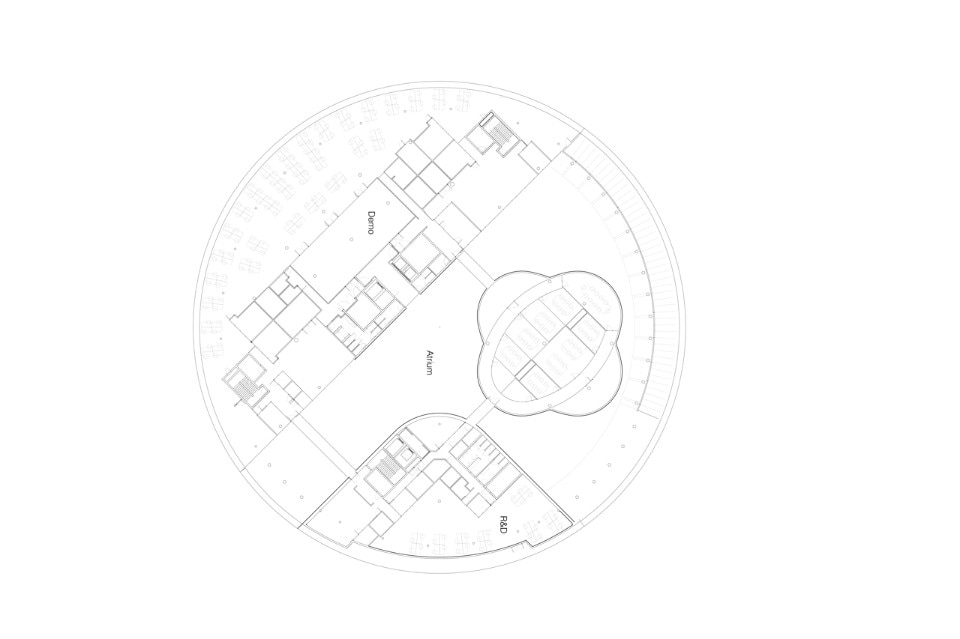 Z:\COMMUNICATIE\A 0000 - BARCO\11 _ ontwerp 1\TEK - tekeningen\2 - plannen\COMM_plannen_sdp HALF QUARTER (1)
Jaspers-Eyers Architects, Barco's Headquarters and Reaserch Center, plan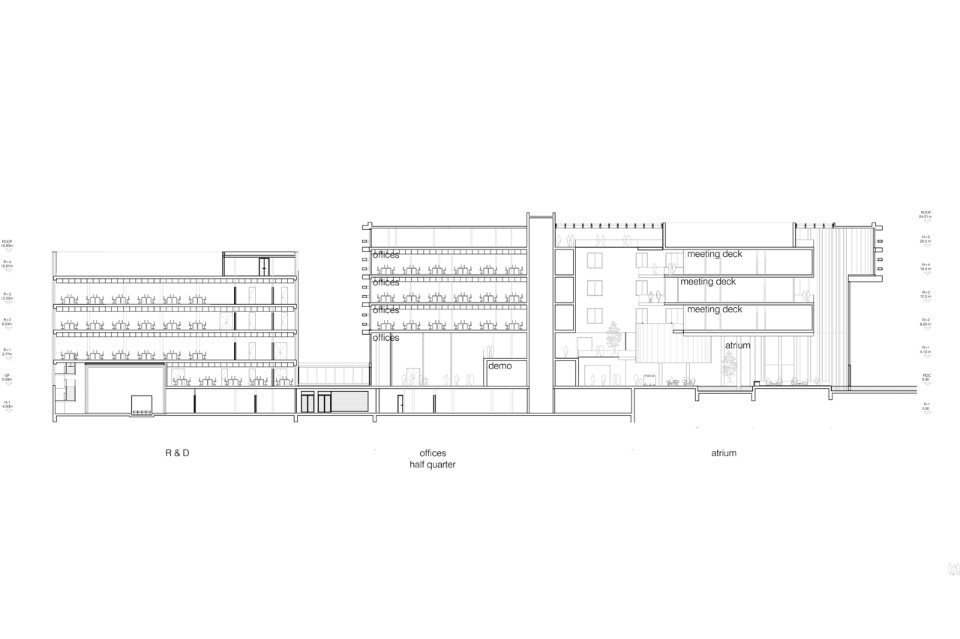 Z:\COMMUNICATIE\A 0000 - BARCO\11 _ ontwerp 1\TEK - tekeningen\3 - snedes\COMM_snedes HALF QUARTER (1)
Jaspers-Eyers Architects, Barco's Headquarters and Reaserch Center, section

Barco's Headquarters and Reaserch Center, Kortrijk
Program: mixed-use
Architects: Jaspers-Eyers Architects
Structural engineering: VK Engineering
Contractor: Cordeel
Area: 30,000 sqm
Completion: 2016