The wall that protects Pedrali's new automated warehouse designed by CZA in Mornico al Serio (Bergamo – Italy) does not aim to be the representation of its inner content – a perfect mechanism, where the path for the robot carts cuts through the shelving structures like a canyon – but rather to be a visual screen that responds to the diverse conditions of the surrounding landscape.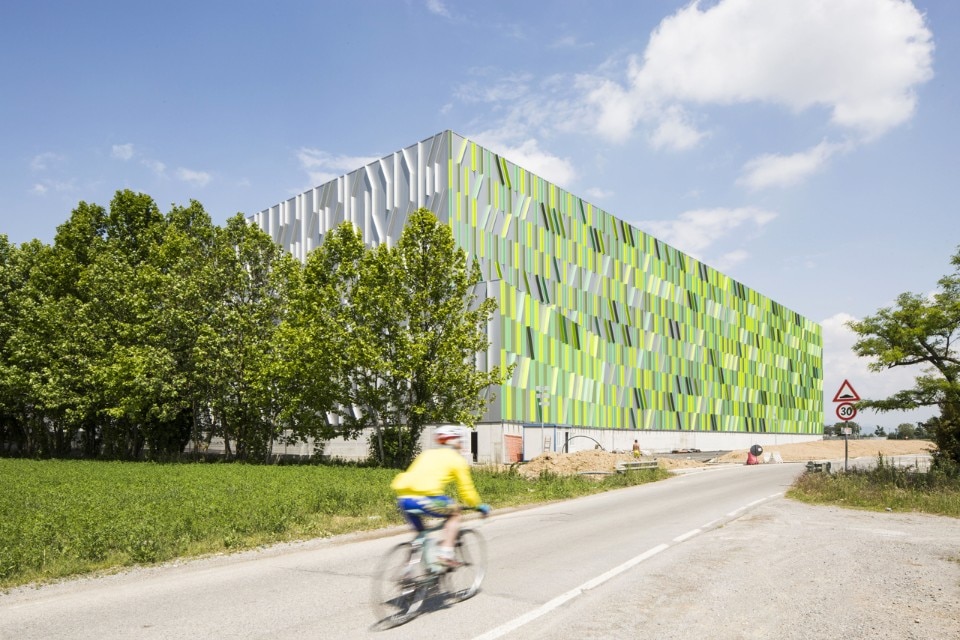 The architectural response of the new warehouse reacts to the abstract theme of the "wrapping" the machines it contains with a specific response that is strongly related to the context, to solar orientation and to the industrial complex it belongs to. Its primary solid mass is articulated by two volumetric projections.
Its primary solid mass is articulated by two volumetric projections. The first, in its south-west corner, concludes the visitors' path inside the complex and picks up the direction of the canal that forms the western boundary of the perimeter. The second projects out from the north-east corner with a daring cantilever, stripping back a part of the warehouse wall to reveal its inner mechanisms through a large glass plate, giving form to the missing side of the large loading yard and providing a visual target point from the entrance to the offices on the northern margin. A connecting lower body connects the new warehouse to the existing ones, and hosts the long green ribbon of the suspended visitors' path.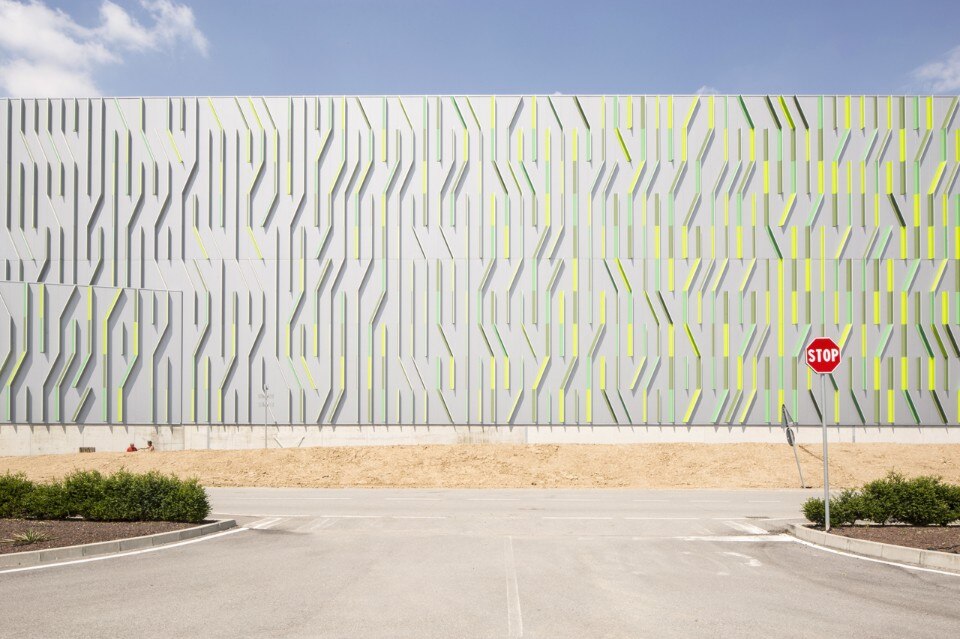 All four sides of the new warehouse are faced by panels in natural aluminum color. On these, a series of simple elements made with extruded aluminum profiles generates a visual pattern formed by a combination of vertical and oblique lines, like gigantic "blades of grass" that give rhythm, scale and measure to the blind and unarticulated surface of the facades, especially the large surface to the south.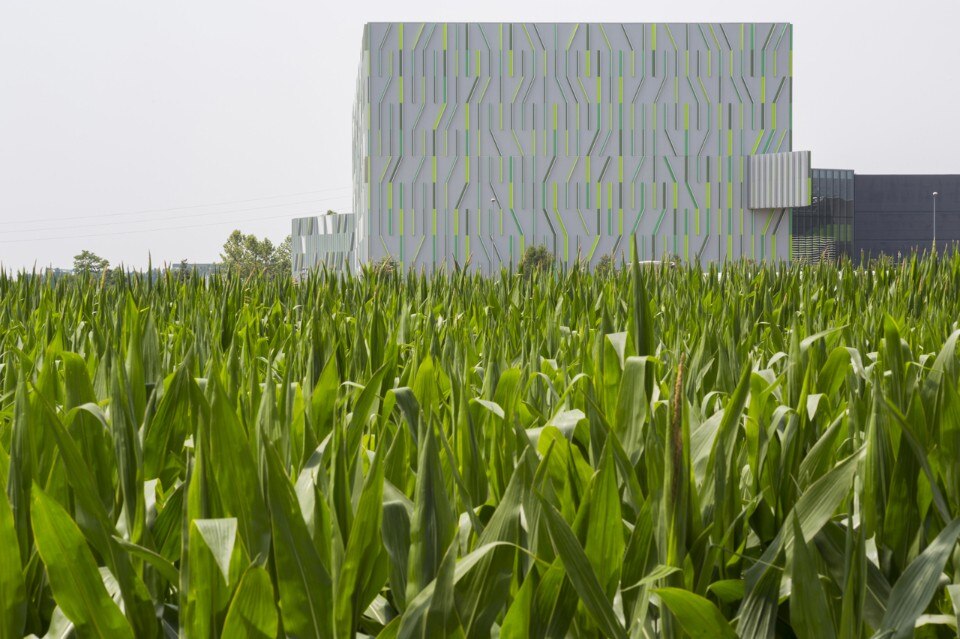 The reflection of the tones of the colored sides on the opposite ones left in natural aluminum color generates a very peculiar iridescent effect – similar to the one of the wings of a butterfly or the elytra of a beetle – for those travelling on the road from east to west.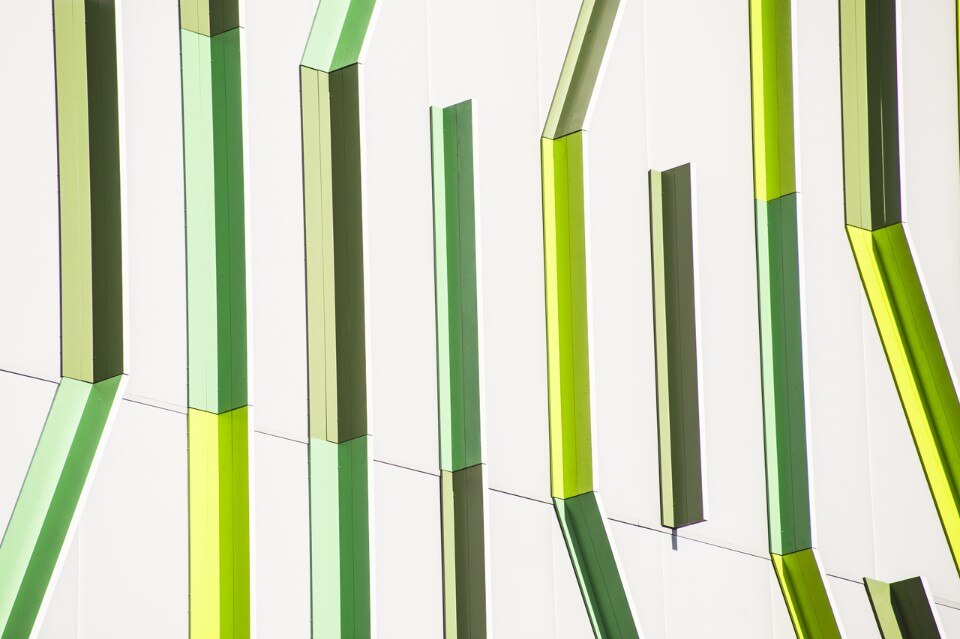 The dull and uniform volume of new warehouse is thus transformed into a visual phenomenon rich in variations, a kind of natural "amplifier" of the time of the day and the seasons. In certain moments it dissolves into the misty sky, reflecting its grey-blue tones, and in others it becomes imbued with the bright green of the agricultural fields in spring. 

Fili d'erba, Mornico al Serio, Italy
Program: automated warehouse
Architects: CZA – Cino Zucchi Architetti
Landscape: Patrizia Bezzi
Facades: Frea & Frea S.r.l.
Metallic carpentry: Mangili & Associati S.p.a.
Completion: 2016