Álvaro Siza Vieira and Eduardo Souto de Moura realized the construction of the International Contemporary Sculpture Museum (MIEC) and rehabilitation of the Municipal Museum Abade Pedrosa (MMAP). The connection between the two buildings is punctual and although functionally connects both, it allows to keep them independent in form and language.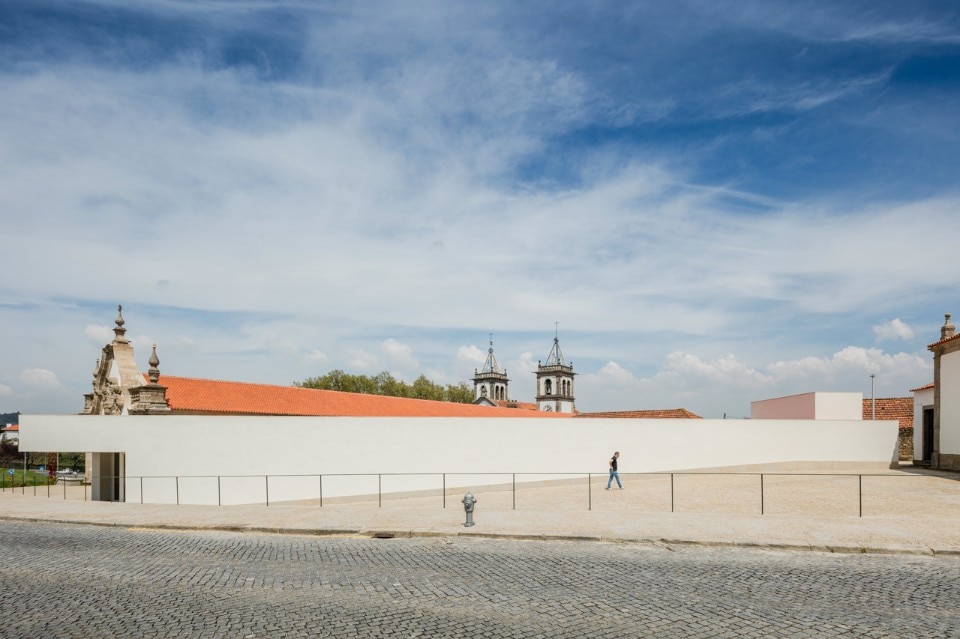 The design of the new museum took into account the exception site where it is located, as well as the definition and adaptation to the surrounding environment and the Monastery of São Bento, building in which currently operates the Municipal Museum Abade Pedrosa. The Monastery of São Bento set from the beginning the premises of the volumes of the new Museum. The new building found the cornice of the lower limit of the Monastery as its maximum level, so as not to disturb or to overlap to this historic building, which will have to establish a physical relationship of continuity. This connection is made through an "arm" that starts in the main volume. For this connection take place, it was demolished an existing annex where, in our view, does not dignify the image of the Monastery.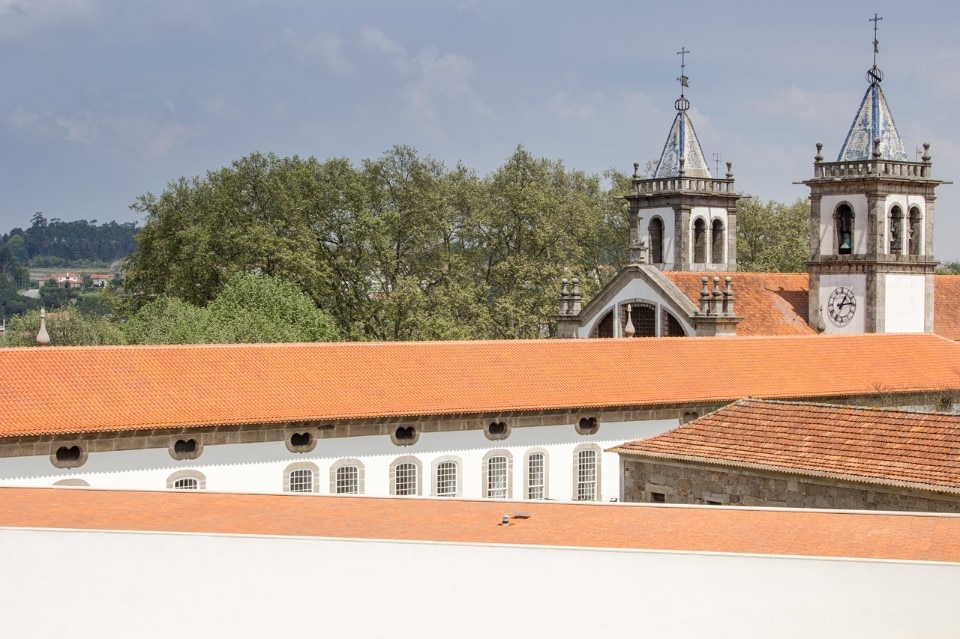 The definition of volumetric proposal resulted from the intention of defining the square access to the new museum and also the old museum (Municipal Museum Abade Pedrosa). From this premise, the new museum MIEC develops parallel to the existing north wall, releasing the south area to the promenade that faces the street Unisco Godiniz.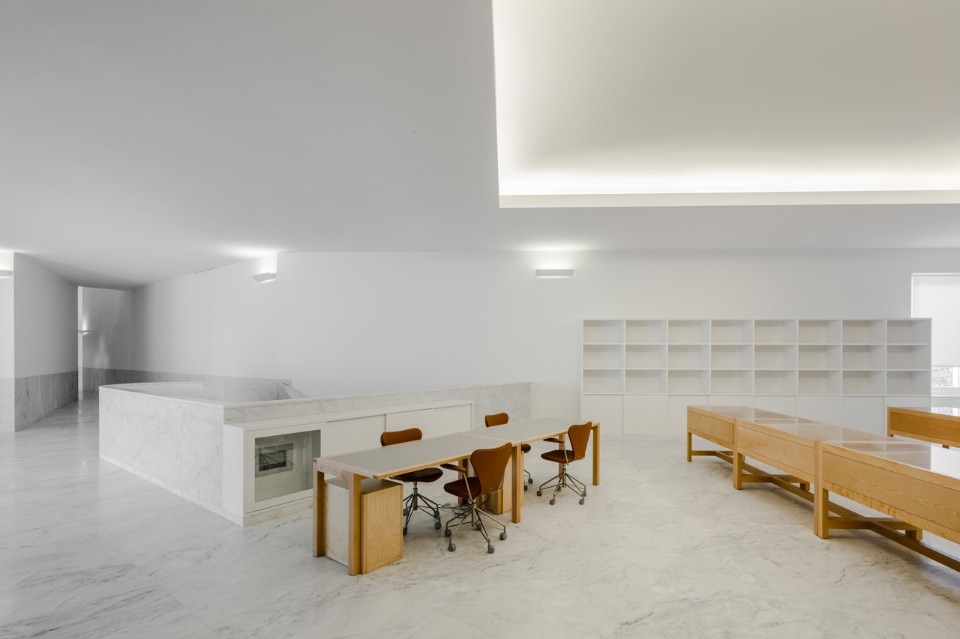 The selected scheme for the building implantation takes on particular meaning in the functional organization of the museum. From the main entrance, facing the old museum, we access to the lobby that connects with the Municipal Museum Abade Pedrosa, with the reception and the vertical accesses. The pavement heights have continuity with the Monastery of São Bento. The main floor is arranged after the atrium in the following order: the shop in direct contact with the atrium; the cafeteria and its services; administration offices and the documentation center that works as exhibition area and computer center.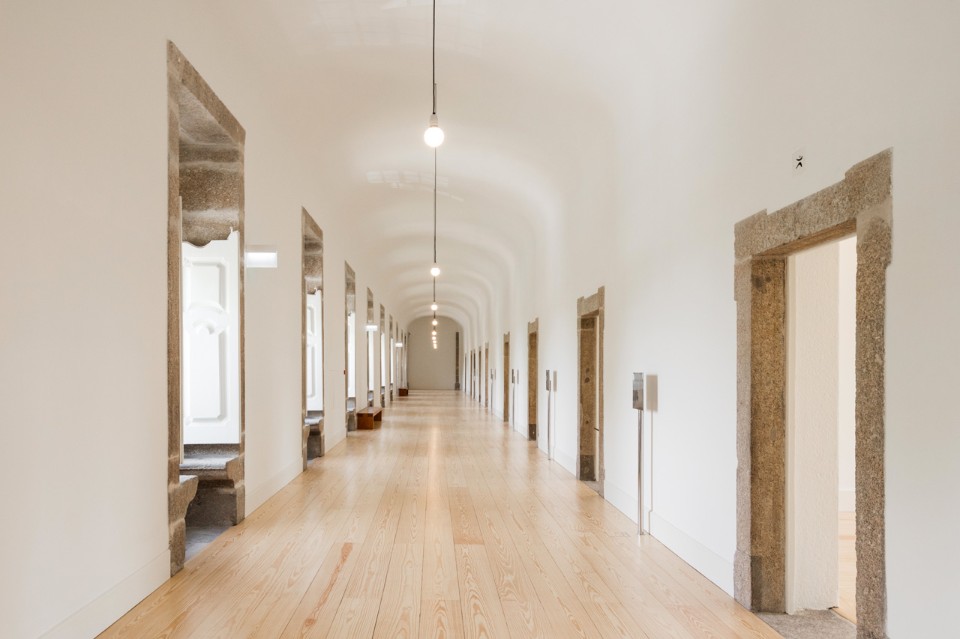 The Municipal Museum Abade Pedrosa is located in the former guesthouse of the Monastery of São bento, a building integrating the heritage complex called – Monastery of São Bento, still classified as a National Monument. The building has two floors, but only the top floor, at the level of the street Unisco Godinis, belongs to the Museum. Of rectangular plan and longitudinal development, it is organized to the west by a corridor which occupies the entire building length and to East by several rooms of different sizes and with specific links between them. The access to the rooms is carried out through the corridor several doors, sometimes more than one door for each room.
Siza & Souto de Moura, MIEC & MMAP, sketches
M:\ZE\Plantas Museu\490-B-DO-1.20.00_Planta Geral Piso 0_ Model (1)
Siza & Souto de Moura, MIEC & MMAP, ground floor
M:\ZE\Plantas Museu\490-B-DO-1.21.00_Planta Geral Piso -1_ Model (1)
Siza & Souto de Moura, MIEC & MMAP, first floor
M:\ZE\Plantas Museu\490-B-DO-1.22.00_Planta de Cobertura_ Model (1)
Siza & Souto de Moura, MIEC & MMAP, roof
M:\ZE\Plantas Museu\MIEC-CORTES-ALCADOS\MAP-ATO-CTS Model (1)
Siza & Souto de Moura, MIEC & MMAP, section
M:\ZE\Plantas Museu\MIEC-CORTES-ALCADOS\MAP-ATO-CTS Model (1)
Siza & Souto de Moura, MIEC & MMAP, section
M:\ZE\Plantas Museu\MIEC-CORTES-ALCADOS\MAP-ATO-CTS Model (1)
Siza & Souto de Moura, MIEC & MMAP, section
M:\ZE\Plantas Museu\MIEC-CORTES-ALCADOS\MAP-ATO-CTS Model (1)
Siza & Souto de Moura, MIEC & MMAP, section
M:\ZE\Plantas Museu\MIEC-CORTES-ALCADOS\MAP-ATO-CTS Model (1)
Siza & Souto de Moura, MIEC & MMAP, section
M:\ZE\Plantas Museu\MIEC-CORTES-ALCADOS\MAP-ATO-CTS Model (1)
Siza & Souto de Moura, MIEC & MMAP, section
Model
Siza & Souto de Moura, MIEC & MMAP, construction section

MIEC & MMAP, Santo Tirso, Portugal
Program: museum
Architecture: Álvaro Siza Vieira, Eduardo Souto de Moura
Coordinators: José Carlos Nunes de Oliveira, Pedro Guedes Oliveira
Collaborators: Arq. Blanca Macarron, Diogo Guimarães, Ana Patrícia Sobral, Eva Sanllehí, Rita Amaral
Area: 2156.83 sqm
Completion: 2016