Designed by Tadao Ando, Casa Wabi takes its name after the Japanese ideal of wabi-sabi, which honors the beauty inherent in life's imperfections or transience.
Casa Wabi's core mission is to promote the exchange of ideas, fostering an open and constructive dialogue between national and international artists across a variety of practices and disciplines.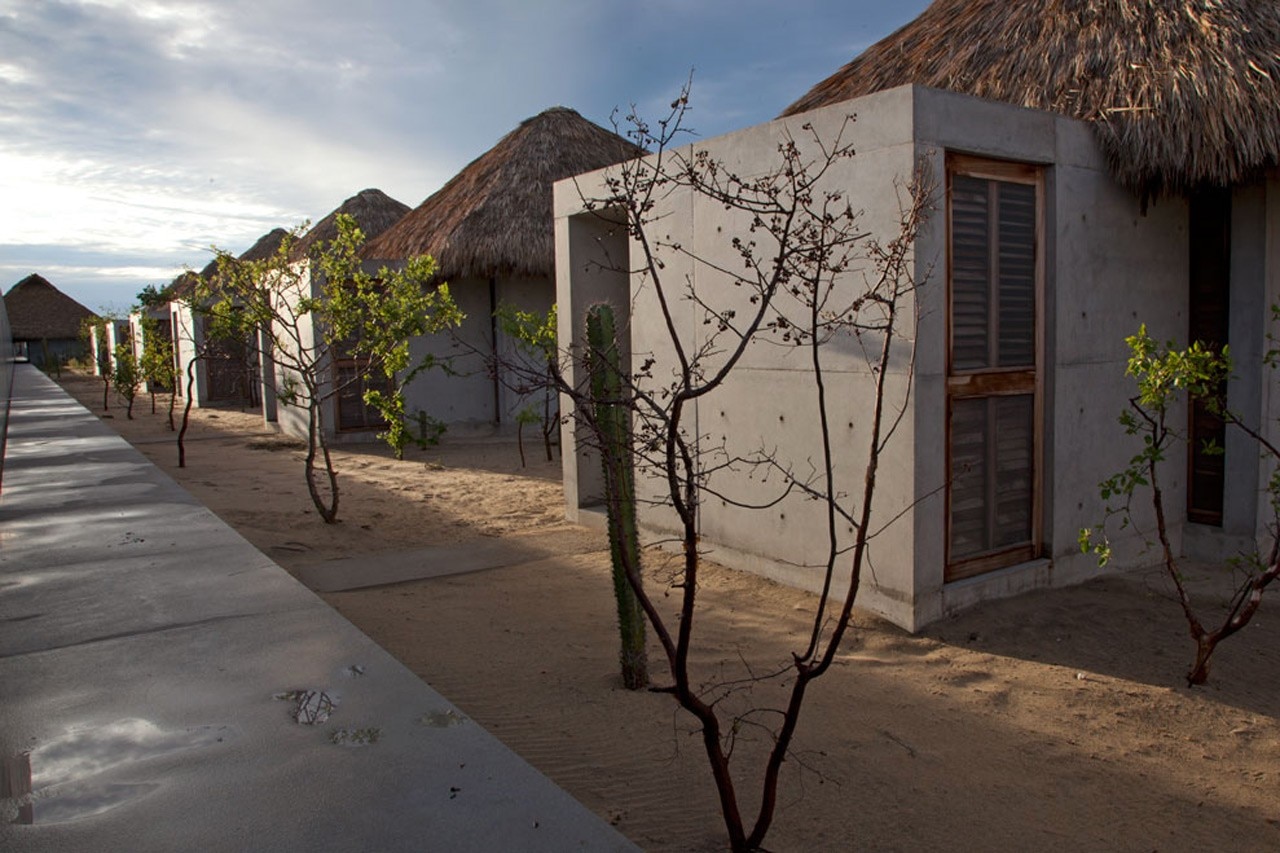 The Foundation's inaugural solo exhibition presents a new site-specific installation conceived by French conceptualist Daniel Buren for Casa Wabi. Additionally, Teatro de Ciertos Habitantes, directed by Claudio Valdés Kuri, presented an original piece during the opening festivities.
Located approximately 500 miles southwest of Mexico City and situated between the Pacific Ocean and the Sierra Madre del Sur mountain range, Casa Wabi features six artist residences, two studios, an exhibition space, several multipurpose spaces and a 67-acre botanical garden that will gradually become home to an outdoor contemporary art collection.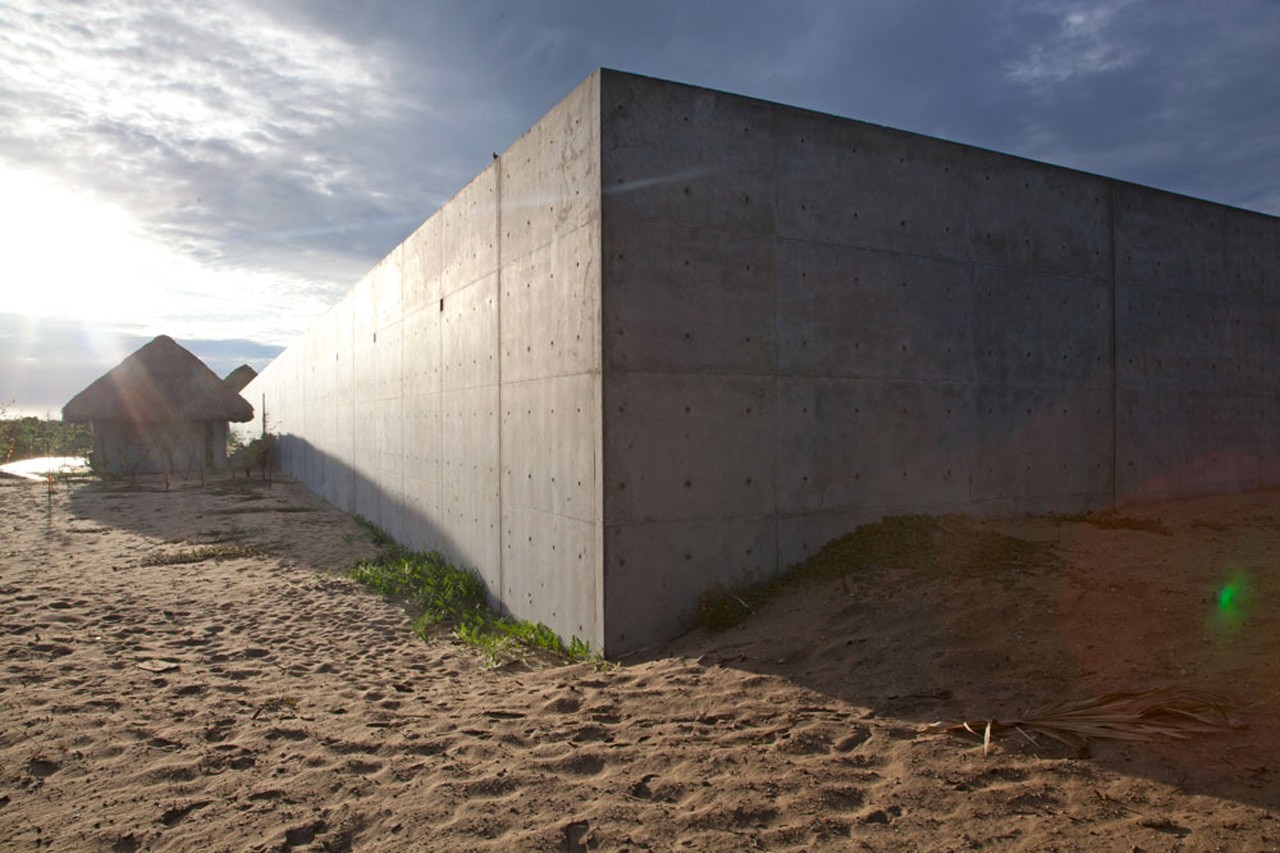 Tadao Ando's design for the central complex and freestanding residences features his trademark use of concrete combined with one of the regions most iconic and rustic constructions: the palapa, a Mexican-style pavilion with open sides and a thatched roof made of dried palm leaves. The resulting structures strike a harmonious balance between local traditionalism and modernist architecture, and in Ando's signature way emphasize the pristine condition of the natural environment.
Patricia Martín, former director and curator of La Colección Jumex, has partnered with Sodi to direct Casa Wabi and establish its programming. Under Martín's direction, the Foundation will run four main programs: an interdisciplinary artist residency that will be strongly linked to the social and educational programs, alongside a garden and film program that will act as an aid for the residents and community at large.
Tadao Ando, Casa Wabi Foundation, Puerto Escondido, Oaxaca, Mexico. Photo © Foto Estudio Zabé
Tadao Ando, Casa Wabi Foundation, Puerto Escondido, Oaxaca, Mexico. Photo © Foto Estudio Zabé
Tadao Ando, Casa Wabi Foundation, Puerto Escondido, Oaxaca, Mexico. Photo © Foto Estudio Zabé
Tadao Ando, Casa Wabi Foundation, Puerto Escondido, Oaxaca, Mexico. Photo © Foto Estudio Zabé
Tadao Ando, Casa Wabi Foundation, Puerto Escondido, Oaxaca, Mexico. Photo © Foto Estudio Zabé
Tadao Ando, Casa Wabi Foundation, Puerto Escondido, Oaxaca, Mexico. Photo © Foto Estudio Zabé
Tadao Ando, Casa Wabi Foundation, Puerto Escondido, Oaxaca, Mexico. Photo © Foto Estudio Zabé
Tadao Ando, Casa Wabi Foundation, Puerto Escondido, Oaxaca, Mexico. Photo © Foto Estudio Zabé
Tadao Ando, Casa Wabi Foundation, Puerto Escondido, Oaxaca, Mexico. Photo © Foto Estudio Zabé
Tadao Ando, Casa Wabi Foundation, Puerto Escondido, Oaxaca, Mexico. Photo © Foto Estudio Zabé
Tadao Ando, Casa Wabi Foundation, Puerto Escondido, Oaxaca, Mexico. Photo © Foto Estudio Zabé
Tadao Ando, Casa Wabi Foundation, Puerto Escondido, Oaxaca, Mexico. Photo © Foto Estudio Zabé
Tadao Ando, Casa Wabi Foundation, Puerto Escondido, Oaxaca, Mexico. Opening with the Hidalgo community. Photo © Foto Estudio Zabé
Tadao Ando, Casa Wabi Foundation, Puerto Escondido, Oaxaca, Mexico. Daniel Buren's installation. Photo © Foto Estudio Zabé
Tadao Ando, Casa Wabi Foundation, Puerto Escondido, Oaxaca, Mexico. Daniel Buren's installation. Photo © Foto Estudio Zabé
Tadao Ando, Casa Wabi Foundation, Puerto Escondido, Oaxaca, Mexico. Performance by Teatro de Ciertos Habitantes. Photo © Foto Estudio Zabé

Casa Wabi, Puerto Escondido, Oaxaca, Mexico
Program: art foundation
Architect: Tadao Ando
Founder: Bosco Sodi
Director: Patricia Martín
Completion: 2014