The French pavilion presents to visitors to the Biennale, "Modernity: promise or threat?" a critical response to the theme "Absorbing Modernity: 1914-2014" given to the national pavilions. Curator Jean-Louis Cohen questions the false illusions of a modernity made exclusively of progress, wellbeing and homologation and redirects us to a more complex reality that is not always straightforward.
The exhibition in the four rooms effectively and tangibly expresses these contradictions, also evident in the choice of titles. In the central room "Jacques Tati and Villa Arpel: Object of desire or ridiculous machine?" presents a model of the house, protagonist of the film Mon oncle (1958), conceived by painter Jacques Lagrange as an ironic portrait of an ultra-technological and ultra-designed modernity. But few architects in the Trente Glorieuse of the post-war period managed to build in France those attractive family houses with gardens that they were so fascinated by.
Other paradigms of this complex incongruence can be found in the three side spaces. "Grand complexes: a cure for heterotopia or places of solitude?" presents a model of the Cité de La Muette at Drancy (1934) made up of five "skyscrapers", the first in the region of Paris, constructed with a load-bearing metal structure and prefabricated concrete panels. In an ironic twist of fate, the complex, destined for residential use, was transformed in 1940 into a prison camp! "Jean Prouve: constructive imagination or utopia?" shows some reproductions of lightweight metal facades that the architect experimented with for a long time.
Applied to a few innovative buildings such as the UNESCO building, CNIT La Défence or the headquarters of the Communist party by Oscar Niemeyer, they did not receive adequate attention on the part of the French building industry that in the years of reconstruction preferred to use heavyweight prefabrication systems in concrete. in the last gallery "Heavyweight panels: economy of scale or monotony?" displays the prefabricated panels designed by engineer Reynold Camus for the rebuilding of Le Havre, similar to those of the Cite de la Muette, that met with great success in France and elsewhere.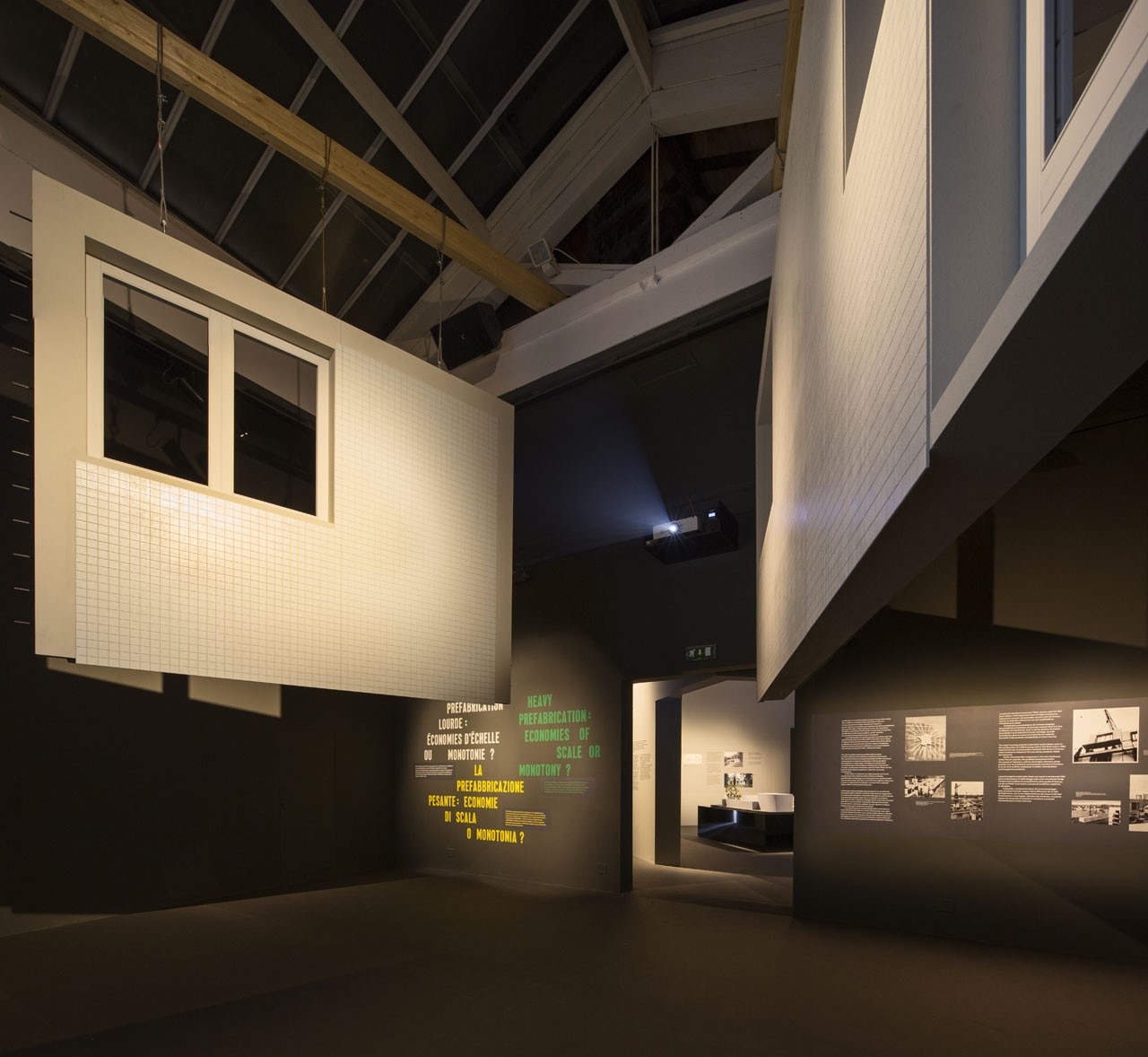 The continuous video projection on the theme that alternates irony with drama, enhances the display in the various spaces and underlines the key major question: "Modernity: promise or threat?". At this point, it would seem truly difficult to offer a univocal answer.

France
Modernity: promise or menace?
Commissioner: Institut Français, Ministère de la Culture et de la Communication – Direction Générale des Patrimoines, in collaboration with the Cité de l'architecture et du patrimoine.
Curator: Jean-Louis Cohen.
Location: Padiglione ai Giardini
View of the French pavilion "Modernity: promise or menace?" at the Giardini, Venice
View of the French pavilion "Modernity: promise or menace?" at the Giardini, Venice
View of the French pavilion "Modernity: promise or menace?" at the Giardini, Venice
View of the French pavilion "Modernity: promise or menace?" at the Giardini, Venice
View of the French pavilion "Modernity: promise or menace?" at the Giardini, Venice