The main idea of Beautour center is to glorify the historical Georges Durand's mansion (a Vendean naturalist, 1886 – 1964) who got important collections.
The project aims to develop educational and scientific supports themed on biodiversity, as well as a management strategy and evolution prospectives for the whole area.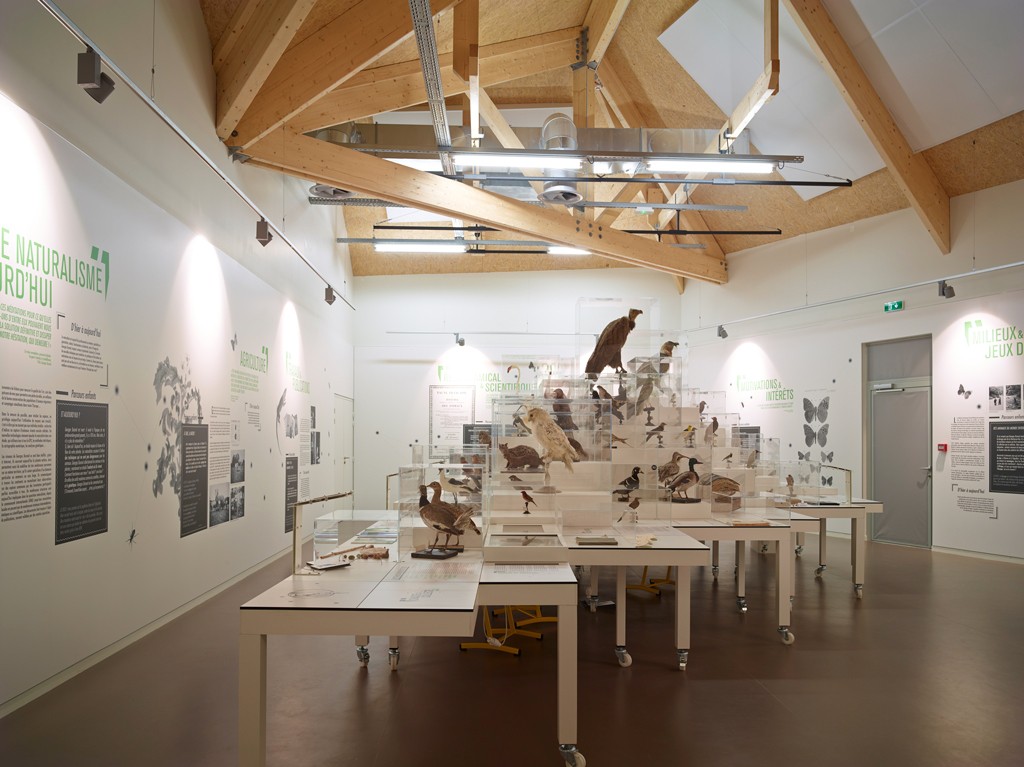 The Museum & Biodiversity research center tries to find a right balance between light actions, preserving the biodiversity already on site, and other stronger actions, creating a positive impact on the biological diversity.
Thus the project is neither a theme park, nor an ornamental garden. This really is a site-specific project, inspired by the local biodiversity, the topography, and the other qualities that are proper to Beautour.
The visit itinerary is drawn by this logic, scientific purpose leading the visitor down to the fields and the valley, where the wild nature meets both Beautour historical and newly designed gardens and meadows.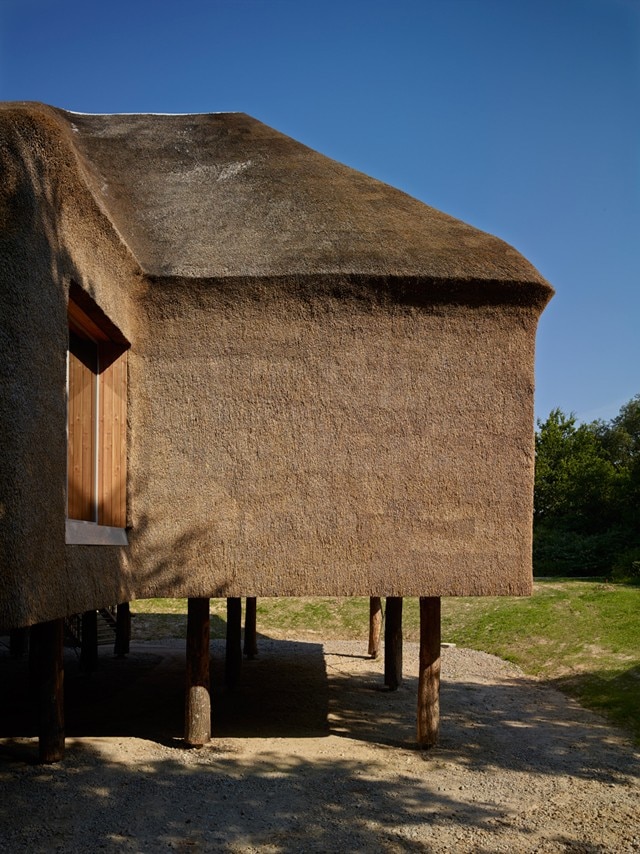 In a very present landscaped green setting, the project takes on a strong identity, reinterpretating a traditional technique in a contemporary and innovative way, by adopting a thatched skin, that entirely covers both walls and roof of the building.
As a compact shape would have vied with Mr Durand's mansion, the building grows organic, embracing the mansion, surrounding it and spreading on the site without overthrowing the natural order. Solid raw chestnut tree trunks also confuse the overall image of the mimetic project.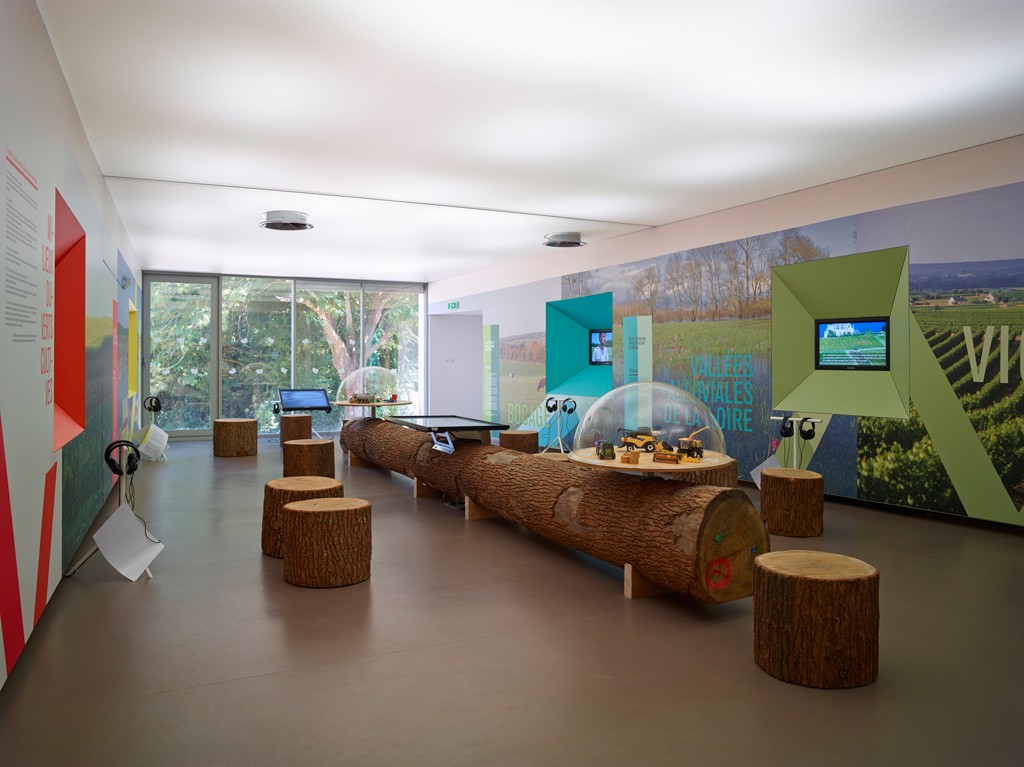 The building, as a branch laying on the ground, is a "piece of built landscape", a "new geography" completing the natural scenography. 
Making the building rise up the ground allows the biodiversity to stay in place and minimizes the impact of foundation works. The project slowly lifts up to unveil the pond hosting frogs and herons.
The technical facilities annex is painted black and houses locker rooms and a wood-fired boiler. A pedagogical greenhouse stands next to it at the entrance of the site.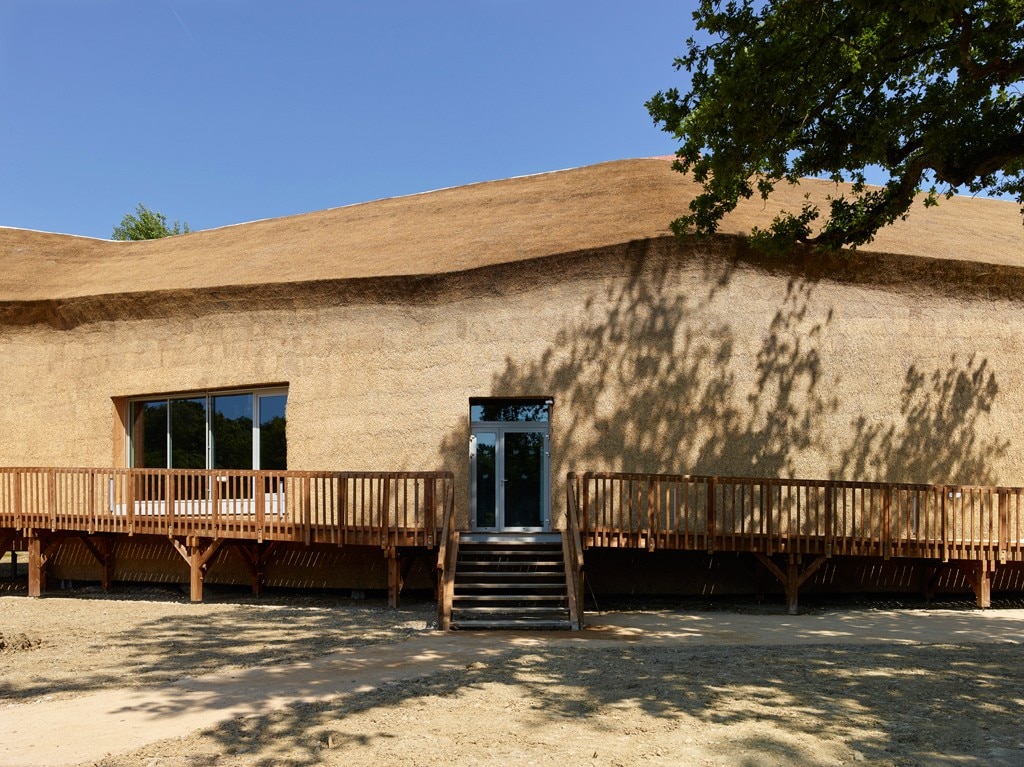 Guinée*Potin Architectes, Beautour Museum & Biodiversity Research Center, La Roche-sur-Yon, France. Photo: Stephane Chalmeau
Guinée*Potin Architectes, Beautour Museum & Biodiversity Research Center, La Roche-sur-Yon, France. Photo: Stephane Chalmeau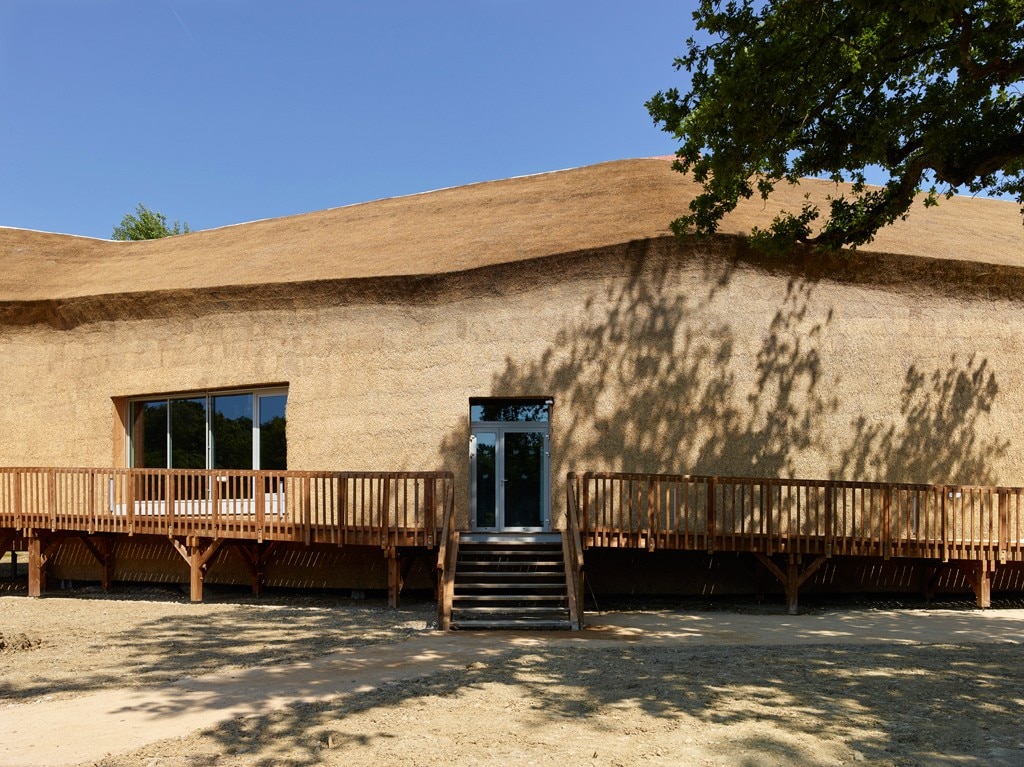 Guinée*Potin Architectes, Beautour Museum & Biodiversity Research Center, La Roche-sur-Yon, France. Photo: Stephane Chalmeau
Guinée*Potin Architectes, Beautour Museum & Biodiversity Research Center, La Roche-sur-Yon, France. Photo: Stephane Chalmeau
Guinée*Potin Architectes, Beautour Museum & Biodiversity Research Center, La Roche-sur-Yon, France. Photo: Stephane Chalmeau
Guinée*Potin Architectes, Beautour Museum & Biodiversity Research Center, La Roche-sur-Yon, France. Photo: Stephane Chalmeau
Guinée*Potin Architectes, Beautour Museum & Biodiversity Research Center, La Roche-sur-Yon, France. Photo: Stephane Chalmeau
Guinée*Potin Architectes, Beautour Museum & Biodiversity Research Center, La Roche-sur-Yon, France. Photo: Stephane Chalmeau
Guinée*Potin Architectes, Beautour Museum & Biodiversity Research Center, La Roche-sur-Yon, France. Photo: Stephane Chalmeau
Guinée*Potin Architectes, Beautour Museum & Biodiversity Research Center, La Roche-sur-Yon, France. Photo: Stephane Chalmeau
Guinée*Potin Architectes, Beautour Museum & Biodiversity Research Center, La Roche-sur-Yon, France. Photo: Nicolas Pineau
Guinée*Potin Architectes, Beautour Museum & Biodiversity Research Center, La Roche-sur-Yon, France. Photo: Nicolas Pineau
Guinée*Potin Architectes, Beautour Museum & Biodiversity Research Center, La Roche-sur-Yon, France. Photo: Nicolas Pineau
Guinée*Potin Architectes, Beautour Museum & Biodiversity Research Center, La Roche-sur-Yon, France
Guinée*Potin Architectes, Beautour Museum & Biodiversity Research Center, La Roche-sur-Yon, France. On the left: outdoor spaces. On the right: siteplan
S:\PROJET EN COURS\LAROCHESURYON\COMMUNICATION\PLAN+COUPES_simplifies\Archives\plan+coupes Model (1)
Guinée*Potin Architectes, Beautour Museum & Biodiversity Research Center, La Roche-sur-Yon, France, ground floor plan
Guinée*Potin Architectes, Beautour Museum & Biodiversity Research Center, La Roche-sur-Yon, France, north elevation and north-south section
Guinée*Potin Architectes, Beautour Museum & Biodiversity Research Center, La Roche-sur-Yon, France, south elevation and west-east section
S:\PROJET EN COURS\LAROCHESURYON\COMMUNICATION\DP\LRSY DETAIL V2 com A4 portrait (1)
Guinée*Potin Architectes, Beautour Museum & Biodiversity Research Center, La Roche-sur-Yon, France, cross section and detail

Beautour Museum & Biodiversity Research Center, La Roche-sur-Yon, France
Program: museum and research center
Architects: Guinée*Potin Architectes
Landscape designers: Guillaume Sevin Paysages

Graphic design: Warmgrey
Museographic content: Stéphanie Vincent
Engineering: Isateg
Scenography: block architects

Area: 2057 sqm

Completion: 2013