As part of the "Expo 1: New York" festival, the courtyard of the MoMA PS1 has been occupied by  a series of caravans, brought by Argentine architecture firm a77. Their project is part of the festival module Colony, which has been interpreted by curator Pedro Gadanho as an open experiment, an opportunity to rethink the political and social function of architecture within the festival's general theme — an exploration of ecological challenges in the context of early 21st century economic and socio-political instability.
The "Dark Optimism" exhibition, also set up at PS1, includes other projects, including Triple Canopy's School, an example of the participatory approach of "Expo 1: New York". Another example: a geodesic dome mounted on Rockaway beach appeals to the community and several local Queens bodies to reflect on the effects of the recent Hurricane Sandy and, with artists, designers and architects, rethink a better way to rebuild and transform the waterfront. And at MoMA, rAndom International's Rain Room installation expresses itself again via interaction, this time linking rain to the visitors' bodies, whether still or moving.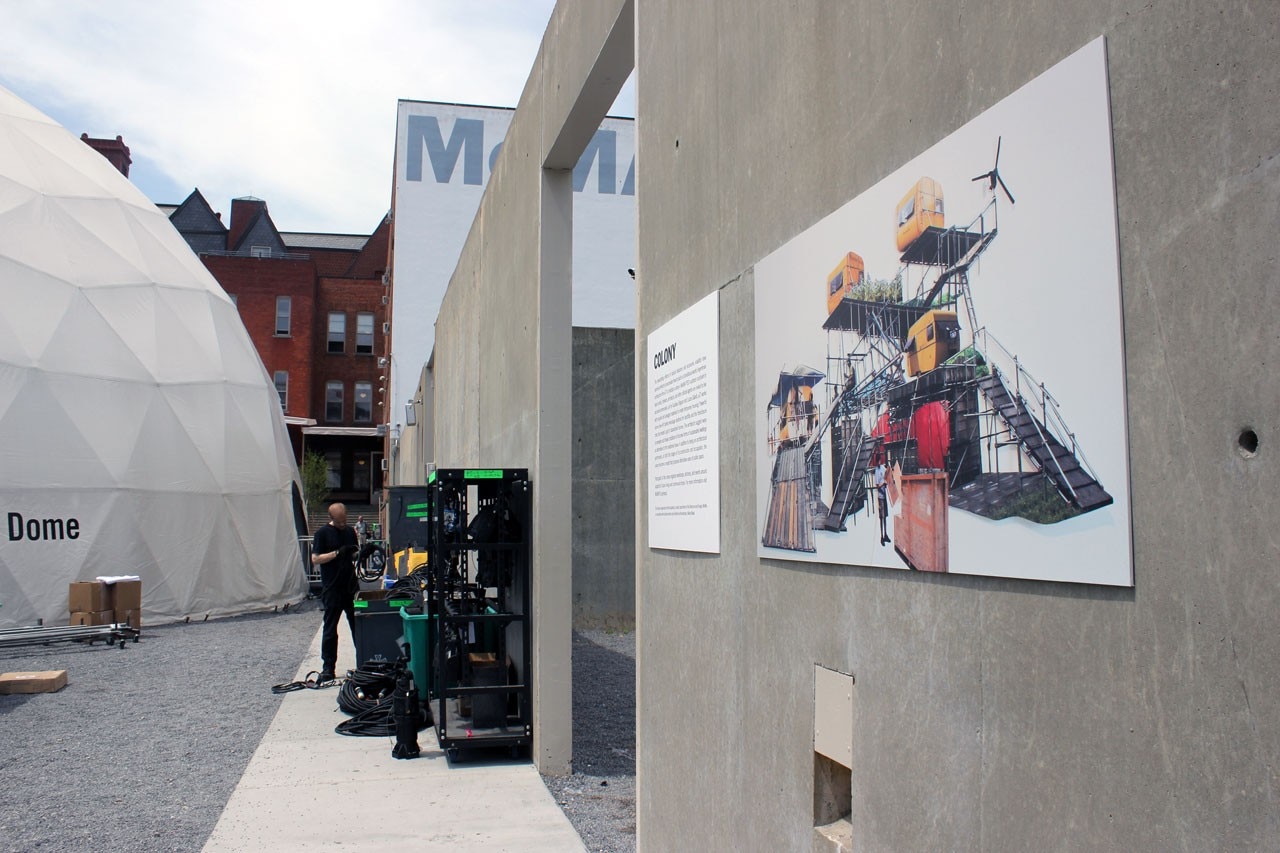 Back at the PS1 courtyard, embracing a performative approach to both the occupation and self-construction of the space, a77's Gustavo Diéguez and Lucas Gilardi test their architecture outside of Argentinian national confines. It is temporary, low tech and, most importantly, generated by the single contributions of the individuals involved.

A collage evoking urban visions by Archigram hangs on the wall next to the white geodesic dome in the large court, introducing the area set up by a77. Four Serro Scotty Sportsman trailers from the 1960s announce the imminent arrival of artists, thinkers, architects and other cultural agents invited to build a temporary colony that will animate the court for the entire duration of  "Expo 1: New York".
The result is an undefined landscape where salvage materials, plants and a small tank of bio-filtered water impatiently await the effects of "constructive" action. "The project is, in this way, autarchic," says curator Pedro Gadanho, "but also connects to the outside, in the sense that some of its materials and techniques come from the neighbourhood."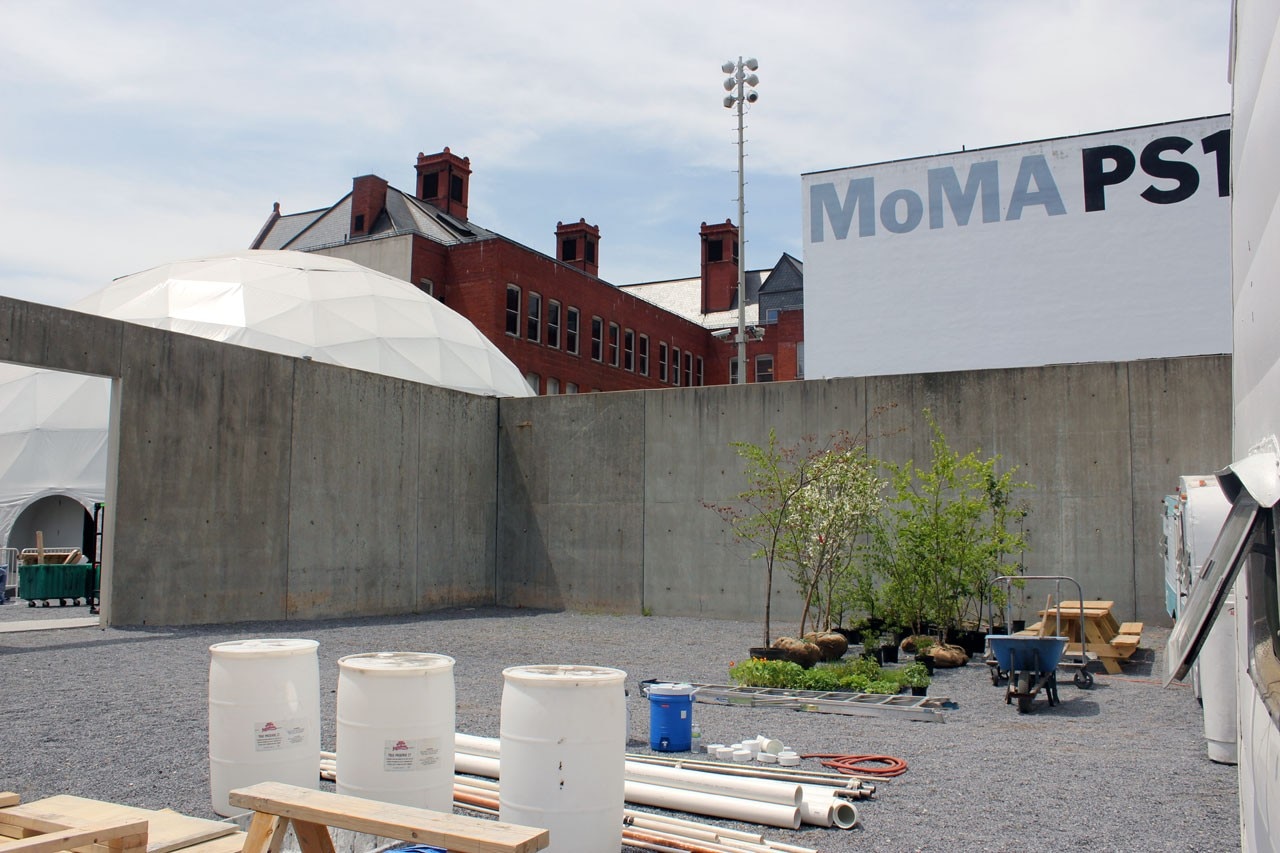 A physical commitment to construction and the desire to show that there is a real alternative to traditional life models underpin this dystopian scenario, syntactically both harbinger and alarming. "If there's something futuristic about this Colony", says Gadanho, "it is anticipating a world in which resources may be scarcer, but we can still rely on accessible technologies to create new survival methods."
As has already occurred in previous works by a77 — such as Centro Cultural Nomade (2012) and We Can Xalant (2009) — the studio creates a colony where common elements live side by side in a manner that is anything but ordinary. Trailers can be suspended living capsules, the vegetable gardens can be incorporated into an ephemeral and changing structure, with no predetermined order but in surprising equilibrium.
In its initial phase, Colony is about the process and not the final product
This bizarre microcosm is not intended as an object of nostalgia, a univocal nod to the mobile and universal spirit of the 1960s. Rather, it suggests different ways to found living communities. In this sense, the trailers are relevant to American life today and are there to remind us of the crucial role they play in the lives of the thousands of people who have lost their homes. "They may be apparently invisible, but they are there — and they suggest a resonance which is less to do with nomadism, than with adaptation. So, there's nothing nostalgic about it," states Gadanho.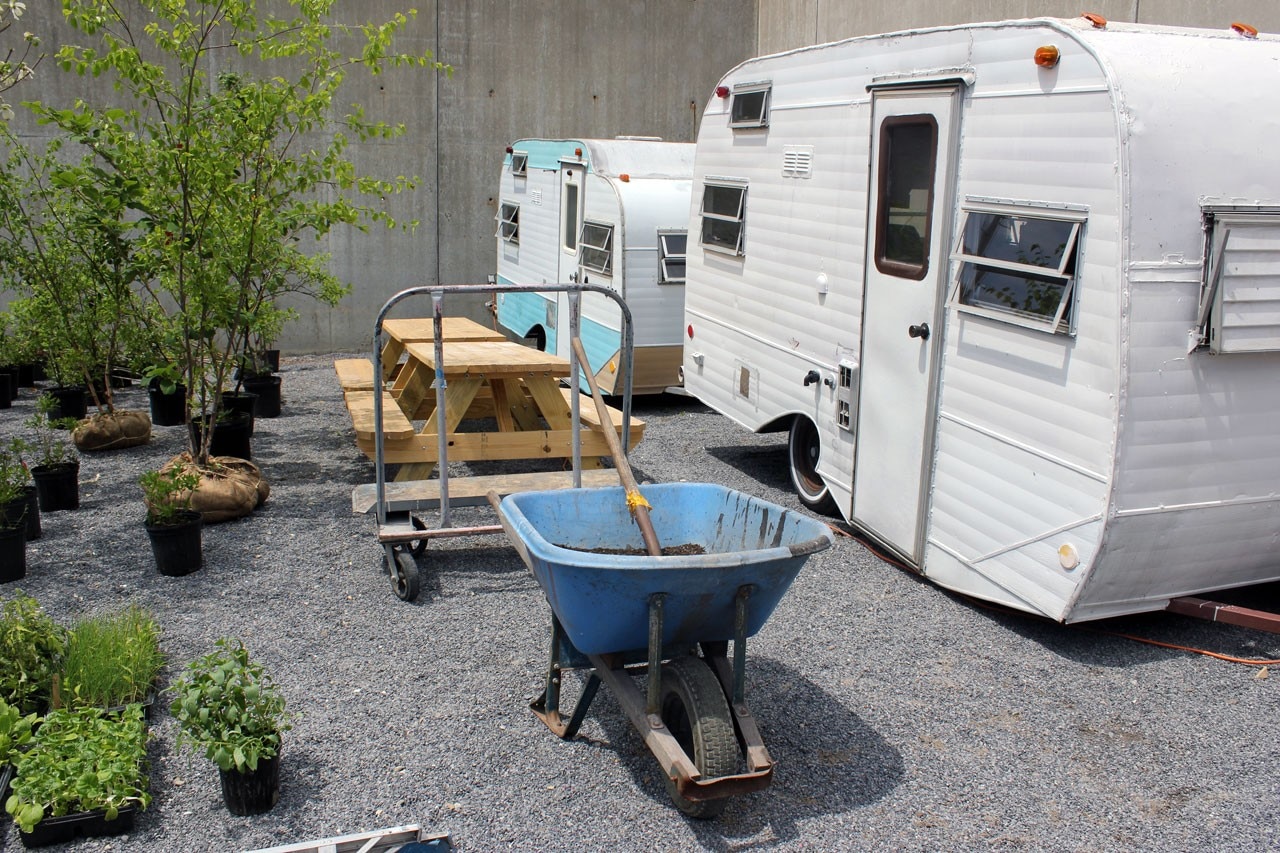 Argentina is considered a pioneer of the crisis and a77's work is being presented as an example of reaction to a specific crisis, not so different from what that currently being witnessed in the USA and Europe. Taking such a work to New York should not be seen in a pessimistic light but as practical, for its ability show the collective conscience realistic potential design approaches.  
As visitors observe the evolution of this work — more manual labour than design — they are invited to absorb its intentions and experience it as a question not an answer. In its initial phase, Colony is about the process and not the final product. Participants from different disciplines and geographical conditions will act as the makers.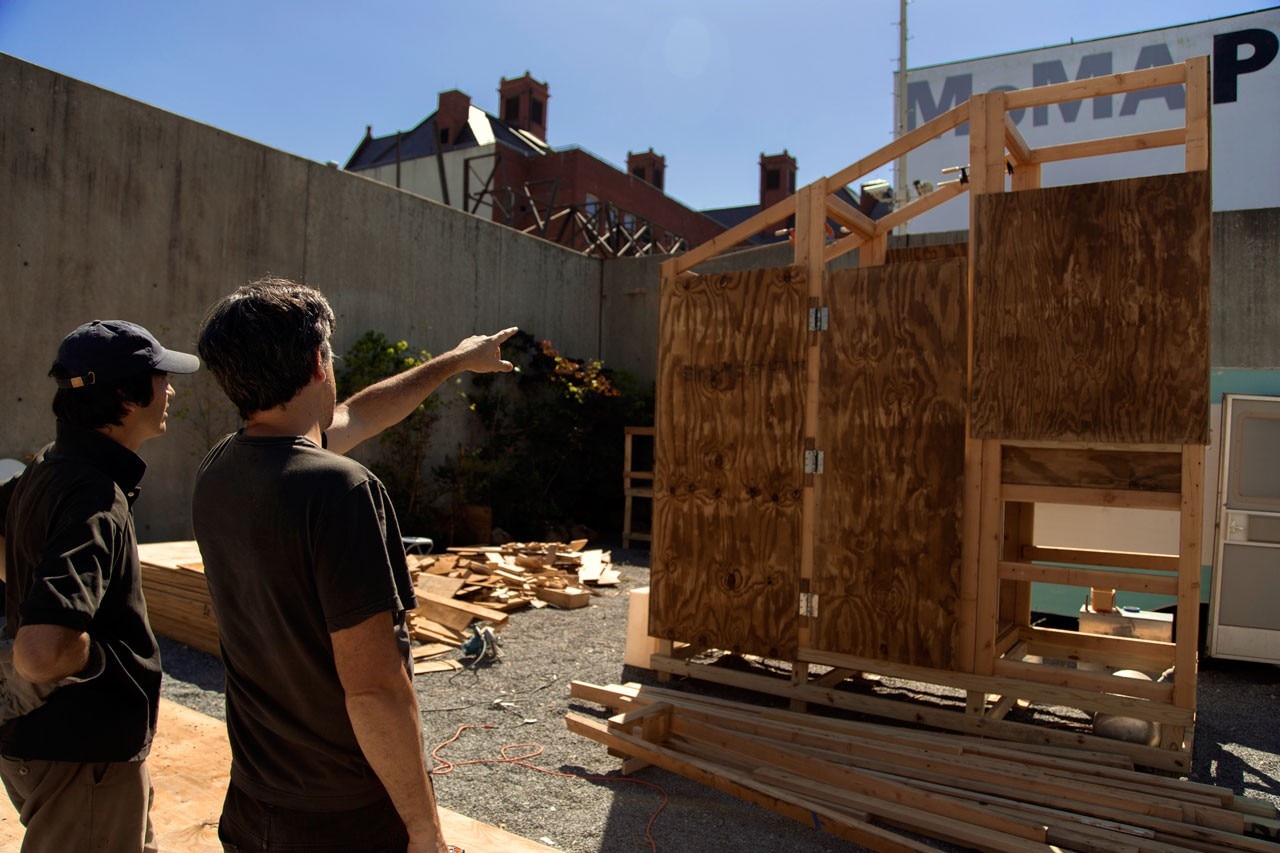 The project will be transformed and inhabited throughout the summer by a range of guests, such as Sou Fujimoto, David Graeber, Ragnar Kjartansson, Rebecca Lamarche-Vadel, Glenn O'Brien, Ben Rivers, Ben Russell, GeorgiaSagri, and Mårten Spångberg. I would not be in the least surprised if it had spread outside PS1's solid walls by the end of the season. Fabrizia Vecchione (@fbrz_vecchione)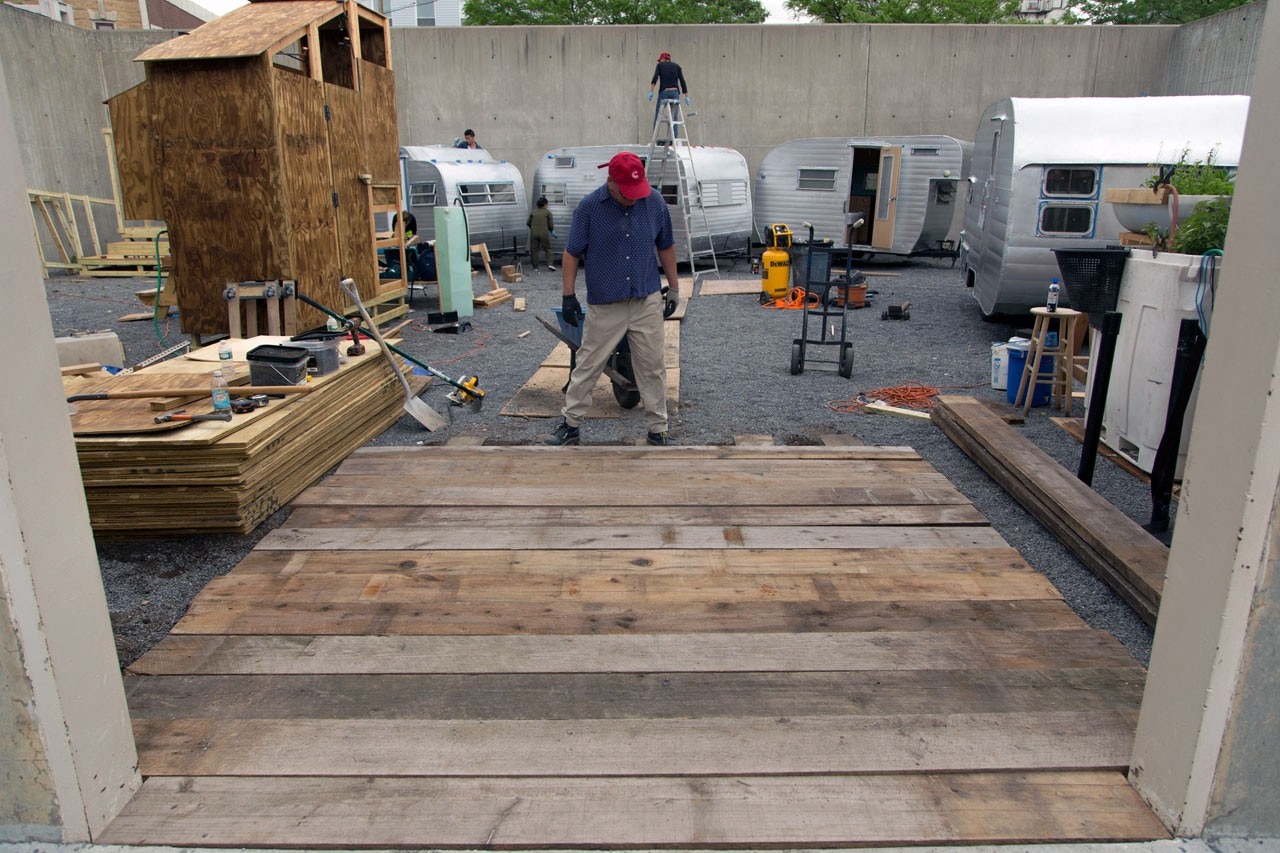 Through 3 September 2013
Expo 1 New York: Colony
Architects: a77
Curators: Pedro Gadanho with Jenny Shlenzka and Niklas Maak
Partner: Volkswagen
Location: MoMA PS1, Queens, New York