On opening night of The Marriage of Figaro at the Walt Disney Concert Hall in L.A, Cupid may have been smirking like an asshole on the bewildered and hastily reconciled lovers on stage, but I was smiling at a twist of my own theatrical fate: to be seated directly behind Jean Nouvel and couturier Azzedine Alaïa at the opera. Though amusing, their presence was not altogether unexpected, as the two were there to inspect their handy-work: the opera featured Nouvel on stage design, and Alaïa on costumes.
I couldn't get a good read of Mr. Nouvel's facial expressions, but surely he must have heard, as I had, the woman some rows behind us gasping in ecstasy every time his stage went through a dramatic transformation, with the excellent help of lighting designer Aaron Black.
And for the first time in my life, my rudimentary French proved an asset, as I eavesdropped on some of Alaïa's verbose francophone admirers praising the elegant "today meets traditional" approach he took with the character's outfits. Or, in the case of a sometimes-shirtless, favorably torso-ed Figaro, the lack thereof. Ostensibly, anyway, the audience was digging this unconventional, contemporary take on an 18th Century classic — that tired old story of boy-meets-girl, girl-protects-virginity-from-horny-extortionist-Count.  
This unusual, entertaining production of Figaro, directed by Christopher Alden, ran as four performances between 17 and 25 May, and is the second of the Los Angeles Philharmonic's Mozart/Da Ponte trilogy experiment, which teams world-class modern architects with powerhouse couturiers for stage and costume design.
Last year's Don Giovanni saw the coupling of Frank Gehry with L.A. fashion house, Rodarte. And next year, we have a Zaha Hadid and Hussein Chalayan tag-team that I'm personally looking forward to very much. Fingers crossed I sit behind them, too, and that Zaha and Hussein do a Beavis and Butthead style commentary throughout the entirety of the show. A girl can dream (about weird things). But seriously, audience reaction says a lot about a stage and its implications.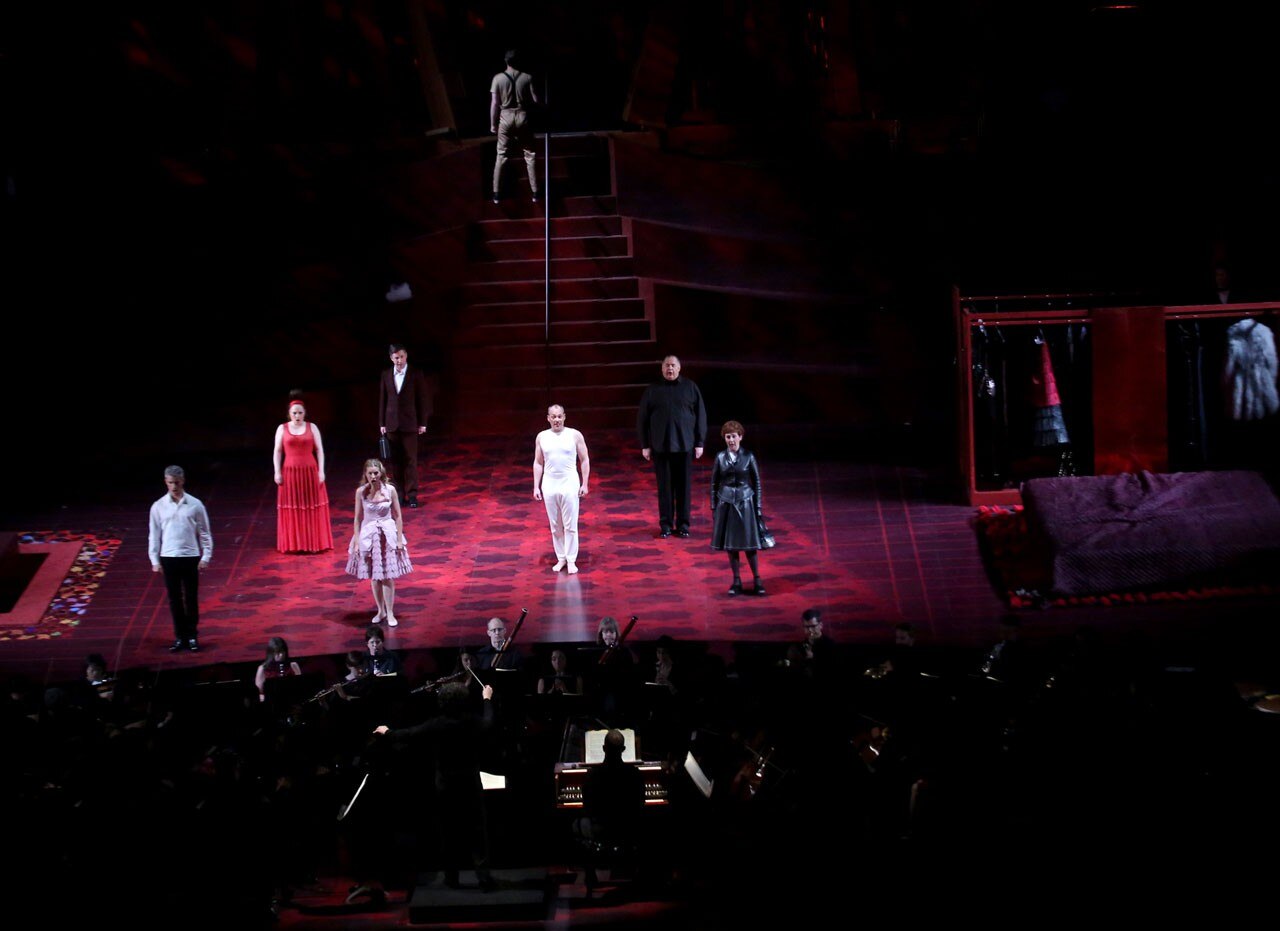 Last year, for example, I heard a seasoned curmudgeon announce that she didn't "get" Frank Gehry's minimalist design — a paper avalanche of white and black, which created an otherworldly backdrop for characters to float through, removed from specific context, but achieving great strides in allegory. I don't agree with that wet blanket's assessment of Gehry's stage — I found his design visually striking and worthwhile — but her review does speak to Gehry's approach being quite "avant-garde," over the top, giving the viewer no Cliff's Notes from which to get a quick read.
Forgive me for comparing Gehry's stage to Nouvel's, but Nouvel's stage, while also very innovative and bold, is decidedly more literal in its abstractions. In the first two acts of Figaro, for instance, one sees an exposed garment rack on stage left, which actually does function as a closet, in which more than a few characters hide, scheme, and contemplate cross-dressing. Still, that open rack of fine clothing is also symbolic of the futility of trying to "closet" ones skeletons and the inevitability of one's dirty laundry being aired come Act IV. That the audience holds its breath in suspense despite knowing what's coming is a fact inherent to the comedic arc.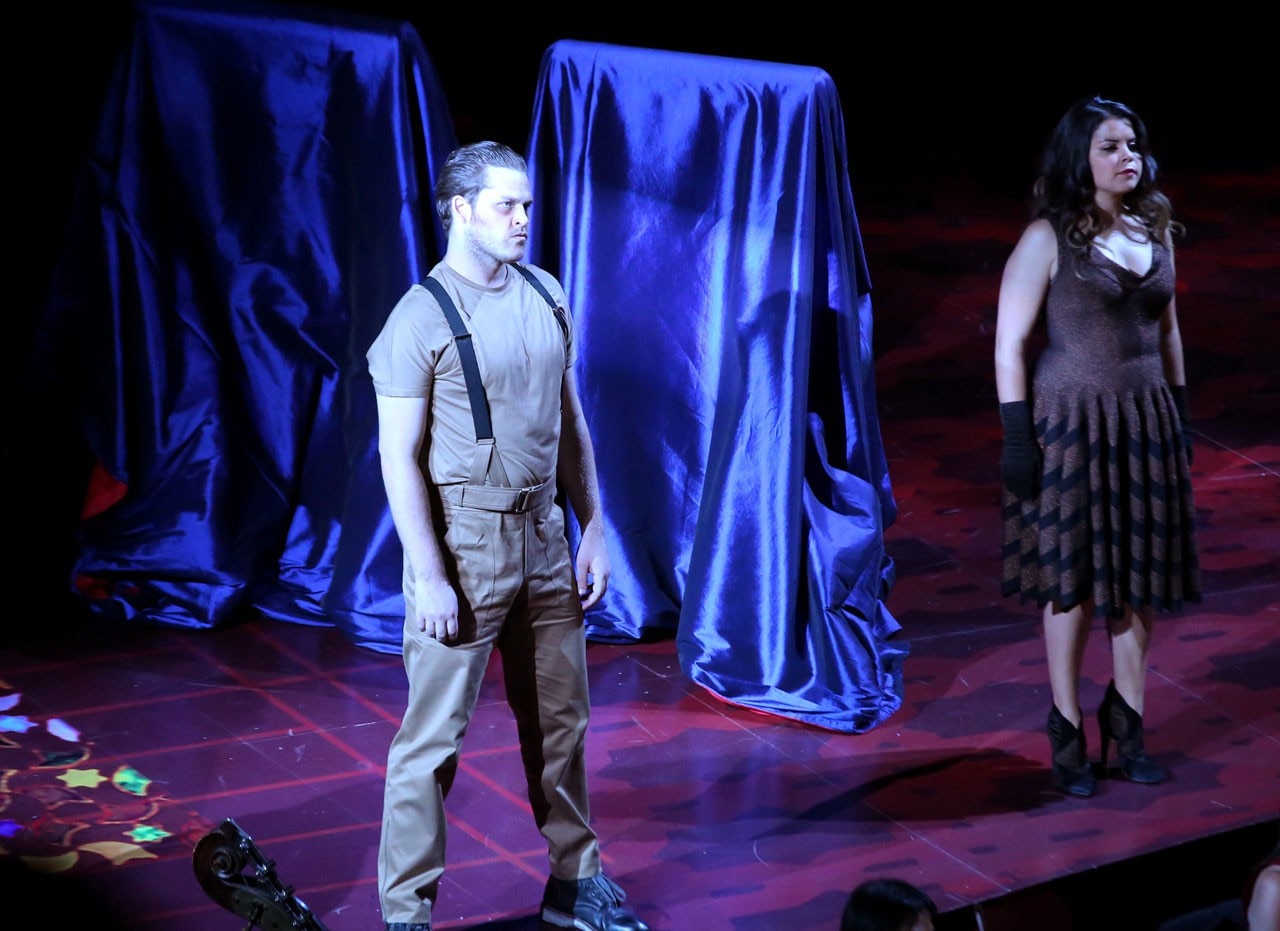 And Nouvel's stage is a tribute to this art of closing one's eyes to what's in sight and seeing what's not actually there — vis-à-vis the viewer as well as every jealous, cheating, scorned or "clever" character in Figaro. Nouvel allows his audience to "get" Figaro even without subtitles, by tethering plot to stage, and stage to the formalist qualities of a comedic opera.
Perhaps the most essential ingredient of Nouvel's design is the grand staircase that unfolds like a colorful hand fan above the stage floor. It's crowned with a plush seat, intermittently occupied by characters in various positions of power. Early on, the wonderfully animated Count  — perfectly outfitted in rich sleazeball leisure-wear in each act — sits with his legs spread and his hands gripping the seat's arms, looking down at the people he attempts to use and deceive with traces of both boredom and contempt. Later on, flirtatious Barbarina, cousin of the cunning virgin-bride Susanna and no stranger to the bedrooms of various key players (Count included) drapes herself over the seat languidly.
The staircase is a consistent and intelligent "prop" used frequently in Alden's frenetic tableaus: as when the Count lies prostrate in front of Susanna, begging for just one go at what the good lord gave her. Even if he's groveling, he's doing so several "steps" above her, asserting his position as king of the power-play pyramid.
As all too many teenage girls heading to a school dance know, a long staircase is the perfect catwalk for demonstrating the shuffle or swagger with which one walks through life. The Count descends the stairs like he owns them. The Countess uses them as support for her grief-stricken, lavishly dressed body, as she wails about the infidelities of her husband. At other times, the steps function as benches and partitions, so that characters not only leap, bound, and stagger across the stage, but also above it, interacting with each other and the audience in fuller dimensions, "hovering" above and below each other in various suspensions — of belief, of time, and control.
Perhaps the most essential ingredient of Nouvel's design is the grand staircase that unfolds like a colorful hand fan above the stage floor
Into his temporary stage, Nouvel integrates Frank Gehry's permanent one — that is, the Walt Disney Concert Hall itself. The famous organ that heads Gehry's "ship" looks like natural ornamentation above Nouvel's installation. Nouvel relies heavily on Black's lighting design to achieve this seamless effect, blurring the contrast between different design elements in a cascade of regal dark red colours. The transition between steps and floor is also fuzzy, giving characters the occasional appearance of soaring above ground.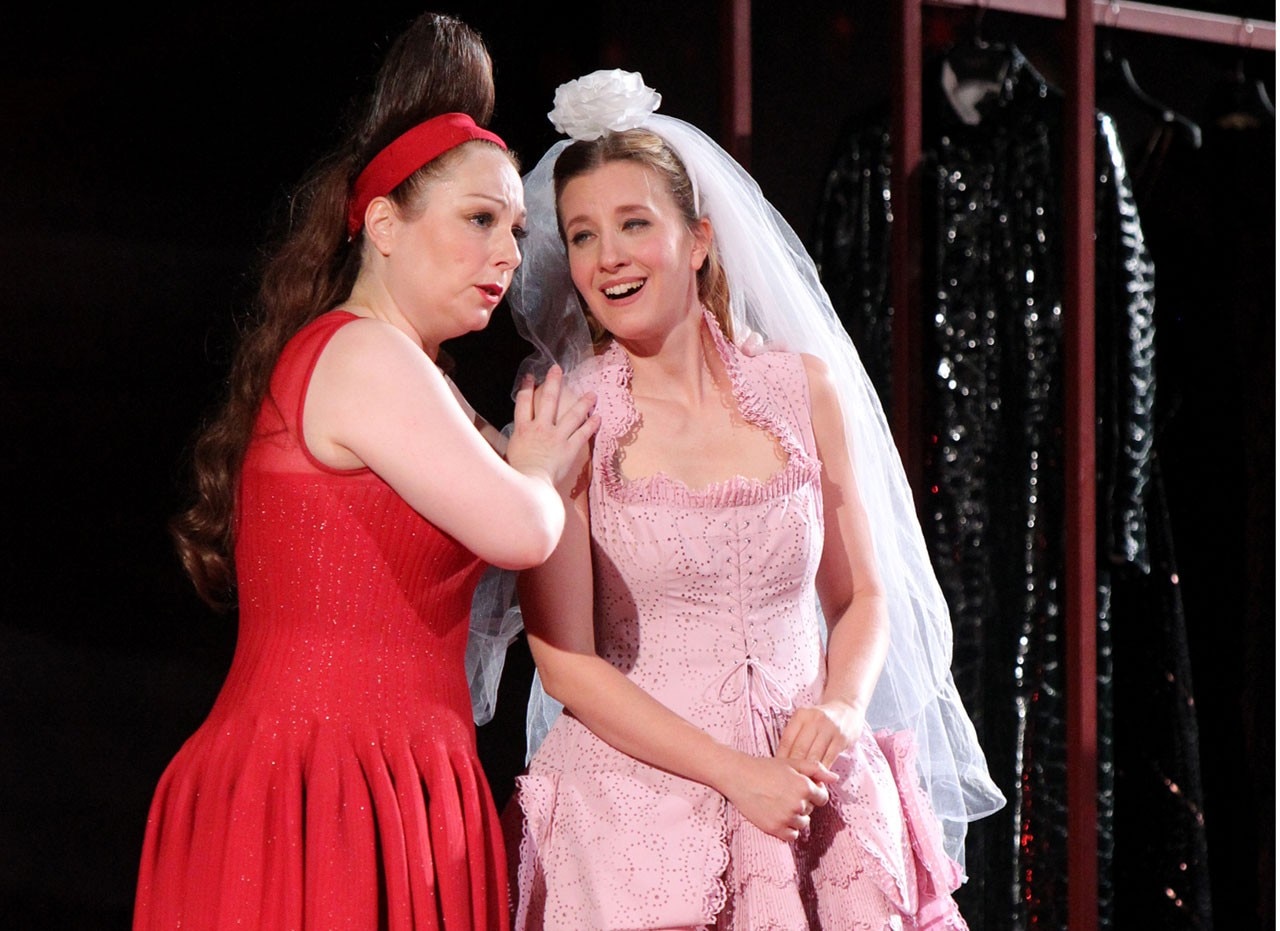 The stage grows progressively more surreal and purposefully more disorienting as the plot twists, the sexcapades become more convoluted, and the characters take to the woods to deceive, discover and "discover" one another. The geometric splashes of lush colours, sculptural trees and playful shadows and flickers help articulate the range of emotions playing out on stage in these dizzying scenes.
By positioning the orchestra in its rightful "pit" downstage, Nouvel further gave Alden great opportunity for deception and successful laughs. At times, characters would use the musicians as shields or camouflage. One actor sprang from the pit, wind instrument in hand; another offered conductor Gustavo Dudamel a cigarette (to the delight of viewers). Overall, these memorable vignettes are a bit like Nouvel's memorable design: even as they're modern and very conscious departures from script, they nevertheless work with rather than against a classic story, creating an atmosphere that's comfortably dramatic and palatably conceptual. Katya Tylevich