Herzog & de Meuron have recently completed the additions to the Messe Basel exhibition halls complex in Basel, Switzerland. The project included the construction of the Messe Tower, and the replacement and expansion of the Hall 1 with a new, contemporary building. Located in the centre of the city, the concentration of exhibition halls around the Messeplatz contributes to its growth and establishment as a focal point in the neighbourhood and the city.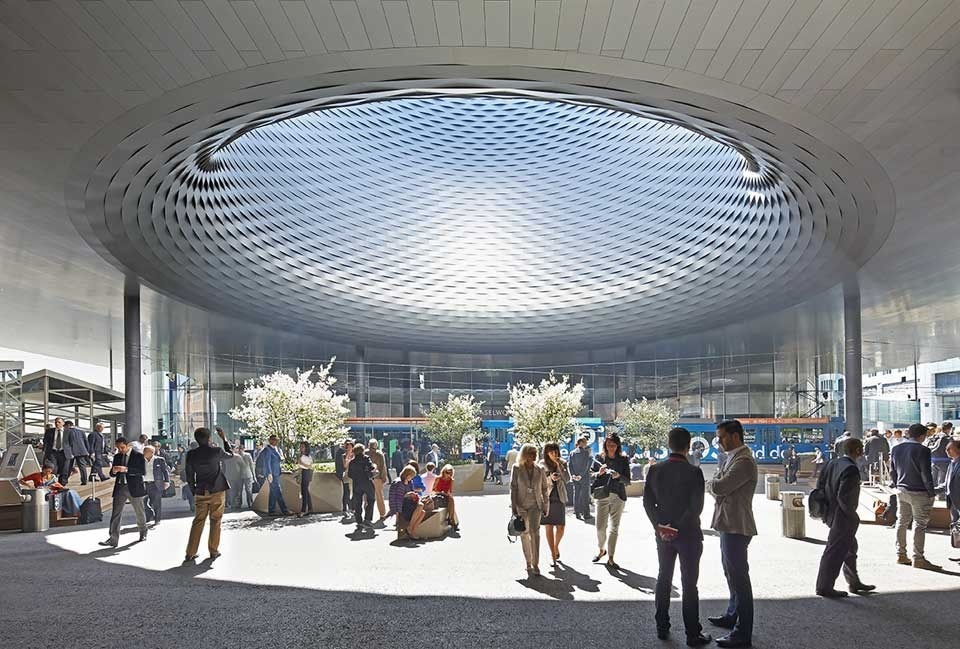 The New Hall is a multifunctional three-storey extension of Hall 1, with indoor connections to all other exhibition halls. This determined that the new building bridge over the Messeplatz, creating a new, covered public space illuminated from above by a striking circular opening.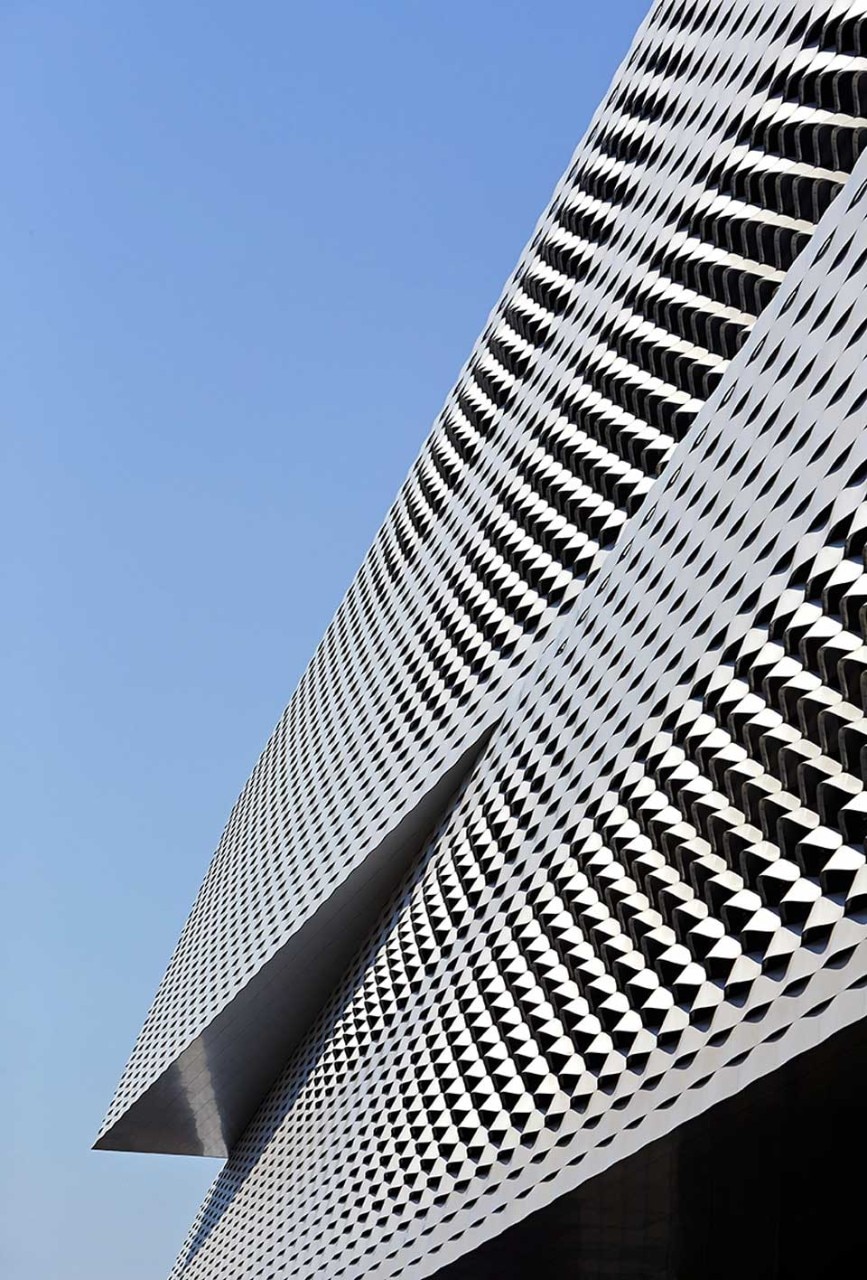 The entrance level is at grade with the street and outdoor square, permitting a natural and casual coming-and-going. It connects to Hall 1 and Hall 3, a new event space, and s eries of retail spaces in the foyers. "The dynamic sweep of the street level façade reacts to the flows of people and corresponds to the space required at the tram stop and entrances to the exhibition centre and Event Hall," state the architects.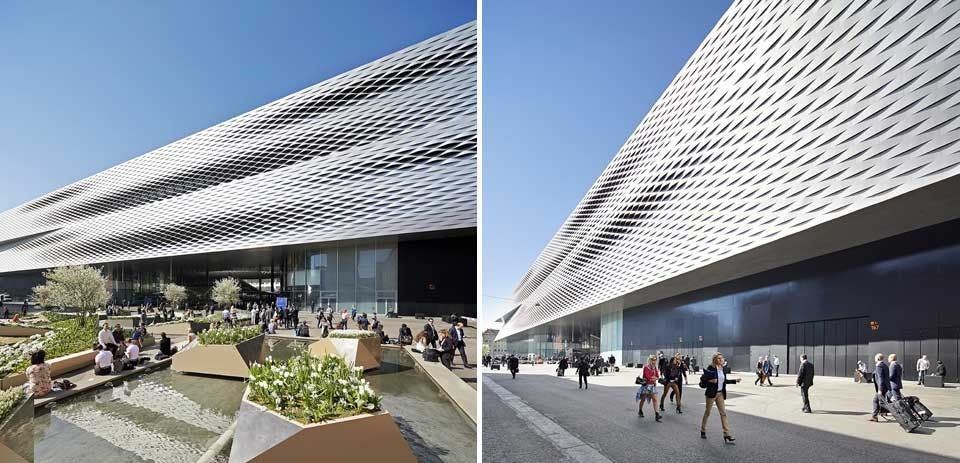 Above the ground are two exhibition floors, which seek to avoid the exhibition hall "big box" effect by being offset from each other as separate entities. "The New Hall therefore consists of three individual elements, one on top of the other, each projecting over the street in varying degrees, and allowing them to respond to different urban conditions," conclude Herzog & de Meuron, pointing out how the dynamic volume is perceived differently from diverse viewpoints around it.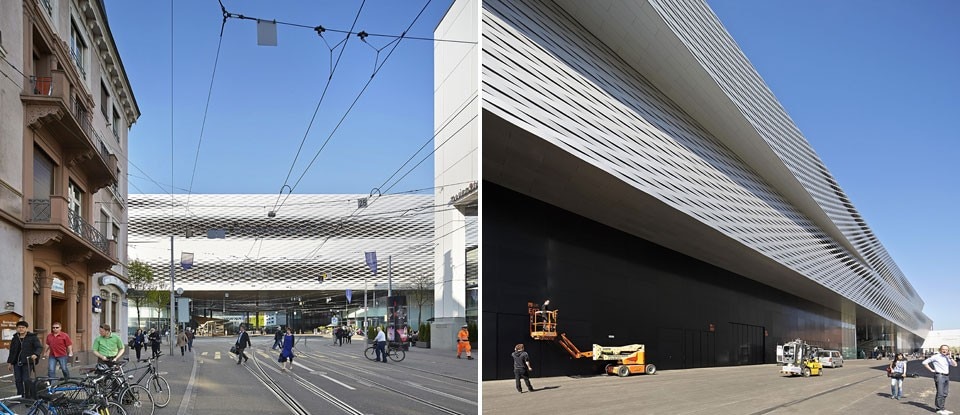 The façade of articulated twisting aluminium bands modulates and reduces the scale of the large exhibition volumes to its surroundings. The façade regulates the fall of natural light on adjacent properties and frames specific views from individual spaces towards the city.
Herzog & de Meuron: Messe Basel
Location: Basel, Switzerland
Architects: Herzog & de Meuron
Partners: Jacques Herzog, Pierre de Meuron, Stefan Marbach (Partner in charge), Wolfgang Hardt
Client: MCH Swiss Exhibition (Basel) Ltd., Basel, Switzerland
Client Representative: Peter Holenstein (MCH), Edgar Jenny (MCH)
Site Area: 26,700 square metres
Gross Floor Area: 83,297 square metres
Footprint: 9,328 square metres
Building Dimensions: 217 (length) x 90 (width) x 32 (height) metres
Program: Multi storey exhibition hall; partially covered city square; additional restaurant, bistro and lounge uses to stimulate the surrounding urban areas; multifunctional Event Hall for up to 2,500 visitors
Completion: 2013
Photography: Hufton + Crow