At the Woodbury University Hollywood (WUHO) Gallery, steps from the frenetic tourist two-step outside of Grauman's Chinese Theatre, a new show takes viewers one four-hour flight east of their immediate surrounding and into an iconic microcosm of Chicago. Inside Marina City is a project more than two years in the making by the Spanish-born, Chicago based architect Iker Gil (founding principal of MAS Studio) and the Swedish-born, Los Angeles based photographer Andreas E.G. Larsson (work seen in publications like i-D, GQ, Nylon, and The New York Times). The results of this collaborative, adaptive, and carefully edited project is a limited-edition zine and an ensemble of photographs documenting several very different lives inside of Bertrand Goldberg's unmistakable Marina City apartments — those famous "Corn Cobs" rising above the Chicago River. On paper, Inside Marina City is a lens on the lives of Marina City's residents, but the existing body of work is also a documentation of the lives of walls, interiors, and grand ideas.

Designed in 1959 and completed in 1964, Goldberg's twin cylindrical high-rises were founded on the "city within a city" concept. Mixed-use space with commercial fronts on the bottom, a distinctive exposed parking ramp, and affordable private residences (each with balcony and view) on top. What might be the icing on the complex, however, is at river level: a small marina. At its conception, Marina City was part of a greater concentrated effort to bait residents back to America's deserted post-war downtowns. The relevance of this effort, combined with this decade's loud shouts of "green living," has only increased as Marina City has gone on in years. Even the recent arrival of fancy new neighbor, Trump International Hotel & Tower Chicago, has underscored the timeliness (or timelessness) of Goldberg's vision for integrated city living, instead of casting a shadow on it.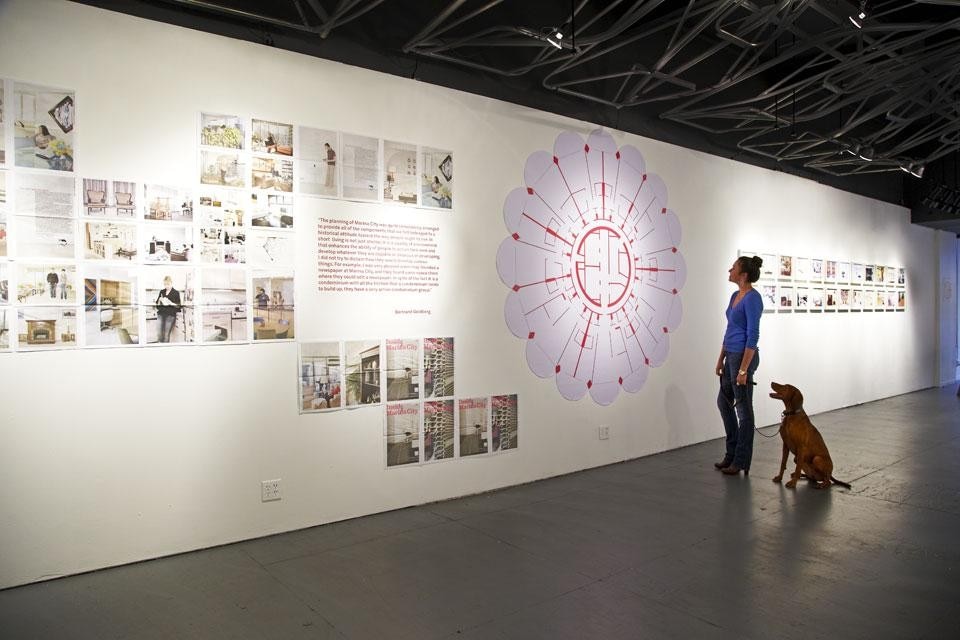 But Inside Marina City does not provoke from the bird's-eye-view. Trump doesn't figure into the picture, for a change, and greater Chicago, for the most part, remains a suggestion or a periphery. Rather, this project makes direct eye contact with its subjects, sharply capturing the monotony of everyday life, even as it takes place in an architectural experiment, a "design postcard" that has somehow — mercifully — escaped wrecking balls or stamps of insignificance. The project description would suggest an element of voyeurism, but it is instead transparency that unifies photographs of, say: a young woman eating take-out food in a wildly pastel pink kitchen; a young man setting up his iPod speakers, framed by beige carpet and white wall; and checkered brown bathroom tiles.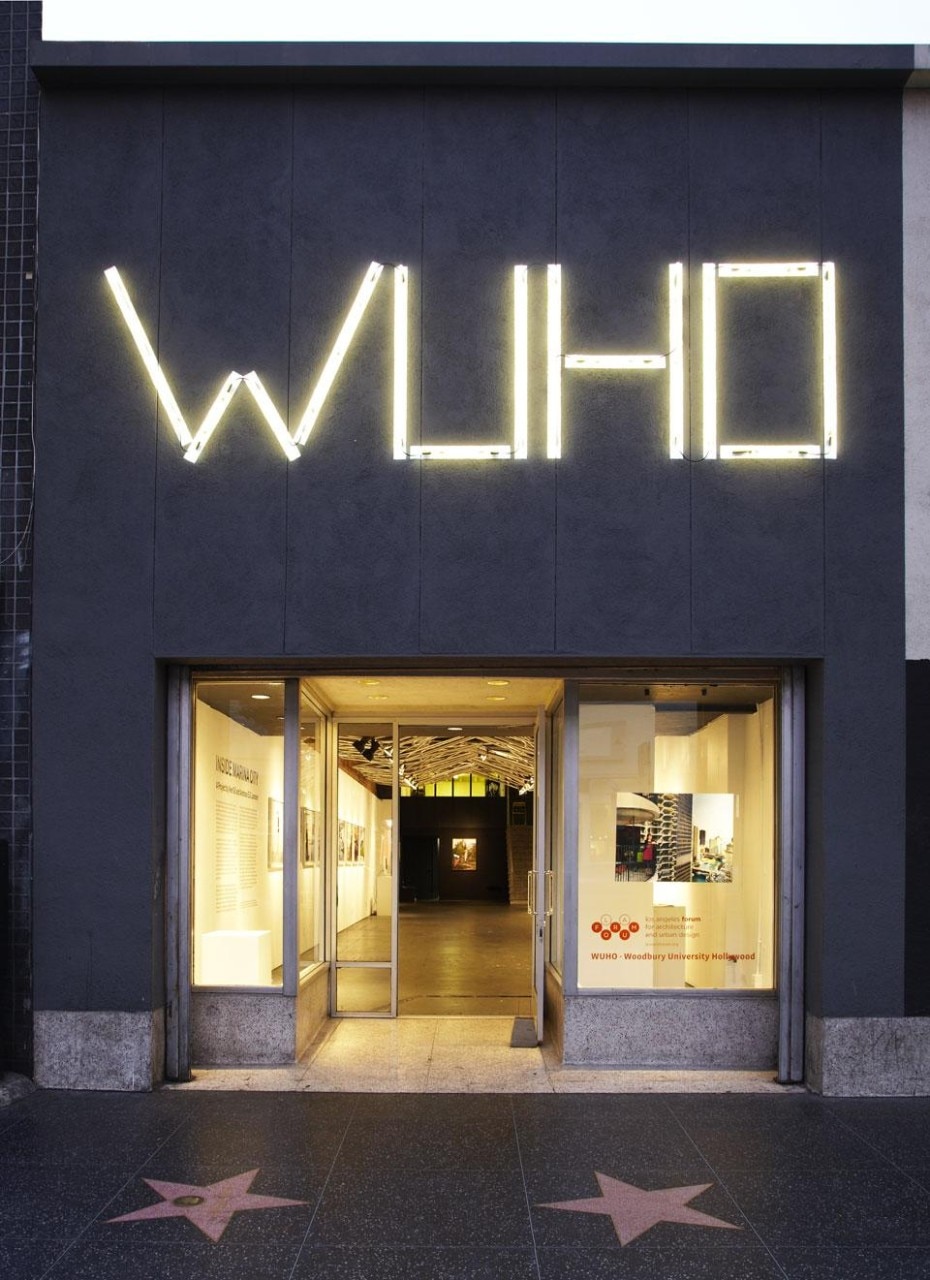 Larsson's images are poised, certainly they're controlled, but they aren't the work of a control freak or specifically an architectural photographer (the two aren't mutually exclusive). Larsson, known for his portrait photographs of "musicians, dancers, and other creatives," seems to capture the differences between Marina City's units much like he would the differences between human faces: with an eye for expression, candid movement, even flaw.
At its conception, Marina City was part of a greater concentrated effort to bait residents back to America's deserted post-war downtowns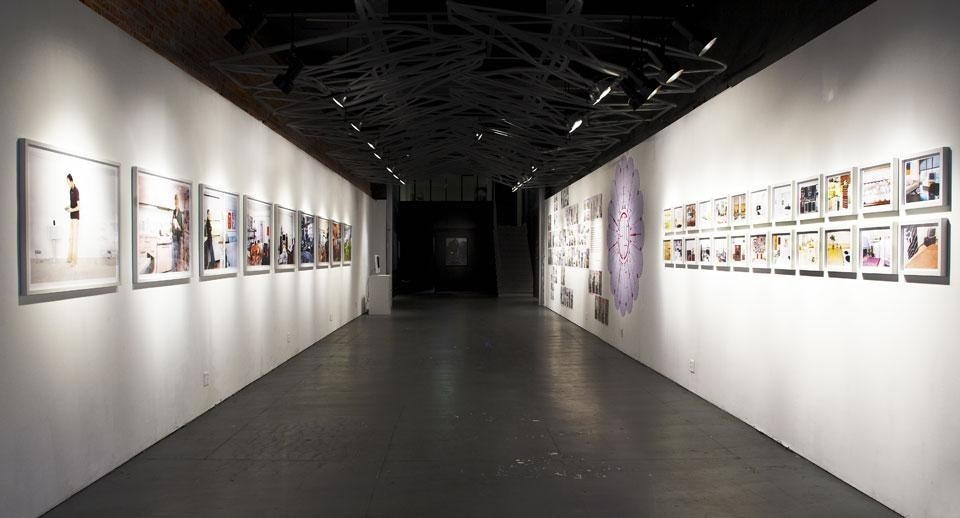 Likewise, the point of view of Gil, an architect and himself a resident of Marina City, is present. Structure defines each shot, and the walls and ceilings do share the foreground with human figures. But there is no overwhelming sense that these scenes are "designed" in any way, that the furniture has been rearranged, the tables cleaned of clutter, or one apartment given more aesthetic weight than another. The photographs are not artificial or judgmental, and they refrain from pitting "bad taste" vs "good," or "modern" vs. "anything but," even in the context of pioneering architecture. Larsson and Gil show how residents have likely departed from Goldberg's original vision in the decoration and sometimes renovation (knocking down entire walls) of their individual units. At the same time, Inside Marina City does not assign any kind of value to these changes. What it does, quite fluidly, is show how a space for living becomes a living space; how it begins to represent its owner in looks and character. Of course, we say the same thing about poodles and Cocker Spaniels, don't we? But it's this kind of comfortable ordinariness that makes Inside Marina City so compelling. The cutting-edge might be dulled by human use, but maybe successful architectural ideas need to be malleable enough to avoid a stalemate with time and with use. Inside Marina City underscores how amorphic space can be, even when its shape is so deliberate.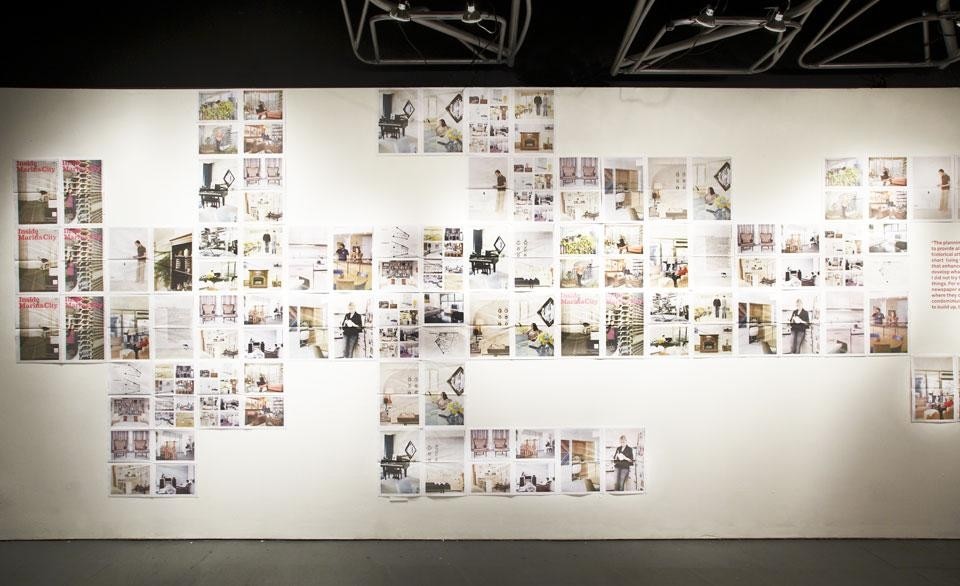 At the Los Angeles opening of this exhibition on 4 October, there was a lot of talk about another Goldberg project in Chicago: Prentice Women's Hospital (1975). Currently vacant and on the brink of demolition, Prentice is go-to conversation for architects, critics, and preservationists, most of them waving the distress flag in an effort to save the structure. The conversation is appropriate to Inside Marina City, not just because of the Chicago/Goldberg connection or the fact that it is likewise a distinctive shape (in this case, a cement "clover"), but because it points to the displacements that take place within a city or a building — not just of humans, but of meaning. Inside Marina City personifies meaning in the same way: as an inhabitant of space and a most valued tenant. Katya Tylevich
Through 28 October
Inside Marina City: A Project by Iker Gil and Andreas E.G. Larsson
WUHO Gallery
Los Angeles