Pending good reviews, to which this article may perhaps contribute, a neologism like "bureaucratic success" could probably account for a project like LEAP (Living Ecological Alpine Pod). The new Giusto Gervasutti alpine hut replaces the one originally dedicated to the "mighty" Turinese mountaineer on the East Face of the Grandes Jorasses, in the Mont Blanc Massif. Built in 1948, at that time it was a fairly advanced example of a prefabricated wooden construction, when that narrow ledge was a more extreme site than it is today. At an altitude of 2,835 metres, it was in the middle of a glacier (the Fréboudze) which in those days was larger, broken and wrinkled by blocks of ice and crevasses. Since 1961 the various alterations made to the shelter had lost the original technical quality.

Now LEAP has recaptured that quality with an unashamedly antimimetic design which, however, overcomes the long list of permits and restraints involved in such a sensitive context. This feat was accomplished not by re-examining the forms, but rather the reasons for an unattended high-altitude shelter, by responding to a cultivated brief specified by the SUCAI (the Italian Alpine Club University Subsection) in Turin that commissioned it. In addition, the opportunity was seized to set up a design workshop which not only reinvents a type of construction in itself elementary (typically little more than a metal-clad wooden hut), but also updates the theme of mountain prefabrication as well as a certain approach to industrialised building, the history of which has accustomed us to think of it in terms of monocultures (of concrete, wood and so on). A mixture, on the other hand, which sets out the problem of their combined integration in a small but complex product, is a departure from that tendency.

The project is substantially horizontal, providing enough room to accommodate 12 persons and not too difficult to transport. This size limit entailed a maximum floor surface of 8 by 2.4 metres, laid out on a strictly ergonomic basis.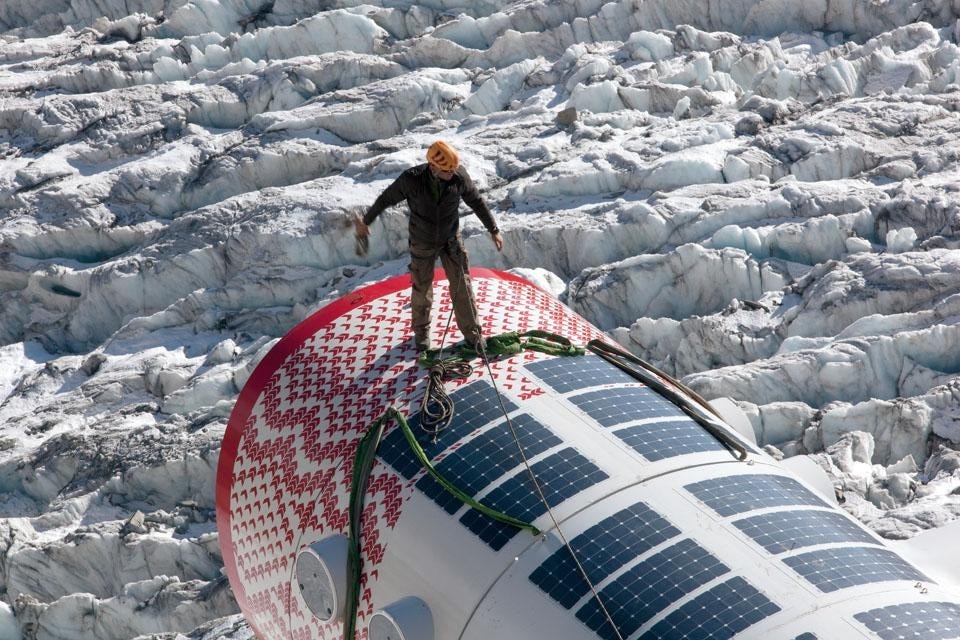 Initially, the possibility (which proved unfeasible) of adapting part of an aeroplane fuselage was considered, as a sort of readymade whose section would have provided the necessary frame. Instead, a structural shell in composite material was favoured, which would be resistant in form and meet all the mechanical, insulation and weight specifications in a single solution. Achieved by merging the expertise of boatbuilding and of Brianza's wooden furniture industry, the refuge's tubular section sets the balance between resistance and habitability in a functional compromise. A more pronounced apex would have worked better structurally, but it would also have sacrificed space in the lateral passages. In view of the necessity to minimise operations in situ, the project was conceived in terms of modules right from the start. These would be manufactured in the valley, transported by "standard" helicopter (the weight of each module is 600 kilos, including its interior fittings ), and then clamped to a trapezoidal rail-beam, likewise in composite, attached to the rock at six points distributed along half its length.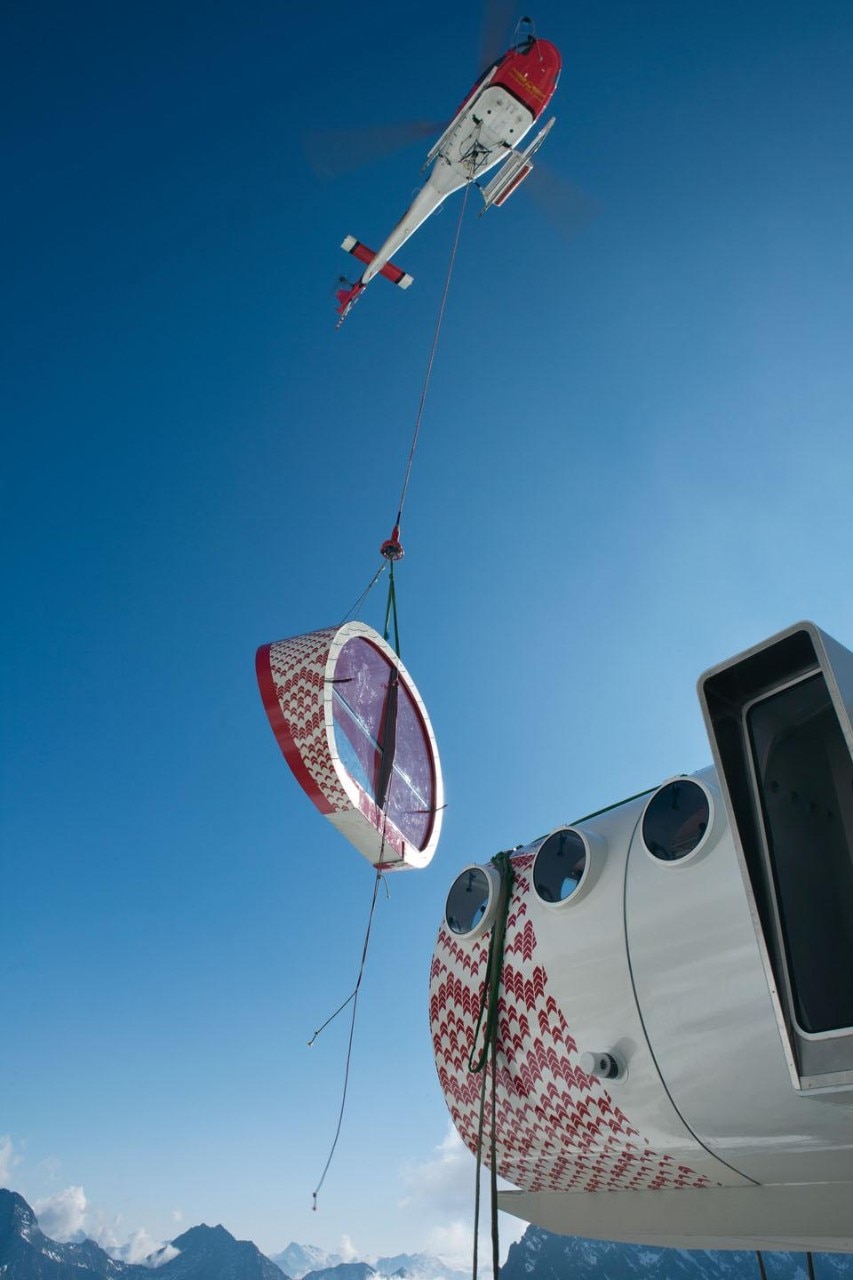 The rest is an overhang, an inconvenient and truly extreme position, due not only to the pleasure of sublime heights, but also to detailed snowfall analyses, so as to resist the merciless force of avalanches and landslides as well as minimise the surface area offered to the accumulation of snow drifts on the photovoltaic panels built into the roof. The layout moreover is particularly complex, since it must operate perfectly without maintenance. But perhaps the most interesting aspect of leap is that from the outset it was envisaged as a model to be repeated beyond this specific occasion. Consequently, its modularity was tackled in a duly combinatory way: the basic module, two metres long, is a bare structural ring; sub-modules of one metre house accessories (portholes, side doors); while the end units, the glazed "eyelid" projecting into empty space, and the closure "stopper" against the rocky wall are interchangeable. In actual fact, though, every component is optional. This flexibility promises a prototype that is potentially adaptable to any nature-sensitive context. The ecological approach to such contexts (also) lies in a notable reversibility, and not by any means as an imitation of nature. On the contrary, as the heir to a certain technological utopia, LEAP overtly breaks into nature, albeit on tiptoe—like a Walking City (in this case flying) that is simultaneously "discreet" and impermanent.
Michele Calzavara, Architect
In view of the necessity to minimise operations in situ, the project was conceived in terms of modules right from the start. These would be manufactured in the valley, transported by "standard" helicopter.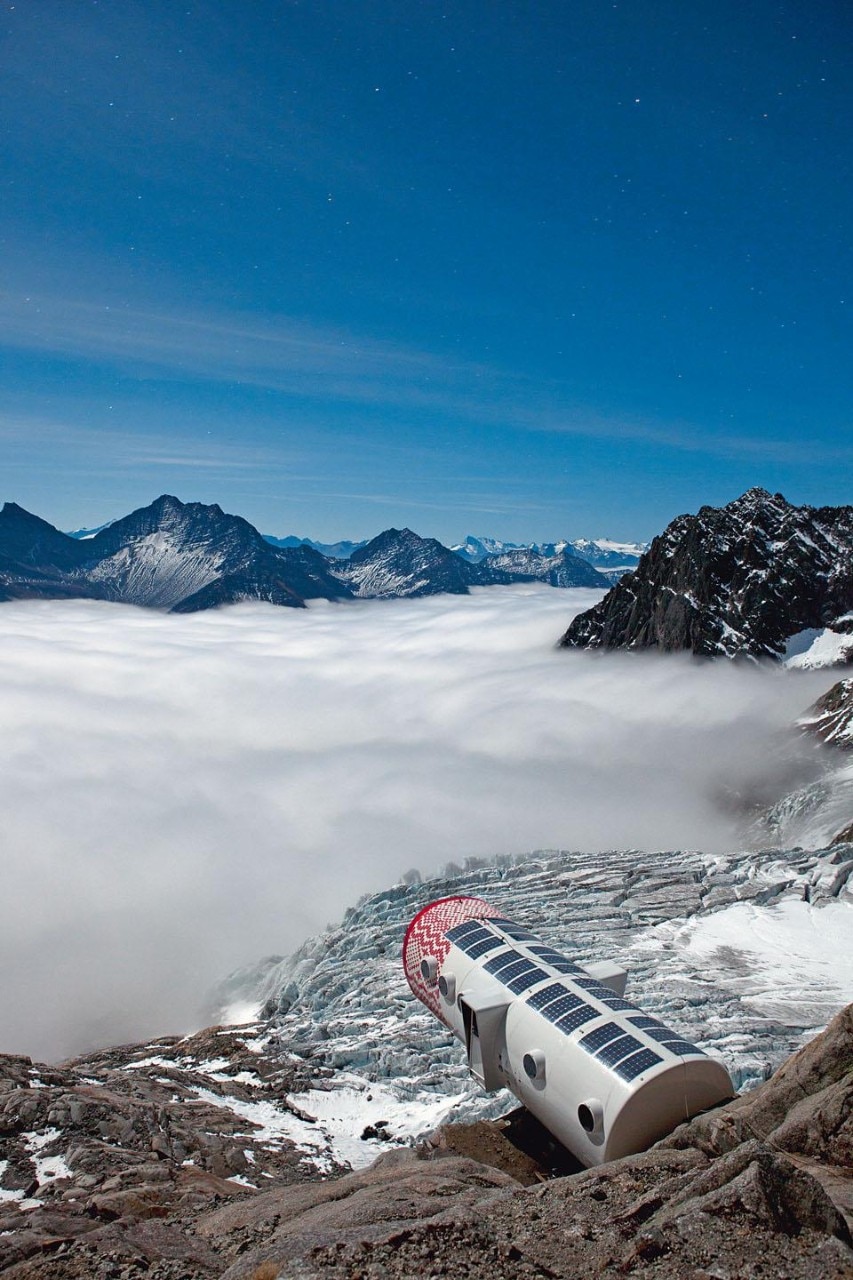 Design Architects: Luca Gentilcore (Gandolfi Gentilcore architetti), Stefano Testa (Cliostraat)
Design team: Marilena Cambuli, Edoardo Boero
Brand identity l.e.a.p.: UN Design, Massimo Teghille
Structural Engineering: Luca Olivari / Olivari Composite Engineering (strutture in compositi), Andrea Bruzzone (strutture generali)
Electrical Engineering: Carlo Sasso, EDF ENR spa, Giampaolo Pittatore, Enrico Pons
Geology: Alberto Morino (nivologia e valanghe), Federico Valfrè di Bonzo
Client: CAI sezione di Torino, sottosezione SUCAI, scuola di scialpinismo
Total floor area: 29 m2
Cost: 200,000 €
Design phase: 09/2009—12/2010
Construction phase: 05/2011—10/2011
Manufacturers: Poligamma, GVM Arreda, Plat Andrea
Sponsors: Regione Autonoma Valle d'Aosta, Fondo Rifugi Club Alpino Italiano, Fondazione Cassa di Risparmio di Torino, Gore-Tex, EDF ENR Solare