This article was originally published in Domus 952, November 2011

It is a seminal year for architecture in America. Minoru Yamasaki completes the Twin Towers, the tallest buildings in the world. Louis Kahn delivers a canonical pair as well—the Phillips Exeter Academy Library and the Kimbell Art Museum. Yale gets its independent Architecture School, located in a bush-hammered concrete castle-like mammoth of a building by Paul Rudolph, and the Harvard Graduate School of Design inaugurates its robust Gund Hall by John Andrews. Back in New York, One Penn Plaza opens, a textbook example of "Manhattanism" designed by Kahn & Jacobs, the associate firm on Mies's Seagram Building—and the firm where author Ayn Rand witnesses firsthand architectural hubris while inventing Howard Roark, the protagonist in her novel The Fountainhead. 1972 is also "the year Modern architecture died". Charles Jencks's statement in reference to the demolition of Pruitt-Igoe, another Yamasaki-designed modernist housing project in St. Louis, announces the end of the JFK/Johnson era of reconstructing civil society, which produced a wave of bold, new-brutalist public and academic buildings throughout the US. Nixon's contrary urban policies put an end to such construction and spur a second wave of suburbanisation amplified by Vietnam veterans returning home. Learning from Las Vegas is published; things get messy; Post-Modernism is born.

It is this year that Rem Koolhaas relocates to Ithaca, New York, to study at Cornell University. The College of Architecture, Art and Planning—which counts among its graduates Peter Eisenman and his cousin Richard Meier—is led at that time by Oswald Mathias Ungers, OMU to friends. The school is situated in the 19th-century Sibley Hall at the Arts Quad on campus. Next door, I.M. Pei's iconic Johnson Museum of Art, a concrete building with massive rectangular forms and cantilevered spaces, is nearing completion. With its ingenious stacked programme, Pei realises one of the last forward-looking buildings on East Coast campuses for years.

Ungers's tenure at Cornell (1969–1975) not only serves as a catalyst for his career but also solidifies the department's international reputation as a centre of architectural thought, particularly Rationalism and Post-Modernism. His themes of transformation, interpretation, typology and metamorphosis affect the young Koolhaas. The early work by OMA—founded in 1975—is unmistakably influenced by the post-modern discourse of the time. Different from its contemporaries, however, OMA develops its specific breed of Post-Modernism, employing modern rather than classical signs and symbols, as illustrated by their contribution to Paolo Portoghesi's 1980 Venice Biennale titled The Presence of the Past.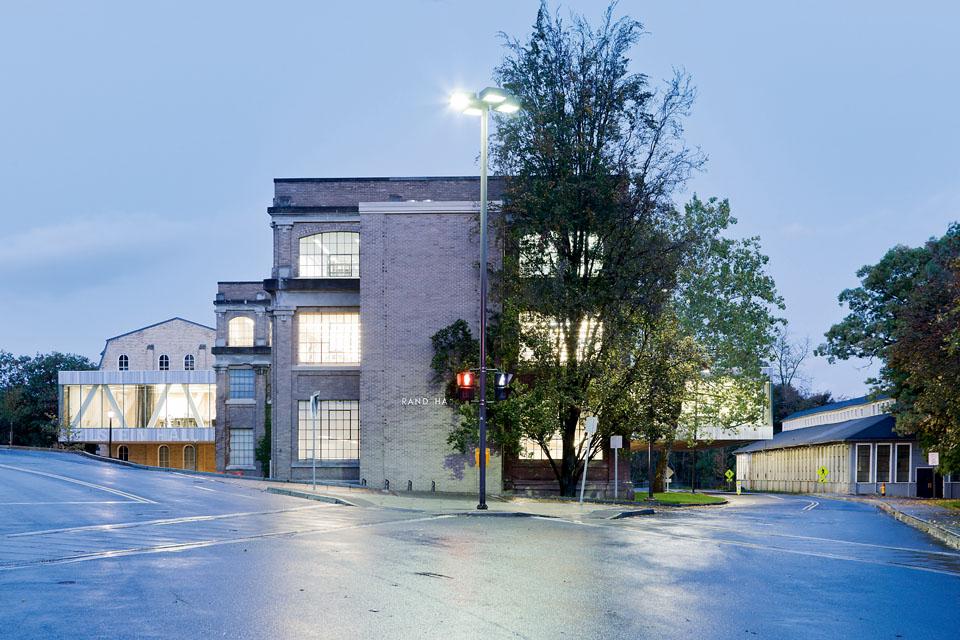 After public repulsion to the late-modern building boom in the United States, university architecture wholeheartedly embraces the supposedly humanist, historical post-modern style. Robert Venturi, Michael Graves and Charles Moore leave their marks on campuses throughout the country. Over time, Post-Modernism loses its novelty and initial critical edge. It transforms into neoclassicism, which, with a few notable exceptions, becomes the default style for any university project—a safe bet to secure donors. Milstein Hall, oma's recently completed addition to the Cornell College of Architecture, Art and Planning, should be considered in this context.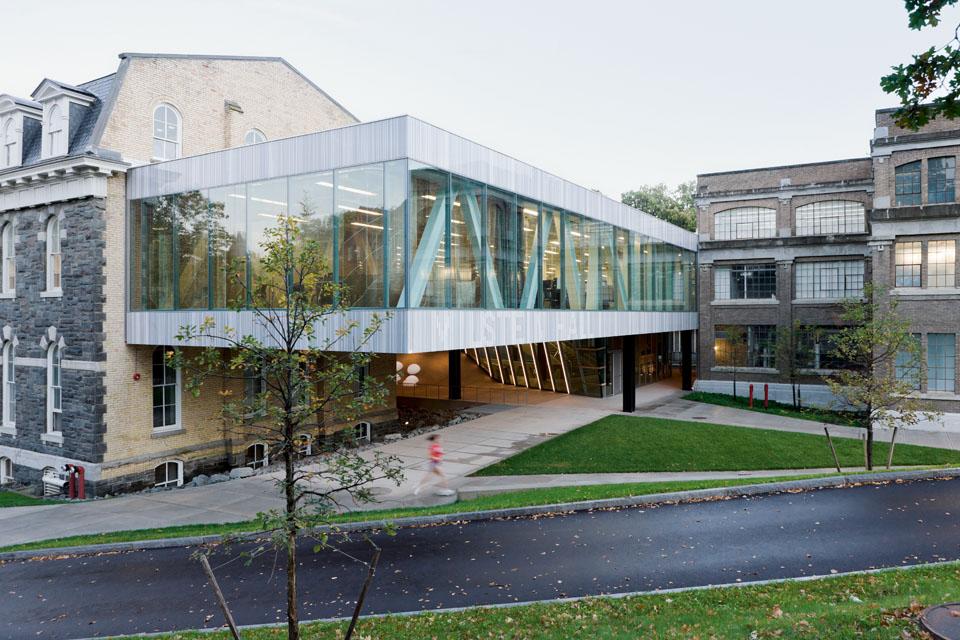 Having learned from setbacks on other US work, such as the cancellation of projects for the Whitney Museum and LACMA, and thrown into a muddled process involving antagonistic preservationists and campus purists, OMA's solution is sly and subtle. "It's definitely an exercise in modest, discreet intervention," Koolhaas has said. The building is basically a steel box with studio space sitting on top of a concrete mound containing assembly areas. This simple composition is remarkably well placed, barely visible from the Arts Quad, on what used to be a back parking lot. Tightly clad in white and grey striated marble, it is a wolf in a sheep's hide. From the exterior it is an unimposing building—the cantilever was introduced later in the design to appease concerns about the structure's proximity to the historic Foundry Building—but once inside new linkages and an intricate section unleash an array of dynamic flows and usages. It connects the previously separated Sibley and Rand halls and has instigated a reprogramming of those existing buildings. Its intelligent siting combined with a rich circulatory system produces a series of overlaps, slips, cracks and vistas. It reorients the entire college and creates a relational and programmatic complexity that is one of OMA's hallmarks.
The lessons of Ungers and the dawn of post-modernity resound throughout the building. It is an arrangement of autonomous, basic geometries.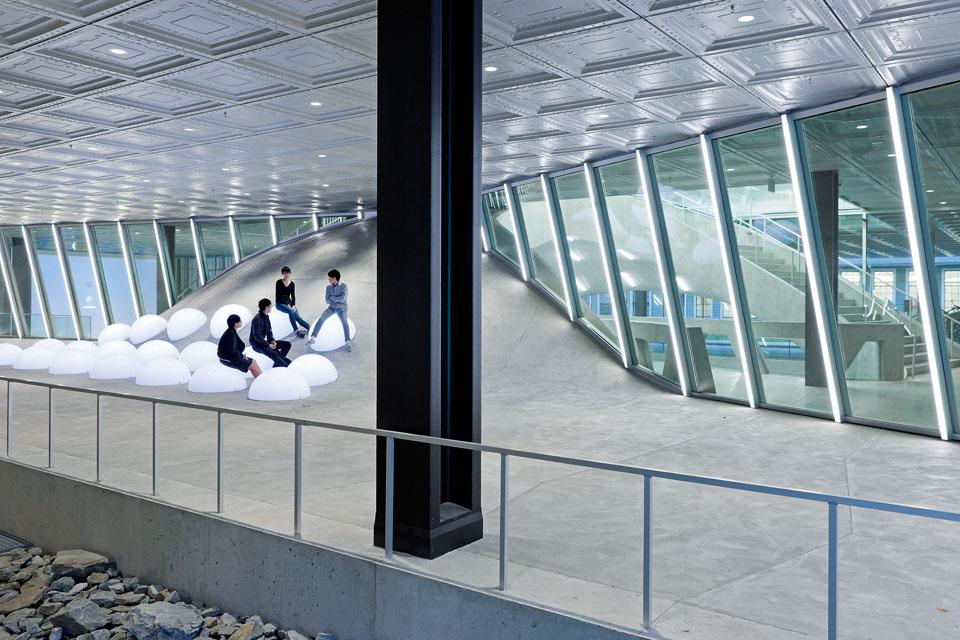 The steel box offers large raw studio spaces filled with daylight. In a didactic nod, all systems and structures are left exposed. A series of informal gathering and presentation spaces enrich the neutrality of the box. It rests coolly on a grid of blackpainted steel columns, while the ground below is inflated to form a defaced concrete dome—punctured, ripped and cut. This spherical rupture in the campus tissue, with its integrated lighting and sprinkler systems, is a gutsy feat in a country where the shift from new Brutalism to Post-Modernism eradicated concrete craft. The heroics are in the basement. A beefy column crutch casually supports the corner of the dome that carries the auditorium seating above. An extraordinary cast-in-place concrete bridge spans across the dome space column-free to connect entrance to auditorium and forms a viewing balcony into the critique space below. Acoustical concerns in this exposed space are muted through felt lining and the bush hammering of the peripheral wall—or is this a subtle reference to Rudolph's Art and Architecture Building?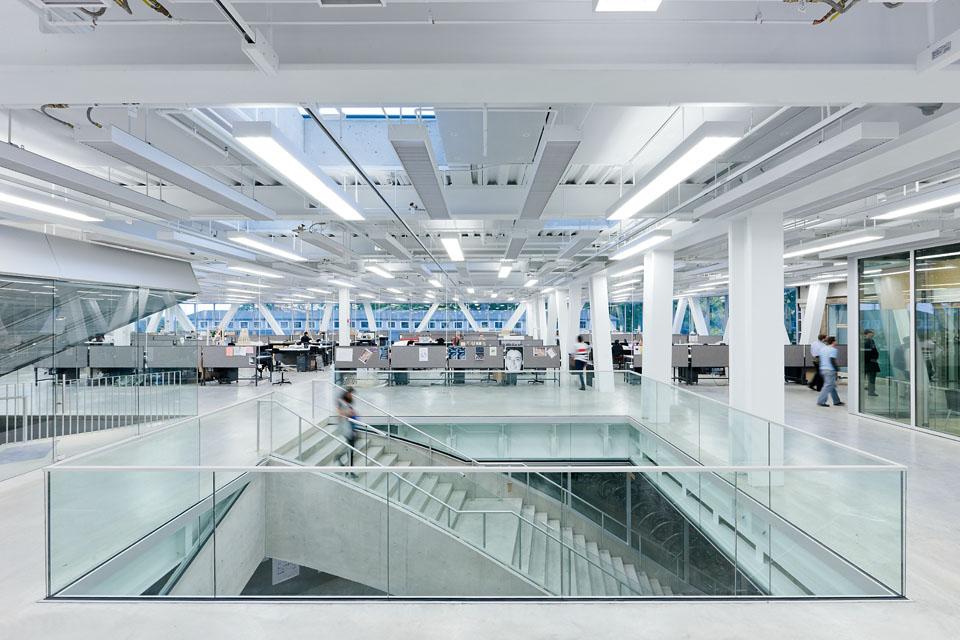 The lessons of Ungers and the dawn of post-modernity resound throughout the building. It is an arrangement of autonomous, basic geometries. Through its positioning, the modern box typology transforms to a non-sentimental tissue insert. For the scheme's materialisation and detailing oma offers a concoction of references. But rather than signifying early modernism they appear to denote the office's previous work itself. IIT is present through the contained modern box—the dirty Mies; the large elevator fitted with a chair and a lamp create a roomlike condition that recalls Maison à Bordeaux; an assembly of structural systems and components remind us of the Kunsthal; the use of the slope of the auditorium to create spaces below points to the Educatorium; the combination of "elite" and popular materials; the pressed white aluminium ceiling; the transforming lecture hall floor. All seem to bring back OMA's early work—the pre-enigmatic era. Only the token Petra Blaisse-designed curtains carry references to classic architecture.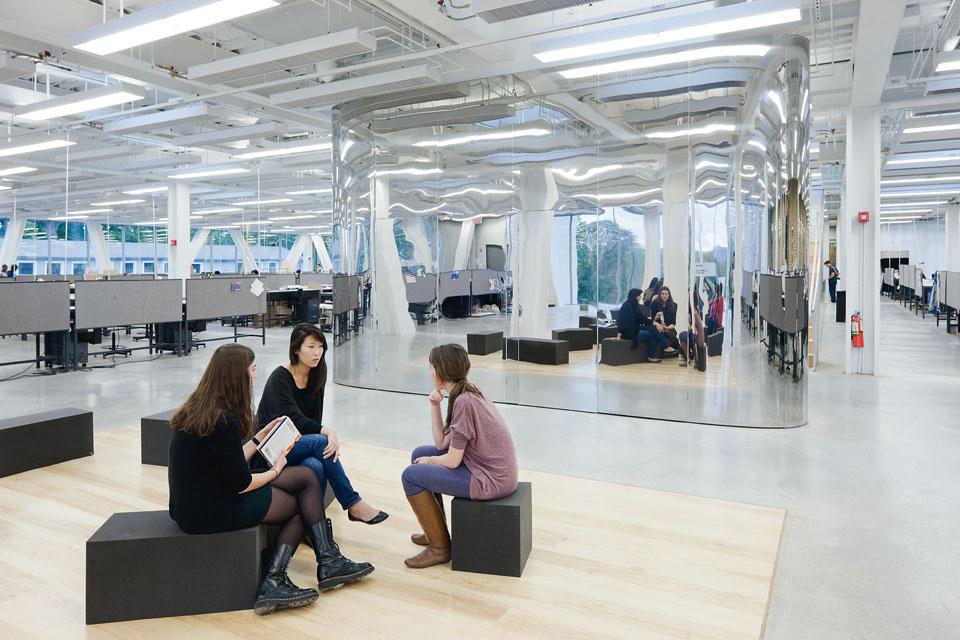 Just before he passed away, OMU mentioned to Koolhaas in an interview published in log: "There is a great misunderstanding among architects. They think they are inventors and always need to be avant-garde. But you cannot permanently exist as an avant-garde. That is impossible. Architecture can be carried forward in a dialectical process, meaning a confrontation with the existing or with that which one wants to provoke at a certain moment. From a morphological point of view—which is not exclusive but inclusive, and not contrary but complementary—you can assess that certain elements are missing that could be added."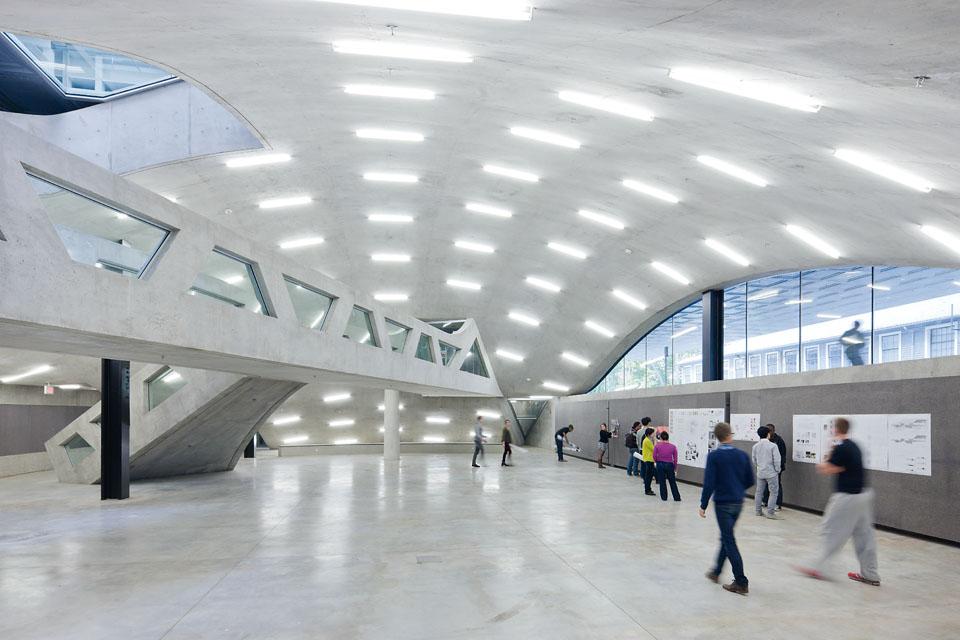 Milstein Hall does exactly that. At the end of two decades of iconicity it revokes the early debates around Post-Modernism. It reintroduces a forward-looking, intelligent architecture into anaesthetised campus design. It adds new layers of complexity to a discourse that has gone silent. Koolhaas's act appears remarkably timely. This fall, the V&A in London is hosting a comprehensive retrospective titled Postmodernism: Style and Subversion 1970–1990, Jencks has just published The Story of Post-Modernism, and Terence Riley, this year's curator of the Shenzhen–Hong Kong Bi-City Biennale, is doing a rerun of Portoghesi's Street, albeit with new names. Seemingly tame, Milstein Hall could be Pandora's box. Its agenda is so ambitious that to be realised it could never be openly stated. Is it a prelude or a coda?
Florian Idenburg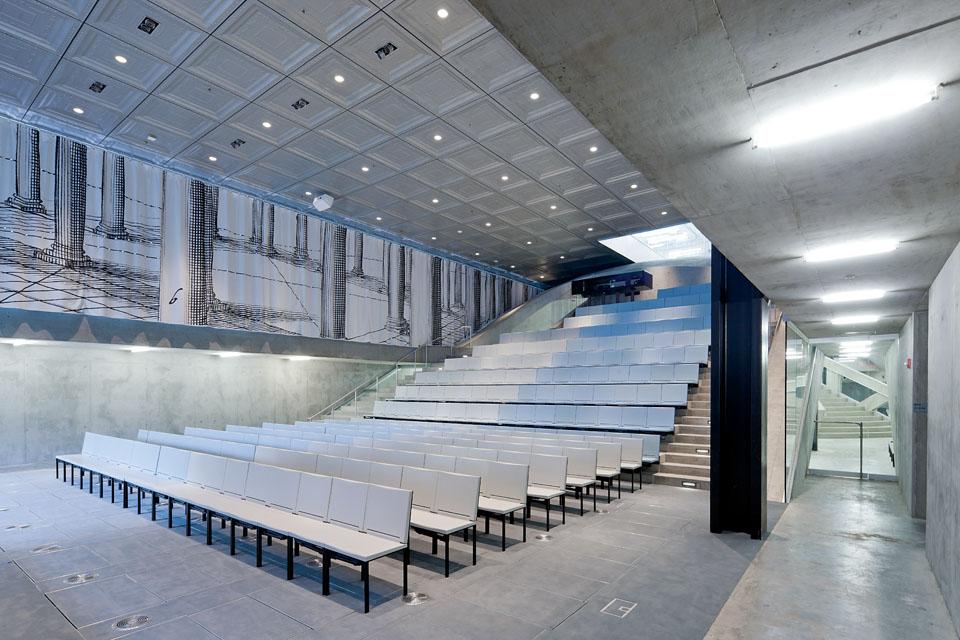 Design Architects: OMA
Partners-in-Charge: Rem Koolhaas, Shohei Shigematsu
Associate-in-charge: Ziad Shehab
Design Team: Jason Long, Michael Smith, Troy Schaum, Charles Berman, Amparo Casani, Noah Shepherd
Architect of Record: KHA Architects
Team: Laurence Burns, Jim Bash, Brandon Beal, Michael Ta, Stephen Heptig, Sharon Giles
Structural Engineering: Robert Silman Associates
MEP/FP: Plus Group Consulting Engineers
Civil Engineering, Site Utilities: GIE Niagara Engineering Inc.
Civil Engineering, Site and Grading: T.G. Miller
Acoustical Consultant: DHV V.B.
Facade Design and Engineering Consultant: Front
Lighting Consultant: Tillotson Design Associates
Landscape Architect: Scape Landscape Architecture
Curtain Design: Inside Outside, Petra Blaisse
Graphic Design: 2x4
Audio/Visual Consultant: Acentech
Roofing Consultant: BPD Roof Consulting
Elevator Consultant: Persohn/Hahn Associates
IT/Data/Security Consultant: Archi-Technology
Sustainability Consultant: BVM Engineering
Client: Cornell University, College of Architecture, Art and Planning (AAP)