Amidst society's hopes for a green future, the power of working with nature is still not sufficiently understood or exploited. Too many visions remain divorced from the end user. Claudia Pasquero and Marco Poletto, the architects and co-founders of London-based ecoLogicStudio, feel that 'using and interacting with natural elements in a symbiotic way can become a game with ecological benefits.' Recently they have focused on the potential of algae—micro-algae are used for energy, while macro-algae—like bio-radars or generative agents—is used for filtering water and making food.

As global regions undergo structural and demographic shifts, agritourism and algae farms have huge potential, but models need testing and feedback from people, so that prototypes can be optimally identified as multi-use educational resources related to their living context. 'You don't have so many choices at the moment. There is a detachment of production from consumption, when even recycling can be fun', say ecoLogicStudio. Their Algae Farm for the Swedish Municipality of Simrishamn demonstrates the interactive potentials for algae-related urban activities and architectural prototypes. Here on the Ostersjiön region of Sweden on the Baltic Sea a decaying fishing industry and ageing local population 'calls for the introduction of a new type of economic and urban system.'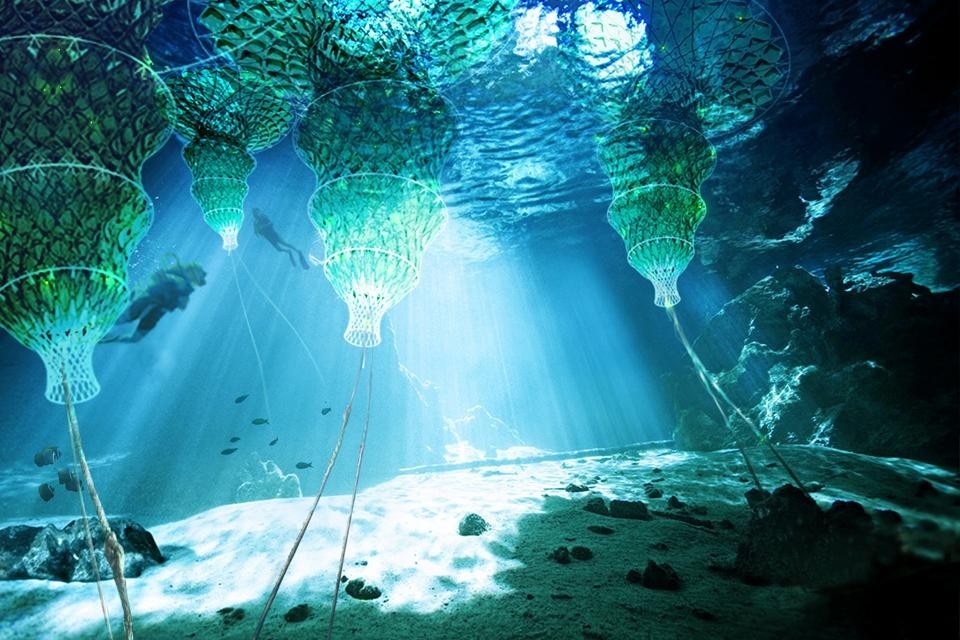 After proposing a project to the Municipality, the team was invited to design a masterplan for the region. This explores the incubation of new models for tourism, other industries, research, with algae playing a leading role in what is envisaged as a mix of top down strategies and investments (production of biofuels and other renewable energies), and bottom up initiatives with the involvement of farmers and fishermen. They mapped the potential of Skane's riverbed, lakesides, farmland, woodland, villages, ports, deep sea and shallow seawaters. 'Our masterplan is an interface. By involving small producers in the region it becomes participatory', say ecoLogic. 'It will be realized bit by bit'. Then it can be 'more capillary, more customized, based on advanced local knowledge'.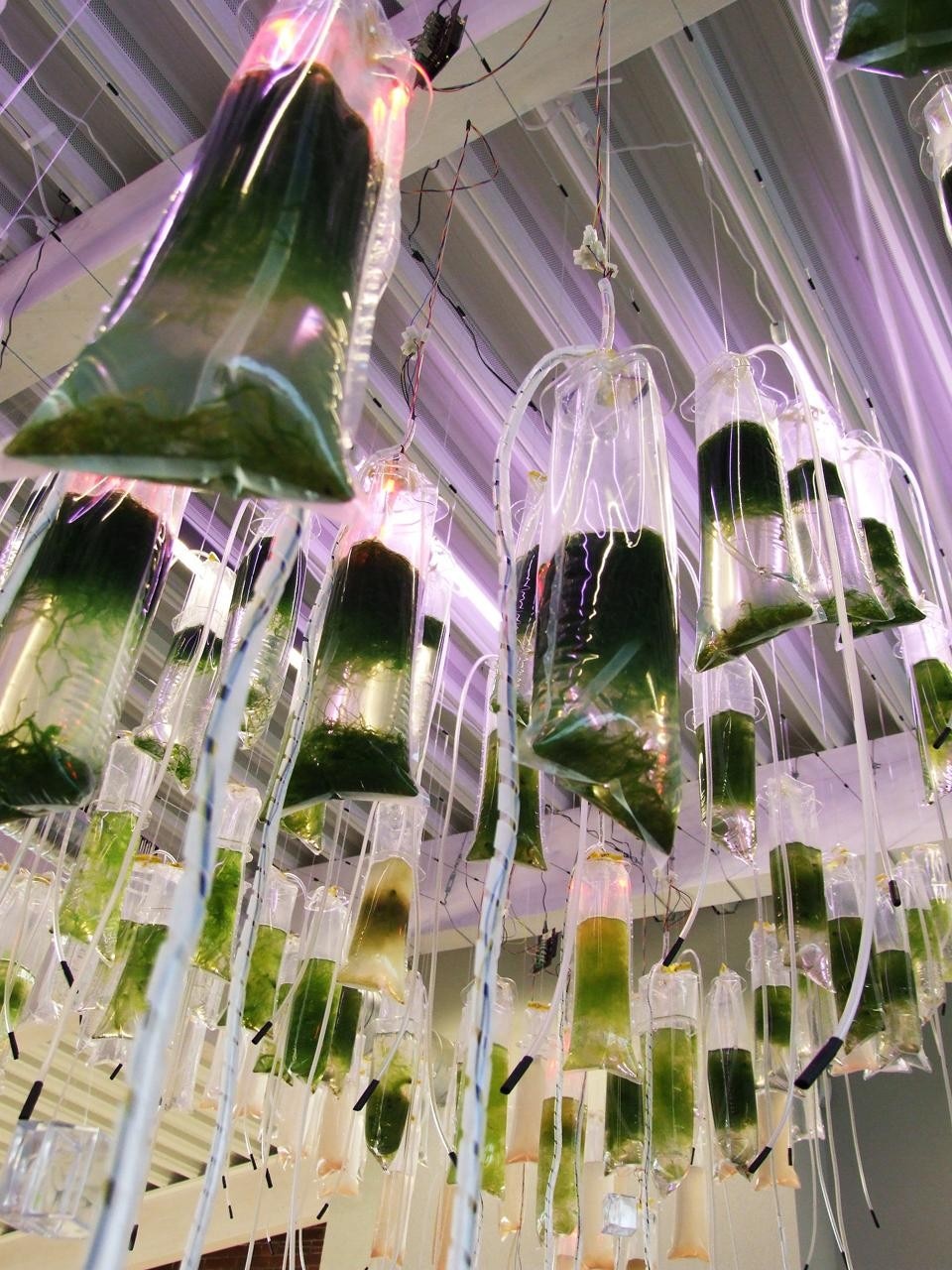 To convey their network strategy the architects produced a large fold-out map of the region mimicking its tourist map with a 'co-action' plan for the area and six prototypes, one of which will be built by next summer. Six integrated solutions for each of these geographical conditions harness the input of different actors and agents in the area from industry, tourism and research each assigned a participatory role in the projects.

These local groups are denoted on the map by different coloured dots, but also, depending on the identity of their application, by cycles of application. For example, ecology, energy, food, water and microclimate, is the cycle of action, for new symbiotic algae and seafood/fish farms conceived as Crane Greenhouses. Designed for the underused ports and coastal areas, these crane-like structures hold canopies made of ETFE like petals with small bags that function as adaptive greenhouses capable of supporting production over 12 months a year.
Our masterplan is an interface. By involving small producers in the region it becomes participatory.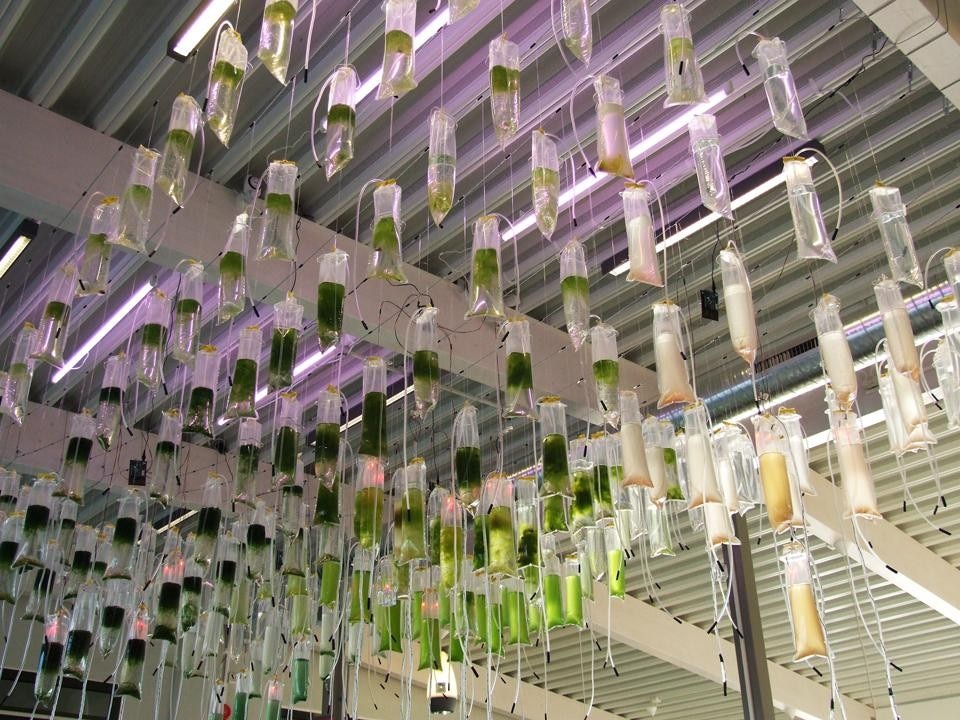 Next to lakes and water bodies, their Migro Towers represent new resting and nesting stations for tourists and migrating birds. The algae here are cultivated for food and oil production, and to be bio-sensors of water pollution. Out in the Baltic Seas, floating fishing farms linked to a marine science museum in Simrishhamn constitutes a research centre which has the world's first interactive real-time museum of marine life and ecology.

The region with its many lush river valleys and estuaries lends itself to the essential art of water phitodepuration. But the Filtering Garden plays not just this role but also is a place dispensing spa treatments, undertaking biological monitoring and organic food production and consumption. The old clusters of farms in the regions are reimagined as hubs of high-tech algae farming infrastructures, an agri-town hosting production facilities, touristic activities and research centres for industrial algae products.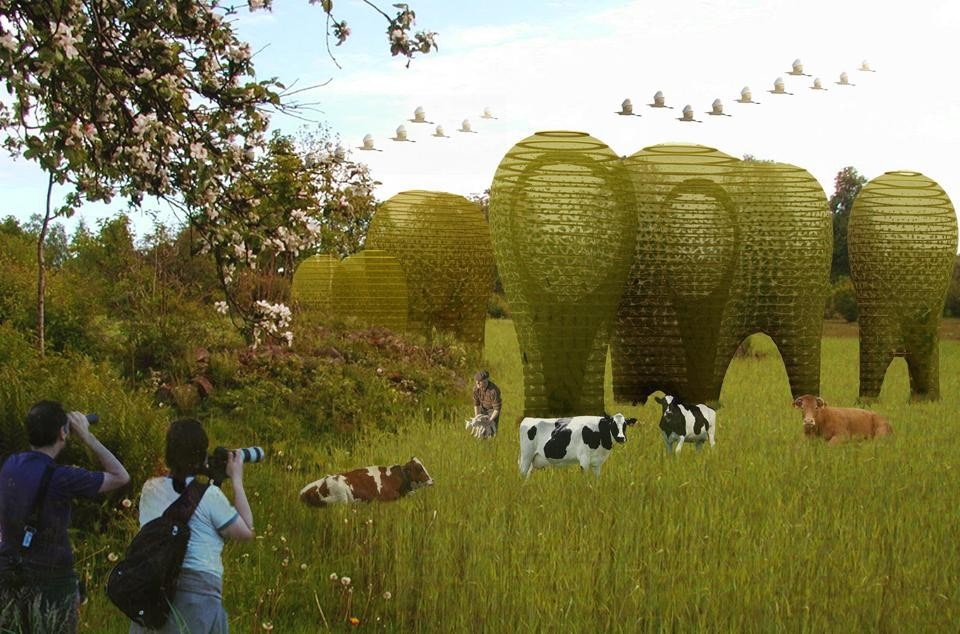 To create a navigable network the sixth project creates new summer cycling paths and winter cross-country sky pistes connecting all the regional algae information points. Tourists and locals can tour the region, visiting the existing algae businesses. They can learning how to set up new ones, creating a gradual intensification of activity in the region which is envisaged as a strategic network with scope for growth, and is located for an optimum interface with its local environment.
Until October their map can be seen in their exhibition at the Simrishamn Marine Centre with a magnified, more detailed version of co-action plan on the floor explaining the context of the main exhibit, a prototype for the Hanging Algae Garden. Designed to sit between the Centre, tourism office and overlooking the old port, this engaging edutainment installation invites the visitor to experience the photosythesis of algae and help cultivate the Garden.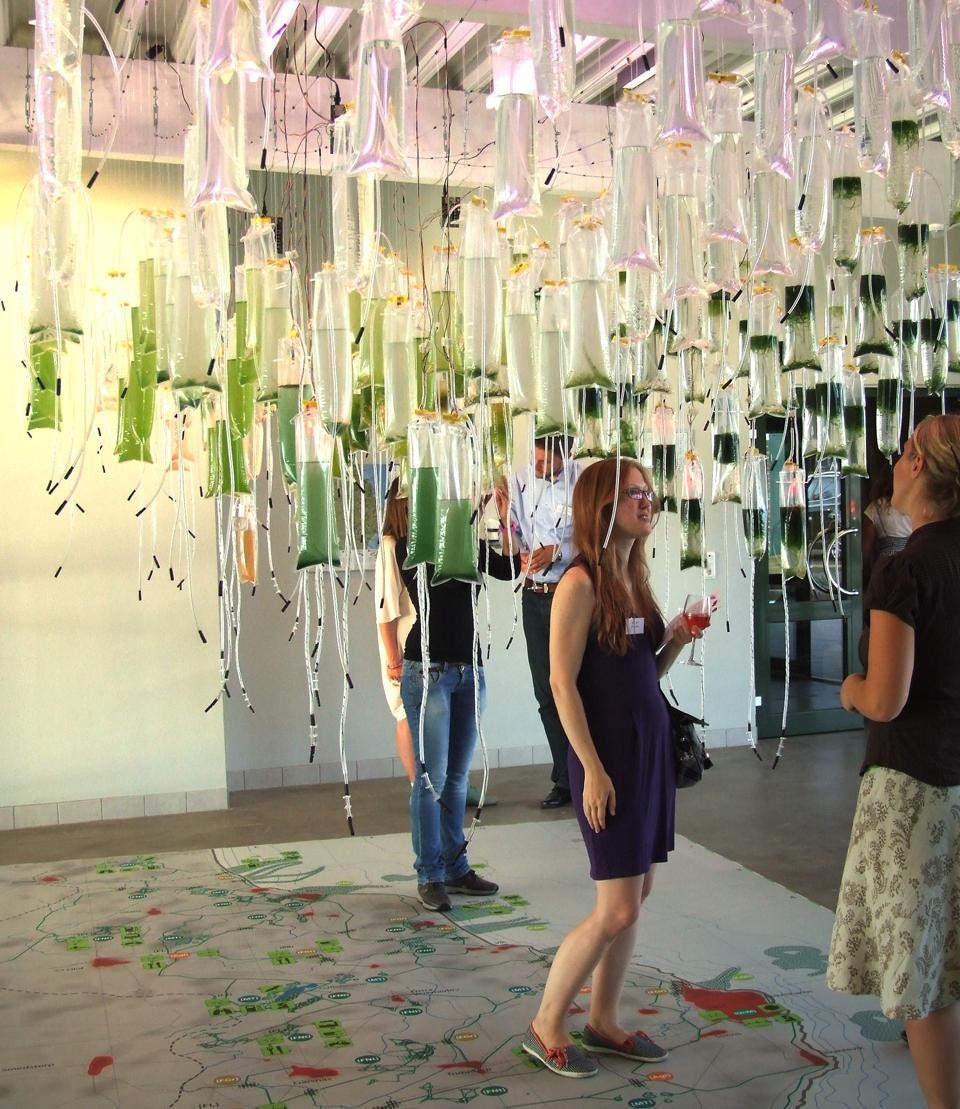 Blowing his CO2 into a photo-bioreactor bag activates oxygen production in bio-reactors. Hand-held magnifying lenses enable him to see the different colours and ecologies of micro and macro algae. The Garden interacts with him via an LED responsive memory system, by blinking to register his presence, and then storing the memory of his interaction. For a symposium in the Centre discussing the current algae-related activities in the region, a Swedish chef recently created a tasty meal of gaspacho, carpaccio with hare, and dessert with algae and gooseberry from algal varieties in the Garden.

ecoLogic's integrative, interactive strategy creates vitalizing educational resources connected in a considered social and environment network. It avoids the hermeticism of a purely technical research centre, divorced from the rest of life. 'If you don't connect with the end user, it will end up just being a factory outside the town, they point out. 'There can be ways to work with nature to allow people to be involved—the process can be playful, not a bureaucratic way.'
Lucy Bullivant
Simrishamn Regional Algae Farm

ecoLogicStudio design team: Claudia Pasquero,Marco Poletto with Andrea Bugli, Silvia Ortu
Client: Marine Centrum Department, Simrishamn Municipality
Consultants: Catherine Legrand (biology and local bio-diversity), Fredrika Gullfot (biology and algae farming)
Interns for support in exhibition: Xenia Palelouglou, Manuele Gaioni, Kwanphil Cho

More information and video at ecoLogic.