Among the low residential blocks of San Luis - one of the informal neighborhoods of Bogotá, Colombia - a community project aims to collect water to promote urban agriculture in the area. 
Challenging traditional construction methods, the project is taking shape as a habitable prototype designed to collect sprayed water in Edison Plazas, an area of Barrio San Luis that has not yet had access to the local aqueduct system.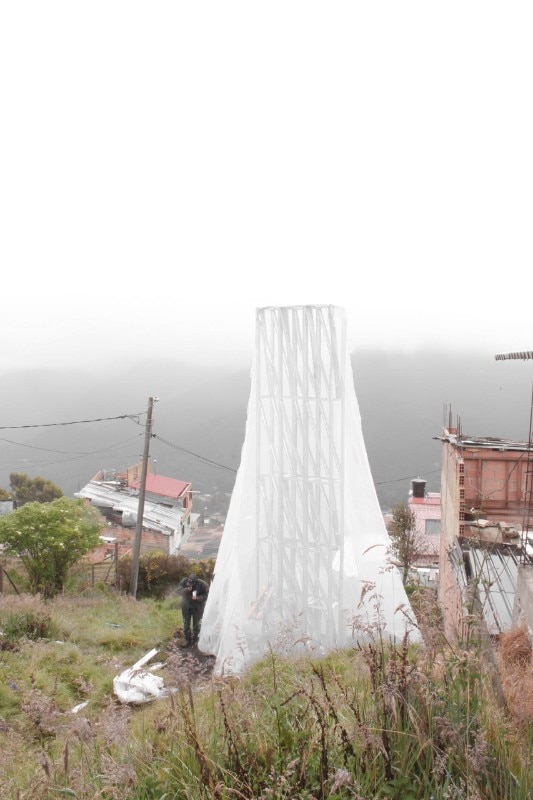 Made possible through a collaboration between Alsar-Atelier, Oscar Zamora, Caesar Salomon, the Colombian Society of Architects, and the participation of local community members themselves, the mini-architecture can be built without specialized knowledge or machinery. In fact, it consists of calibrated steel frames covered with a white fabric that collects airborne water through its facade and a system of PVC pipes. 
The project has not only empowered local community members, but has also inspired positive social change and aims to become a model for other informal neighborhoods around the world. 
In addition to irrigating a greenhouse, the water collected is also used for domestic purposes such as cleaning and washing, reducing the community's dependence on municipal water sources.
The prototype now serves as an example of resilience within the self-built environment, demonstrating that innovative and sustainable construction methods are possible even under difficult conditions. The fog catcher specifically challenges traditional construction methods by presenting alternative materials, such as gauge steel frames, that promote more sustainable and environmentally friendly practices.