In the vicinity of Monferrato, Atelier Lavit creates among the vineyards a sequence of four units dedicated to tourist accommodation. The peculiar volumetry of the project stems from a formal exercise on the particular topography at hand, being a well-oriented but steep lot. The eco-lodge program is thus translated through the use of the archetype of the primitive hut, an original element that transcribes the relationship between man and nature. The structures, positioned independently on the natural slope, dialogue with each other while preserving the due intimacy of each. One hut is thus intended as a reception and meeting and sharing place, while the other three structures are suites, independent but interconnected.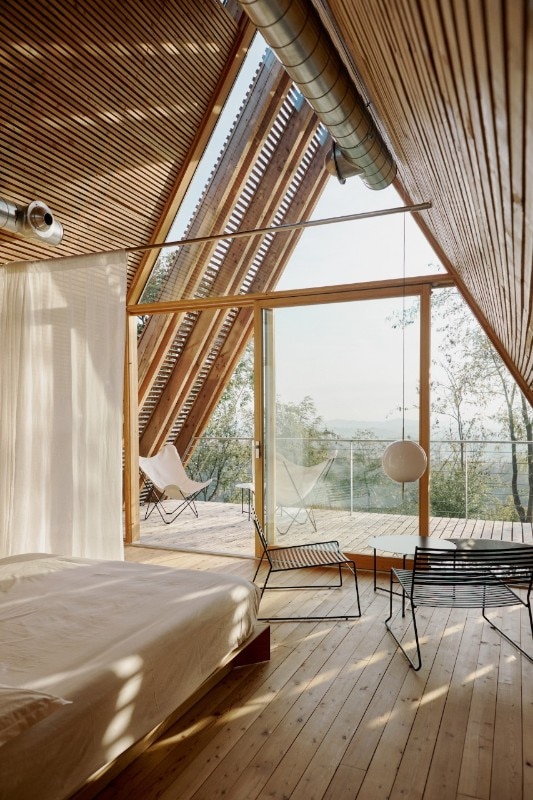 The timely need to adapt to the steep slope and to rise to isolate themselves from the ground thus leads to the design of huts raised from the ground at about 2.50 meters, allowing them to create a point of view to the outside that is different from the one perceived on arrival.  In this way Lilelo, this is the name of the project, becomes part of the circumstances landscape, like the overlapping of different layers. 
The inhabited volume is built from three planes, the horizontal one and the two pitches that form the roof, an element of protection and shelter. The roof planes then also become side walls and ground support, performing like a multitude of "legs" that allow constant adaptability to the complex morphology of the hillside.
In the study of the envelope, wood is used to create more or less dense horizontal battens, according to the level of privacy required by the different living spaces, shading the terrace towards the valley. In this continuous search for balance between interior and exterior, the glazing takes center stage. In fact, the large window facing the valley creates a plane of transparency separating the private space from the surrounding vastness of the landscape.