Antonio Dikele Distefano is a young writer born in Busto Arsizio in 1992, but grew up in Puglia and Romagna before arriving in Milan where he lives and runs Esse Magazine. He has published five novels with the publisher Mondadori. The Zero series was based on one of these novels (I have never been my age, 2018) and produced by Fabula Pictures and Red Joint Film for Netflix. It was released this year with Carlo Aymonino's threatening image of the Gallaratese district as a background in the advertising poster where almost all the characters are children of immigrants. A series in which urban planning plays a primary role not only on the Milanese suburbs, which are threatened by gentrification, but for example Anna's character (Beatrice Grannò) reveals to the protagonist Omar/Zero (Giuseppe Dave Seke) that Gae Aulenti appeared to her in a dream, encouraging her to enrol in architecture. 
Why did you choose this discipline to base both the novel and the TV series on?
It is a tough question. Urban planning is important in the novel because, in the early years, the main character lives in Cerignola as I did, even though it is not an autobiographical novel. Having lived there, however, I am well-aware of that reality and it is absurd how what surrounds you and the place where you live in can determine your ambitions and what you believe in. Urban planning is central because the neighbourhood where I stayed coincided with my world. When I lived there, I did not go to the city centre because I felt like a stranger there, whereas in my neighbourhood there was everything I needed, the school, the church, the supermarket... Then my parents moved to Ravenna where my mother opened a shop and another story began.
I was struck by the choice of Gallaratese as a suburban icon. In Italy, Milan is the city where gentrification is more likely to occur.
In Zero, gentrification arrives by chance, we went shooting scenes in Corvetto, in Barona, where we found a remarkable sense of belonging to the neighbourhood. The stories of the people we met were dominated by the fear of being kicked out, of rent increases, in short, of being thrown out of their homes. What amazed me the most is that the guys usually want to leave the suburbs in search of something better, but they wanted to stay there at all costs. The great thing is that they kept saying "we take care of the garden here, it is all clean", in fact the Roman crew was very surprised by the high quality of life in these notably infamous places. The problem is that the bad reputation of a neighbourhood is usually given from the outside, by those who do not live there.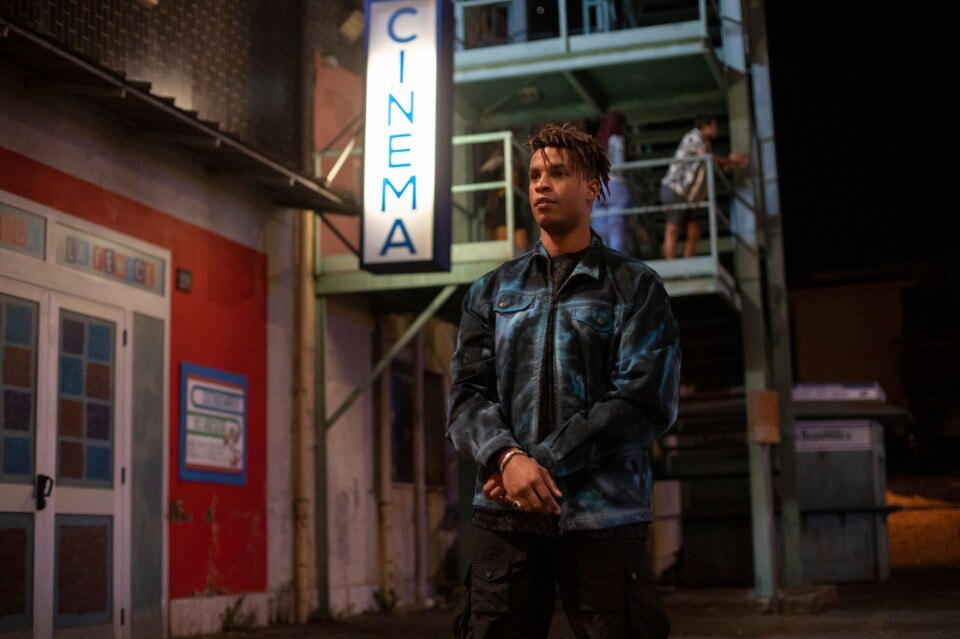 But you, who also grew up in the suburbs of both the south and the north, did not have to adjust your ambitions, you already published more novels than Roberto Saviano or Paolo Giordano with the biggest Italian publisher.
It is true, but I have changed fifteen houses, my personal ambition has always been to have my own place. Sometimes I would go back to my childhood friends, but by then I felt like a stranger, I was no longer one of them and, even if in a joking tone, they never failed to point it out to me. Since I moved to Milan, I have changed. This city has transformed me, so I am still convinced that the place you live in determines your ambitions. Many young people who live in degraded contexts shape their way of being because they are surrounded by ugliness, by greyness, but I do not like the suburbs, so I ran away from them.
The stories of the people we met were dominated by the fear of being kicked out, of rent increases, in short, of being thrown out of their homes.
In a city as Milan, areas that until recently were suburban are, now, the new hubs of attraction. Moreover, there are projects to revitalise areas at the junction between the city and the suburbs, such as the very recent one on Piazzale Loreto.
I do not know enough about Milan's evolution, but cities live off their suburbs and their negative development is part of a more complex picture. I repeat, this always happens from the outside. I am a person who loves comfort, I am a city-centre person by now, but if we think about music, Mahmood, Ghali, in short, all the new songs come from the suburbs because there is more human contact, more dialogue, more confrontation, the buildings are as close as hives, while in the city centre they are not. The thing I like about Milan is that it is expanding, it is growing, and it can still avoid the mistakes of other big cities by maintaining certain standards, thus being an example for other cities. When I came here, the only friend I had at the time told me "you will fall in love with this city" and, in fact, I am still here.