This article was originally published during the 2019 Venice Art Biennale, when Jimmie Durham was honored with a Golden Lion for Lifetime Achievement.

Whatever he does, Jimmie Durham remains a poet. Right from the start, in the 1960s, his work consisted in questioning the system of conventions within which we live; conventions concerning ideas, behaviour, history and its interpretations; as well as art and its fruition. Making art, for him, means opening up to doubt, highlighting the multi-faceted nature of reality, allowing a multitude of possible visions to emerge; keeping in check univocality of vision and, by extension, the arrogance of every form of power.
Durham has pursued this path with acumen and rigour, with a scathing spirit, inflexible consistency; and - as highlighted by the curator of the 58 Biennale Ralph Rugoff in the motivations for awarding him the Golden Lion for Lifetime Achievement - with profound humanity. He did it in the 1970s, as an activist, as leader of the American Indian Movement and his representative at the United Nations. Then as an intellectual and writer, as well as a visual artist. He has never neglected the quality of everyday experience, the human relationships that he knows how to weave, not to mention the absolute one, with artist Maria Theresa Alves, his lifelong companion.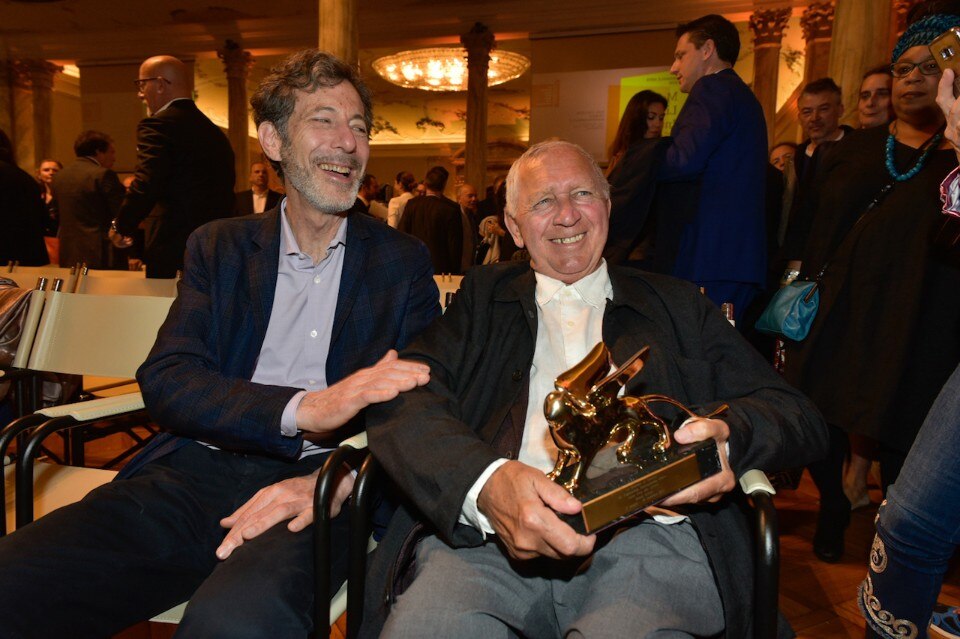 Durham's works consist in many cases of arrangements or grafts of modest natural or industrial materials, when not made obvious, one over the other; materials that appear to have reached the limit of existence; but that on closer inspection, say much about who we are. The artist subjects them to a combinatory process; sometimes striking them to destroy the original form. It is not a case of aggression; rather of generative actions; the object, thus transformed, is reborn with a new form. As in the case of St Frigo that he presented at the 1996 Venice Biennale. As such his works amount to a comment on the nature of things in life, and on their meaning: they describe how everything is temporary and constantly changing; and make a statement with respect to our relationship with objects: inattentive and consumerist.
Also central is the attention that the artist devotes to the theme of architecture. If each of his works is born out of the idea of deconstructing the superstructures that surround us, and with them the cardinal concepts of consumer civilisation, architecture, in his vision, represents assertiveness, monumentality, that sense of stability that risks making the individual certain and peremptory, subtracting them from doubt, harnessing sensitivity and critical approach.
For this, with actions that are seemingly paradoxical but in reality consequential and scathing, Durham gradually unhinges the physical form of a building and highlights the idea of living that comes before and goes beyond the walls; or brings out what is normally covered, making visible the materials - the removal - that go to make it up. By extension, he addresses the question of social construction, of what is given space to or what is hidden; of what one says and what one omits.
All his work aims to recover awareness of the real needs of man and to rebalance the relationship with nature and with other forms of life; even the most fragile, even those furthest from humans. Hence his attention to stones, with their time and memory; and animals. "We are together in the world", says Durham. Stone is the material used for the work shown in the Central Pavilion at this Biennale: a powerful slab of black serpentinite, whose white veins seem to want to tell a long story.
"Cities - says Durham - are just as rich in stone as for example the hills and the plains but usually the stones are ordered to form buildings, streets, pavements monuments. They, like us, have to work." Animals feature in the totem-like sculptures shown at the Arsenale: a dozen of the biggest mammals in Europe, made in the form of assemblages of disparate objects.
"I wanted to gather the skulls of the largest animals in Europe and bring them back into our world by a method which I cannot explain, just as it is impossible to explain most music or poetry. The skulls I have worked with all have bodies that are more sculptural than representative. I have the feeling that when using the actual bones, representation of the animal when it was alive would by too disrespectful to support.
If today indifference, rhetoric and a tendency to oversimplify dominate in every field and humanity seems prey to a narcissist and Promethean regression, Durham addresses the complexity of things with a courage that is neither glorious or epic but that is born out of singularity, autonomy of thought and feeling. A feeling that can never be completely paraphrased.
His hybrid and ironic but berating works, irreducible to formats and categories but unmistakable in terms of language, are acts of resistance based on attention to the gaze and the capacity to grasp the flow of life, its mystery, the interconnections between one realm and another. And they respond to the intent to restore, respect things that seem too far below any value to be considered, the possibility of presenting oneself in one's essence, with dignity. At the awards ceremony, Jimmie Durham sang a hymn made up of many languages El sol sel mattina; happy and heart-wrenching, paradoxical and poetic as his work always is; because we cannot live without poetry.
Opening picture: Jimmie Durham, winner of Golden Lion for Lifetime Achievement. Courtesy La Biennale di Venezia  
Preview image: portrait of Jimmie Durham by photographer Lukas Wassmann in Labinac's workshop in Berlin, featured in the article "Diverse Objects. The humility of Jimmie Durham and his creatures" published in Domus 1030, December 2018.
Artist:

Jimmie Durham

Venue:

58th International Art Exhibition - La Biennale di Venezia

Where:

Padiglione Centrale/Arsenale, Venice

When:

11th May - 24th November 2019