This article was originally published on the issue of Domus 1027, September 2018
Michele De Lucchi: What distinguishes humans from other animals is the ability to create ever-new objects. Animals keep making the same things and if they go wrong just start all over again. This difference is the spark that leads to evolution.
Ingo Maurer: Evolution is a river in spate. It has an unstoppable energy that always fascinates me.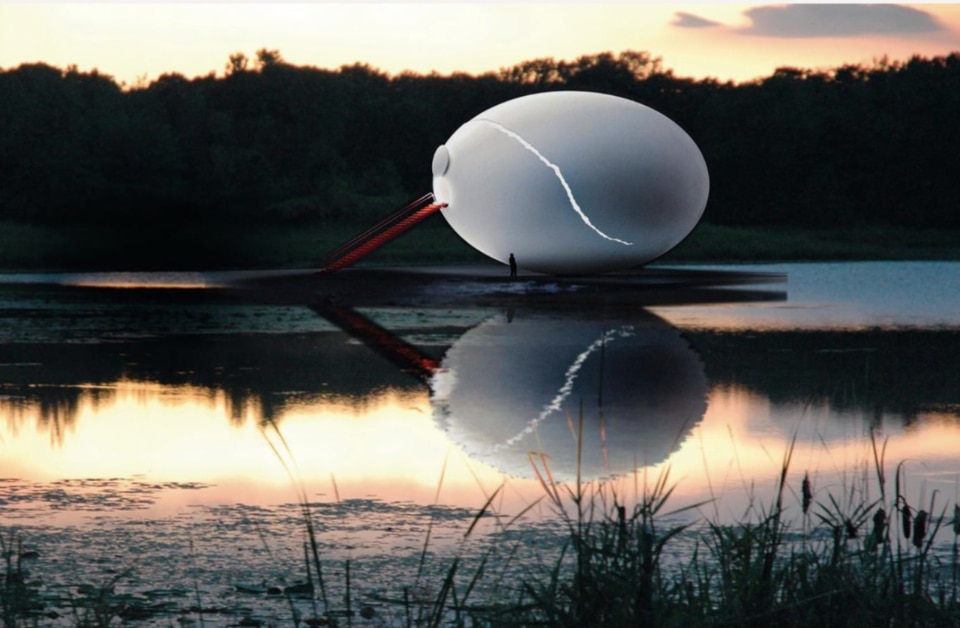 There's no stopping it. Even now, when we urgently need to save nature, we can't go back to the past. We have to look to the future, find the right production systems and be aware of what we have.
Are you always aware of what you're doing or are there times – if I can ask this – when you don't know what you're doing? Or why you're doing it…
Of course I follow my own path, but I always try to do things wihtout knowing where they'll take me. If I knew the outcome, it would mea nit was practically already done. What interests me is finding new paths.
This is whst happened with the series of Luzy lamps we presented at Milan's latest Furniture Fair. It was completely unexpected. I'd finished working with Luzy Graf in my team on an installaztion five metres long and we ended up with all these rubber gloves dyed blue. We hung them on a line to dry and at once the gloves became a lamp.
True
It's practical and fast, but when you put a sketch on your computer, you end up losing the initial idea. It's pure seduction.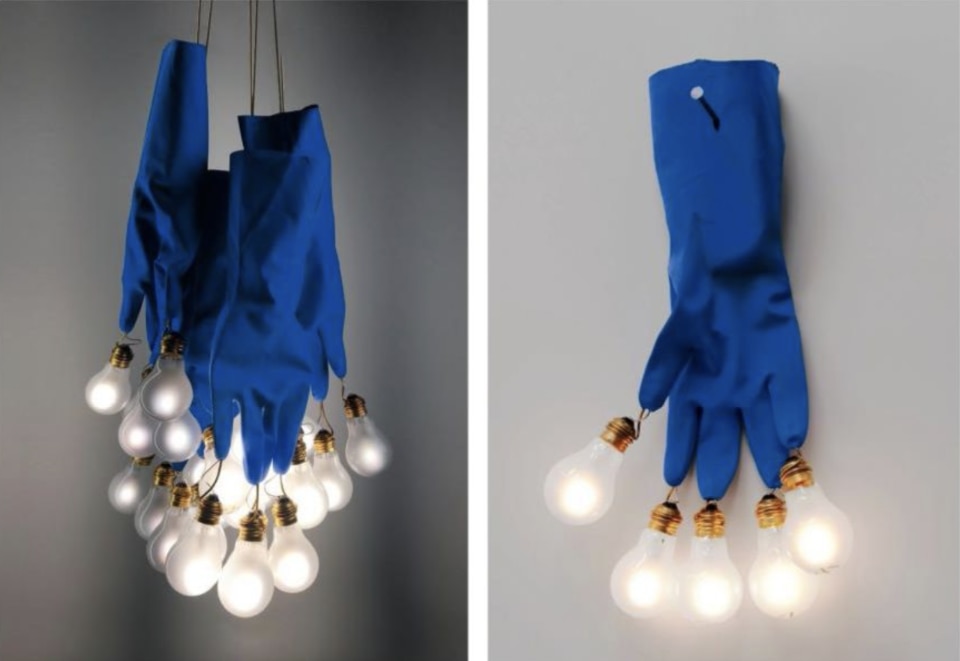 I see this as an explorere's approach. Always be prepared for surprises.
But I don't like analysing myself or my work. It would mean giving up making things. Being too self-conscious is a damper. When I start a project, I get scared so I tell myself, "Get a grip! Let's see how it works." This tention between beauty and ugliness or extraordinary and ordinary is very important. With Mozzkito, some years back, I turned a pincer infuser – the sort of thing you use every day to make a cup of tea – into a lamp.
Is it better to find an idea by chance, rather than being rationally organised and so reaching your goal?
I thing it is. I never search my files for inspiration. I look to the future, for new ways of conceiving light. I'm always eager to get back to work and do tests, make prototypes. This is the exciting part: getting an idea and building a small model. Then I really like working as a team.
Do you always work through prototypes?
Yes, they help me take in all the technical factors. When I get a new idea and explain it to my team , they invariably object, "No way, Ingo, it can't be done." The only one with an open mind is a guy from California (he's been with me about 25 years). He always says: "Go for it Ingo! Let's do it." When everyone else says it can't be done, I turn to him.
This is fascinating. What produces an open, can-do mindset and what a closed one? Is it cultural? The social setting? The Californian mindset is typical of people who see the easy part and forget the complexity.
They're not afraid to make mistakes. Making mistakes is essential to be creative.
There are two sides to your work: lighting design and environmental installations.
They're two sides that coexist. Now we're working on a competition for a memorial to the 2015 mass shooting in San Bernardino, California. I still can't say what formi t will take. I have Italian cemeteries in mind, filled with monuments, like the oneat Staglieno in Genoa. There will definitely be movement in it and lots of tears. It'll be another challenge.
Ther's reality and illusion, everyday life and theatre. Different and necessary factors that  contaminate each other. Do you see contamination as positive or negative?
I'd definitely say negative. Contamination is close to the idea of death. It conjures up India, people drinking contaminated water.
But in culture it can be productive…
It's a controversial term. Maybe we ought to speak of fertilisation instead of contamination. Fertilisation can create a lot of energy and activity. It's certainly the strongest and most provocative word you could choose for the cover of the issue. The computer itself, by its influence on us, is "contaminating" our minds, preventing us from thinking.
I look to the future, for new ways of conceiving light. I'm always eager to get back to work and do tests, make prototypes. This is the exciting part: getting an idea and building a small model
The same happens with a machine-made object compared to a hand-crafted one, where you sense a person's presence.
I agree. I'm doing a project ofr a winery at Tsinandali in Georgia. I designed the restaurant dining room. It's a kind of cave that immediately evoked the Lascaux cave drawings. So, a year ago I went to Montignac in France, to see the famous paintings in person. There I met the people who made the copies exhibited for visitors [the French Atelier des Fac-Similés du Périgord]. I asked them to do the paintings for the restaurant.
What are your most hybid projects?
There's the Porca Miseria! Lamp, through which I developed many completely different approaches. The T.T. Moon lamp is also very hybrid. I'm sorry to say only a few copies of it exist, because making it was technically difficult, but it's a step towards something really new. Breaking the flow of conventional aesthetics was one of the reasons I did it. Finally, there's the Broken Egg project, a pavilion 25 metres long and 5 high at Inhotim, inspired by a lamp. Bernardo Paz, who commissioned it, laid out an artificial lake from scratch to house it. One evening, I'd just flown in dog tired from NY. He said: "When we arrived, we could still see all the machinery used to excavate it. It was so incredible I just wept. Unfortunately work stopped at the foundations. It's been stuck for years, but now maybe ther's a chance to finis hit.
I never know if  what I create is accepted and understood or ineffective. Ettore Sottsass once told me: "I don't know who I'm designing for." You do it for yourself, because you've got something to say, but you need to be part of a context broader than just your own.
Sottsass was a free man, at least at first, but I feel the pressure of having to produce and sell, and these to rhings together are difficulkt. I've always managed to do what I want. I can't complain, but I think it's essential to adopt a different outlook. I tell the people I work with always to turn things upside down, to try and think of them not just in physical terms but also in a spiritual way. That's the most important thing.
Ingo Maurer (1932-2019) worked as a typographer in Germany and Switzerland before completing his studies in graphic design in Munich in 1958. From 1960 to 1963 he worked in New York and San Francisco as a freelance designer, and in 1966 he opened his Design M Studio in Munich, which later became Ingo Maurer GmbH. One of his first objects to enter production was the Bulb table lamp (1966), included with other pieces in the MoMA collection. His work has been exhibited in major museums (Stedelijk, MoMA, Centre Pompidou), and in his long career he has received numerous accolades, such as the Lucky Strike Designer Award (2000), the Georg Jensen Prize (2002), Royal Designer for Industry (2005), the Compasso d'Oro career award (2011), and the Kulturpreis Bayern (2015). www.ingo-maurer.com