"I love challenges and this new collaboration with Et al. is proof of that." Luca Nichetto, originally from Murano and now based in Stockholm – where he opened his second studio in 2011, after the Venetian one opened in 2006, and where he also started a family – is proud of the Classy series he recently completed for Italian brand Et al., new name of the historic Metalmobil company. He defines the project as a "ping pong process", a game developed internally in the studio, starting from the product sketches and then manipulating 3D prints that led to the design of a unique polypropylene shell for the seat and backrest that, folded like an origami to create a ribbing. The ribs, which make the shell load-bearing, are the distinctive feature of the product, and at the same time its technical solution. However, there is also another element that distinguishes it from other seats: the double finish. Internally (the part that is used the most) the seat is opaque; the backrest, on the other hand, is polished. 
Con Classy, volevamo un prodotto semplice, non urlato e senza tempo.
What was Classy's starting point?
It's the classic designer work "hired" by the company. It is the answer to a specific need: trying to raise the offer of some precise typologies: a plastic shell with a metal frame declined in chair, armchair and stool. The initial target was also precise: costs, materials, stacking, function, use. A family of three seats – chair, small armchair and stool – which had to work in the contract sector, but also in the domestic sector and have the possibility to expand in the future with other versions, a project also open to new typologies. We wanted a simple product, not loud and timeless.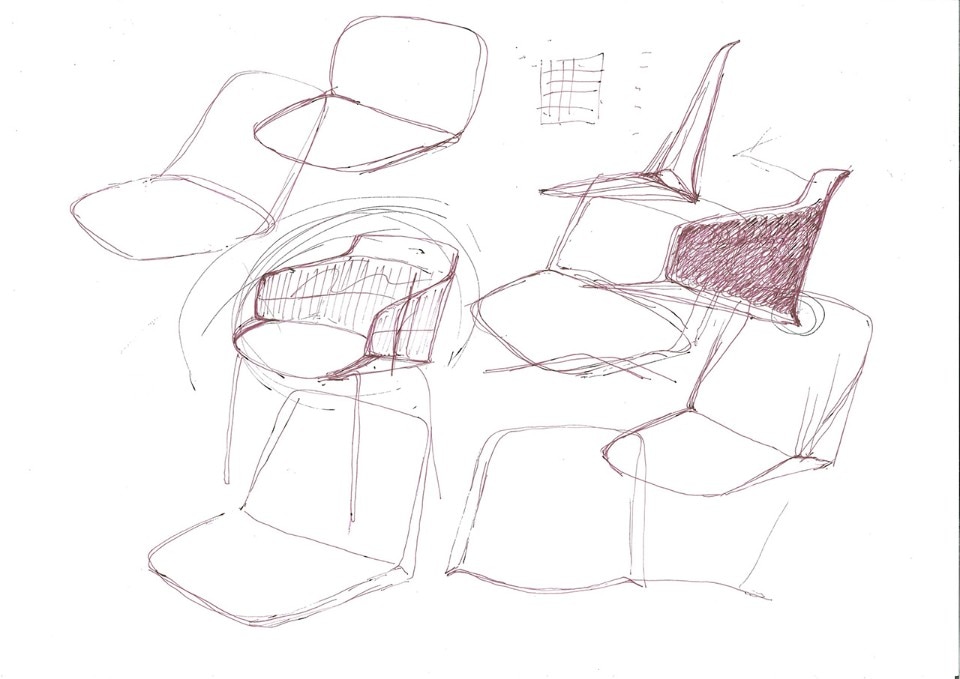 A project with several constraints. But constraints are helpful in a project...
It's true, stakes help, a lot. So much that when they're not there, I put them there myself. Even when you think you have carte blanche, you only have to study the company, its specifics, to discover that you don't. I immediately liked the people of Et al., a very good relationship was immediate. After all, Italian design is based on relationships, it's often a question of empathy. There was no lack of conflicts – on commercial aspects, sales, costs – we also dealt with all those aspects that I think are necessary to do this work well and not just be creative. 
The name?
I chose it. I wanted a funny name, not particularly challenging, linked to the ambition to create a new classic, not an icon, but rather a correct product. The aesthetics of the chair is minimalist, but clean with details of a certain kind, it has a certain class. It is the result of a play on intentions. 
What materials did you use? Why?
Polypropylene loaded with fiber, so as to reduce thickness and weight. In the use of a material, not so ecological as plastic, there is my Nordic conscience, the awareness that whatever I do, it will pollute. The objective, therefore, was to make a product that could remain on the market for a long time. I consider myself a 200% designer: even when I make a scenography I design the smallest detail, right down to the position of the vine. I always start from the assumption that the project must stand upright and not exceed the budget available.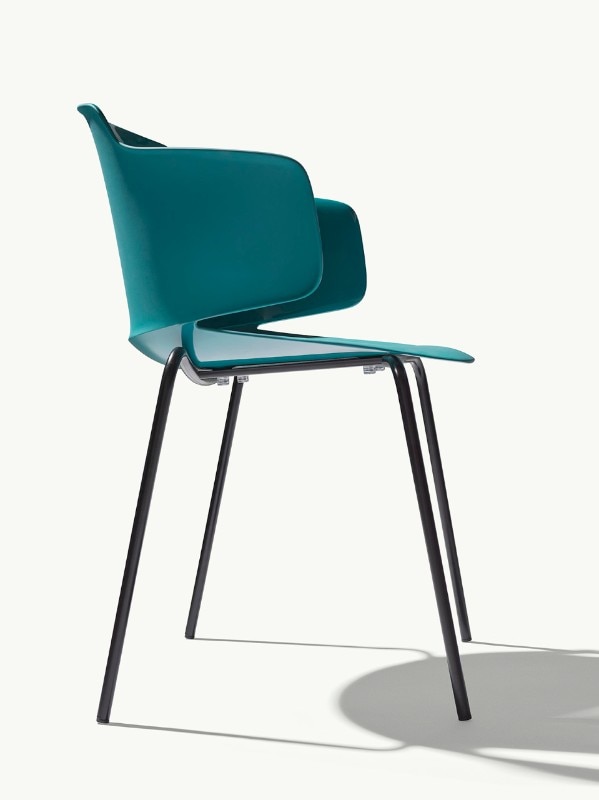 What distinguishes Classy from other chairs on the market?
The right combination of cost, aesthetics and function. It is a correct project, it does not have the ambition to change the history of design, but neither to go unnoticed. A careful eye from a technical point of view has allowed me to reduce the amount of plastic by 50 grams. It's like finding the recipe for tiramisu on Internet, and try to follow it by measuring the ingredients to make it the best possible. The recipe was the brief, the ingredients were a bit by me and a bit by the company, but the tiramisu already existed. 
When I work with a historical company, I dive into itsarchive, I try to understand why they became famous and, from there, I proceed by subtraction, trying to understand how to bring this heritage into the contemporary.
Is there a routine in your work?
Yes, in the studio there are meetings, long-distance calls related to project progress, to take stock of the situation, also from an economic point of view. There is a weekly routine, with meetings divided per days. Talking about creative process, I have basically two different approaches. When I work with a historical company that has an important heritage, before even thinking about a project, I try to get an idea of its history, I dive into the archive, I try to understand why they became famous and, from there, I proceed by subtraction, trying to understand how to bring this heritage into the contemporary. If it's a new company, I try to work with the technology it uses. Then, I always think about the end customer, what they expect, why they should buy an object. 
I admire designers who does things different from mine, but I don't have a model.
A designer you admire? Why?
Everyone who does things different from mine. I don't have a model. Even when I was studying, I was attracted to projects by different designers: Lovegrove, Maurer, Magistretti. Beyond the designer, I look at the product. I may like Hayon's ceramics, the furniture of Bouroullec, Grcic or Castiglioni. I have never felt veneration for the masters.
What object changed your life?
The basketball: not because it is a design object, but for its function. I've been playing basket all my life and when I need to let off steam or think, I go to a court to shoot two shots. I don't have a visceral attachment to objects, I'm not a collector. I don't even collect my own designs. 
I've been playing basket all my life and when I need to let off steam or think, I go to a court to shoot two shots.
When did you realise you wanted to be a designer?
It just happened. I'm from Murano, I grew up on an island where seeing a design that becomes an object is everyday life. 99% of the people I knew were involved in working with glass: my uncle with Foscarini, my mother is a decorator. Since I was a child, I had a talent for drawing and my parents encouraged me to study at the art institute. In the summer we would go to the furnaces to sell the drawings to earn some money. By the end of high school, a new course was born at university, Industrial Design, it seemed to me what I was already doing, even the compulsory attendance was for me: in a cage I make better. The impact was hard: the first semester I wanted to retire, but then I started to give and pass the exams. Even at university, I maintained the ritual of making folders and knocking at the furnaces to propose my drawings. In the second year, I knocked on Salviati's door: he wanted to buy me all the drawings, but he said "I won't make even one. You don't understand what a company needs, if you come by once a week, I'll explain it to you". He explained me how a company works and I soon realised that I was learning more there than at school. That's how I started, with an apprenticeship in the company and as a self-taught, I learned by mistake. 
I'm from Murano, I grew up on an island where seeing a design that becomes an object is everyday life.
Sweden or Italy? Pros and cons?
In Italy designers don't realise how spoiled we are by the Italian system, by the district of know-how, by the suppliers who offer you solutions: they never say yes or no, they say maybe, and accept the challenge. This is how innovation is born. Abroad, there is greater civic sense and respect for the time of others. They only say yes if they are able to do one thing. They are much better at marketing, production and organisation. Ten years ago they were already talking about eco-sustainability, it was already a very important element. In Italy, on the other hand, the competition is much higher, you have to make yourself known. In short, if you can do it in Italy you can do it all over the world. In Sweden, I took off the pressure of the milanocentric masters, I got to have 70% of my clients around the world. Scandinavia helped me to become international. 
How will the design world change after the coronavirus?
The coronavirus crisis has become part of a crisis that is already underway, the environmental one. And it brought it to the surface quickly. From this point of view, it's also done us good. There'll be lower budgets and the house is back in the middle again. It will return to a real perspective: not eight-metre sofas or aircraft carrier kitchens. Design is made for people, it works on need. People spending more time at home will begin to appreciate the quality of a product. There will be a downsizing of the market, but in perspective will remain the one who will interpret the situation better. As a designer, we can make a real impact.
Product name:

Classy

Designer:

Luca Nichetto

Company:

Et. al

Year of production:

2020